Sean Wheeler, Debbie Yee and Ryan Maierson are the only three Texas lawyers so far in 2023 to work on M&A deals with a combined deal value of $25 billion or more, according to The Texas Lawbook's exclusive Corporate Deal Tracker. Between Jan. 1 and Aug. 31, eight Texas lawyers from five firms (Kirkland & Ellis, Latham & Watkins, Vinson & Elkins, Gibson, Dunn & Crutcher and Bracewell) worked on corporate M&A transactions with a combined value of $10 billion or more.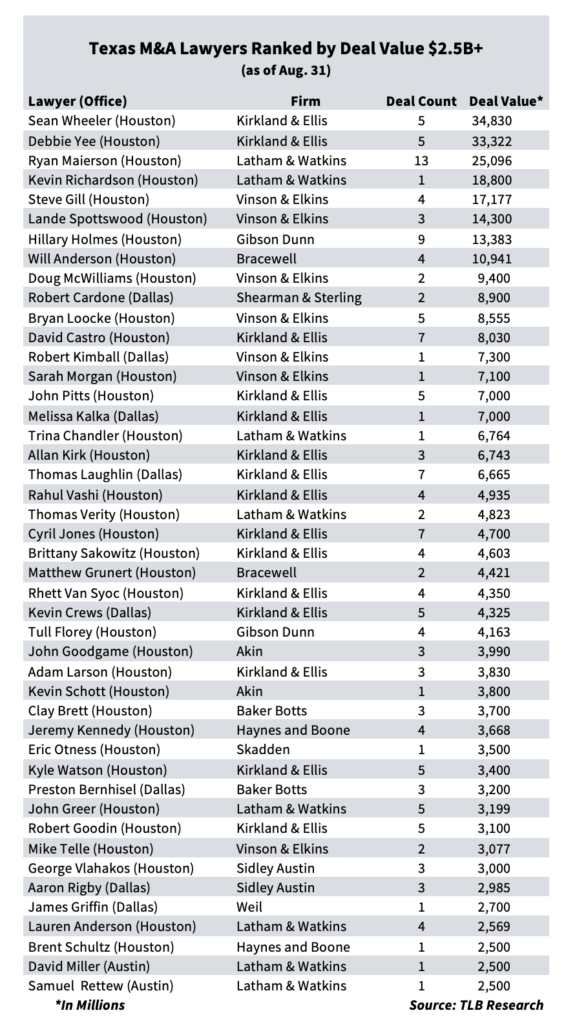 For a complete list of these rankings click on the table above.
In all, 81 lawyers worked on M&A deals that had combined values of at least $1 billion. The lawyers on the CDT list are based in Texas and were the top legal advisors representing any client (buyers, sellers, targets, financial advisors, banks, conflict committees or third parties).
This past Wednesday, The Texas Lawbook published the CDT's M&A lawyer rankings by deal value. That data can be found here: https://texaslawbook.net/2023-ma-texas-deal-lawyer-rankings/.
Next week, The Lawbook will publish the lawyer rankings for M&A lead counsel for the principals (buyers, sellers and targets) in transactions.