Main Content
Outline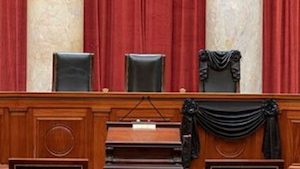 TexaSCOTUS: Texas Lawyers Gear Up for the Upcoming U.S. Supreme Court Term
-
Last term Texas lawyers were involved in most of the headline cases. In the upcoming term, it appears Texas lawyers will again have an outsized role. The difference: the absence of Ruth Bader Ginsburg and, sooner or later, the presence of her successor. Tony Mauro reports on cases Texans are watching.
September 23, 2020
Tony Mauro
Top Stories
Centerpiece
SEC: Houston Bizman Defrauds Investors in Kenyan Clean Water Project
-
The SEC's Fort Worth Regional Office filed charges Tuesday claiming that Houston businessman Verley Lee Sembritzky, Jr. and two of his companies – Bounty of the Ocean and Ocean Harvest – violated federal securities laws by operating a fraudulent investment scheme involving a purported Kenyan desalination plant investment project.
September 22, 2020
Mark Curriden
Expert Voices
Angst in Quarantine: Five Ways For Lawyers To Cope With An Already Stressful Life
-
Lawyer life begins with stress. Nearly half suffer with depression. Six in ten suffer anxiety. Add pandemic. Add quarantine. The stresses can be overwhelming, even to the hardest boiled among us. Chris Ritter, director of the Texas Lawyer's Assistance Program offers some simple advice on coping with COVID-19.
September 15, 2020
Chris Ritter
Stories You Might've Missed
Avalanche of Business Bankruptcies has Arrived in Texas

-

More Texas corporations filed for bankruptcy during the first six months of 2020 than in any period in the state's history. New bankruptcy data provided exclusively to The Texas Lawbook by Androvett Legal Media research documents the extraordinary number of businesses that have filed to restructure so far this year and how the Southern District of Texas has the hottest corporate bankruptcy docket in the country.

July 16, 2020

Mark Curriden