Main Content
Top Stories
Centerpiece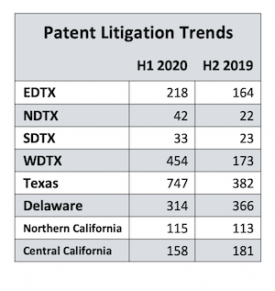 Texas Regains Title as the Land of Patent Litigation
-
New patent infringement complaints filed in Texas doubled during the first six months of 2020 compared to a year earlier. All focus is on the federal court in Waco, which had a 1,127% jump in patent disputes over the same six months in 2018, according to new data provided exclusively to The Texas Lawbook by Androvett Legal Media Research.
August 6, 2020
Mark Curriden
Expert Voices
Direction for Directors Post-Marchand: An Overview of Director Liability and Exposure
-
The triangulation of recent successful Caremark claims, the pandemic and the economic downturn potentially increase directors' liability and exposure and should further motivate directors to strengthen their oversight systems. This article provides guidance for directors post-Marchand.
August 6, 2020
Mackenzie S. Wallace & Catherine C. Rowsey
Stories You Might've Missed