He took the job assuming his tenure would be three years, the length of his first contract. But when Baylor Law School Dean Bradley Toben officially steps down this summer, he'll do so as the longest-serving dean of any law school accredited by the American Bar Association.
"I hope that folks will see my 31 years as a time when there was very substantial expansion of the programming of the law school, for the benefit of our students, and very substantial outreach to our alumni," he said.
On July 1 Toben, 68, will be returning as a member of the faculty where he served as a law professor from 1983 until 1991, when he was named dean at age 36. Patricia Wilson, currently associate dean and professor of law, will serve as interim dean while a national search gets underway for Toben's replacement.
Toben recently spoke to The Texas Lawbook about his accomplishments, his legacy and what the future holds for both him and the school where he's spent almost the entirety of his professional career. He will leave fingerprints on the program — 90 percent of current law school faculty and staff were hired by him — in particular through the study abroad program in St. Andrews, Scotland, and the juvenile-justice focused field placement program in Lusaka, Zambia.
Much has changed at the Waco institution during Toben's tenure.
When he started, the law school was housed in the unassuming Morrison Constitution Hall, built in 1955. Today, it occupies the 128,000-square foot Sheila and Walter Umphrey Law Center on the banks of the Brazos River, which opened in 2001. The school's endowment was less than $ 1 million when he was named dean in 1991. Today, it exceeds $180 million.
"The law center was a dream, and it came to fruition," he said, quickly crediting alumni and their gifts for making the vision a reality. "This sounds so self-serving … but so many law schools operate in circumstances where resources limit the possibilities. But here, that's not the case."
A native of St. Louis, Missouri, Toben describes himself as someone who always enjoyed academics. His record backs that up. It took him two-and-a-half years to earn an undergraduate degree in political science from the University of Missouri-St. Louis.
"I don't know why I was in such a hurry," he said.
He knew law school was the next step but settled on Baylor by serendipity.
He saw a flier for Baylor Law that caught his eye in particular because he realized he could enroll in February, soon after his December graduation from University of Missouri-St. Louis. So, he pocketed the notice and wrote the school for an application.
"When I arrived at Baylor Law School I soon realized that I loved this place and I loved the experience and, of course, it became a centerpiece of my life over these last four or five decades," he said.
In two years, he had earned his law degree. He went into private practice for a few years but soon returned to Baylor Law as a member of the faculty in 1983.
Toben is an active member of the Central Christian Church in Waco, and he and his wife, Beth, have four rescue dogs — one that's mostly Labrador, one that's mostly Yorkie and two "midsize, nondescript" mutts.
"I love them all dearly," he said, adding he initially wanted to be a veterinarian.
But the calling to be a lawyer won out, he said, and his faith and a desire to serve others led him there.
"I always tell our students your client is going to be in a situation in which they can't help themselves," he said. "You're reliant on someone to get you over the bridge to where you need to be, and I want our students to always look at their clients through that lens. … That's a gift, to be able to serve in that capacity."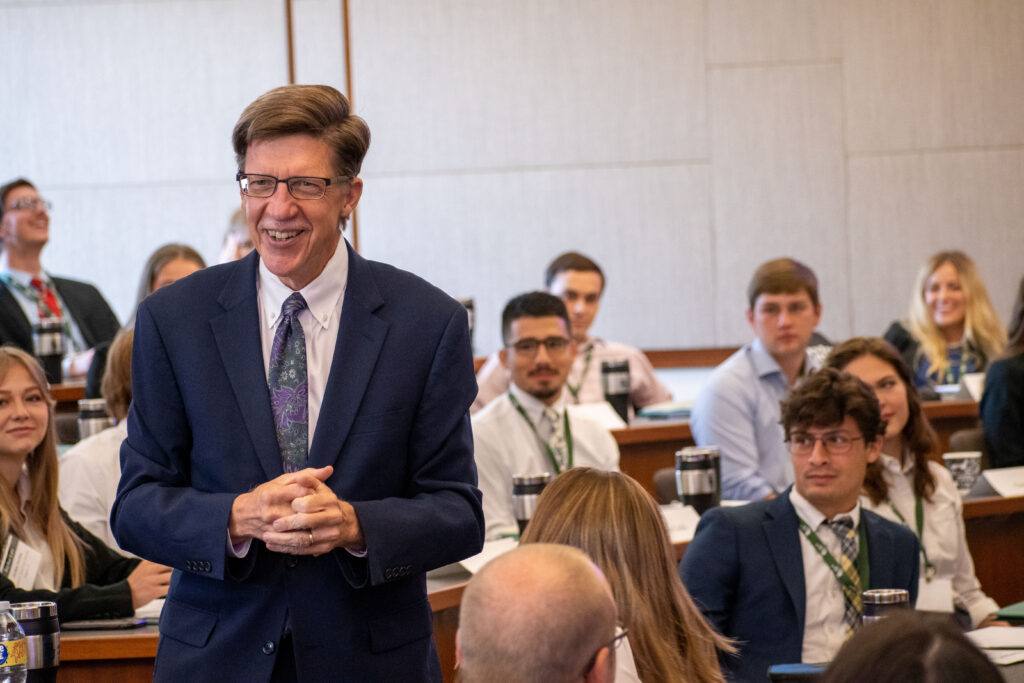 The president of Baylor University, Linda A. Livingstone, praised Toben's leadership in a news release.
"He has led Baylor Law through an era of tremendous change, while lending a significant voice to the national conversation in legal education," she said. "Thanks to Dean Toben, Baylor Law School is poised to continue as one of the nation's premier teaching law schools for future practitioners for generations to come."
Baylor Law is currently ranked No. 2 nationally for trial advocacy by U.S. News & World Report. While some prestigious universities have recently decided to pull out of participating in those rankings, Toben said Baylor has not and will not.
"And here's why: The U.S. News & World Report methodology is unquestionably flawed, but whether you like it or not, it's the coin of the realm for those considering law school," he said. "We're kind of proud of the data that we send to U.S. News each year, and if you pull out they have to develop that data themselves, and I'd rather furnish accurate data."
He said in the wake of the decision of some law schools to stop participating in the rankings, he received a phone call from the publication and had an honest conversation with its leadership about how Toben felt the methodology could be improved.
"And as you know, some methodology is going to be changed now," he said.
Baylor Law has notched other recent successes as well. In July 2022 the school recorded the highest pass rate on the Texas bar exam. And the fall 2022 class is the most diverse in school history — 30.4 percent are students of color, 54.7 percent are women.
The school has reached those diversity milestones at a time when Gov. Greg Abbott has been putting public pressure on state universities to stop considering diversity in hiring and enrollment. Gov. Abbott has called diversity, equity and inclusion practices in hiring "illegal."
Baylor, a private university, enjoys a level of autonomy in making those decisions that state-funded universities do not. Toben said it would be an "abject failure" to stop considering diversity in hiring and enrollment.
"Education can solve most of our problems that we have in our nation, and … if we begin to curtail our commitment to diversity, our nation will be the poorer for it. Our universities will be the poorer for it," he said. "Lawyers are, of course, the architects of our justice system. Lawyers are the stewards of the rule of law and, my heavens, our profession needs to be more divers'e. Our profession across the nation does not reflect the diversity of our population."
"When we fail to bring everyone to the table, we are doing damage to the fabric of our republic," Toben said.