The rankings of law firms in Texas doing corporate mergers, acquisitions and joint ventures witnessed a shake up during the first six months of 2023, when overall dealmaking declined about 20 percent from a year earlier.

Last year, Texas lawyers at two law firms each worked on 80 M&A transactions or more during the first half of the year. No firm worked on even 70 deals during the same period this year, according to The Texas Lawbook's exclusive Corporate Deal Tracker, which documents M&A activity by attorneys in Texas.
Last year, seven law firms in Texas handled 30 deals or more during H1. This year, there were only three.
Not all the Corporate Deal Tracker data from H1 2023 is negative. Last year, after all, was one of the best years for M&A in the past decade. Fifty-four law firms with attorneys in Texas reported at least one M&A transaction during the first half of this year, which is up from 44 one year ago. Seventeen law firms worked on 10 or more deals in H1 2023 — two more than last year.
Thirteen of the 54 firms are based in Texas. Last year, 10 of the 44 firms were Texas-headquartered. In H1 2023, 25 firms in Texas reported working on deals with combined values of $1 billion or more, up from 19 during the same period in 2022.
The CDT top 10 has three new members. The top six also witnessed a shakeup.
The Corporate Deal Tracker examines M&A by Texas advisors into two categories: Lawyers who led the transactions for the buyers, sellers and targets — also known as the principals; and lawyers who also represented third parties, such as conflicts committees, investment banks and others. And the CDT ranks both categories by deal count and deal value.
Editor's Note: These rankings are M&A transactions only and do not include CapM, such as securities and debt offerings. Those CDT rankings will be published by The Lawbook next week.
Texas lawyers at Kirkland, Sidley, Latham & Watkins, Vinson & Elkins and Gibson Dunn worked 20 or more transactions. King & Spalding joined the elite group for the first time by reporting 28 deals.
Kirkland Still King of Texas M&A
In H1 2023, Kirkland & Ellis swept all CDT categories. Sidley and Latham were not far behind.
Kirkland lawyers in Texas worked on 66 transactions during the first six months of this year that had a combined value of $78.2 billion. In 54 of those deals, Kirkland lawyers in Texas were lead or co-lead counsel for the principals. Sixteen of the 66 transactions had deal values of $1 billion or more.

For example, Kirkland partners Sean Wheeler and Debbie Yee in Houston advised Tulsa-based ONEOK in its $18.8 billion acquisition of Magellan Midstream Partners. Dallas partner Melissa Kalka and Houston partner John Pitts represented CyrusOne in its $7 billion data infrastructure joint venture with a Japanese power company. Houston partners David Castro and Rahul Vashi advised Denver-based Ovintiv in its $4.275 billion purchase of San Antonio's EnCap Investments. Toronto-based CCP Investments chose Kirkland partner Kevin Crews of Dallas and Allan Kirk of Houston to lead its $4 billion acquisition of California-headquartered Aera Energy.
The number of overall deals that Kirkland lawyers in Texas handled during H1 dropped 20 percent from a year earlier, but the firm's deal count on transactions led its Texas lawyers actually jumped by 30 percent.
Sidley, Latham Showcase Deal Strengths
Latham and Sidley each garnered second place rankings.
Sidley lawyers in Texas worked on 59 deals during H1 2023 – down 32 percent from a year earlier by still 50 percent more than third-ranked Latham. Sidley ranked third in deal count for Texas-led law firms with 28. The other 31 M&A deals handled — but not Texas-led — show that corporate transactional partners in other Sidley offices turn to the expertise of the firm's Texas lawyers to work on their dealmaking.
Sidley Houston partners Atman Shukla and George Vlahakos advised Energy Transfer in its $1.45 acquisition of Sugar Land-headquartered Lotus Midstream. Houston partner Robert Stephens represented Constellation Energy Generation in its $1.75 billion purchase of a 44 percent ownership stake in a Texas nuclear plant from NRG Energy. And Dallas partner Aaron Rigby co-led Bermuda-based RenaissanceRe Holdings in its acquisition of reinsurer Validus Re for $2.985 billion.
Texas lawyers for Latham worked on 37 M&A transactions during H1 2023 valued at $45.2 billion, but the firm's Texas attorneys led or co-led 32 of the 37 deals with a combined value of $42.7 billion, which ranked the firm second.
Latham partners Ryan Maierson and Kevin Richardson in Houston were the lead legal advisors for Magellan Midstream in the $18.8 billion with ONEOK. Houston partner Trina Chandler represented Dallas-based Vistra in its $6.76 billion purchase of Energy Harbor in Ohio. Houston partner Nick Dhesi was the co-lead counsel for Gibson Energy in its $1.1 billion purchase of the South Texas Gateway Terminal.
One of the five deals in which Sidley lawyers played a significant role but did not advise the principals (buyers, sellers or target) was in Calgary-based Baytex Energy's $2.5 billion acquisition of Ranger Oil. Two Austin partners — David Miller and Samuel Rettew — represented the financial institutions, including CIBC, RBC and the Bank of Nova Scotia. In that deal, V&E partners Mike Telle and Lande Spottswood advised Baytex, while Kirkland partners Wheeler and Yee were the lead advisors for Ranger Oil.
V&E, King & Spalding, Gibson Dunn
V&E lawyers in Texas worked on 28 M&A deals valued at $30.9 billion in H1 2023, down from 68 transactions during the same period in 2022. The Houston-headquartered firm led 23 of those deals with a combined price tag of $22.8 billion.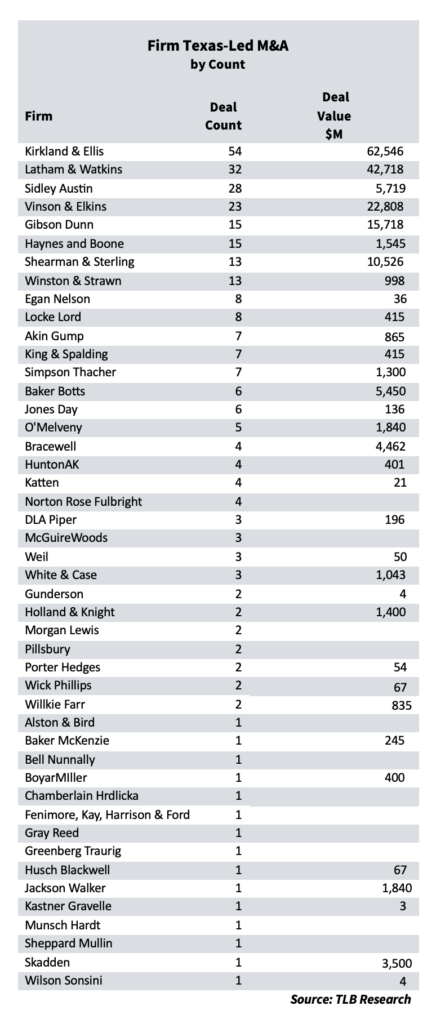 The biggest transaction V&E handled during the first six months of this year — Chevron Phillips Chemical's $6 billion purchase of Qatar's Ras Laffan Chemical Complex — was led by the firm's London partner Chris Strong but had a slew of Houston partners that worked on the deal. V&E Houston partner Steve Gill co-led Focus Financial Partners $4.6 billion sale to New York-based Clayton Dubilier & Rice.
King & Spalding is new to the CDT's M&A law firm ranking top five. In fact, the firm ranked 34th last year with one deal. But King & Spalding's Texas lawyers worked on 28 deals during H1 2023 with a combined deal value of $1.4 billion.
Houston partner David Lang of King & Spalding advised Tokyo-based oil and gas midstream company Mitsui O.S.K. in its $400 million purchase of Houston-based Delfin Midstream.
Gibson Dunn ranks sixth on overall M&A deal count by working on 22 transactions with a combined deal value of $16.1 billion during the first six months of 2023. Gibson Dunn's Texas lawyers were lead counsel for the principals in 15 of the deals.
Tull Florey, a partner in Gibson Dunn's Houston office, was lead legal advisor for Patterson-UTI Energy in its $1.93 billion acquisition of NexTier Oilfield Solutions.
Haynes Boone, Shearman, Akin
Dallas-based Haynes Boone (the law firm formerly known as Haynes and Boone) reports that its Texas lawyers worked on 19 M&A deals during the first six months of 2023 with a combined value of $7.4 billion.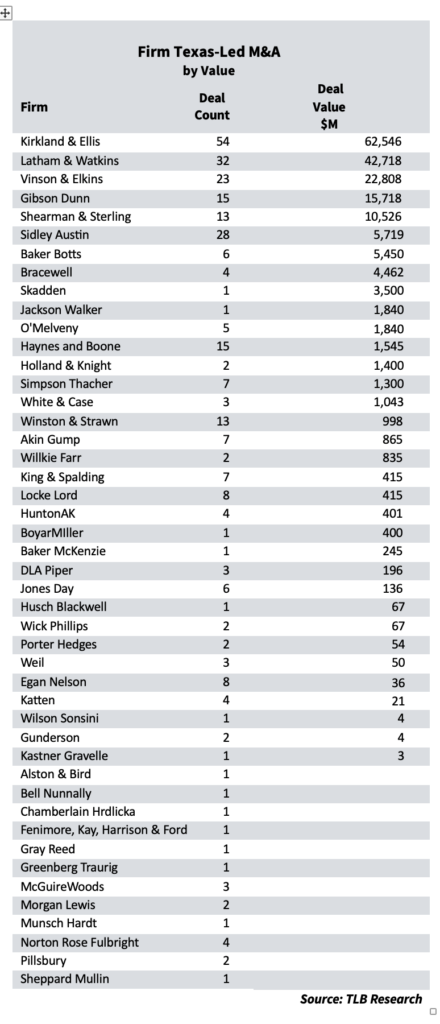 Houston partner Jeremy Kennedy worked on two billion-dollar transactions for Oklahoma-based Chesapeake Energy during H1 2023. In January, Houston-based Wildfire Energy, which is owned by Warburg Pincus and Kayne Anderson, acquired Chesapeake's Brazos Valley operations for $1.425 billion. Thirty-two days later, Chesapeake sold its Eagle Ford assets to London-based INEOS Energy for $1.4 billion.
Shearman & Sterling lawyers in Texas worked on 16 new deals in 2023 with a total price tag of $20.1 billion.
Houston partner Sarah McLean represented EnCap Flatrock Midstream in its sale of Lotus Midstream to Energy Transfer for $1.45 billion. Cardone and Dallas partner Alain Dermarkar were lead legal advisors for New York-based J.F. Lehman in its $1.2 billion of Heritage Crystal Clean.
Texas lawyers for Akin (law firm formerly known as Akin Gump) worked on 15 transactions with a combined deal value of $4.9 billion. Houston partners John Goodgame and Kevin Schott advised financial advisor Evercore in Phillips 66's $3.8 billion acquisition of DCP Midstream. Fort Worth partner Cole Bredthauer was lead counsel for Firebird Energy Management in its $500 million divestiture to Quantum Energy Partners.
The Corporate Deal Tracker gives credit for transactions only once — usually when the deal is announced. If the CDT only learns of the transaction when the deal closes, then the closing date is when the CDT gives the firms credit.
For example, Haynes Boone represented financial services firm Beneficient in its $3.5 billion sale to Avalon Acquisition. The CDT gave Haynes Boone credit for the deal in 2022 when the transaction was announced, even though it closed in June 2023.
All M&A transactions can be found in the Corporate Deal Tracker M&A master list on the CDT section page here.