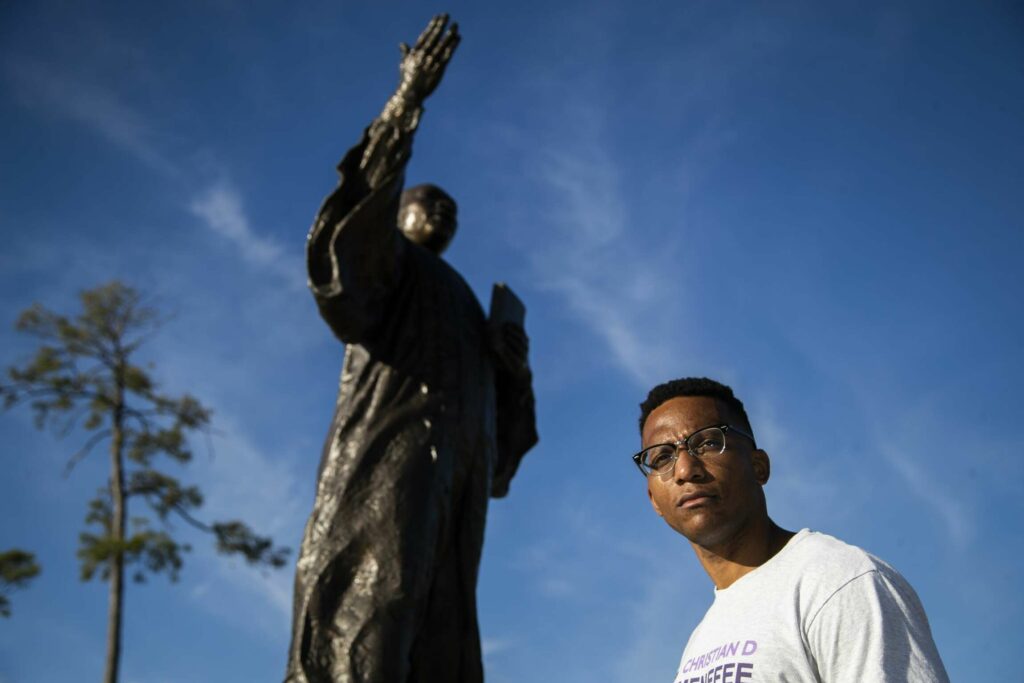 Harris County Attorney Christian Menefee by the statue of Martin Luther King Jr. at McGregor Park
As a third-year associate at Norton Rose Fulbright, Christian Menefee attended an election night watch party in November 2016 that ended in a way no one in attendance expected.
But it also was the night that changed his life and career path.
Exactly four years later, Menefee became the youngest lawyer and the first African American to be elected county attorney of Harris County.
The son of two U.S. Coast Guard officials, Menefee grew up in cities along the Gulf Coast, where he worked as a cashier at H-E-B. He was the first person in his family to go to college — he earned a business degree from the University of Texas at San Antonio and then graduated from Washington University in St. Louis School of Law in 2013. During law school, he did summer internships with the New York City Law Department and Harris County Public Defender's Office.
After nearly five years practicing corporate white-collar litigation, Menefee was hired as an associate at Kirkland & Ellis in Houston in June 2018, where he practiced until he was elected county attorney.
In an interview with The Texas Lawbook, Menefee discusses his first two years as Harris County's top legal officer, the current Texas legislative session, how he hires outside counsel and his plans for reelection.
Texas Lawbook: What led you to go from energy litigation in Big Law to public service?
Christian Menefee: In 2016, I was still at Fulbright, and I remember going to the watch party for the presidential race. And it turned out obviously very different than … most folks including pollsters throughout the country thought it would go. That just really impacted me and made me realize that it was up to me to do more. My parents were military, and I was always taught that you advocate, you fight for the democracy that you want. I knew that I needed to get more involved. I didn't find out about this office until much later, but I had been involved in a number of civic organizations and later came to discover the county attorney's office, which I think is the perfect intersection of the law and ability to impact policy.
It's been sort of a fantastic ride ever since, but along the way I learned the importance of local office. Too often, we focus on national races — president of the United States, United States Senate, Congress — and we forget that one kind of tried and true thing that everybody remembers in politics is the offices that are closest to your doorstep are the ones that have the ability to impact you the most. And I think we've been able to move the needle on a number of issues. It's in part because we are a local office, and I have kind of the executive ability to set the agenda. But we [also] have the budget to get things done when it's something we can impact.
Lawbook: Unlike city attorneys, this is an elected position. How does that impact how the office operates?
Menefee: It's a really interesting dynamic. I think of city attorney sometimes like White House counsel. The city attorney serves at the pleasure of the mayor. The difference here is ultimately my clients are the individuals who I'm serving. I have a greater set of individuals, constituents, that I have to answer to. It's an interesting perspective, because if you don't provide the client service that you're required to provide and keep client confidences and privileged information, then you might not find yourself being county attorney for very long. You might not find yourself being a lawyer for very much longer, but you also have to navigate the politics of the fact that you're elected.
So at times it feels like a tightrope that you're walking; understanding that you have a duty to communities, to constituents, while also understanding that you have legally prescribed duties to the clients that you're representing in any given instance. I think we've navigated it very well. One of the things that I love most about this office is I don't have to get caught up in the partisan bickering that can exist in local politics sometimes.
I have clients who are in the Democratic Party. I have clients who are in the Republican Party. And one thing I always tell them is, "Look, I need you to be able to trust me in all instances. If there's a policy goal that you're trying to achieve and there's a legal question on it, I'm going to give you what I feel to be the correct answer based on the law, not based on some morality tests or some political litmus test. My job is to help you on the legal issues." Hopefully, our track record has shown that even at the county level we're trusted by folks of both parties who are our clients, and they come to me with questions and they trust that I keep their confidences and that I help them achieve what they were elected to do, regardless of whether it's my brand of politics.
Lawbook: Tell us a little bit more about your office and work that you do.
Menefee: Our office is about 250 folks, about 120 of whom are attorneys. We have a few different core functions. Obviously, we provide the legal advice to all the departments. What's important … is Harris County has more than 60 independently elected officials that our office represents. There's more than 18,000 employees, and legal questions [are] coming from every single department — at times coming from employees. You can imagine the amount of work that goes into ensuring that all those folks are properly advised and represented.
We also represent these folks whenever they're sued in court for something that's relating to the scope of their duties. We represent the county when the county is sued.
Aside from those two functions, we do a bunch of other stuff. We have a compliance department that handles affirmative matters and collections for various things, from the toll road to unpaid fines and fees. We have an environmental team which files lawsuits on any number of issues, but really the goal is to impact environmental issues. For example, they may oppose concrete batch plant companies' application for a permit. Most recently, that's the department that filed a lawsuit against the Texas Department of Transportation over the I-45 expansion. It's the same department in which we have housed our notice of suit that we joined the city on against Union Pacific over the cancer cluster in the Fifth Ward area. We have a real estate department that handles all the condemnations for the county. We have the Harris Health Department. Most of them aren't even housed in our office, but they report up to me.
This is the legal team that provides support to Harris Health, which is a large public hospital system, including the Harris Health Board, which is a board that is appointed by but separate from Commissioner's Court. We have the CPS team, which represents the Department of Family Protective Services in proceedings related to the parent-child relationship. We have the disability and elder law team, which provides ongoing support to the Harris County Psychiatric Center and deals with issues of commitment for adults.
As you can tell, it's a pretty broad office that does a whole lot of things, and I think it's important to note that because you're not going find many county attorney offices throughout the state that only do civil and are as big as we are. We're one of the largest public law firms in the State of Texas. On the civil side, the biggest, after the attorney general's office.
Lawbook: You have a broad scope of work, but what are some of your big focuses are of your office right now?
Menefee: We created an affirmative litigation group. This is a group that files lawsuits against companies or the state when there's disputes over various matters, and we need to be able to navigate through those issues. So that takes up a lot of time. That includes lawsuits against the Texas Commission on Environmental Quality, in part, the Texas Department of Transportation, the attorney general, some other state officials, including the governor. So there's a lot of time and effort and focus that goes into that work.
Another bucket is just elections, elections, elections. As I'm sure many folks have seen over the past four-ish years, there's been a growing ideology surrounding election denialism, stolen elections, questioning the election processes, and that's led to a bunch of litigation against elections departments, officials in the elections department, employees, volunteers, whatever it may be. We're constantly navigating that. Those lawsuits come from political parties, they come from activists, sometimes they come from the State of Texas. Most recently, they're coming from losing candidates in the general election who are trying to overturn the results of the 2022 election.
The third main bucket is providing legal advice to the elected officials. Harris County has increasingly been brought under the scrutiny of state officials. That means with every single decision you make, you have to ensure that your T's are crossed, your I's are dotted, unless you get a lawsuit from the State of Texas or a purported investigation from the state of Texas or a bill intended to undo the law that allowed you to do the thing that you just did. The work that goes into advising all of the elected officials on the policy decisions that they make is more intensive now than it may have been seven or eight years ago just because of the constant state of conflict that we're in with state officials.
Lawbook: Texas is rapidly growing. How has that affected your department?
Menefee: Greatly. Harris County has more employees now than it did in the past, and so there are a lot more legal issues that come up. The bigger organization, the more legal issues. That influx has resulted in the folks who run the county now are of a different party than they were seven years ago. It used to be that the Austin area would most consistently draw the ire of state officials. You would see the governor do a press conference about some liberal policy they did in Austin. I think we have now taken the reigns or won the award for being the No. 1 local governmental entity that has the disdain of the state of Texas. That population shift though is in part what made county leadership switch hands into a different party.
It's had all of these residual effects of state officials pushing back. Which is interesting, because one of the basic principles of conservatism that you govern at the lowest level possible.
Once Harris County started having leaders who were of a different party, who looked a different way, who thought a different way, then all of a sudden the conversation switched from local control to statewide uniformity. Harris County is huge and very populous. If we were a state, we'd be the 25th most populous state. We are the third largest county in the country. This state is gigantic, and you just can't convince me that what works best in Bell County necessarily works best in Harris County. You need a nuanced approach to navigating some of the issues, like elections, that occur in this state. What we've seen is the very same state officials who used to preach local control are now preaching uniformity.
Lawbook: What issues are you following during the legislative session this year?
Menefee: One is definitely elections. We've seen an attempt by the legislature to criminalize election work. It started off just trying to capture the most egregious things, and now it's growing into any time there's an innocent mistake you risk criminal penalty, which discourages people from participating in the election. We're following all of the elections bills, which in the past have expressly been aimed at undermining stuff that has happened in Harris County — the end of drive-through voting, the end of 24-hour voting.
There's also a bill that's been coming up several cycles that would end public nuisance lawsuits by local governments or end the ability to get damages on those cases. These are cases that are incredibly important because they allow you to really move the needle on corporate malfeasance. One of the best examples of that was my office was the first governmental entity in the state of Texas to file lawsuit against Juul e-cigarettes for deceptively marketing their products to children. We worked collaboratively with the attorney general's office on that, and they just recently announced a settlement as a result of their own investigation against Juul.
It's an example of state government and local government working together to protect residents. Those are two areas that we're looking at, and of course any opportunity we can get to scale back some of the damage that's been done on environmental laws in the state of Texas.
Lawbook: Do you communicate with law department of other cities and counties?
Menefee: We definitely collaborate with my colleagues throughout the state. A good example is during Winter Storm Uri, my office launched a price gouging task force. Whenever there's a declared disaster, under the Deceptive Trade Practices Act, that triggers penalties for price gouging. The last thing you want when the lights are out is for companies to take basic necessities and mark up the prices. We launched a price gathering task force, which was very successful. We had nearly 100 percent compliance when we reached out to companies and demanded that they stopped doing what they were doing. That program was largely recreated in Travis County and Fort Bend County. So we have those relationships throughout the state, and we're able to collaborate on issues like that.
Another example is on election issues. Whenever the state takes an adverse position to local governments on election issues, we compare notes with DAs, county attorneys throughout the state who are navigating those same issues. I also try to have conversations with attorneys general in other states to see what are some of the consumer protection issues that you all are navigating, what are some of the election issues that have popped up. Obviously, the state laws in these other states are going to be different, but it's helpful to see what's the newest creative thinking in some of these areas so that we can recreate that here in Harris County.
Lawbook: What are some of the issues that that you reach out to outside counsel for?
Menefee: We hire outside counsel on a bunch of different types of matters: certainly in our defensive litigation, anytime the county is sued or one of the county employees is sued, when there are a bunch of [section] 1983 cases that get filed against law enforcement and sometimes against other county employees. We hire outside counsels, sometimes, on those cases.
On our large-scale impact litigation, we hire outside counsel on a contingency fee basis on our environmental matters.
If we need a certain specialty on the matter, we'll hire outside counsel to partner with us on the matter. On construction cases, we engage outside counsel. We do a bunch of different buckets of litigation and we engage outside counsel, and then of course there's the public finance side of things. On all of our bonds, we have to have outside counsel.
Also, [we hire outside counsel] in highly complex issues of interpretation of state statute for the policymakers at the county, the elected officials. Sometimes we'll hire outside counsel if things get a little sticky and we need another set of eyes on it. Then, of course, when conflict issues arise. If for the county we have three employees or defendants, and there is a chance that the interest may diverge and the county's position may differ from one of the employees, then we'll hire outside council on that as well.
Lawbook: What are you looking for when you're hiring outside counsel?
Menefee: The same thing that I assume that in-house counsel was looking for when I was at firms. That is confidence; flexibility with rates is going to be important when you're dealing with a governmental entity; understanding how to navigate the nuance of the public relations sphere. Some of these cases can be very high-profile, and we're definitely going to want to work with a legal team that appreciates and understands that and is able to navigate that.
All litigators of complex commercial litigation tend to have the skill but an ability to just be flexible and to understand that there's twists and turns in some of the cases that we have. Even if it's not an area of law that you have litigated at length or have extensive experience in, you're able to navigate the statutes and change at the drop of a dime if necessary.
We generally look for a team of folks who are going be able to exist in that space where there aren't 35 cases on Westlaw that can guide you to the right answer. Instead, you're going be really arguing statutory interpretation to a judge to get them to set precedent that could impact governments throughout the state.
Lawbook: What are your goals for the department during your tenure?
Menefee: I am up for reelection next year, and my goals are to keep building our team out. We still have some vacancies, so I want to ensure that we're remaining competitive with pay. We recently did a round of raises in the office that we're very proud of, but we want to make sure that we're paying a compensation that's going allow us to be competitive and retain the best talent.
I want our office to continue training great lawyers who will excel either in public law or go out into private practice.
I want us to keep doing the important work of protecting the interests of Harris County government.
Lawbook: Will you run for reelection?
Menefee: I have not announced any plans for reelection yet but expect to be announcing something late summer, early fall.