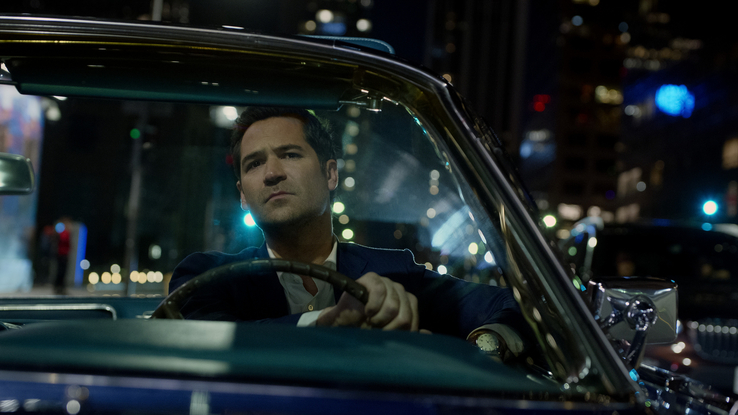 Courtesy of Netflix
When last we saw Mickey Haller, the charmingly slippery defense attorney at the heart of the Netflix series The Lincoln Lawyer, he was lying unconscious in a parking garage, beaten within an inch of his life.
Trouble has a way of finding Mickey.
At the start of Season 2, the second part of which premieres Wednesday, he fell into bed with the owner of a hot Los Angeles fusion restaurant; he had barely digested his meal when she was arrested for murdering the real estate mogul gobbling up her neighborhood. Mickey agreed to represent her, even though he'd just slept with her — a fact not lost on his first wife, a prosecutor in the district attorney's office, nor his second wife, now his paralegal.
We are very much in the wheelhouses of series creator David E. Kelley (The Practice, Ally McBeal, Boston Legal) and Michael Connelly, the bestselling thriller novelist who created Mickey on the page. For these men the law is a plaything, and they bandy it and its practitioners with dramatic swagger, stretching plausibility in the name of almighty entertainment.
They're very good at what they do, and The Lincoln Lawyer is effortlessly engaging, laden with the kinds of twists and courtroom showmanship that make legal thrillers purr. Even as it wades into heavy material, the series stays light on its feet, much like Manuel Garcia-Rulfo, the star who makes Mickey likable even when he seems to slither as much as he strolls.
He is, of course, unconventional, as is his backstory. As we learn in Season 1, Mickey was a hotshot defense lawyer before injuries suffered from a surfing accident left him with a wicked painkiller addiction. His career spiraled.
Then, an opportunity. Another lawyer is murdered, gunned down in the same parking garage where Mickey gets his beatdown, and he bequeaths his practice, and his caseload, to Mickey. Newly sober, Mickey inherits a wealthy video game designer as a client, accused of murdering his wife and her lover.
The storyline ends with a series of typical Kelley-like flourishes: The defendant is found not guilty, but it turns out he is in fact quite guilty, and he is shot dead by an aggrieved party. That's showbiz.
Season 2, adapted from Connelly's novel The Fifth Witness, finds Mickey basking in his celebrity: Los Angeles Times profiles, bus stop ads, the works. But he still has a thing for underdogs, which is a big part of his appeal and of The Lincoln Lawyer's schtick. Buried in his big cases, he habitually swoops into court for the smaller ones knowing almost nothing about his client or the case, only to quickly pull a rabbit out of his hat and earn the everlasting loyalty of the person he has saved.
One of those people is Izzy (Jazz Raycole), a fellow recovering addict whom Mickey successfully defends in a small robbery case stemming from a petty crime committed when Izzy was in the throes of her sickness. Mickey then hires Izzy to be his driver.
This is a very important job in Mickey's world. He has an office, but he prefers to work from the backseat of one of his fleet on Lincolns, adorned with cheeky vanity plates (NTGUILTY; DISMISSD). It's a great conceit for L.A., where residents spend so much time commuting in traffic that the car might as well become the office. It also speaks to the workaholism that Mickey shares with so many in his profession.
The fun just never stops. Nor does the drama.
The series, like the Connelly books and the 2011 movie starring Matthew McConaughey, delights in piling up potentially treacherous legal and ethical dilemmas. Season 2 features a tasty one. Mickey defends an odd young man in a breaking-and-entering case, earning an acquittal and the man's future business in the form of a retainer.
But it turns out the man isn't the nebbish he appears. He has actually killed a woman — in a murder case for which Mickey is defending an innocent man. By retaining Mickey's services, the killer has ensured that Mickey can't disclose any information shared between client and attorney. Trapped, Mickey seeks counsel from David "Legal" Siegel (the ageless Elliott Gould), a father figure character who fills an advice-dispensing role played by Mickey's actual father in the books.
They find a loophole. Of course they do.
But the season's true focus is Mickey's defense of Lisa (Lana Parrilla), the restaurateur and accused murderer. Season 2's second half brings in a construction contractor who had a possible motive to kill the man Lisa is accused of murdering.
It also hits a current entertainment nerve with an opportunistic true crime podcaster who smells a scoop and a payday. And it finds plenty to do for the characters orbiting Mickey, including his first wife, Maggie (Neve Campbell), the prosecutor; his second wife, Lorna (Becki Newton), the paralegal; and his investigator, a former biker named Cisco (Angus Sampson), who also happens to be Lorna's fiancé.
When it comes to his personal life Mickey is a pretty live-and-let-live kind of guy; his motto might as well be the same as that of another classic Kelley character, Richard Fish from Ally McBeal: "Bygones."
Kelley, himself a Boston lawyer before striking it rich in Hollywood, could probably do this kind of thing in his sleep by now — which doesn't make The Lincoln Lawyer any less addictive. Everyone comes with their own quirks: the preening prosecutors, the judges who make it clear they have other things they could be doing (one complains that she is missing her bowling league; another offers lollipops), the accused and the accusers.
The purpose of a series like The Lincoln Lawyer is to make the law a source of fun and tell some ripping yarns in the process. The tone here is breezy rather than gritty; when things get dark, they don't stay that way for long. It seems you can't keep a good lawyer down. Though next time, he might want to consider parking on the street.
Chris Vognar is a Houston-based arts and entertainment reporter who writes frequently for the Houston Chronicle, Los Angeles Times and New York Times.