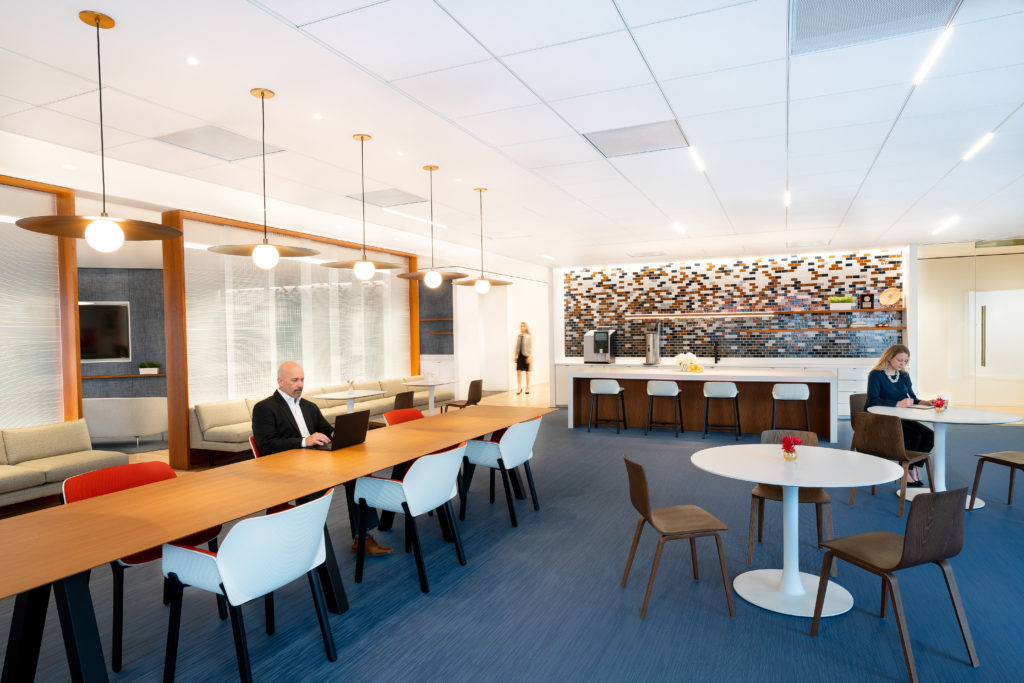 Hunton Andrews Kurth's Houston Office, Courtesy of Gensler
With more employees returning to the office, the topic of real estate needs is dominating conversations across professional services firms. While major tech companies remain committed to a hybrid or fully remote structure, some companies have identified that their business and staff are most successful when they prioritize in-person interaction and collaboration. Although real estate needs will vary depending on the structure of a company's work policy, it is important to invest in creating a workplace that is a sought-after destination, not an obligation.
The Gensler Research Institute reports that while many industries are cutting back on their real estate footprints, law firms and other top performing companies continue to increase square footage by prioritizing light-filled collaboration rooms and other types of third spaces for all staff members. The added square footage is also being used to incorporate high-end, hospitality-inspired amenities that provide unique experiences and desired services to attract and retain talent.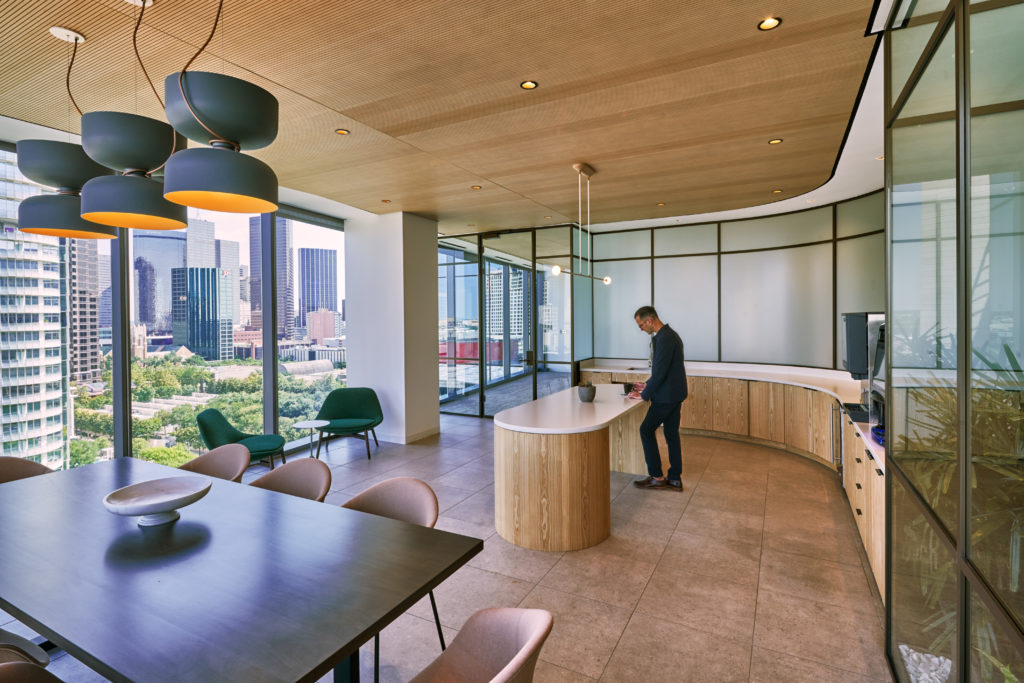 Katten Dallas, Courtesy of Gensler
As work from home and hybrid work styles have become increasingly popular, so have desires for mobility and third spaces. Over the past two years, employees have grown accustomed to modifying work settings for the task at hand – a barstool in the kitchen or a couch in the corner might be the preferred place to respond to e-mails, or perhaps taking an afternoon call from the back porch. Though the need for adaptable workspaces that support different tasks was trending prior to the pandemic, as employers begin bringing the workforce back to the office, it's exceedingly important to integrate these elements into the office environment.
To create this new workplace experience, law firms are adding more huddle rooms and collaboration spaces where the infamous corner offices used to be. This shift allows more employees a flexible work style, provides access to daylight and establishes a designated area for associates and newly hired attorneys to work jointly, receive mentorship and promote knowledge sharing.
Katten Dallas, Courtesy of Gensler
Additionally, the demand for outdoor amenity space continues to be a health and wellness priority as professional service firms reevaluate their real estate needs. Biolophic design elements will play an important role in immersing employees in nature and creating a desirable work environment, regardless of whether firms have access to an outdoor terrace.
High-end amenities are a critical factor in establishing law offices as destinations. To make returning to the office more attractive, firms have started integrating luxury amenities into the office experience, so employees never have to travel far for what they need. Dedicated spa services, private fitness rooms and in-house chefs ensure staff members have immediate access to services that they do not have at home. As the war for talent prevails, this shift will allow law firms to remain competitive.
Akin Gump's Houston office recently upgraded its workplace by incorporating a new fitness center that includes three reservable, private, individual fitness rooms, each with its own shower. Two rooms feature Peloton bikes, while one has a treadmill; the suite shares a warm-up area stocked with free weights and a workout mirror. For a more inclusive design, all showers are ADA accessible, including an additional shower for bikers and runners. The spaces accommodate all gender identities and physical abilities, with a specific consideration for those who prefer to exercise separately from their colleagues.
As firms like Akin Gump and others experiment with their office space, operating in "beta mode" will become a vital part of real estate thinking. By approaching design with flexibility first, firms have the opportunity to test new workplace strategies with pilot programs that can easily be pivoted if need be. This low-risk, high-reward solution allows law firms to better embrace new technologies and ways of working. The result is an environment that is better equipped to meet the ever-evolving needs of its staff and clients.
Firms are already beginning to implement public facing spaces that allow clients to utilize the same offerings as partners and attorneys so that these hospitality-infused offices can be utilized by individual clients. In certain instances, the spaces will also be used for external events.
Although most are still adapting to the new workplace, it's important to identify each firm's needs and know there are no cookie cutter solutions. Firms must curate personal services and experiences that reinforce their culture and elevate the in-office experience. With the average employee spending nearly one-third of their day in the office, it's essential to create a truly experiential environment.
Ken Wiesehuegel, LEED AP, NCARB, RA, RID, leads the Workplace and Professional Services Practice Area for Gensler's South Central Region. For more than 30 years, he has specialized in law office design and led client relationships on more than 6 million square feet of professional services projects for local, regional and Am Law 100 and 200 firms.