Mergers and acquisitions involving Texas companies continue to be upbeat, with third-quarter deal value up almost 70 percent over the second to $131.9 billion, according to Mergermarket data provided exclusively to The Texas Lawbook.
While the count was down 10 percent to 227 deals in the quarter, it was the 25th consecutive quarter with 200 or more M&A transactions, Mergermarket southwest bureau chief Chad Watt pointed out.
"The last time Texas had less than 200 deals in a quarter was the second quarter of 2013," he noted.
The highest quarterly deal value since 2007 was the fourth quarter of 2016 at $252.5 billion while the highest quarterly deal count was the third quarter of 2014 with 286 transactions, according to Mergermarket.

For the first nine months of the year, deal value shot up 27.3 percent to $289.2 billion, which surpassed the amount achieved for all of 2017. Deal count, meanwhile, dropped by 4 percent to 763.
Interestingly, five of the 11 largest deals of the year so far were in announced in the third quarter. Twenty-two of the 50 largest deals also were in Q3.
The quarter featured transactions by Energy Transfer Partners and Enbridge that were high in dollar but essentially money going from the "left pocket to the right," Watt said. "They still provided a lot of great work for the lawyers involved," he said.
Watt added that energy transactions amounted to nearly 69 percent of the overall deal value in the first nine months of the year versus only 22 percent of the deal count.
"Dealmaking in Texas this year has been strong well beyond energy," Watt says. "We've seen nearly 100 or more M&A transactions in industrials and chemicals, technology and business services."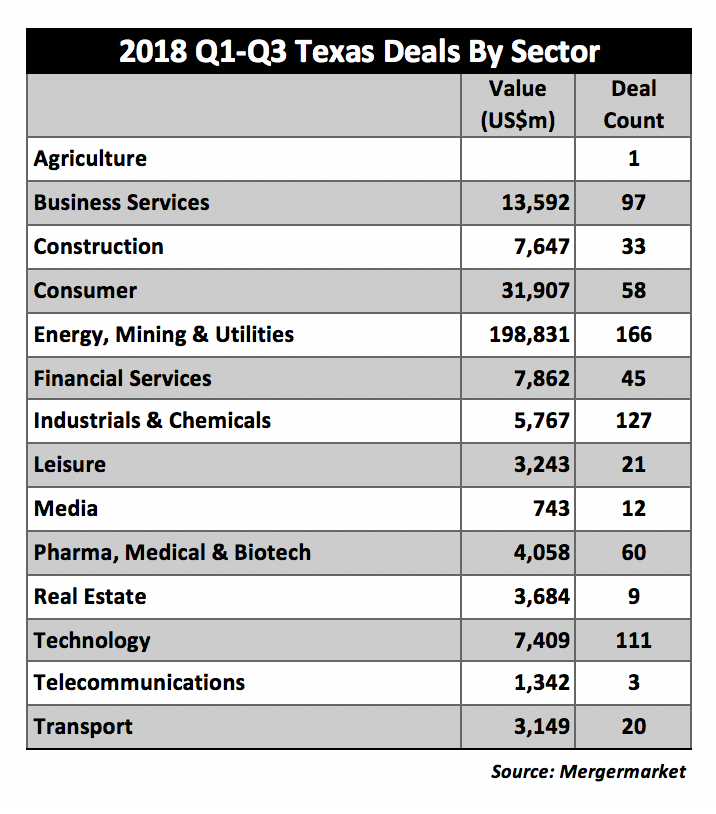 The most active sector so far this year after energy has been consumer with 58 transactions worth $31.9 billion, or 11 percent of all deal activity. The third was business services at 4.7 percent followed by financial services at 2.7 percent; construction and technology tied at 2.6 percent; and industrials and chemicals at 2 percent of the total.
Private equity deal values involving Texas companies fell 72 percent quarter-over-quarter to $4.137 billion while the count dropped by 23.7 percent to 45 transactions.
The highest quarter for private equity deal value since 2007 was the first quarter of 2007 at $49.9 billion and the highest quarter for deal count was the third quarter of 2016 at 65 transactions.
Deal attorneys say there have been a lot of sale processes going on in the energy industry but assets haven't exactly been moving due to disagreement over valuations.
"We're in the hardest M&A market that I've seen in a decade or more," says Bryan Loocke, a partner at Vinson & Elkins in Houston who worked on two big deals in the quarter. "I don't know if I've had more busted deals than in the last 12 months."
Loocke blames the situation on not a lot of new investors in the space and not a lot of initial public offerings going out. He also notes that public oil and gas companies are being driven by investor appetite for profit, not for growth.
"I don't expect a huge turnaround in Q4, but who knows? We have a lot of processes on the sale side but have had a hard time getting deals done," he said. "It depends on what the equity markets do. We either need an engine of new cash or companies to get rewarded for growth again."
Baker Botts Houston partner Erin Hopkins, who represented BHP Billiton on its much anticipated sale of $10.5 billion in assets to BP in July, said M&A activity has been steady with renewed interest among oil and gas companies in the Gulf of Mexico.
"Foreign investors who are used to foreign ownership rules have tried to play the shale game but they don't like the litigation around it," he said. "So they're stepping into Gulf, which has the same kind of mineral ownership as overseas and is easier to manage."
Hopkins also expects to see more strategic deals like the $9.5 billion RSP Permian-Concho merger from last March. "While it didn't create the immediate domino effect people expected, parties are now looking and shopping the more public ones," he said. "In the next couple of quarters, we'll see some announcements."
In terms of oil producing regions, Hopkins thinks there will be more swaps in the Permian to build up positions and deal activity in other basins that haven't received as much attention, including the Eagle Ford, the mid-continent, the Haynesville and the Powder River Basin.
Seth Molay, a partner at Akin Gump Strauss Hauer & Feld in Dallas, said the third quarter was outstanding for the firm, which handled seven M&A transactions worth $14 billion.
"It was a combination of the time was right, people were optimistic and there were attractive opportunities available that people took advantage of," he said.
Molay said he doesn't think the fourth quarter will be a repeat of the third, but he's seeing good deal flow. "There's uncertainty on oil prices, but I'm an optimistic guy and I think it will continue into 2019," he said.
Among the areas where he sees activity in the oil and gas industry: larger companies consolidating, joint ventures on the midstream side and acreage acquisitions and swaps.
Among other industries, Molay said "name-brand" companies are looking at deals and he expects technology, retail and hospitality to be the hottest areas for his firm.