Morgan Stanley took the top dollar spot among financial advisors doing deals in the first quarter in Texas, according to Mergermarket data provided exclusively to The Texas Lawbook.
The New York City-based investment bank advised on nearly $3.4 billion worth of transactions involving Texas-based buyers, sellers and targets.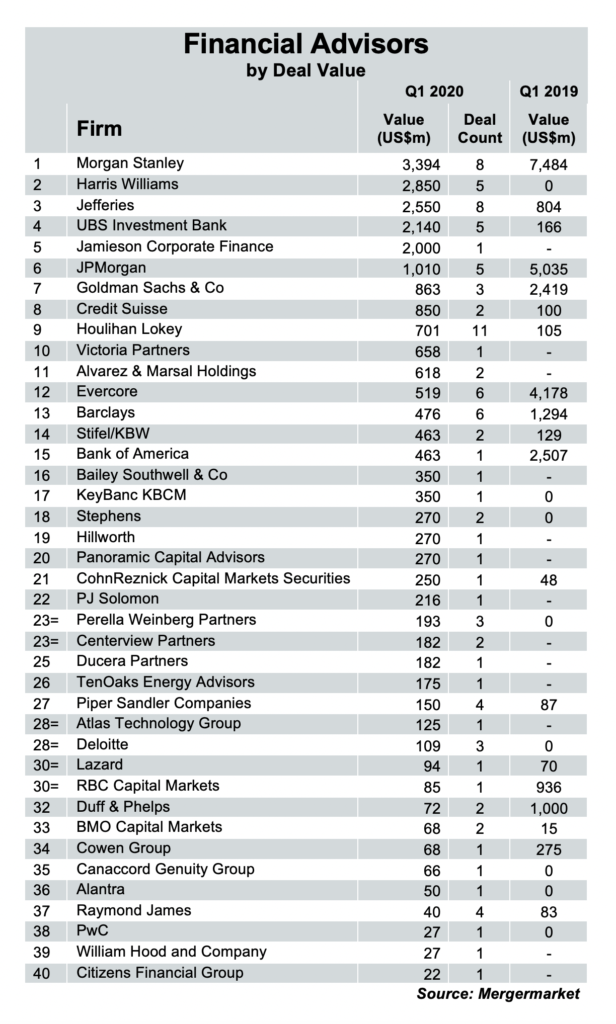 However, the advisor's performance was down 54.6% from the same period last year, probably due to the beginning of the coronavirus crisis and falling oil prices.
Morgan Stanley worked on a big deal in the quarter, advising the special committee of TerraForm Power Inc.'s board on the sale of a 38% interest to Brookfield Renewable Partners for $1.5 billion.
The investment bank came in second in terms of deal count, advising on eight deals versus seven at the same time last year.
The winner in the deal count category was Houlihan Lokey, which handled 11 deals in Texas worth $701 million — four more than at this time last year and seven times the value. The Los Angeles-based firm has offices in Dallas and Houston.
Among Houlihan Lokey's bigger deals: advising Dairy Farmers of America on its purchase of bankrupt Dallas milk producer Dean Foods Co. in February for $425 million.
Harris Williams was second in terms of value at $2.85 billion, getting a boost from its advice to Morgan Stanley Capital Partners on the sale of Austin-based Pathway Pet Alliance to TSG Consumer Partners for a reported $2 billion.
The Richmond, Va.-based firm – which doesn't have an office in Texas – worked on five deals in all in the state, putting it sixth in terms of deal count, up from 22 at the same time last year.
---
Meanwhile, New York-based Jefferies ranked third in deal value along with deal count, handling eight transactions valued at $2.5 billion. Among its deals: Advising Magellan Midstream Partners on the sale of three marine terminals to Buckeye Partners for $250 million.
UBS was fourth in value and Evercore was fourth in volume (the latter assisted Dean Foods on the Dairy Farmers transaction) while Jamieson Corporate Finance was fifth in value and Barclays was fifth in volume.
Rounding out the top 10 in terms of value were JP Morgan, Goldman Sachs, Credit Suisse, Houlihan Lokey and Victoria Partners.
Making up the rest of the top 10 in terms of count were Harris Williams, UBS, JP Morgan, Generational Group's Generational Equity – which moved its headquarters from Dallas to Richardson's CityLine area last year – and Piper Sandler, parent of Houston-based oil and gas specialist bank Simmons Energy.