It's hard enough for attorneys to get an acquisition negotiated, papered and announced. But throw in a Category 4 hurricane and it makes it all the more difficult.
That's what deal lawyers in the Houston area had to face with Zenith Energy's $320 million acquisition of publicly traded Arc Logistics Partners and general partner Arc Logistics GP LLC.
The transaction was announced on Tuesday morning, a little over three days after Hurricane Harvey hit the Texas coast. The storm pelted the Houston area with rain that flooded thousands of homes, took the lives of 22 people and led to damages estimated at $20 billion.
Lawyers in Houston shepherded the deal to completion over the weekend while in the midst of their own storm-related issues, including water in their homes, power losses, intermittent cell phone service and helping friends and family members.
Kirkland & Ellis advised Houston-based Zenith on the acquisition along with the formation of Zenith Energy U.S. LP and its general partner Zenith Energy U.S. GP LLC with New York private equity firm Warburg Pincus.
The team in Houston was led by corporate partners Adam Larson and Kim Hicks and associates William Mabry and Tim Vaughan and included tax partner Mark Dundon.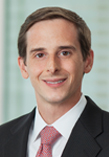 Lawyers assisting from the Kirkland's New York, Chicago, San Franscico and Washington, D.C. advised their client on debt finance, international arbitration clauses, environmental regulations, tax issues and employee benefits.
With Kirkland's new downtown office closed, Larson handled the deal from his home in the West University area of Houston. He didn't have any flooding in his house and only lost power for a brief period, but his sister-in-law and her family moved in with him Sunday morning after their home in the nearby Bellaire neighborhood flooded up to the second story.
Larson said the firm had already been working on the deal last week, but it still had some sticking points before it closed its office early Friday afternoon so its staff could get home before the storm hit. "We weren't starting from square one," he said. "If it was the 100-meter dash, we were at 50 meters by the weekend."
Adding to the deal's complexity was that the fact that it was the acquisition of a publicly traded company, which can be challenging with up-and-down stock prices, and that it required financing, which can also be tricky given the vagaries of the capital markets. "The stars were aligned, leaving a clear path to get the deal done if we could," he said. "If we had waited, the stars might have changed."
Zenith's general counsel, Dana Love, happened to live in Larson's neighborhood, and the two communicated by phone and email through the weekend. "She'd call me and say, 'How's the weather,' and then, 'How's the deal?'" he said.
Larson said doing everything by phone (four to five hours per day) and email wasn't ideal — electronic signatures came into play when the deal was finalized — but all those involved made the most of it. "It came down to being flexible and courteous to each other," he said.
Sidley Austin assisted Arc Logistics investor General Electric with a Houston team that included Mark Metts, Tim Chandler, Atman Shukla and Angela Daniel.
Neither Metts nor Chandler responded to requests for comment, but Chandler had an automatic response program on his email account saying he was without power and had very spotty Internet service due to the flooding. Larson said he believed Chandler had some flooding in his home.
Baker Botts advised the conflicts committee of Arc Logistics GP, which approved the terms of the transaction. The corporate team included Houston partners Josh Davidson and Jeremy Moore and associates Travis Wofford, Laura Katherine Mann and Zahra Usmani. Dallas partner Steve Marcus advised on tax matters, while Houston partner Rob Fowler and special counsel Chris Pratt advised on executive compensation matters. The firm's Washington, D.C. office was also involved in the transaction.
Lawyers from Vinson & Elkins' New York office represented another Arc Logistics investor, Lightfoot Capital Partners. Barclays and Credit Suisse were Zenith's financial advisers and provided committed financing for the transaction.
The deal, which is expected to close by the fourth quarter or early in the first quarter if it clears shareholders, is expected to create a top energy terminals business with more than 22 million barrels of crude oil, petroleum products and other liquids storage. Before the deal, Zenith had overseas facilities in the Netherlands, Ireland and Colombia.
Zenith is led by CEO and president Jeff Armstrong, the former head of corporate strategy and 12-year president of the terminals business at energy infrastructure giant Kinder Morgan. David Kinder, former VP of corporate development, treasurer and chief of investor relations at Kinder Morgan (and the nephew of Kinder Morgan's billionaire chairman Rich Kinder), is on Zenith's board.
While getting the transaction to the finish line wasn't easy, Larson said it's a testament to M&A lawyers in Houston that they could get the deal done. "It's an interesting story to have, but I'm not sure that it's one that I would want to repeat for a lot of reasons, related more to the city than the deal itself," he said. "We had people who were flexible, reasonable and willing to compromise so we could all be safe but also could move the deal forward."