It was 30 years ago this month when law enforcement officers descended on the Branch Davidian compound in Waco, Texas, resulting in a siege that lasted 51 days and ended with a fatal fire. Nearly 80 people died.
Today, a five-part series documenting the criminal trials of the surviving Branch Davidians, who were charged with conspiracy to murder federal agents, begins streaming on Showtime.
Dan Cogdell, who won an acquittal for his client Clive Doyle, and who will be played by the actor Giovanni Ribisi, recently spoke to The Lawbook about the case, the show, and whether what happened in Waco could happen again.
Editor's note: Answers have been lightly edited for clarity and brevity.
(From Left): Giovanni Ribisi and Defense Attorney Dan Cogdall at the SHOWTIME Premiere for WACO: THE AFTERMATH held at the Crosby Hotel in New York.
Q: How did you end up representing Clive Doyle?
A: During the siege, Dick DeGuerin had been retained by [David] Koresh, but he was looking for lawyers to represent everyone else. It was assumed anybody in that house was going to get charged sooner or later, which meant there would be 100 people more or less on trial.
I love Dick and he called me up and I said "I want you to represent Clive Doyle," and for free, I might add. I've got a new house. I've got bills to pay for. I said "There's no way I'm going to volunteer my time to represent anybody in a trial that could take two years."
The fire happened and Clive survived, and Dick called me back up and said "Would you go talk to him? He's at Parkland Hospital with severe burns." I said, "Sure, Dick, I'll go visit Clive, but I'm making no promises that I'm going to represent him."
I walked into his hospital room, and his legs were handcuffed and he was in custody. And on CNN I was, in real-time, watching him find out that his daughter had perished in the fire.
He was very much a pacifist; he didn't know an AR-15 from a BB gun. And after spending a few minutes with him, I truly asked myself, "What kind of lawyer am I if I don't volunteer to represent this guy under these circumstances where the government had engaged in the most horrific conduct I'd ever seen."
I thought what the government did was outrageous, and so I volunteered my time.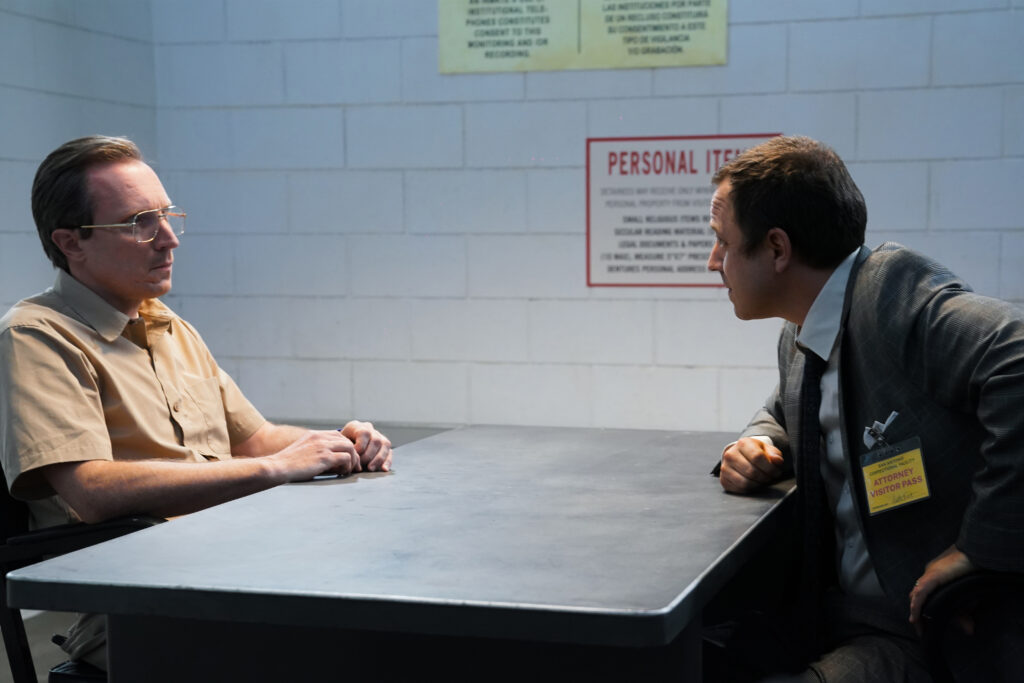 (From Left): John Hoogenakker as Clive Doyle and Giovanni Ribisi as Dan Cogdell in WACO: THE AFTERMATH episode "Truths and Consequences"
Q: Tell me a bit about the government's theory of the case and how you presented your defense to the jury.
A: The government's theory was if you were inside the house and you didn't come out you were guilty of a conspiracy, meaning guilty of a conspiracy to murder federal law enforcement officers.
My defensive theory — the facts were that Clive Doyle was a Branch Davidian and had been a Branch Davidian since birth. The fact he didn't come out of a house didn't make him guilty of being a co-conspirator. In fact, no one in their right mind would have walked out into the waiting arms of the government in that situation.
Q: Was there a key cross examination or piece of evidence at trial that you think was particularly impactful in getting the jury to agree with you?
A: There were two things. No. 1, [co-counsel] Doug Tinker, rest his soul, really zeroed in on the door. There were two entry doors, one of them was missing and never recovered. And the missing door, we believed, told the story of who shot first: Were the holes in the door entrance holes or exit holes? And we took the position of who shot first was a big [expletive] deal, and that the most important piece of evidence happened to go missing was a big deal.
The other thing was, [U.S. District] Judge [Walter] Smith had allowed us to view the Branch Davidian home. He gave us, like, two days to go look at it after the fire. I had a new motorcycle and drove up to Waco, and I get there at 4 p.m. and the FBI won't let me on property. They told me I can come back tomorrow.
I had a flight the next day out of [George Bush] Intercontinental [Airport] to fly to San Diego on a case I absolutely could not miss.
So, I'm walking through the property on the following day, I get back on my 916 Ducati, the Ferrari of motorcycles, and I was doing about 160 [mph] and I get stopped by a DPS trooper, and I was going that speed because I had to make my flight.
The DPS trooper stops me and said "What the hell are you doing?" And I said "Well, the truth is this is a brand-new motorcycle and I'm late for my flight in Houston, and if the motorcycle was broken in I'd probably be doing a buck-80, buck-90, but I've got to pull it back a bit."
And he writes me a warning ticket.
So, life goes on and a year later we're in trial and this agent, this trooper, who was military trained, was [testifying about being] one of the forward-looking observers in an encampment looking through a long-barrel gun with a very long sight on it and trying to figure out who was in the Branch Davidian home pointing a gun.
It wasn't my client, but he testified he could never forget a face.
And I'm looking at this trooper and I'm like, "Holy shit, that's the guy who gave me a ticket." So, I have my office fax the ticket to me, and I walk up and say, "Trooper Wilson, have you ever seen me before?" He said, "No sir." I said "You're sure? You never forget a face, right? You'd remember if you'd seen me before?"
Then I said, "Trooper, do you remember last March when you happened to stop a guy on a motorcycle. …" And he went whiter than my shirt.
But the point of all that is they were saying what they needed to say, whether it was truthful or not. The point was made that everybody was testifying based on what color their jersey is.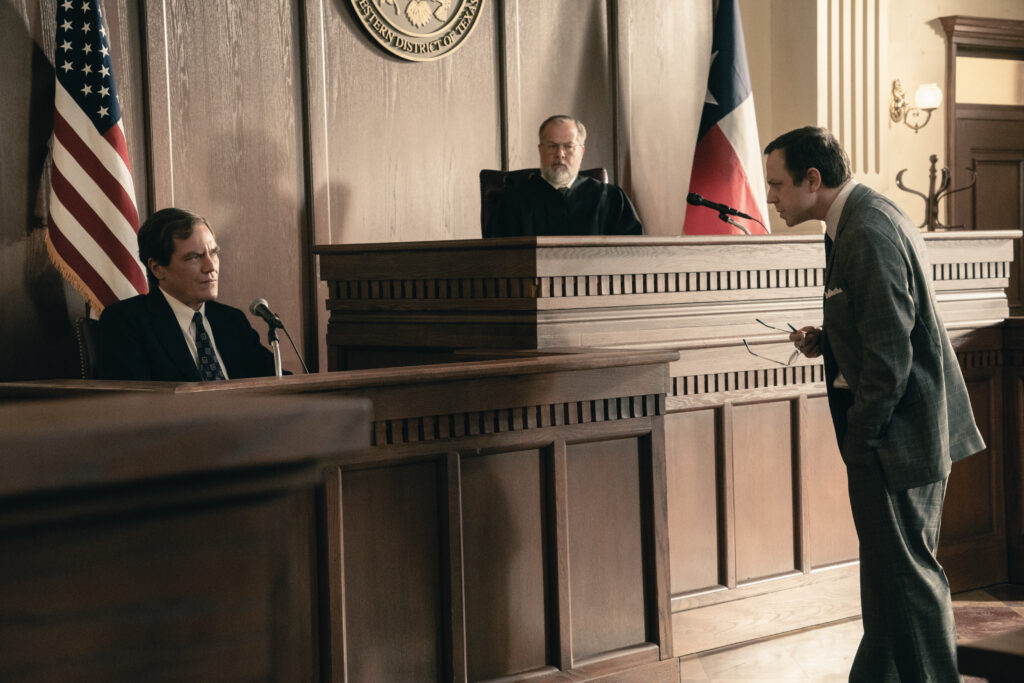 (From Left): Michael Shannon as Gary Noesner, David Costabile as Judge Smith and Giovanni Ribisi as Dan Cogdell from WACO: THE AFTERMATH.
Q: The trial took place in San Antonio. Was there a venue fight?
A: We filed a change of venue motion, the government didn't oppose it and Judge Smith agreed to move it. Frankly, there was so much attention on this it wouldn't have mattered where we tried it. I've had some big-boy, high-profile cases, but this was worldwide interest.
Q: The trial lasted six weeks. How long was the jury deliberating?
A: Only a day and a half. We were concerned about that because trial was six weeks. We were even more concerned because they returned the verdict on Feb. 28, which was exactly one year after the siege began. And we thought if they come back today, because it was a Saturday, that's a statement and we were just terrified.
Q: Did you get to speak with any of the jurors after trial?
A: Our jury foreman was a female NRA member, and we had a lot of discussions about whether or not to take her, and Robert Hirschhorn, our jury consultant, said "Take her, she's going to be foreman." I didn't necessarily accept that [but] we took her, not over my objection but I was really skeptical.
She turned out to be wonderful juror.
She sent me Christmas cards for three or four years after, and I've never had that happen before. She was very candid in her opinion.
But the jury thought that by acquitting the defendants of the most serious charges they would get a slap on the wrist or probation, and they were very upset when they learned sentencing was up to the judge and some of [the defendants] faced 20 years exposure.
Q: Have you kept in touch with Doyle?
A: A little bit, but not as much as you might think. He passed away a year ago.
There were three of them acquitted of everything and Clive was one of them. And at the victory party after — and after four or six or eight scotches — I'm 10 feet tall, and Clive kept saying "I just want to say to the press, I want to thank God and David Koresh for this verdict."
I was feeling pretty cute and I said to the media "I appreciate my client's faith and commitment to his religion and David Koresh, but I just called the State Bar of Texas and neither God nor David Koresh is licensed so I'd like a little credit." He didn't think that was nearly as funny as I did.
Q: You received a letter during the trial in 1994 from Timothy McVeigh, who would go on the next year to bomb the Federal Building in Oklahoma City. Tell me about that.
A: We got a bunch of fan mail — hate mail and love mail — during the trial from people who either supported the Davidians or hated the Davidians. As a kid here going up, I had paper route with the Houston Chronicle and my manager was named Tim McVeigh. And so, when I got this "Way to go, evil government, fight the good fight" letter, I laughed and said there must be another Tim McVeigh because the Tim McVeigh I know would not be writing that letter.
A year later, on April 19, when the Murrah Building blew up in Oklahoma City, I'm in trial here in Houston and I see a bunch of suits come in the door and approach the bench, and the jury is ushered out and these FBI agents are asking me if I talk to Clive Doyle and where is he.
I asked them what the hell this is all about, and they told me the Murrah Building just blew up and they thought he was responsible. I said "There is no [expletive] way that happened. Not Clive Doyle. I would bet my life that he's not a party to that."
When I found out McVeigh was charged for it, I reached out to the [federal authorities] and said I may have a little gift for you, but I had thrown out the letter.
Q: Have you seen the show and how true-to-life is it?
A: I've seen one episode. I left M.D. Anderson, where my wife is, to go to the premiere [Wednesday]. It's outstanding. It's really good. It's very accurate. I've read the script and it's about 80 percent accurate, they take the usual artistic liberties.
It's just other-worldly to have someone play you. And I love Giovanni — he looks nothing like me, but it's just weird. I didn't see this coming. And some of my one-liners are used, and he's got a deeper Texas accent than I do, but he's a charming guy to work with.
Q: When did you find out they'd be making this show?
A: Maybe two months before they started shooting. Giovanni emailed me and, he's a very nice guy, and said "I'm really intimidated to play you. I've never played a living person before, and you were such a nice-looking man back then." He asked to set up a Zoom call, and he's like "Hey man, how are you?" And I say, "Used to be a nice-looking man, [expletive]?"
Q: Do you believe another Waco-type incident is likely to happen in this country?
A: Look at Jan. 6. I think you can draw a straight line between Waco and obviously to the Murrah Building and to Jan. 6. This country is more divided than ever, and a lot of that is driven by Trump's genius for convincing people who aren't victims that they're victims.
The left is so far to the left and the right is so far to the right, there is no middle. And the siloing of media information is frightening.
This country is sitting on a powder keg in my view, and there's no one either cogent enough or effective enough to bring us together.
Q: Any other thoughts you'd like to share with our readers?
A: Only this. I wish every criminal defense lawyer had a Clive Doyle in their client list because what we do is oftentimes very underappreciated. It's rough. We deal with rough personalities, we deal with difficult personalities, and it's easy after you do this two or five or 40 years to air mail it in and say "Nothing I do is going to make a difference."
The Davidian case for me still puts oxygen in my lungs to this good day. I realize without aggressive, competent and diligent criminal defense lawyers the government overreaches and people can go to prison for decades for stuff they didn't do. And while Clive wasn't emotionally the most … gracious or grateful client I've ever had, I wouldn't trade him for the next 50 put together; because having represented him helps me to this day. It really does.