One is a storied Houston-based firm with deep connections in the Oil Patch that has been a powerhouse in law, policy, energy and politics for more than a century. The other is a Chicago-founded firm that came to Texas just eight years ago with deep pockets, high profits and an aggressive strategic growth plan.
Lawyers for the two corporate law giants often sit across the table on some of the biggest mergers and acquisitions involving energy companies and private equity firms. Kirkland lawyers in Texas ranked No. 1 in the Texas Lawbook's Corporate Deal Tracker 2021 M&A rankings, working on 144 M&A transactions valued at $61.3 billion. V&E ranked third, handling 113 deals with a combined value of $97 billion.
Kirkland made history last year by becoming the first out-of-state law firm to be No. 1 in The Texas Lawbook 50 revenue ranking for corporate law firms operating in Texas – beating out perennial leader V&E $527.8 million to $512.2 million in 2020.
In the Lawbook 50 rankings for 2021, just published today, V&E needed a comeback year to have any chance of reclaiming its crown as the top firm in Texas revenues.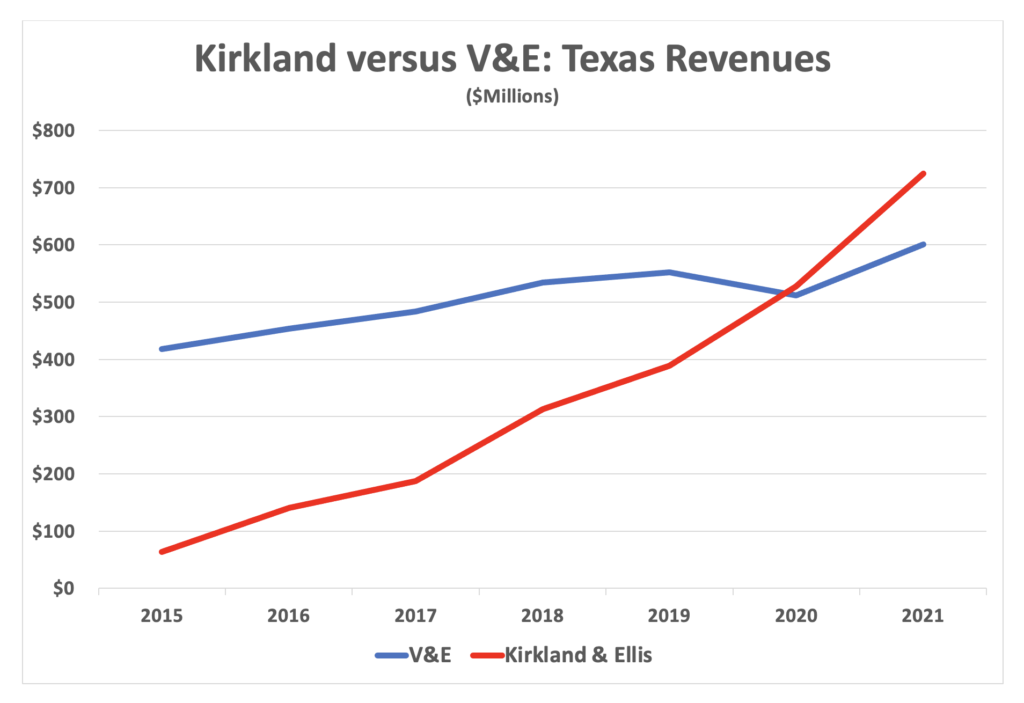 V&E nailed it, producing record growth in revenue. Its Texas lawyers generated $601.3 million in 2021 – a whopping 17.4 percent jump. The firm's $89 million revenue increase was more than the total Texas revenues of 21 law firms in the Lawbook 50. What's more, V&E grew its lawyer headcount from 424 to 454, or seven percent. It also turned in record profits again.
"It was a great year for the firm in 2021, an amazing year for growth," said V&E chair Keith Fullenweider. "Our conventional energy practice came roaring back. Private equity folks are very interested in energy transition."
Was it enough to put V&E back on top?
Nope. Not with Kirkland in the game.
The firm's Lawbook 50 scorecard for 2021 was, put simply, astonishing. The data show Kirkland added $197 million in Texas revenues last year, leaping 37.4 percent from $527.8 million in 2020 to $725 million in 2021. To put the year into perspective, the $197 million increase in revenues alone would make it the 14th largest law firm in Texas.
— Andy Calder, Kirkland & Ellis
Both firms share the distinction of being the first over $600 million in Texas revenue; Kirkland stands alone in claiming the distinction of topping $700 million.
"The firm had a great year," said Kirkland partner Andy Calder. "We were firing on all cylinders last year. Every practice group was incredibly busy. We opened an office in Austin last year and it has surpassed all expectations. Our M&A lawyers were incredibly busy. Litigation practice was great."
Even a few years ago, Kirkland sweeping past V&E would have seemed far-fetched. In 2019, V&E was riding high with revenues of $552 million – then the record for Texas corporate law (see chart). Kirkland, new to the Texas market in 2014, increased revenues from $64 million in 2015 to $318 million in 2019. It was still far back in the Lawbook 50 pack.
V&E and Kirkland vie for clients and fight hard across conference tables and in courtrooms. Although hard-fought, the battle between the two firms has been mutually beneficial.
Since opening its first office in Houston, Kirkland has poached a couple dozen V&E lawyers. At the same time, the higher hourly rates Kirkland charges clients provided cover to V&E lawyers to increase their prices.
Both law firms now have eighth-year associates hourly billing rates sitting at $1,050 and some partner rates exceeding $1,600 an hour.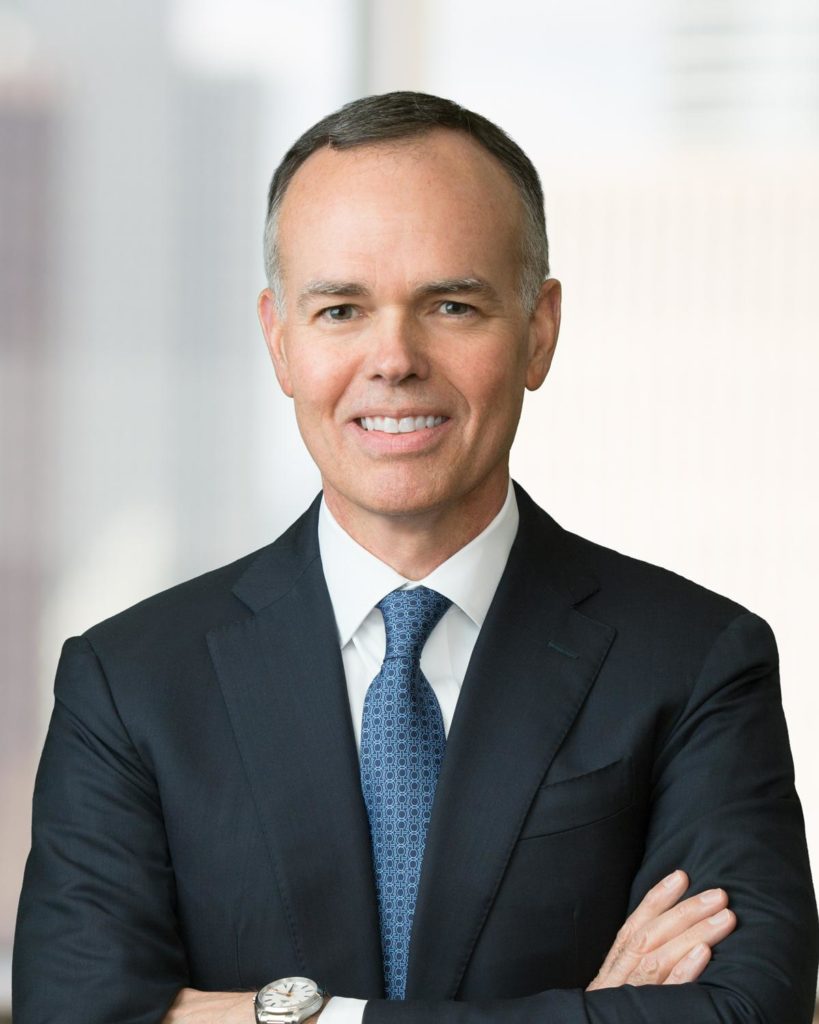 Keith Fullenweider, Vinson & Elkins
"There is a reason that V&E and Kirkland are at the top of the list," said Kent Zimmermann, a law firm consultant at Zeughauser. "V&E benefits from its historic market position. It has many former partners as general counsel at many clients. V&E's future is bright."
V&E's reign as "the undisputed king of the hill" among corporate law firms operating in Texas is over.
"Kirkland has used its scale, its deep pockets and its brand to create a market advantage," Zimmermann said. "Kirkland is now the elephant in the room."
The Lawbook 50 numbers demonstrate the gap.
V&E's revenue per lawyer jumped a healthy 12.3 percent in 2021 – from $1.17 million to $1.32 million. Its profits per equity partner increase was even stronger – up 19.3 percent to more than $3.5 million. Firmwide revenues, which includes lawyers working in Dubai, London, Los Angeles, New York, Riyadh, San Francisco, Tokyo and Washington, D.C., topped $912 million.
Legal industry analysts describe V&E financials as among the best in the U.S.
But it is hard to compete on the numbers with Kirkland, which tops the American Lawyer rankings with total revenues exceeding $6 billion. The firm's revenue per lawyer hit nearly $2 million and profits per equity partner exceeded $7.38 million.
Both firms implemented aggressive hiring practices in 2021.
According to Lawbook 50 data, Kirkland's Texas operations hired 19 partners and 78 associates on the lateral market last year. It also added 38 first-year associates for its Austin, Dallas and Houston offices. As a result, the firm expanded its Texas lawyer headcount by 28 percent – from 290 attorneys in 2020 to 371 last year.
"The Texas lateral market is very competitive," Calder said. "We are always looking for opportunities. We are definitely not done with growth in Texas. We are definitely not going to remain stagnant."
V&E added fewer Texas laterals, only 28 associates and one partner, in 2021, but it hired 53 first-year associates, by far the biggest rookie class of any firm in Texas.
Legal industry insiders say that Kirkland's success in recruiting in Texas is the result of its use of six-digit signing bonuses structured as forgivable loans if the associates stay for a minimum period of time and meet specific billing requirements. Kirkland officials decline to discuss its compensation system.
"Kirkland is a disruptive force in the marketplace because of their compensation levels," said Norton Rose Fulbright U.S. managing partner Jeff Cody. "But Kirkland is not the only firm paying a lot of money in signing bonuses."
The battle between these legal behemoths is continuing in 2022. Their status as first and second in the Lawbook 50 seems secure, as second place V&E's revenues are nearly $220 million ahead of the third-placed firm.
"V&E has done a nice job of maintaining its status as a first-tier energy law firm, which is its calling card and opened other doors for its lawyers," said Gibson Dunn partner Rob Walters, a former V&E partner and highly respected industry insider. "The success of Kirkland in Texas is unparalleled. Andy and his team have done an extraordinary job."