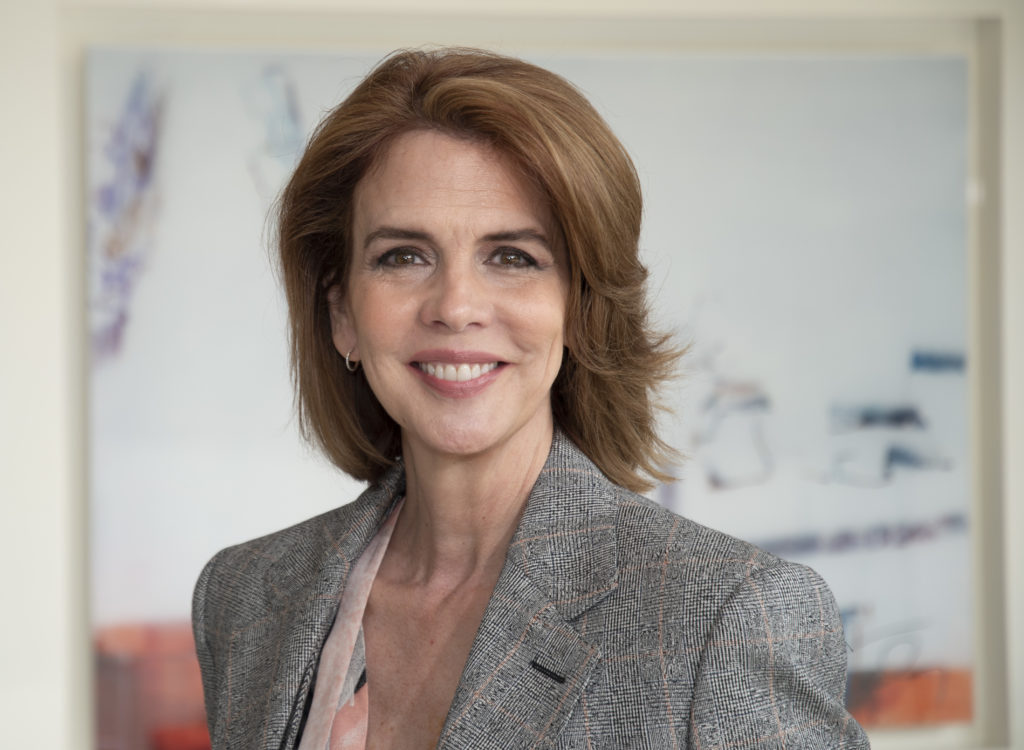 Attorneys who work with Dawn Estes, corporate litigation attorney and founding partner of Estes Thorne & Carr, often wonder when she sleeps.
Her attention and dedication to her client's needs and overall high level of energy have impressed her clients and co-workers. But the founder of one of the oldest women-owned corporate law firms in Dallas also earned a reputation for her ability to work well with general counsel, her skills parsing complicated cases and keeping her eye on the big picture, and of course her overall high level of energy. And on the side, she sings in a band.
"I don't know when Dawn sleeps," Shelby Angel, general counsel of Golds Gym, said. "She's extremely responsive and attentive to client needs."
Even when Angel sends an early morning email, sometimes as early as 5 a.m., she's surprised to receive a response from Estes.
In fact, Carol Payne, member of Estes, Thorne and Carr, admits there is a little bit of a competition in the firm to see who can respond to client emails first.
"[Estes] is super focused on client service," Payne said. "Even if she's crazy busy and she's got 10 other irons in the fire, she makes it a point to respond to clients. She wants the clients to know we got it, we're looking at it."
But even Payne is impressed by Estes's high energy level.
"Her bubble of energy is impressive," Payne said. "I'll feel like I'm ready to go to bed at 9 o'clock or something. And I find out that she was up until two and then returning emails at five."
Estes grew up in West Texas and attended Southern Methodist University for her undergraduate studies. She received her J.D. from St. Mary's University School of Law in 1989. After law school, she joined the Dallas office of Gardere Wynne Sewell where she eventually became partner in the firm's trial section.
Benefits of an unsuccessful campaign
In 2006, Estes ran for judge in Dallas County as a Republican and was the only Republican campaigning who wasn't already a judge.
While, she didn't win the election, the campaign opened her eyes to how many great smaller firms there were that weren't "just the small office in the end of the dark hall representing small companies."
"There were small firms that had the exact practice that I wanted to have," Estes said. "Full floor, beautiful offices and big clients. That was eye-opening."
After the election, Estes returned to Gardere. She said it was a great time to go back to the firm because no one knew the new Democrat judges. She knew them all because of her campaign and was friendly with them. In fact, she became friends with her opponent, Justice Craig Smith, and later served on his campaign committee.
At a career crossroads
It was during a social visit in Houston that the seeds of starting her own firm were planted, Estes said. She was on a shopping outing with friend and former colleague, Kimberly Phillips, and confided in her about the crossroads she was at in her career.
"I have an idea," Phillips said. "You should go and start a woman-owned law firm."
Estes was on the team that hired Phillips at Gardere Wynne Sewell, where Phillips would work for over 12 years before leaving in 2006 to join Shell Oil. Today, Phillips is the general counsel for global litigation at Shell Oil.
"I always knew about women and minority-owned law firms and the important role they played in delivering legal services," Phillips said. "But joining Shell, I was really able to see that up close and get a better appreciation for how different companies value those types of law firms and those relationships."
Phillips told Estes that she had the right skillset, was a good trial lawyer and great in the courtroom.
"I'd learn from her firsthand how to try cases, and I knew that she understood what corporate clients wanted and needed," Phillips said. "And I couldn't think of a better person to lead their own woman[-led] enterprise."
Phillips also told Estes that what set her apart was her ability to work with big companies and in-house counsel.
"You'd be shocked at how few lawyers know how to do that," Estes said. "People try to go around them. They don't know how to collaborate."
What made the biggest impression on Estes is when Phillips told her that Shell used a women-owned firm, Powers and Frost, as outside counsel. Knowing that someone else had done it before – in Houston – made Estes realize it was a legitimate idea.
The conversation with Phillips left Estes a lot to think about as she boarded her Southwest Airlines flight back to Dallas.
"I remember getting on the plane, flying back and rolling it over in my head," Estes said. "A small law firm may not be a bad thing if I can get everything I want.
When Estes got back to Dallas, she called Gardere colleague Lori Carr and shared her idea. Along with Jessica Thorne and Jane Taber, the women hatched the idea over six months, and the firm was formed in 2008.
Presence in the courtroom.
At almost 6 feet tall, taller when she wears her four-inch heels, Estes is a definitely a presence in the courtroom, Payne said.
Payne laughed as she recounted a scene she witnessed in a courtroom a couple of years ago. Estes was one of a number of attorneys present during the trial.
"The judge would call them to the bench," Payne recalled. "All the lawyers would go and the plaintiff's lawyer would be standing next to her, and she was just towering over him. So he wouldn't want to stand next to her. So he would sort of move to try to, get somewhere else. And then, you know, he couldn't see. It was funny too because he didn't want to stand next to her in front of the jury, which makes me laugh every time I think about it."
More than her physical presence, Estes is known for being congenial but firm. She's charming and authentic, Payne said.
"I heard somebody say that she'll nail you to the wall and smile the whole time she's doing it," Payne said. "You won't know what hit you because it's so pleasant."
Estes is also good at big picture strategy, Payne said. Estes likes to look at things and see what worked and what didn't and tweak things as needed. It's one of the reasons, Payne thinks, that she was hired by Johnson & Johnson as an outside counsel for its hip replacement lawsuit in 2019.
Payne joined the firm in 2012 from Vinson & Elkins. For almost 20 years, she's also lived across the street from Estes.
"I kept looking across the street thinking, 'You know, wow, that looks like fun, and they were doing great,'" Payne said.
Payne's practice at V&E was primarily Texas-based, so moving to a smaller Texas firm appealed to Payne. She also preferred the firm's rate structure.
But it also came down to the fact that V&E was a big law firm, run mostly by men, Payne said. While she worked with a lot of great attorneys and the firm had a women's initiative, those types of programs have limited success because many people involved are not convinced that the programs are needed.
"It was nice to jump from one bucket where there were all kinds of issues related to being a woman lawyer and in a largely male environment to being a woman lawyer in a largely female environment," Payne said.
Women in law
Jill Louis, the managing partner of Perkins Coie's Dallas office, was childhood friends with Estes' husband but first heard about Estes from her own mother. She told Louis about Estes starting her own firm.
"'She just seems like a woman you'd want to know; she started her own firm of all women,'" Louis recalls her mother telling her. "My mother came up at a time when people could actually say to you, 'Oh yeah, I'm paying you less than the men because they have families to support,' and that was not considered actionable."
Louis's mother was always a huge proponent of women going out and doing special things, she said.
"Dawn was that symbol of the professional woman who had moved out into her own space, and she kind of shared that admiration," Louis said. "Then I had the opportunity to meet Dawn, and you would just never [meet] a warmer, more inclusive person. "
When Louis became general counsel of FleetPride, the largest independent distributor of heavy-duty truck and trailer parts, she turned to Estes when she needed outside counsel.
Working with outside counsel
Louis reached out to Estes initially regarding labor and employment issues.
"She was just phenomenal and really taking care of her client just professionally, personally, knowing that our duty as outside counsel is to take on those burdens for our clients and make sure that the worry factor is gone and the friction factor is gone," Louis said. "Dawn is simply excellent at that and managing all parts of the client expectations. In addition to providing excellent legal work, she has an ethic about her."
Estes will also take on the mantle of her client's outrage when needed, Louis said. Once, the two women worked on a real estate case together and were just incensed by the behavior of the other side.
"I think that she had as much of a sense of trying to get justice for us as her clients," Louis said. "At that time it was very meaningful because sometimes you need somebody to take on your aches as well."
There wasn't a matter that Estes worked on for Louis that they did not win, Louis said.
"She has a fun and warm spirit, but she is extremely effective," Louis said. "In part, maybe it was because we were right, but you can be right and lose in the law – certainly without the right strategy, without the right counsel."
Louis credits Estes' ability to know when to lean in on, what details are important and knowing when it's time to have a conversation over the phone.
"I like to call it telephone law, which is that sometimes you just need to call and have a conversation," Louis said. "She is good at the, 'Let me call you and have a conversation, move the ball forward.' And I think that is also what makes her very effective as a mediator."
In fact, Estes often becomes very good friends with a lot of her clients just because [she is] genuinely interested in them and wants to make sure to make their lives easier, Payne said.
Golds Gym's GC, Angel, is a former attorney at Estes, Thorne and Carr. She hired Estes, Thorne and Carr after becoming general counsel in August 2020. She credits the manner Estes treats opposing counsel.
"I feel like even in very heated arguments, she was always very respectful," Angel said. "It's always the biggest compliment if your opposing counsel recommends you to be hired, and I think that's happened to Dawn a number of times."
Soon after Angel became GC, Gold's Gym faced litigation that Angel described "as some of the bigger litigation" matters that the company had ever faced. Estes was one of the first people she thought to turn to for help.
"One of the reasons I reached out to her with some of the litigation we had is she is amazing at taking something really convoluted and complicated and stepping back and looking at the big picture," Angel said.
Estes's ability communicate efficiently and effectively to her clients and give advice makes her an especially effective outside counsel, Angel said.
"The inside counsel doesn't have time to read all the details, they don't want just laws about it back," Angel said. "They want advice. You're being paid to give an opinion, and they need you to make the opinion and then support it."
It was a piece of advice Estes gave Angel when she worked with her, which she really appreciates in her role as general counsel. Angel looks for someone who's going to give her an opinion, but knows the supporting documentation is there and it's summarized in a way that she can glance at it and dig deeper if she needs to.
"It saves me a ton of time and at the end of the day, I have trusted advice on what's recommended to take to my business partners," Angel said.
Estes also does a great job of getting to know the business and the people that run it, which makes her advice very practical, Angel said.
"While advising, you've got to advise the bad and the good," Angel said. "But because she takes the time to understand the people and the personalities and business, I think she's able to effectively steer them in the best direction."
Her attentiveness to detail extends to her interaction with clients. As an example, Angel points to Estes's quick response to her emails, even early in the morning.
Encourager and supporter
Angel appreciates that Estes really encouraged younger associates and young partners to take the lead and step out of their comfort zone, but then she would take charge when she needed to take charge.
"She did a really good job of balancing that aspect of making younger associates and young partners feel important and worthy and having the confidence that they could and knowing that she's there as a backup if you need her," Angel said.
"I just think that she's kind of one of those born leaders," Angel said. "She's always been about women supporting women, which, sounds like it should be common sense, but I feel like that's kind of a new issue in the last decade maybe."
Estes's compassion and commitment to nurturing junior women lawyers' skills and talents is a trait that might go unnoticed because of her humility, Phillips said.
"Dawn really was a mentor and role model and a teacher for all of us," Phillips said. "The humility with which she carries herself, I think, probably goes unnoticed. She's very talented, very smart, just very humble, and very giving in terms of her time and talent and her willingness to teach and to be a role model."
Dawn Estes, Jessica Thorne, Lori Carr (former equity owner), and Carol Payne
Like so many boutique firms, Estes, Thorne and Carr has gotten calls to merge with bigger firms, Estes said. In fact, the Houston law firm that first inspired Estes, Powers and Frost, merged with Wilson Elser in 2013.
Estes has no plans to merge with a larger firm in the near future. Besides enjoying what she does, she and her partners believe what they are doing is still important. They often ask themselves if they're still relevant and to what extent they're needed as a women-owned firm.
"One of the reasons we continue, and one of the reasons we don't fold into a bigger firm, is because we like being out there to show other women that this can be done," Estes said. "I watch the ABA articles every year [for] women ranks in big firms. We're not making the progress that we should. We're making progress, but gosh it's slow."