© 2014 The Texas Lawbook.
By Mark Curriden – HOUSTON (Jan. 2) – When Lone Star Funds bought a building products business for $1.4 billion on Christmas Eve, the Dallas private equity firm essentially brought to a close a record year for corporate M&A in Texas.
New data shows that Texas-based companies were involved in more mergers, acquisitions, divestitures and joint ventures in 2014 than in any year in history, shattering the previous record set before the financial crisis.
Led by a trio of mega-deals, the accumulated value of 2014 M&A exceeded the dollar totals of all transactions from 2013 and 2012 combined.
There were 536 corporate M&A transactions during the past year – up from 401 such deals in 2013 or a 25 percent increase, according to Mergermarket, an independent global M&A research firm that produced the data exclusively for The Texas Lawbook.
The previous M&A record was set in 2007 when Texas companies were involved in 433 deals – 103 fewer than this past year.
"This was the first year in many years in which the M&A market fired on all cylinders for the entire year," says Mike Saslaw, a corporate lawyer in the Dallas office of Vinson & Elkins. "In previous years, we've experienced slow starts or slow finishes."
"From start to finish, 2014 was a great year for M&A, but I think 2015 could end up being even better with even more deals," says Glenn Pinkerton, a corporate partner at Sidley Austin in Houston.
Legal and financial M&A advisers say the explosion in M&A activity reached well beyond the oil and gas industry.
"We broke every record this year and our people have been extraordinarily busy in all business sectors," says Rick Lacher, managing director of the Dallas office of investment bank Houlihan Lokey.
"Our healthcare team has been swamped," Lacher says. "Our food service guys and consumer teams have been swamped. And oil and gas, needless to say, was off the charts."
"The U.S. economy just had its best quarter in forever," he said. "There's a lot of money out there looking for a home, looking for investment opportunities."
Legal and financial advisers say that the Mergermarket data actually under-calculates the amount of M&A activity taking place in the state because the research firm doesn't include deals that are confidential and that it is unable to publicly confirm.
For example, Mergermarket reports that Dallas law firm Thompson & Knight was involved in 16 transactions in 2014, but the firm reports that it handled an additional 58 deals that were not made public. Officials at Baker Botts and Locke Lord say that Mergermarket's data misses more than half of the deals they led, too.

"While there were many billion-dollar transactions, there were many, many more oil and gas deals in the $100 million range that were never disclosed because they involved privately held companies," says Robert Reedy, a corporate transactions partner at Porter Hedges in Houston. "These smaller deals can be just as complex and can be just as important to the companies involved as the billion-dollar deals."
Chad Watt, an M&A analyst and writer with Mergermarket who focuses on Texas, says the data shows that corporate lawyers representing Texas businesses were one of the biggest beneficiaries of the dynamic M&A market in 2014.
Vinson & Elkins acted as legal adviser to companies in 81 of the transactions. Latham & Watkins was second with 53 deals, followed by Jones Day and Kirkland & Ellis. (Note: The Texas Lawbook has a complete analysis of the top legal advisers in 2014 in a separate article titled, "Who is doing the Legal Work?")
While Watt and others say that all business sectors experienced a significant uptick in mergers and acquisitions, the oil and gas industry still reigned supreme in Texas.
Fifteen of the 20 largest deals involved energy businesses, according to Mergermarket. The transactions were evenly divided between upstream exploration and production companies and midstream corporations operating pipelines and gathering systems.
"There was a perfect storm for M&A activity in oil and gas in 2014," says Mark Johnson, senior vice president at Houlihan Lokey and an expert in oilfield services.
Johnson said energy company revenues and market values hit record highs, access to cash was almost limitless and there was a significant expansion in the pool of strategic corporations and private equity firms interested in investing in the energy sector.
"The list of potential buyers and investors for assets increased dramatically in 2014 to include companies that just two years ago would never have invaded the oil and gas space," he said. "We worked on a deal in which an aerospace manufacturer paid several billion dollars to purchase an oilfield services company."
Not only did deal volume explode in 2014, but the size of the transactions hit record levels, too.
Mergermarket reports that the cumulative value of the 536 transactions was $275.3 billion – more than double the $123.6 billion total in 2013.
There were three mega-deals announced in 2014. The largest was Houston-based Kinder Morgan's $58.7 billion corporate restructuring, which combined and consolidated a handful of affiliated companies organized as master limited partnerships into the pipeline giant's parent company.
Dallas-based AT&T announced in April that it was acquiring DirecTV for $48.5 billion. In November, Houston oilfield service company Halliburton announced a $38 billion merger with Baker Hughes. Both deals are still awaiting federal regulatory approval.
"Wow – what a year for M&A in Texas," says Mergermarket analyst and commentator Chad Watt, who specializes in M&A in Texas. "Mega-deals are definitely back and we could see several more of them in 2015."
Watt and other M&A advisers say that Energy Transfer Partners is monitoring competitor Kinder Morgan's consolidation to see whether merging its affiliated companies and MLPs makes sense for the Dallas-based pipeline company.
Legal and financial advisers also say that 2015 will likely witness one of the super-major oil corporations, such as Exxon Mobil, Chevron or ConocoPhillips, move to acquire another large oil and gas company. Irving-based Pioneer Natural Resources and Houston-based Apache Corp. are two that the M&A advisers say are prime targets.

"Anytime there is uncertainty in the marketplace, a huge acquisition such as those becomes much more likely," says Andrew Calder, a corporate partner at Kirkland & Ellis in Houston.
Bill Parish, an M&A legal expert at Morgan Lewis in Houston, said the "super majors have a lot of cash and they can take advantage of any dips in the market" to make a major deal.
"There are going to be definite winners as a result of this drop in oil prices," says Parish. "There will be a real opportunity for some companies to come out of this market cycle bigger and stronger."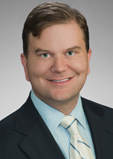 Pinkerton, the corporate lawyer with Sidley Austin, says the fluctuation in oil prices may open the door for some Texas companies to become the target of hostile takeovers.
"I think there's a real possibility that we could see hostile activity in 2015 because some of the leaders at these oil and gas companies built their companies and now they are facing stress because they are highly leveraged," he says. "The leaders want to hold on to the reigns or control of the companies but they could face a serious challenge."
Mergermarket reports that there were 255 deals announced during the first half of 2014 and 281 M&A transactions disclosed during the final six months.
Legal experts said there would have been even more deals but many acquisitions and divestitures were put on hold due to the dramatic drop in oil prices during the fourth quarter.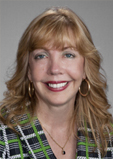 "We saw several deals evaporate in late October and November because of the uncertainty," says Robin Fredrickson, an oil and gas partner at Latham & Watkins in Houston. "But we have seen this before. Once the price settles, companies will go crazy making new deal announcements.
"We are either going to be swamped with deals in a couple months or we could be dead with no M&A," says Fredrickson. "There will be no middle ground."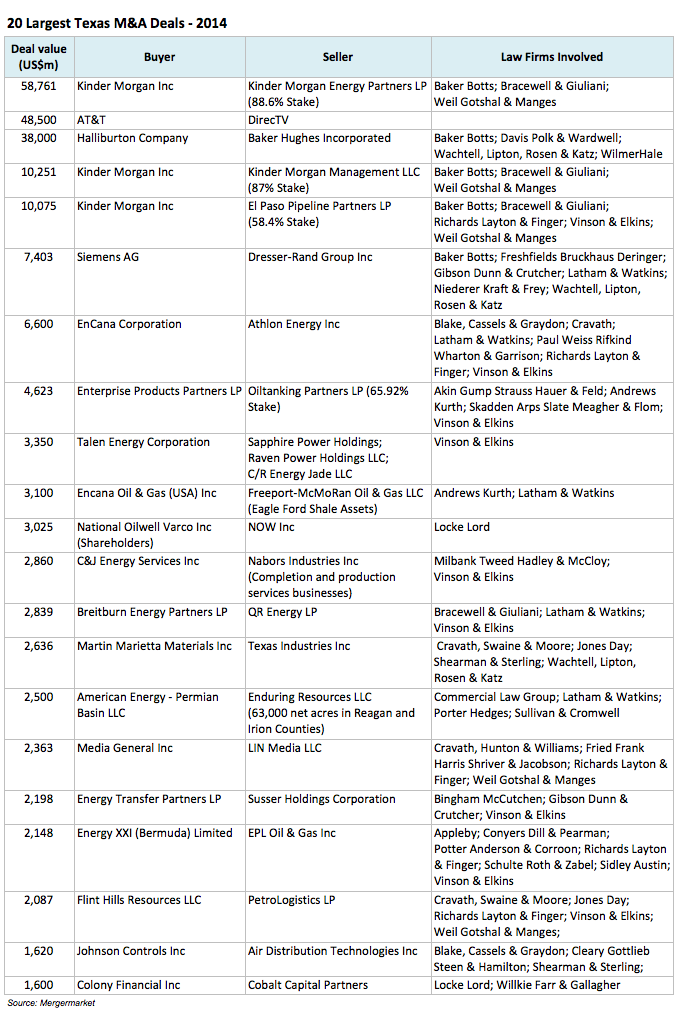 © 2014 The Texas Lawbook. Content of The Texas Lawbook is controlled and protected by specific licensing agreements with our subscribers and under federal copyright laws. Any distribution of this content without the consent of The Texas Lawbook is prohibited.
If you see any inaccuracy in any article in The Texas Lawbook, please contact us. Our goal is content that is 100% true and accurate. Thank you.