Amy Blumrosen
Though now openly gay, Baker Hughes global litigation counsel Amy Blumrosen hid her sexuality from her employers for years.
At the beginning of her legal career in the late 90s and early 2000s, Blumrosen and several of her male friends, also hiding their sexuality, would attend work events such as Christmas parties and firm retreats as each other's dates.
It was a formative, first-hand experience with inequity for Blumrosen, but as someone who is also a Jewish woman in the male-dominated legal field, not her first.
"Being a woman in the legal profession and seeing some of the inequities that I witnessed as a law student and young associate really opened my eyes," Blumrosen said. "I hid my sexuality for years from my employers because I was afraid it would affect my career. Another thing that was hard was finding a female mentor that didn't look at you as a competitor, because I experienced that as well."
Inequities continue in the legal profession in the 27 years since Blumrosen graduated law school, but as law firms and corporate legal departments continue to add diversity, equity and inclusion to their list of priorities, the outlook is sunnier. And Blumrosen continues to fight inequities in a multitude of areas as a leader in the DEI space and a serial community servant.
At Baker Hughes, Blumrosen leads and helped found the Legal and Compliance Diversity, Equity and Inclusion Council, and her passion for DEI has led to the implementation of many global programs around diversity and inclusion. She also started a pro bono program in Baker Hughes' legal and compliance department, which currently is dedicated to helping veterans get proper benefits. At her previous employer, Chevron, Blumrosen played a leading role in its Law Function Diversity Council (LFDC).
Outside of work, Blumrosen has served on the steering committee of the Texas Minority Counsel Program (where fellow leaders have called her the organization's best friend-raiser and fundraiser), the board of directors of the Texas LGBTQ advocacy nonprofit Lambda Legal Houston, and was an active member of the Human Rights Campaign.
Premium Subscribers: CLICK HERE to read a Q&A with Amy Blumrosen, in which she discusses how she female attorney mentorship, the importance of community and pro bono work and her views on where DEI is headed in the Texas corporate world.
She also battles inequities outside of LGBTQ issues through community service, fighting food insecurity through her work at the Houston Food Bank, addressing child poverty through period supply donations to middle school girls and supporting youth mentorship via charity pickleball tournaments benefitting Big Brothers Big Sisters.
"As a gay Jewish woman who grew up in Lubbock, Texas, it's fair to say Amy had to manage a lot of strong headwinds throughout her life," said Chevron senior managing counsel Siva Barnwell Adams, who served on LFDC with Blumrosen. "Those headwinds have engrained in her a drive to battle inequities for marginalized communities. Her passion for service and her commitment to do the work makes Amy a great leader and advocate for diversity and inclusion."
On Thursday evening, the Association of Corporate Counsel's Houston Chapter and The Texas Lawbook will honor Blumrosen with the 2023 Houston Corporate Counsel Achievement in Diversity and Inclusion Award at a ceremony at the Four Seasons. Blumrosen's fellow finalist in the category, the Hewlett Packard Enterprise legal department, will also be honored with the award because ACC-Houston and The Lawbook found the DEI efforts of both exceptional.
"I hid my sexuality for years from my employers because I was afraid it would affect my career."
Photo: Sharon Ferranti
In nominating Blumrosen for the award, Baker McKenzie partner Michelle Hartmann wrote that Blumrosen "works tirelessly to promote diversity, equity and inclusion — both within Baker Hughes' legal department and through her management of outside counsel."
"Amy has encouraged Baker McKenzie to partner with her and Baker Hughes on volunteer activities and through various diversity initiatives, and we can say that, based on our first-hand knowledge, Amy's mission to serve in the furtherance of creating equity is contagious," Hartmann wrote.
Travis Torrence, Shell's managing counsel of U.S. litigation, said Blumrosen stands out as a leader in DEI because she "transforms talk into action."
"She's thoughtful, methodical, and strategic but most of all, action-oriented," said Torrence, who chaired the Texas Minority Council Program's steering committee when Blumrosen joined it. "She's not just talking about the issues. She's on the front lines making viable proposals and leading from wherever she is seated in an organization. And, when Amy meets obstacles, she is relentless in seeking avenues for change."
"When she can't get in through the door, she's coming in through the window," he added. "If the window is closed, she's going to break through the ceiling. Amy gets things done and achieves meaningful change on behalf of the LGBTQ+ community and so many other marginalized groups."
Growing Legal Roots in West Texas
Blumrosen grew up in Lubbock. Her mother was a homemaker and "one of the few in our Lubbock community" on the board of Planned Parenthood, Blumrosen said, but in her fifties, she made a career pivot.
"She had a second career at age 57 as a financial planner," Blumrosen said. "Watching her study for her exams to become a certified financial planner and the passion she had helping clients wisely invest their money showed me that no matter how old you are, if you have a passion, you can achieve success."

Blumrosen's father was an attorney who specialized in agricultural law representing cotton co-operatives and was also a general practitioner, handling corporate matters and general litigation.
"He would come home every evening and sit with my mom and talk about his day and his clients," Blumrosen said of her father. "My father's hobbies were his work and his family. He really loved the practice of law and helping his clients."
Blumrosen's father was a solo practitioner until he convinced his female secretary to attend law school and join him as his law partner at a time (the 70s and 80s) when that was "unheard of," Blumrosen said.
From an early age, Blumrosen was different from her peers.
"I was the only Jewish kid in my 5A high school," she said. "I didn't really face antisemitism [because] people in Lubbock were ignorant about Jewish people. [But] I did experience a lot of Christian conservatism. I was told I was going to burn in hell because I was Jewish. It wasn't antisemitic — there were just a lot of faith-based people who went to my school who were Church-of-Christ [or] Baptists, and anyone different from them [was] going to burn in hell. Otherwise, it was a great place to grow up."
Blumrosen said she had group of diverse best friends, and being in a small town, their parents didn't worry about them going off on their bikes together so long as they were home for dinner. Still, sometimes they found trouble.
Blumrosen's first time in the courtroom came after a party that she and her friends attended got busted ("Everyone scattered; some of us didn't scatter fast enough," she said). Blumrosen and four friends were prosecuted on minor-in-possession (MIP) charges. Blumrosen's father was able to get her charges and her best friend's charges dropped, but two more friends and her boyfriend at the time went to trial. Blumrosen attended, watching her dad in action for the first time.
While questioning the police officer, who had testified that the liquid in the keg tasted and smelled like beer, Mr. Blumrosen asked him if he had conducted a chemical analysis of the keg. The officer had not. Mr. Blumrosen moved for a mistrial, arguing the keg could have been filled with nonalcoholic beer. He won.
"It turned out that the judge's son had also been at that party," Blumrosen said. "My friends all thought my dad was a hero. It was fun to watch him in trial. His only criminal jobs were getting my brothers out of jail when they got in bar fights (the drinking age then was 18) and helping me with my friends' MIP issues. Other than that, he was a civil litigator."
Self-Discovery in the State Capital
Blumrosen moved to Austin to attend college at the University of Texas, where she majored in art history and minored in painting.
College proved transformational for Blumrosen in multifaceted ways. First, after spending her freshman year as a collegiate athlete on the women's tennis team, she decided to quit and discover her identity outside the sport.
"My parents had always told me … the experience of college should be the best experience ever — a learning experience and a time to explore who you are, and I knew I wasn't a tennis player anymore," she said. "It was an adjustment, but I was able to fully enjoy my college experience."
Blumrosen became immersed in women's rights issues, attending lectures by Sarah Weddington and marching with the Guerrilla Girls, an anonymous advocacy group of feminist artists, when they came to Austin. She recalls attending one debate between Weddington and a pro-life woman that was "just mind-blowing" to listen to.
During Blumrosen's sophomore year, UT elected Toni Luckett as the school's first Black and lesbian student body president. She was elected at a time when UT's fraternity culture was under scrutiny for elevated incidents of violent hazing and using racial slurs. Luckett quickly became known for leading rallies and demonstrations where she challenged the status quo. Described by Texas Monthly's Skip Hollandsworthas "the Antichrist" in the eyes of the typical Texas fraternity man, Luckett "yelled at people … wore her hair in thick dreadlocks [and] liked women more than she liked men."
"She was strange and hostile, something [the frat guys] had never come across in their homes in Highland Park and River Oaks," Kevin McHargue, the editor of the Daily Texan at the time, said in the 1991 Texas Monthly piece. "And I think what they realized when they saw her was that even in an overwhelmingly white institute like UT, you can't be sure you can stay in power. On some subliminal level, they realized this was a foreshadowing of what they were going to have to fight when they got older and entered the adult corporate world."
Blumrosen remembers Luckett opening her eyes more to racism after she led a demonstration that protested one fraternity's use of a Sambo-like figure on T-shirts. But that wasn't the only discrimination Blumrosen's eyes were opened to.
"Growing up in Lubbock,I did not realize my last name sounded Jewish," she said. "When I got to UT and told people my last name, it was immediate — 'Oh, are you Jewish?' Or 'You must be Jewish.' I heard jokes about Jews, I faced antisemitism in college that I had never anticipated experiencing. College opened my eyes up to a bigger world than what I had growing up in Lubbock, Texas."
Finally, during her senior year, Blumrosen realized she was gay after developing her first crush on a girl.
"When I told the girl it didn't go too well," she said. "She went and told everybody, [and] I was ostracized."
After meeting her first girlfriend in Austin, Blumrosen decided to come out to her parents.
"My dad was worried," she said. "Even though his secretary had been his law partner, he was worried about who was going to take care of me, and he wanted me to go to therapy because I had boyfriends up until that time. Then after my dad passed away right when I was graduating law school, my mom disowned me and stopped talking to me for about one-and-a-half to two years."
Finding Love and the Law in Houston
Blumrosen decided to follow her two brothers' footsteps to law school after observing them enjoy practicing just like their father had. She moved to Houston to attend South Texas College of Law and graduated in 1996. Today, all three siblings practice in Houston. One brother, Eric Blumrosen, is a corporate partner at Foley, while the other brother, Dean Blumrosen, runs a solo practice as a litigator.
Blumrosen began her career on the plaintiff's side working for Houston trial lawyer John Kim, then moved to a small defense firm specializing in toxic tort litigation. After that, she moved to Baker Botts, where she also practiced toxic tort litigation and acted as regional counsel for Dow.
"I heard jokes about Jews, I faced antisemitism in college that I had never anticipated experiencing. College opened my eyes up to a bigger world than what I had growing up in Lubbock, Texas."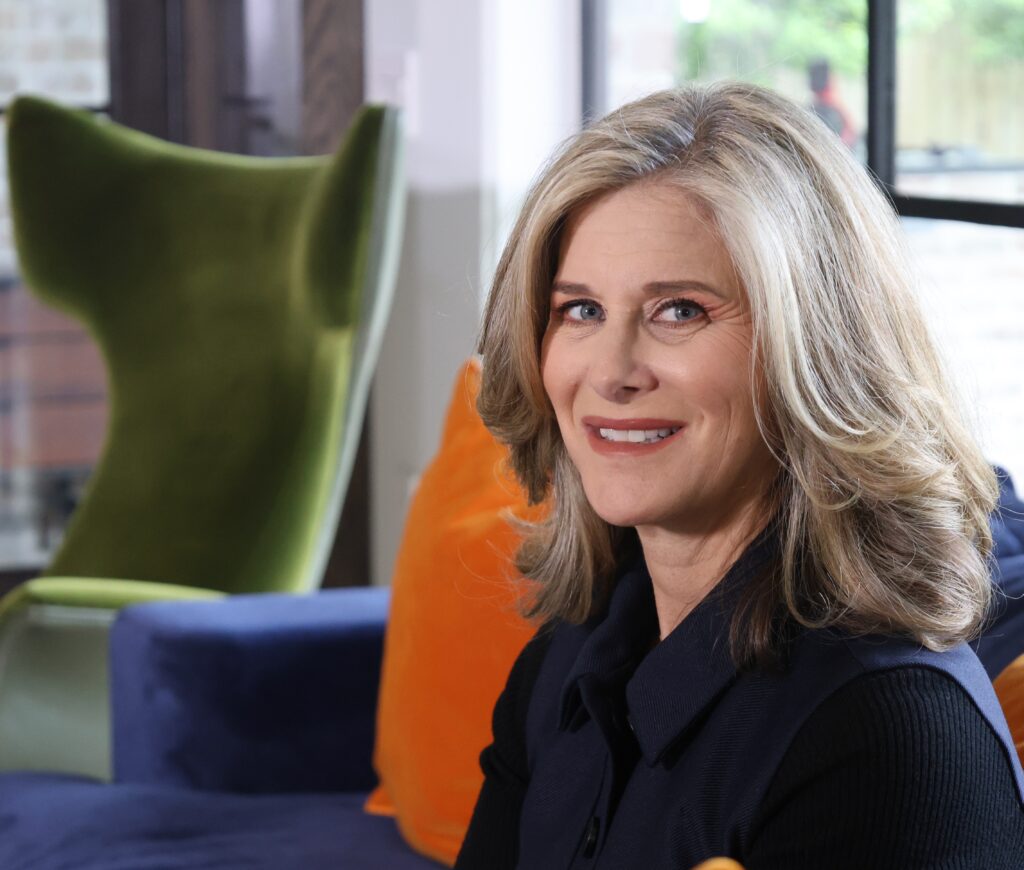 Photo: Sharon Ferranti
Her first in-house stint came in 2002, when she moved to Cooper Industries. She spent three years there managing outside counsel, trials and settlement negotiations for multimillion-dollar claims involving wrongful death, product liability, personal injury, property damage and commercial matters. She also coordinated the defense of more than 90,000 asbestos claims.
Then, Blumrosen spent a year practicing at Forman Perry Watkins Krutz & Tardy working on product liability cases before going in-house for the long haul.
In 2006, she arrived at Chevron as senior counsel. Adams, who is now senior counsel of transactions at the company, vividly remembers meeting Blumrosen.
"I met Amy in the fall of 2006 in the elevator," Adams said. "It was her first day of work and she was getting a tour of the offices. Before I could even say hi, she introduced herself. I thought, 'Wow, that's assertive.' A group of us took her to lunch and I sat down next to her. She was unabashedly her true self, which I had to admire. We have been good friends ever since."
At Chevron, Blumrosen spent a decade managing litigation involving FLSA class actions, employment disputes, personal injury and commercial lawsuits involving Chevron's downstream business.
Not long after Blumrosen joined Chevron, she decided to be out at work about her sexuality. By that point, she had met her life partner (and now wife) Shari Heyen, a fellow lawyer (and now the managing shareholder of Greenberg Traurig's Houston office), and they were trying to start a family.
"I decided I did not want to hide who I was and realized people were either going to accept me or not," Blumrosen said. "I knew [Chevron] had pretty friendly LGBT policies, and I think that helped me."
She joined Chevron's Pride Network, the only employer resources group that had an anonymous membership, and she learned several of her gay colleagues were still in the closet. A few years into her tenure at Chevron, an opportunity arose to join the Law Function Diversity Council, which aims to increase diversity and inclusion among legal professionals at the company.
Blumrosen noticed that LFDC's diversity efforts were mostly "outward-facing," meaning that they largely focused on buying tables at the galas of minority bar associations. She suggested bringing more internal DEI training into the mix. She put together a virtual training session with Kenji Yoshino to discuss with the legal department the act of "covering" — or downplaying a disfavored trait. An NYU law professor and prolific author, Yoshino argues in his book Covering: The Hidden Assault on our Civil Rights that because everyone possesses stigmatized attributes, we all encounter pressure to cover in our daily lives and that U.S. civil rights law has mostly ignored the threat posed by societal covering demands. He draws deeply on his own experiences as a gay Asian American.
Blumrosen also organized a hands-on seminar on unconscious bias for the entire legal department.
"I wanted people to learn that we all cover and we all have unconscious bias and maybe if we can recognize these, we can have more empathy toward others," she said.
Blumrosen "put in the sweat equity to deliver D&I programs to Chevron's legal department," said Adams, and even though she's no longer there, "LFDC continues to bring D&I programs."
Pro bono-wise, Chevron partnered with outside law firms to handle guardianship cases for the parents or other caretakers of disabled children as they approached adulthood. Blumrosen said she represented a woman seeking guardianship over her son as he got ready to turn 18 and had the mental capacity of a 3-year-old.
About a year before Blumrosen departed Chevron, the U.S. Supreme Court issued its decision in Obergefell v. Hodges, the monumental case that legalized same-sex marriages in every state.
Paving DEI Trails at Baker Hughes and Beyond
Blumrosen joined Baker Hughes in September 2016, and the following month, in front of their 6-year and 9-year-old sons, their families and friends, Blumrosen and Heyen got married. At this point Blumrosen's estrangement from her mother had run its course, but at the wedding, her mom delivered some words of atonement.
"My mom gave a speech and publicly apologized for the way she treated me when I first came out to her in front of all our wedding guests," Blumrosen said. "I still have it on my phone and listen to it because she passed away in 2021. It was a beautiful memory."
"At the end of the night, one of the members of the band came up to us and said he was gay and that this was his first gay wedding to perform at and that it meant so much to him to hear my mom apologize and to see all the people there to celebrate our special day," she added.
At her new job, Blumrosen settled into a much smaller legal department (there are only four lawyers in the litigation group), which has allowed her the opportunity to become a "jack of all trades" over the Baker Hughes docket. Beyond managing litigation ranging from contract disputes to lease disputes to personal injuries to environmental contamination, Blumrosen also has assisted the company's health safety and environmental group "with everything from BH's Covid responses during the pandemic to investigating incidents and responding to governmental agencies concerning environmental issues," she said.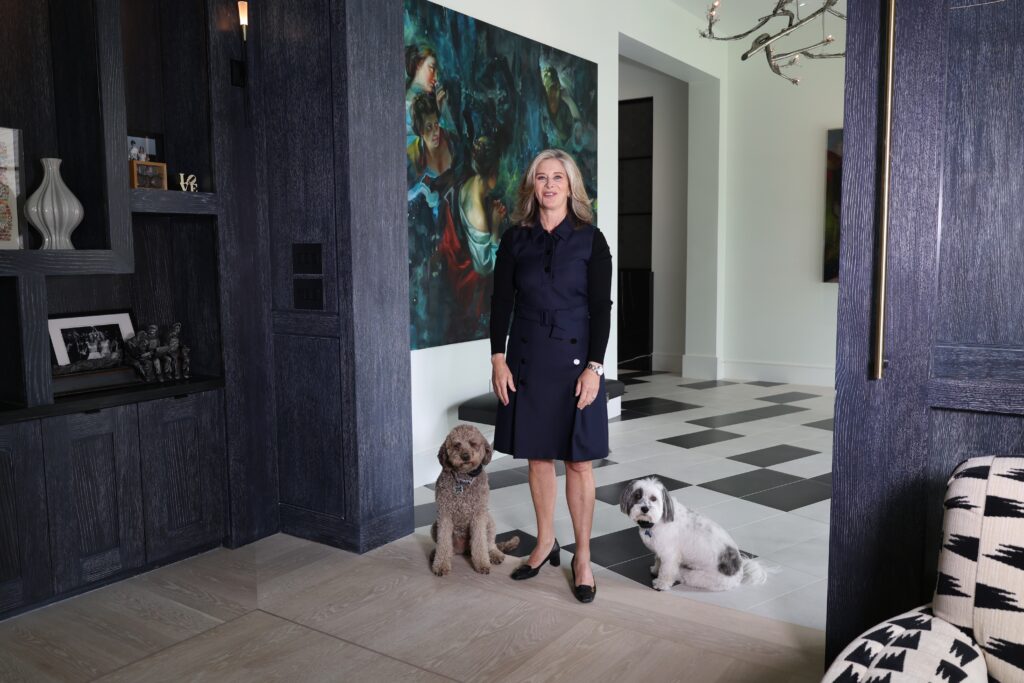 She likes the autonomy her current role provides her as well as the variety and growth opportunity into less familiar legal work. She said working in Baker Hughes' legal department is "more like the wild wild West" compared to more siloed work environments earlier in her career. She's also gone to trial four times, including one that took her to Santa Fe and away from the Houston heat one summer.
In 2021, Blumrosen helped create the Baker Hughes legal and compliance department's diversity, equity and inclusion council and serves as the chair. Also in 2021, Baker Hughes hired Nicole Hughes, the company's first chief culture and DEI officer. Blumrosen said the council currently has 30 members from all over the world, including the U.S., UK, China, Abu Dhabi, Italy, Brazil and Colombia.
The council coordinates regular DEI training internally and externally, including one that Blumrosen started that partners with outside firms to present training to the legal and compliance department. Topics have included unconscious bias, leading with integrity, allyship and inclusive leadership.
In her free time, Blumrosen has done volunteer work to combat various inequities, but always wishes time would allow her to do more. (On her bucket list is working with the homeless, LGBTQ kids, abused women and abused animals). For that reason, she focuses much of her volunteering energy on food insecurity since it "hits all ages and all people," she said. She's a regular on the Houston Food Bank volunteer circuit. During Hurricane Harvey, she took her two boys to help pack weekend lunches and snacks for kids.
The family was not comfortable volunteering in-person at the Food Bank during the pandemic, so instead Blumrosen's sons held a car wash and donation drop-off at their house, and the parents matched the money raised.
For the past two years, Blumrosen has merged her passion in this area with work by rounding up more than 50 people within Baker Hughes' legal and compliance department to volunteer for a half-day at the Houston Food Bank as part of the department's "community cares" month. Blumrosen helped other members of the L&C department across the globe organize community cares events, as well. In London, she helped organize a charitable 5K walk; in Paris, a bake-off to raise money for an autism assistance foundation; and in Azerbaijan, a debris cleanup of local beaches.
Also during the pandemic, Blumrosen joined Impact 100 Houston, a woman-led organization that is designed to empower women to see themselves as philanthropists and collectively provides grants of at least $100,000 within the local community. Blumrosen hosted a donation drive at her house, where members put together a 100 "period packets" to give girls attending underserved junior high schools.
"We take for granted that tampons or other toiletry items are available at our place of work for free or that we have the means to purchase these items," Blumrosen said. "Think about all the kids on free lunch and whose schools do not have the resources to hand out tampons. These girls end up missing school, too embarrassed to come because they cannot afford basic necessities."
Blumrosen also picked up another hobby during the pandemic that has become a passion: pickleball. She loves it so much that last year she agreed to co-chair Big Brothers Big Sisters' first-ever pickleball tournament. The tournament generated 90 participants, 100 spectators and $180,000 raised for the charity. She has agreed to co-chair it again this year.
"BBBS is another organization that I am passionate about as they offer one-to-one, long-term mentoring to kids," Blumrosen said. "A recent study by the Arnold Foundation showed that youth in the BBBS mentoring program were less likely to do drugs, drop out of high school and be arrested."
Torrence said Blumrosen possesses a "remarkable quality" of learning "about the experiences of people from just about every marginalized group," which puts her in a stronger position to advocate for change.
"She's not leaving any of us behind in her fight for enhancing representation and inclusion," he said.