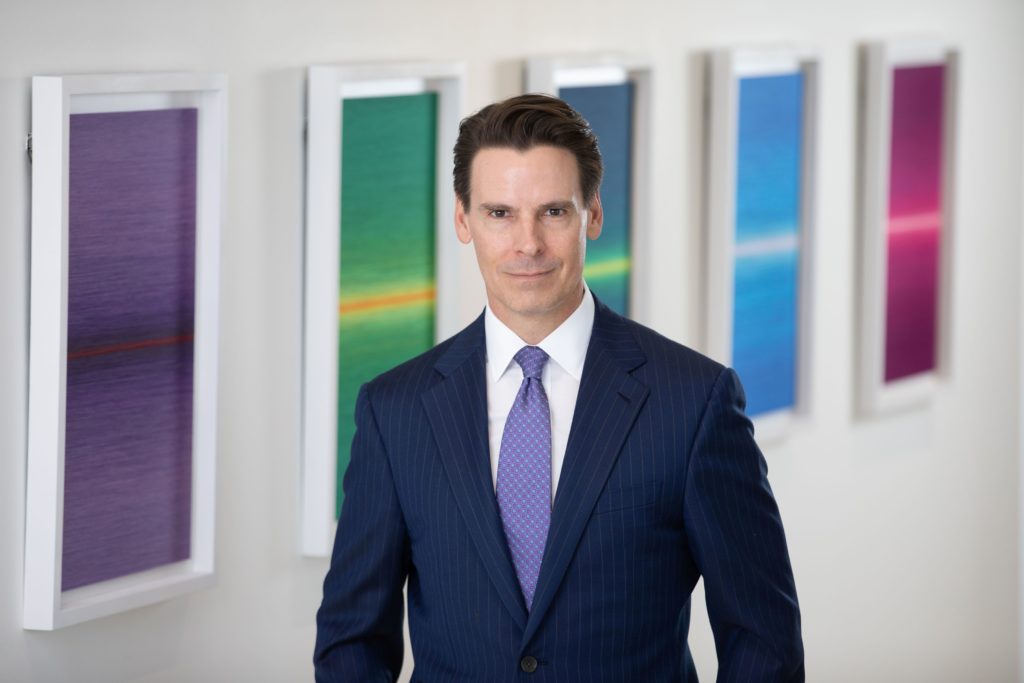 Christopher Trowbridge was in fifth grade when a reporter at his hometown newspaper in Connecticut asked him what he wanted to be when he grew up.
"I want to be an international lawyer," the youngster responded.
Thirty-six years later, Trowbridge is a corporate litigator who has represented clients from around the globe.
In eight days, he takes on a new title: managing partner at Bell Nunnally in Dallas.
Trowbridge succeeds James Skochdopole, who has led the midsized legal operation for 20 years. Trowbridge was only a third-year lawyer and had not yet joined Bell Nunnally when Skochdopole was first elected managing partner.
"Chris is an outstanding leader steeped in the 'Bell Nunnally Way' and his vision and guidance will no doubt help the firm and our clients continue to thrive," Skochdopole said in a written statement.
With 63 attorneys, Bell Nunnally has clearly carved a niche by representing business clients in the middle and upper-middle market. The firm had $35 million in revenues in 2018 and moved into its new offices in the Dallas Arts District on the top two floors of the KPMG building.
"Twenty years [with Skochdopole as leader] is extraordinary. We knew he wouldn't stay in that role forever," Trowbridge told The Texas Lawbook. "It's the right time. Part of the strategic plan we did in 2017 includes creating more leadership positions and allowing more people to give input on management and more experience with management."
Despite the new leadership role, lawyers and clients should not expect him to give up being a litigator.
"Our strategic plan involves having the management responsibilities delegated among several partners so that I can maintain 100% of my law practice," he said.
The firm also announced that partner Tammy Wood, who specializes in employment-related litigation, property damage and personal injury defense, is replacing Trowbridge as chair of its litigation practice.
Trowbridge was born and raised in Connecticut just outside New York City. His father was a Navy jet pilot and later a captain for Eastern Airlines.
He moved to Texas to attend college at Baylor University.
"Once I got to Texas, I loved it and wanted to stay," he said.
A 1998 graduate of the Baylor University School of Law, Trowbridge, 46, is one of the youngest managing partners of a corporate law firm in Texas.
Larry Bowman, then a partner at Cozen O'Connor and now at Kane Russell Coleman & Logan, recruited Trowbridge right out of law school. He chose litigation as his practice.
"I like arguing my clients' positions and accomplishing something good," he said.
In 2000, Russell Nunnally convinced Trowbridge to make the move.
He took his first case as first chair to trial in federal court in Houston in 2002. He represented a Boston financial firm in an advisory liability case. It was a weeklong trial.
Asked what he remembers most about the trial, he responded, "We won."
"I've literally and figuratively grown up at the firm," he said.
One of Trowbridge's biggest courtroom victories came in January 2017 when he convinced a Jack County jury that his client, Midwestern Cattle Marketing, was the victim of a check-kiting fraud scheme involving the purchase and sale of 50,000 head of cattle valued at $87 million.
The jury awarded Midwestern $7 million in actual damages and $16 million in punitive damages.
"At its heart, this case was about the reputation of the Texas livestock industry," Trowbridge told The Texas Lawbook at the time of verdict. "I told the jury they had the power to send a message to the rest of the country that Texans do not tolerate cattle fraud, and they would protect all people who buy and sell cattle in the Lone Star State."
Starting Sept. 1, Trowbridge officially becomes the leader of Bell Nunnally, which will celebrate its 40th anniversary next year. He takes over in a period when the corporate legal market has been turned upside down through law firm mergers, new entrants into Dallas and Houston and an increasing willingness of lawyers to lateral to competing firms.
"We are a great alternative to all the national and international law firms moving into Texas," he said. "We've wanted to be as full service of a law firm as possible with 60 lawyers. We knew it was very important for us to grow our white-collar and intellectual property practices, and we have done that."
Trowbridge said the firm wants to focus 2019 and 2020 on growing its M&A and commercial real estate transactions practices. He recognizes there are hurdles ahead.
"A major challenge is recruiting and retaining high-quality, high-performing lawyers.
"It's not enough to get them here. We need to make sure that they are successful," he said. "We need them to feel that they are part of the firm and the firm's future. Our rates are competitive. We give our attorneys a lot of autonomy to set their own rates and come up with workable alternative fee arrangements."
Trowbridge said the firm tries to give associates meaningful face time with clients so that they can start building their own relationships.
"Especially with associates, we give them an ability to chart their own path toward partnership," he said. "The happiest attorneys are those who control their own business. We start teaching business development on day one."