© 2012 The Texas Lawbook.
By Natalie Posgate
Staff Writer for The Texas Lawbook
Eighteen of the 20 largest law firms in Dallas get an "F" for diversity and the other two only get a "C+," according to a new report issued by the Dallas Diversity Task Force.
The "2012 Law Firm Diversity Report" found that only one percent of the 840 equity partners at the big firms are black and that 13 of those law firms have no African-American partners at all. Nine law firms have no Hispanic partners.
Overall, lawyers of color comprise 12 percent of all the attorneys working in 20 biggest firms, which is actually an increase from eight percent just six years ago, according to the study, which is compiled annually by leaders of the Dallas Asian-American Bar Association, the Dallas Hispanic Bar Association and the J.L. Turner Legal Association.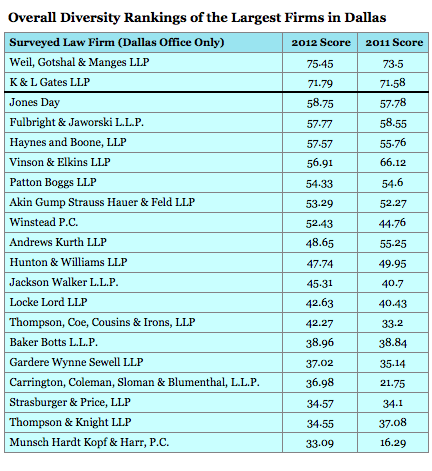 The study found that only two major law firms in Dallas – Weil, Gotshal & Manges and K&L Gates – received a passing grade. Nearly 22 percent of the lawyers at Weil are minorities, while more than 17 percent of K&L Gates' lawyers were minorities.
"We work very hard at improving diversity," said Cynthia Ohlenforst, a partner at K&L Gates who serves as its head of diversity. "If firms don't make it a priority, then they will never achieve it."
Jack Balagia, vice president and general counsel for Exxon Mobil Corporation and a major supporter of diversity in the legal profession, said Monday that the results are "disappointing and unacceptable."
"It is an important issue; it's something that we continually have to work at," said Balagia, who was part of a panel discussion hosted by the Dallas Diversity Task Force in releasing its report.
The study measures minority representation by calculating composite scores that measure the firms' diversity efforts to recruit, retain and promote minority attorneys.
Fourteen law firms improved their scores from last year. Six scored lower. Haynes and Boone and Jones Day have the most equity partners – eight and six, respectively. Patton Boggs and Thompson, Coe, Cousins & Irons reported no minority equity partners at all.
Sean Hamada, managing partner at the boutique firm Carter Stafford Arnett Hamada & Mockle, said that the one sure way to improve the number of minority attorneys at firms is to increase the number of minorities that are leaders in the firms because those firm leaders are in charge of recruiting, promotion and retention.
Glenn West, managing partner of Weil's Dallas office, says there's a reason why his law firm is always at the top of the diversity rankings.
"Firm-wide, Weil's commitment to the values of diversity, tolerance and respect infuses everything that we do," says West. "We have worked hard to develop a culture that celebrates the differences among our attorneys and staff."
© 2012 The Texas Lawbook. Content of The Texas Lawbook is controlled and protected by specific licensing agreements with our subscribers and under federal copyright laws. Any distribution of this content without the consent of The Texas Lawbook is prohibited.