The two finalists for the 2023 Houston General Counsel of the Year Award for Large, Small and Solo Legal Departments were each separated by one point in their respective categories.
The finalists for Senior Counsel of the Year for a Midsized Legal Department were separated by a mere two points.
On Thursday night, the Association of Corporate Counsel's Houston Chapter and The Texas Lawbook announced the winners at the 2023 Houston Corporate Counsel Awards ceremony.
"Each of these finalists has extraordinary success in 2022 and each of them deserved to be honored and recognized," said ACC Houston Chapter President Joseph Yao. "And the judges thoroughly examined the nominations and made the difficult choices."
More than 200 general counsel, senior corporate in-house counsel and other business lawyers attended the ceremony at the Four Seasons Hotel, where the finalists were honored and the recipients announced.
The winner of the Senior Counsel of the Year Award for a Midsize Legal Department (two to five attorneys) was Fred Day of Brookfield Asset Management.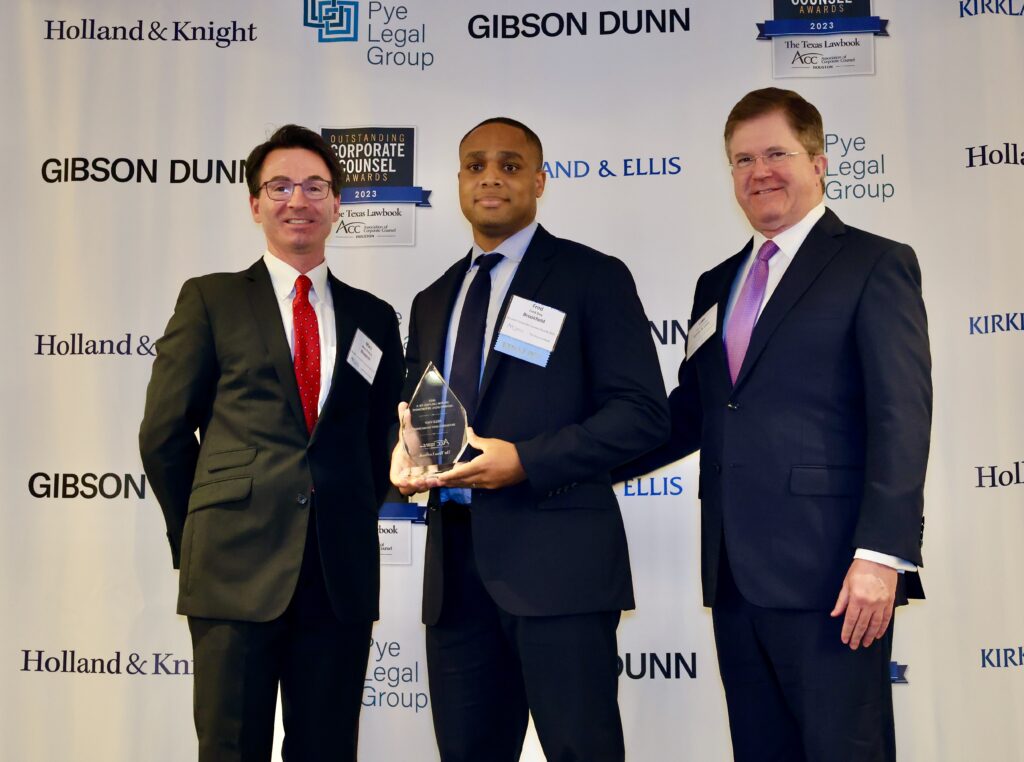 ACC-Houston board member Marc Krasney, Fred Day and White & Case partner Sean Gorman
Day has handled dozens of M&A and capital markets transactions with combined price tags exceeding $100 billion. No year in his career, however, matches 2022. As managing director at Brookfield, Day led six major infrastructure deals last year with a combined dollar value of more than $55 billion, including a $30 billion "first-of-its-kind" JV with Intel Corp. for a semiconductor fabrication facility in Arizona.
The award for 2023 General Counsel of the Year for a Solo Legal Department Award also came down to a one vote difference by the three judges. They chose Sitio Royalties GC Brett Riesenfeld as the recipient.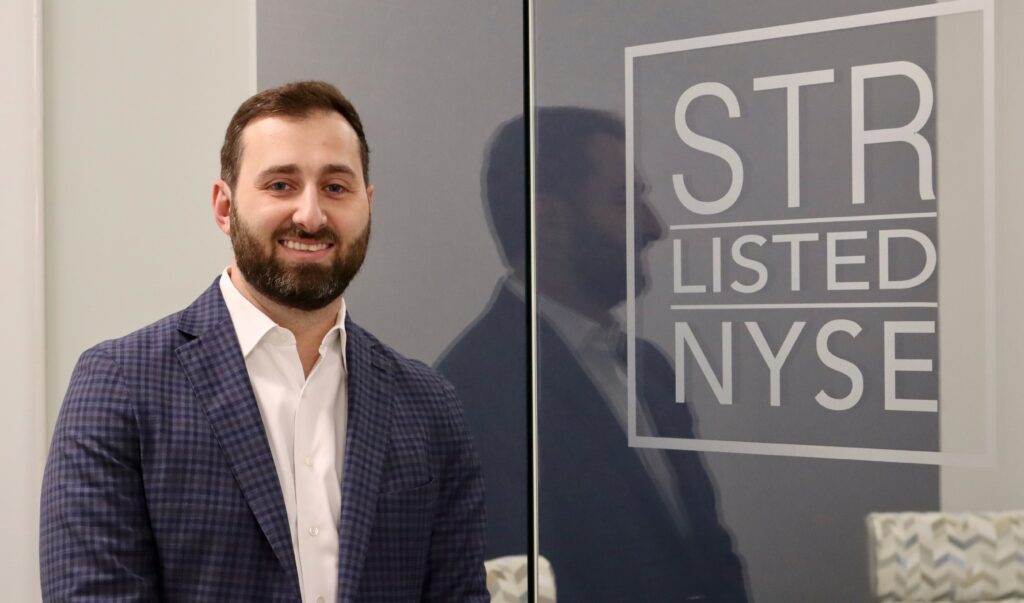 Riesenfeld led Sitio Royalties, a company that acquires, owns and manages mineral interests and assets across the U.S. with a focus on the Permian Basin, through a year of record growth. Riesenfeld started 2022 with a reverse merger that established it as a public company and ended with it becoming one of the largest U.S. publicly traded mineral and royalty companies via a merger with its largest competitor.
The three judges who decided the 2023 General Counsel of the Year for a Small Legal Department (five lawyers or less) commented that both finalists deserved to be recognized but named Ocean Point Terminals GC Mark Chavez as the recipient by one vote.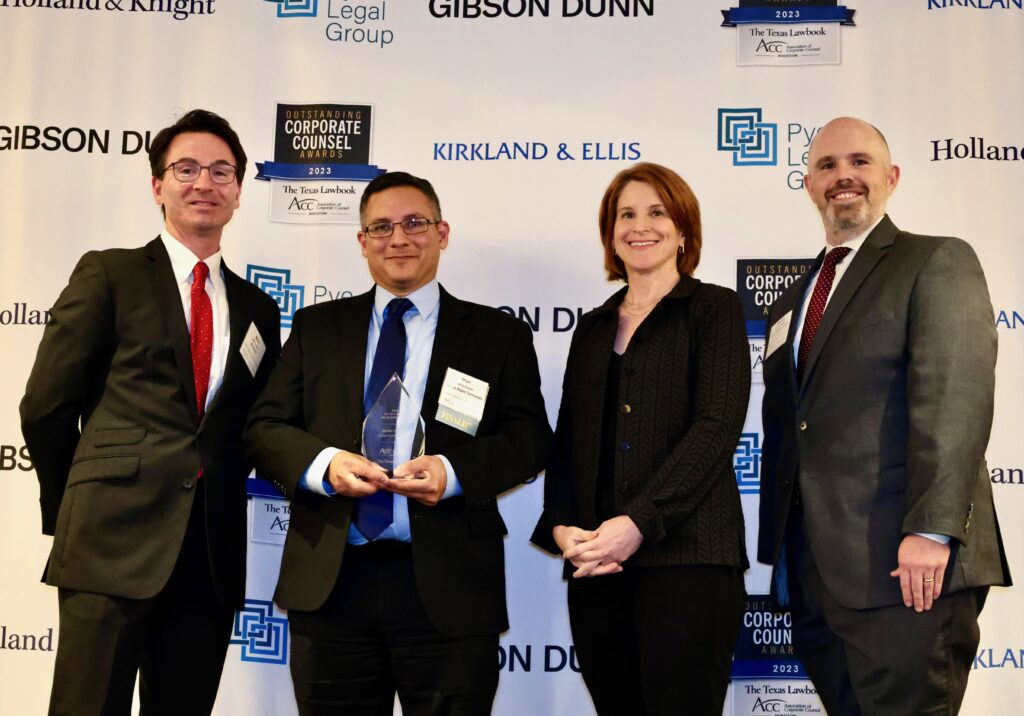 Marc Krasney, Mark Chavez, Pye Legal Group President Stacy Humphries and Gibson Dunn partner Harrison Tucker
Ocean Point hired Chavez in June 2021 and he knew he had his work cut out for him. Its major client, a refinery on the island of St. Croix in the U.S. Virgin Islands, had been shut down by the EPA after a series of environmental incidents and was barreling towards bankruptcy. With the two companies bound together in service agreements that threatened both, all he had to do was negotiate a divorce with the other company, fend off four class-action lawsuits, defend dozens of other lawsuits, arrange more than $100 million in bridge financing and new capital, help re-permit the refinery and salvage the company's relationship with its island neighbors.
There were two finalists for the 2023 General Counsel of the Year for a Large Legal Department Award (21 or more lawyers). The judges selected Honeywell Smart Energy GC Dionne Hamilton as the recipient.
Holland & Knight partner Geoff Long, Androvett's Jason Cunningham, Dionne Hamilton and Marc Krasney
Hamilton has scored several successes during her 30 months on the job, including leading the legal department's role in the company's launch of revolutionary gas meter technology that monitors residential and commercial activities in real time and stops incidents before they occur. She advises senior corporate leadership on all legal issues, new regulatory activities and geopolitical subjects that impact operations, works on M&A and joint ventures and manages all aspects of the legal budget. Hamilton is also national leader on DEI and co-leads ACC Houston's diversity initiatives with Pattern Energy Senior Counsel Lauren Haller.
The 2023 Houston Business Litigation of the Year went to BMC Software General Counsel Patrick Tagtow, senior litigation counsel Sarah Menendez of BMC Software and outside lawyers from White & Case and Bracewell.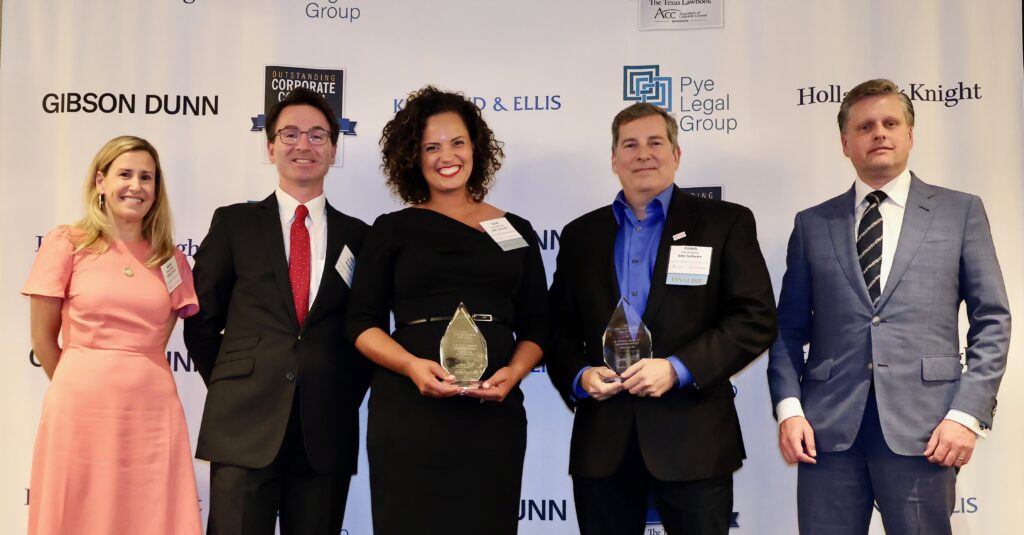 Validity Finance's Wendie Childress, Marc Krasney, Sarah Menendez, Patrick Tagtow and Mitby Pacholder Johnson partner Steve Mitby
Tagtow, Menendez and trial lawyer Sean Gorman spent five years litigating a claim that competitor-but-sometimes-business-partner IBM made a "material misrepresentation" and acted in "bad faith" during contract negotiations when it agreed to not displace BMC's products from AT&T's mainframe systems but did so anyway. There were 52 depositions, 17 expert reports, hundreds of thousands of pages of documents produced as evidence and more than 950 court docket entries. There was a two-week trial that resulted in a $1.6 billion award, which was one of the largest damage awards in the U.S. in 2022.
The Business Litigation of the Year Award is one of two honors that recognizes both in-house and outside counsel.
The other is the 2023 Houston M&A Transaction of the Year, which the judges awarded to William Marsh of Cactus, Inc.
Geoff Long, Will Marsh and Jason Cunningham
On what Marsh later described as his best day as GC of Cactus, a Houston-based wellhead and pressure-control provider, he led the transformative $621 million acquisition of tubing manufacturer FlexSteel Technologies Holdings. The deal was complex and a game-changer for Cactus. Although negotiations had begun barely a month after he arrived at Cactus, Marsh shepherded the transaction — and the transactions within the transaction — from start-to-finish with a dedication and aplomb that surprised absolutely no one who knows him.
The other 2023 Houston Corporate Counsel Award recipients celebrated Thursday night included:
Vitol Associate GC Averill Conn won the Houston Senior Counsel of the Year for a Large Legal Department.
Sidley partner Jessica Adkins, Averill Conn and Marc Krasney
Over the past 29 months at Vitol, Conn has played a key role in the acquisition of three wind farms in Pennsylvania and another in Illinois, the establishment of Vitol's solar and battery storage development platform, the negotiation of a long-term Renewable Energy Certificates purchase agreement with Meta Inc. in connection with a solar project in California, the negotiation of long-term virtual power and purchase agreements of utility-scale solar facilities in the Northeast involving Vitol's investment in FlexGen Power Systems, a software technology provider for energy storage solutions.
Southwestern Energy GC Rob Ellis was awarded the Houston Senior Counsel of the Year for a Small Legal Department.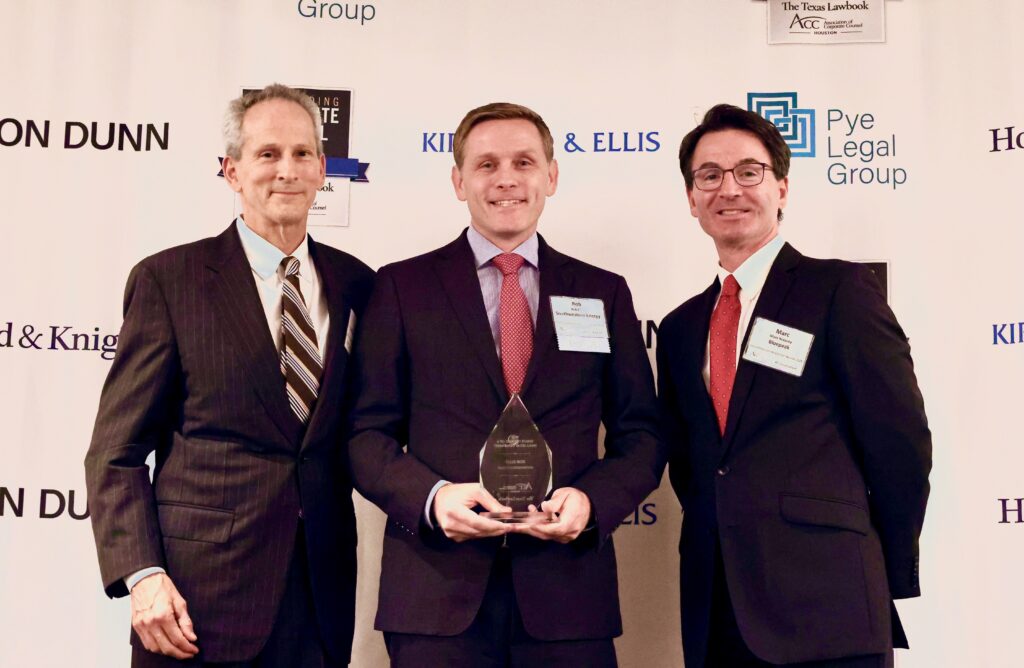 Yetter Coleman partner Paul Yetter, Rob Ellis and Marc Krasney
Ellis notched multiple big victories in 2022. None were bigger than a trial last October. A few years ago, Southwestern Energy purchased Ohio-based Triad, a natural gas drilling operation. With the acquisition, Southwestern also inherited a lawsuit Triad already brought against chemical company Westlake, which operated a facility on the West Virginia side of the Ohio River. The lawsuit accused the chemical company of trespassing and interfering with the underground drilling operations of Triad. Ellis and Yetter Coleman's Paul Yetter conducted a three-week trial that resulted in an unanimous verdict awarding Southwestern $70 million in damages.
The 2023 Houston Rookie of the Year Award went to Mitsubishi Corporate Counsel Hakim Effiom-Dauw.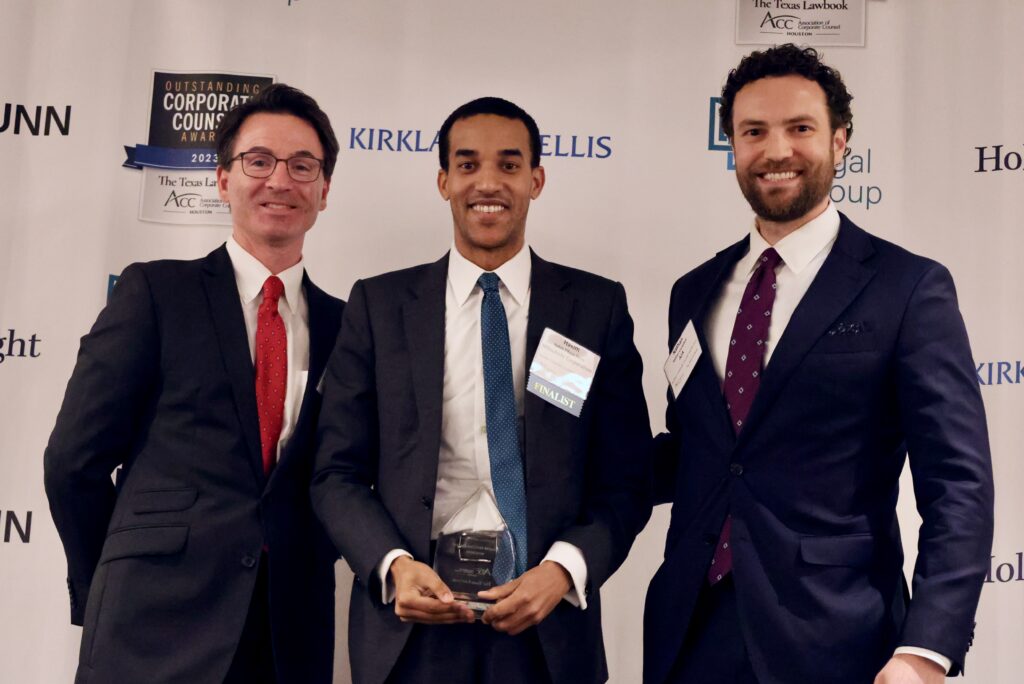 Marc Krasney, Hakim Effiom-Dauw and AZA partner Nathan Meredith
One year ago, Mitsubishi entered into a joint venture agreement with two other energy giants – Sempra Infrastructure and TotalEnergies – to develop and build a project that captures, transports and stores carbon dioxide (CO2) to help produce cleaner liquefied natural gas. For this novel multibillion-dollar project that came with many challenges, Mitsubishi turned to a rising star in its corporate legal department, Hakim Effiom-Dauw. In an interview with The Texas Lawbook, Effiom-Dauw said the biggest challenge in a project with so many moving parts is to make sure that leadership in the U.S. and Japan are fully briefed on the potential risks.
ACC Houston and The Lawbook recognized two honorees for the 2023 Houston Corporate Counsel Award for Achievement in Diversity and Inclusion. They are Baker Hughes global litigation counsel Amy Blumrosen and Hewlett Packard Enterprise, led by General Counsel Rishi Varma and Jude Andre.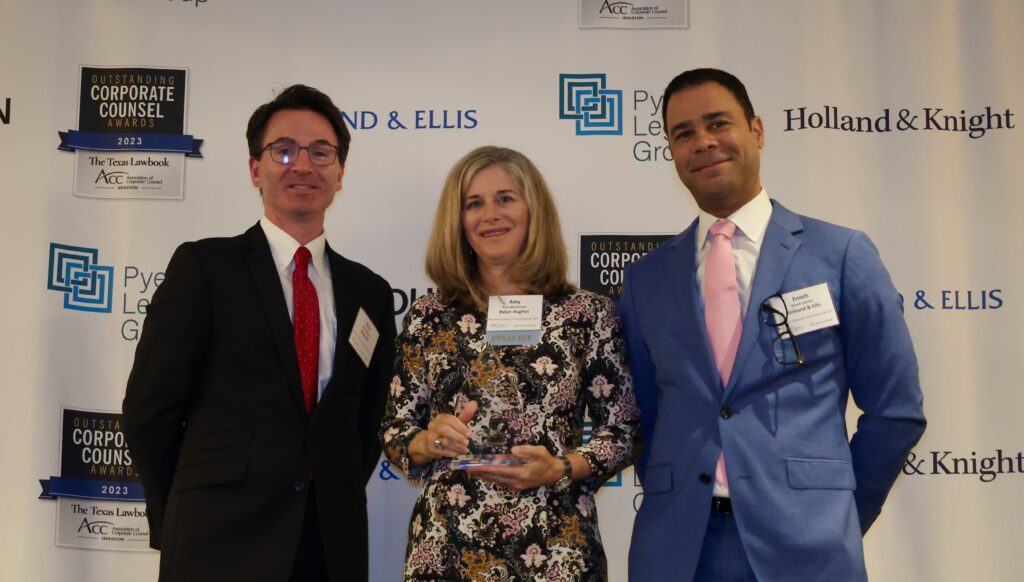 Marc Krasney, Amy Blumrosen and Kirkland & Ellis partner Enoch Varner
Amy Blumrosen of Baker Hughes co-chairs and helped create Baker Hughes' legal and compliance diversity, equity and inclusion council. She previously served on a similar DEI council at Chevron. Blumrosem spearheaded training on unconscious bias, allyship and more. She's served in leadership positions for the Texas Minority Council Program and Lambda Legal and spends countless hours serving her community to combat inequities. Blumrosen organized pickle ball tournaments to raise money for underserved children and brought healthcare supplies to underserved junior high girls. She has passed down philanthropy to her own kids, who raised money for the Food Bank. As Michelle Hartmann wrote in nominating her, Blumrosen "sets a strong example through her commitment to diversity, inclusion, equity and volunteerism."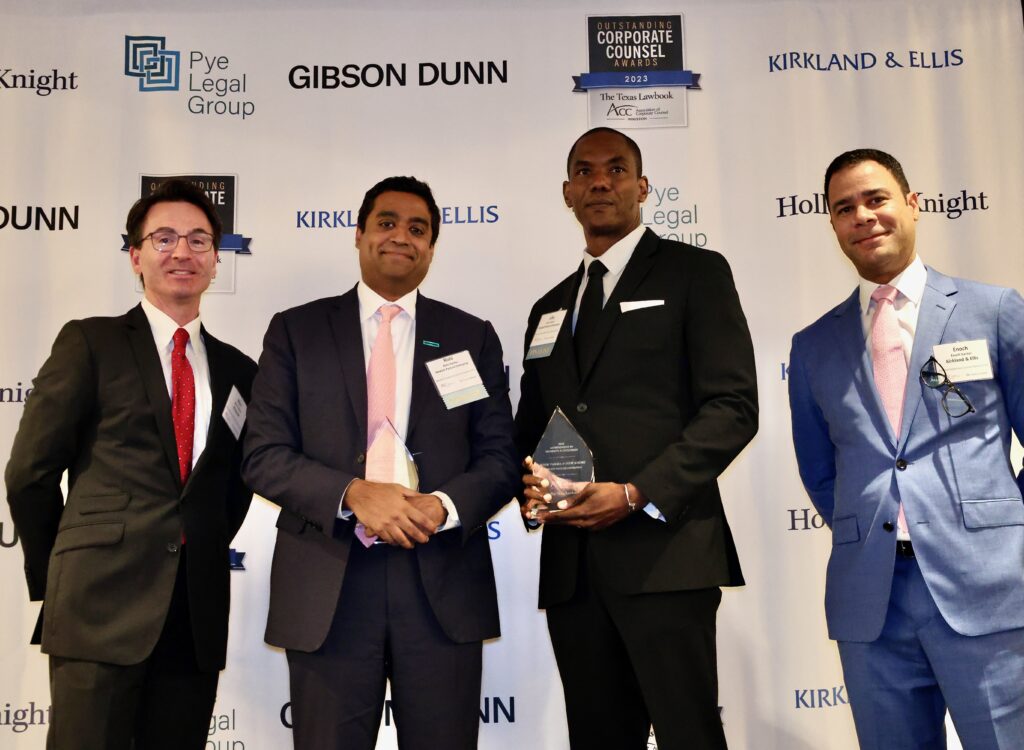 Marc Krasney, Rishi Varma, Jude Andre and Enoch Varner
Over the last several years, general counsel Rishi Varma and associate general counsel Jude Andre have implemented a number of diversity initiatives at Hewlett Packard Enterprise, whose corporate legal department is known for its innovation, welcoming culture and commitment to advancing diversity, equity and inclusion in the legal profession. The result has been a more engaged workforce around DEI issues and recognition by the Association of Corporate Counsel's Houston Chapter and The Texas Lawbook.
The recipient of the 2023 Houston General Counsel of the Year for a Midsize Legal Department went to DistributionNOW GC Raymond Chang.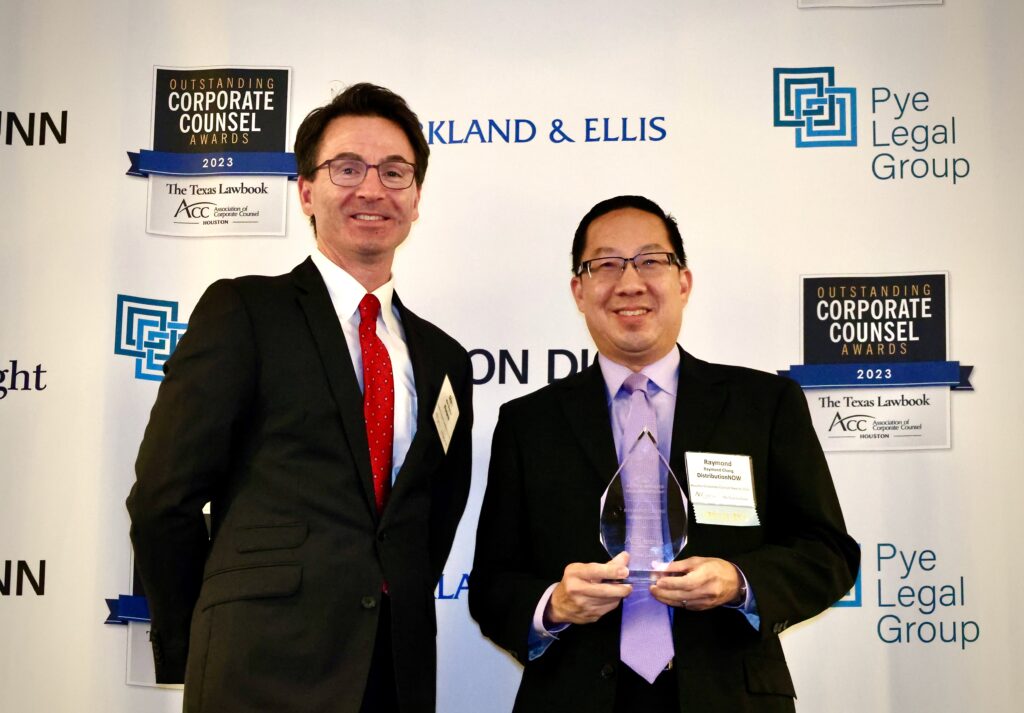 Marc Krasney and Raymond Chang
Chang and his colleagues noticed a wave of sudden worker departures at its Odessa Pumps business. A speedy internal investigation ensued. That was followed by a quick lawsuit. DNOW, a global supplier of oil and gas drilling equipment and parts accused, an Odessa businessman and several other former workers of stealing confidential information and trade secrets. Chang took the case to trial less than five months later ending with a jury unanimously finding in DNOW's favor and awarding $9 million in damages.
Rice University Senior Associate General Counsel Joe Davidson, who also serves as GC of the Rice Management Company, is the recipient of the Houston General Counsel of the Year Award for a Non-Profit/Public Institution.
Baker Botts partner Scott Janoe, Joe Davidson and Marc Krasney
Davidson has been a proud Rice Owl since his collegiate days. Fast forward nearly 40 years, Davidson supports and advances the directives of his alma mater daily in his dual roles. He handles key matters regarding endowment investments, financings, corporate governance and compliance. He also manages the internal and outside counsel teams for private equity, venture capital, alternative, real estate and natural resource investments. On a daily basis, Davidson oversees large complex matters for Rice's endowment, which is valued at $7.8 billion. Joe was also part of the vision that allowed the university to become known as a leader in nanotechnology.
The final category for the 2023 Houston Corporate Counsel Awards was for Lifetime Achievement. Past recipients include Robb Voyles, Victoria Lazar, Larry Dreyfuss and David Houck.
Citing three decades of service to the Houston legal community, the ACC's Houston Chapter and The Lawbook selected Sempra Infrastructure General Counsel Carolyn Benton Aiman to receive the 2023 Houston Lifetime Achievement Award.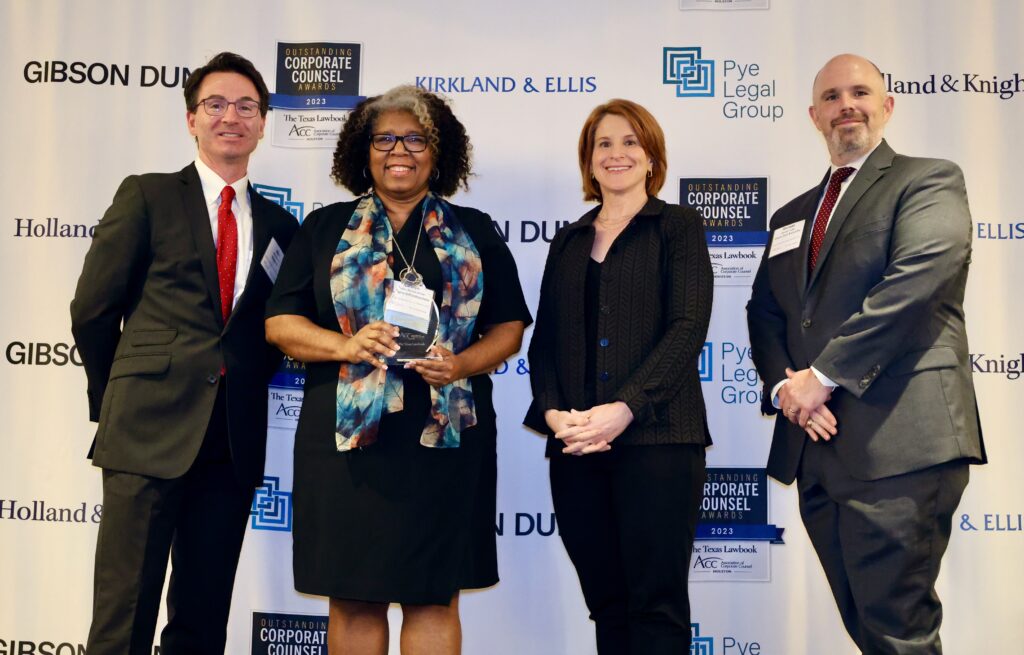 Marc Krasney, Carolyn Benton Aiman, Stacy Humphries and Harrison Tucker
Carolyn has broken many barriers in her career and her life. A mathematics major who went to law school, Aiman has spent three decades leaving her mark on the Texas legal profession. She was a trial lawyer for the first nine years. Texaco was so impressed with Aiman that it recruited her to go in-house to handle labor and employment disputes.
Two years later, Shell Oil hired and promoted Aiman to be managing counsel for capital projects and the global supply chain. The energy giant also appointed Aiman as one of its first chairs of legal diversity and inclusion.
In 2021, Houston-based Sempra Infrastructure conducted an exhaustive national search for a new chief legal officer and selected Aiman. Earlier this year, Aiman and Sempra's legal team closed on its financing agreements in a $6.8 billion joint venture with ConocoPhillips for the development, construction and operation of the Port Arthur LNG facility in Jefferson County.