Bill Moss
For years, executives at Talos Energy kept approaching their counterparts at EnVen Energy Corporation about a merger. Each time, EnVen officials shrugged it off.
"We talked with EnVen at least three times before, but there was no appetite for a deal," Talos General Counsel Bill Moss III said. "Last summer, that changed. I'm not sure why, but I am glad it did."
For nearly all of 2022 and the first few months of 2023, Moss guided Talos through the negotiations and eventual dealmaking that led the Houston-based oil and gas exploration company through a highly complex $1.1 billion acquisition of EnVen, a fellow deep-water operator in the Gulf of Mexico.
"It was a difficult deal to get done," he said.
Last Sept. 22, the two companies announced the transaction, which required Talos to offer 43.8 million shares in common stock, $212.5 million in cash and assume about $50 million in EnVen's debt. The deal closed in February, doubling Talos's deep-water domain while reducing greenhouse gas emissions intensity and giving the company a market capitalization of about $2.5 billion.
The Association of Corporate Counsel's Houston Chapter and The Texas Lawbook have named the Talos Energy acquisition, led by Moss as GC and Vinson & Elkins as outside counsel, as one of two finalists for the 2023 Houston Corporate Counsel Award for M&A Transaction of the Year. The M&A Transaction of the Year award is one of three categories that honors both in-house and outside counsel.
ACC Houston and The Lawbook will honor Moss, Talos and V&E and announce the winner at the 2023 Houston Corporate Counsel Awards ceremony on May 4.
"The transaction highlighted Bill's ability to manage several complex strategic matters concurrently," said V&E partner Jackson O'Maley, who nominated the deal for the award. "Transaction required expertise with respect to deep-water operational matters, as the transaction doubled Talos's operated deep-water footprint and required complex organizational planning as a result."
"Moss served as the company's operational quarterback," O'Maley said. "He deftly managed relationships among fellow members of his senior management team, the board of directors, outside counsel, the counterparty and various other constituencies."
Akin partner David Sweeney said Moss is admired by everyone in the legal profession and is praised for having "built a very sharp, and yet very collegial and fun, in-house legal team."
"There are not many lawyers who have the breadth of experience that Bill Moss has had," Sweeney said. "He has practiced and been successful at both a firm and company at the highest levels. Speaking from the perspective of who was, at one time, an in-house attorney, there are not many people who can combine the substantive expertise and leadership skills to do both successfully. Bill is one of the few who have managed it."
Kirkland & Ellis partner Julian Seiguer said Moss is "true partner when it comes to working with outside counsel."
"I've known and worked with Bill for almost 10 years and have always been impressed by his deep knowledge of the law and understanding of business objectives and how he fuses them together to drive successful results," Seiguer said. "Bill is not afraid to get in the weeds and will orient himself on the ins and outs of a matter at the onset.
"From there, it's almost as though he can see around corners and anticipate challenges before they arise," Seiguer said.
The law is in Moss' DNA. His father, William S. Moss Jr., was a corporate lawyer at V&E for 36 years until he retired in 1999. His brother, Brian Moss, is currently a partner at V&E where he co-heads the firm's global finance practice group.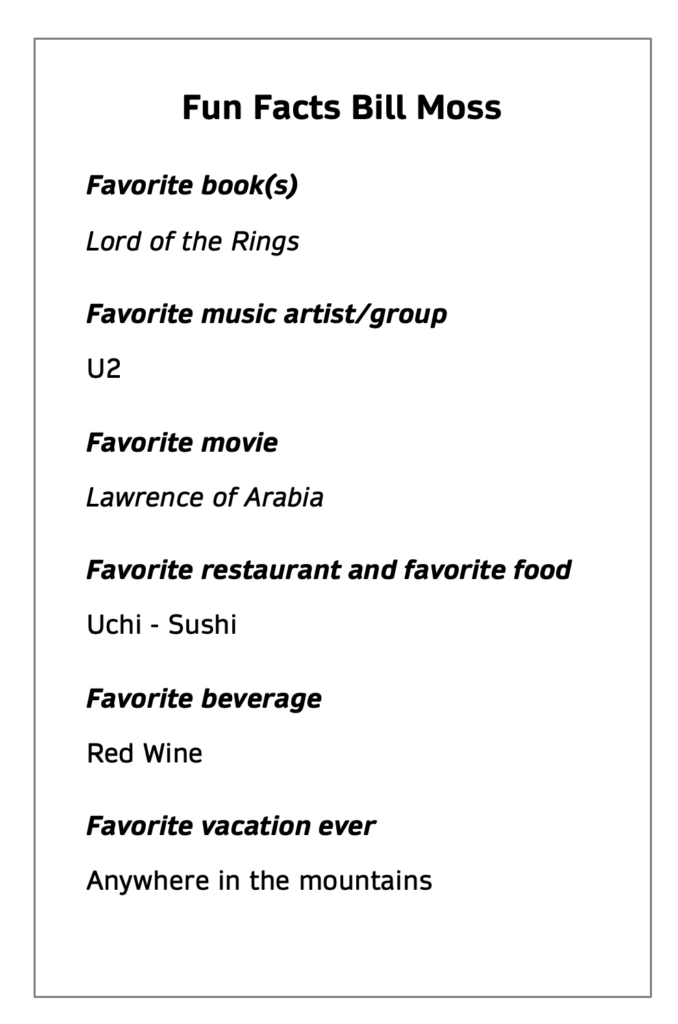 Moss said that his dad would take him to the office when he was young and often invited younger lawyers over for dinner.
"My dad influenced me a lot, but I didn't grow up thinking that I wanted to be a lawyer," he said. "In college, I first started thinking about law school because I knew it would prepare for me for many different career opportunities."
Moss attended Dartmouth College for his bachelor's degree and graduated from the University of Texas School of Law in 1996. He worked at two law firms — Baker Botts and Mayer Brown — before deciding to go in-house.
As a deal lawyer, Moss represented Phoenix Exploration, a predecessor company to Talos. He also worked on the formation of Talos in 2012.
Moss said he never considered going in-house until 2013 when Talos CEO Tim Duncan took him to lunch.
"He said he needed a general counsel," Moss said. "The opportunity intrigued me. As I thought about it, I concluded that I might never have an opportunity like this one again with a combination of management that I knew, liked and trusted, where I would be a valued member of the inner circle.
"That was early enough in its life cycle that I could really make a difference as the company grew," he said. "I also thought it would be really interesting and challenging to do something different after practicing as outside counsel for 17 years, and all of these things have been true."
Since Moss joined Talos, he had led the company through 13 M&A deals and five capital markets transactions.
But the EnVen acquisition, he said, was the most complex to get across the finish line.
"I think the biggest difference was that we had a number of significant issues that took quite a while to work through, which resulted in a longer deal negotiation than most of our other transactions," he said. "The biggest challenge was probably trying to sort out the capital structure with each company having high-yield notes and the associated covenants applying to their assets. It took a lot of thought and work to consolidate the two companies."
"I always want to make sure that we are focused on the most material issues and not get lost in the minor details"
Photo: Sharon Ferranti
The acquisition also required Talos to implement a number of changes to its corporate governance structure, including the declassification of its board of directors, the termination of its preexisting shareholders' agreement with its private equity sponsors, and the addition of two new board members designated by EnVen.
Moss said he chose V&E to work on the transaction because the firm's lawyers had the experience and knowledge of the issues involved.
"Outside counsel needs to know that our transactions are invariably complex because we are very creative in deal structuring in order to get deals done," Moss said. "Additionally, I always want to make sure that we are focused on the most material issues and not get lost in the minor details. And we expect our outside counsel to take the same approach."
O'Maley, who led the deal for V&E along with partner Lande Spottswood and senior associate Alex Robertson, said Moss' success as a Big Law partner before moving to Talos gave him a sophistication on M&A and securities matters.
"Bill excels because of his shrewd judgment and the breadth of his practice," O'Maley said. "As general counsel, he has been responsible for oversight of an incredibly diverse array of legal matters, in addition to transaction negotiations, securities and reporting matters, commercial contracts and other areas. And his keen understanding of Talos's business broadly and his ability to focus and prioritize among those areas as circumstances warrant makes him a great leader of his legal team."
Moss said his best day working at Talos during the past decade was ringing the bell at the New York Stock Exchange in 2018 after the company closed its acquisition of Stone Energy and became a public company.
"When I joined Talos in 2013, it was with the idea of Talos becoming a public company in the next couple of years," he said. "But when the capital markets closed for most E&P IPO's in 2014, it became a much longer and much more difficult journey to become a public company. So it was very satisfying to finally achieve that goal and ring the bell as a public company."