Bill Munck stood in a conference room in his upstart law firm's offices at Saint Paul Place in downtown Dallas in 1999 and looked at little color-coded pins on a map of DFW on the wall. The headquarters of firm clients were represented by one color stick pin, and the homes of the firm's six lawyers were identified by another color.
"The Galleria was right in the center with pins surrounding it," Munck said. "So, that is where we decided to move our offices. We wanted to make our clients — specifically technology companies — the center of the law firm."
Now in its 25th year, Munck Wilson Mandala has much to celebrate.
Munck's bet on technology was spot on.
"Nearly every business today is a technology company," he said.
And Dallas/Fort-Worth turned out to be the ideal location for a new tech-focused firm. During the past two decades, DFW became a magnet for corporate relocations, the Richardson Corridor became a national technology hub, and two federal courts within driving distance became the most popular destinations for patent infringement disputes in the U.S.
The result has been extraordinary growth for Munck Wilson Mandala.
The firm now has 94 lawyers in eight offices and has added six lateral hires in 2023, including in-house counsel from Baker Hughes and PanOptis. In 2022, Munck Wilson opened offices in Waco and Miami. A year earlier, the firm acquired Fleckmen and McGlynn, a move which added seven lawyers in Austin and Houston. During the past six years, the firm has nearly tripled its number of women partners, and women now make up one-third of the firm's partners.
The silver jubilee also marks financial success: Munck Wilson's total revenue and revenue per lawyer have increased during each of the firm's 25 years, including double-digit percentage increases in both in 2022, according to Munck.
Munck Wilson has developed a roster of high-profile clients that include Southwest Airlines, Tyler Technologies and Raytheon. In the process, the firm has gained a national reputation as one of the leading technology law firms in the U.S. In 2018, the U.S. Patent and Trademark Office announced that it had approved its 10 millionth patent. That patent application was prepared and prosecuted by Munck Wilson lawyers on behalf of their clients, Raytheon and engineer Joseph Marron.
As Munck Wilson added litigation and corporate transactional experience, its capabilities have grown beyond technology-exclusive legal work. For example, the firm's litigators represent global insurance companies in subrogation lawsuits seeking more than $500 million against power generators related to the personal injury and property damage claims suffered during Winter Storm Uri in February 2021.
"Our success is due to some good luck and a lot of hard work by many people," Munck said in a Texas Lawbook interview earlier this year. "The 25th anniversary of Munck Wilson Mandala is not just a 'Bill Munck Story,' but it has always been a story of team building and teammates."
"We are the lawyers who still love math," he said, noting that the firm's lawyers hold more than 50 advanced degrees in engineering, math and science and are fluent in 13 languages.
Quintin Cassady, the general counsel of biotechnology company Modern Meadow, said the lawyers at Munck Wilson "are truly tenacious advocates for their clients."
"Even in cases that do not look so good at first glance, they grind and are always able to find creative legitimate arguments," said Cassady, who has hired Munck Wilson on more than 15 litigation matters. "My experience with other firms is that, even in litigation, they have a playbook and generally follow that playbook in handling cases. With Bill's firm, they are willing to take calculated chances and work outside the playbook when necessary to win for their clients."
The son of a Long Island police officer, Munck earned undergraduate degrees in electrical engineering and mathematics and then a master's degree in computer science. He went to law school only after working for two years for a company that designed software systems for industrial laboratories. Dallas-based Winstead hired Munck straight out of Hofstra University Law School in 1992. The Texas Lawbook profiled Munck in 2018.
Munck launched a new firm in the summer 1998.
In a recent interview with The Lawbook, the firm's three named partners — Munck, Mike Wilson and Larry Mandala — agreed that much of the law firm's success can be attributed to hiring the right people.
"The hardest part was finding Larry and Mike," Munck said. "In building the firm, I always had the technology side. The trial side and the transactional side were not my forte."
Larry Mandala had been a corporate transactional partner in the Dallas offices of Arter & Hadden and Baker McKenzie before he joined Munck in 2005.
"When I joined, our transactions practice was me and a half-time contract lawyer," Mandala said. "I came here because I was looking to do something entrepreneurial. I was our 15th lawyer and now we are nearly 100 — 14 transactional lawyers — and doing incredibly sophisticated deals like I was at the top Am Law firms. It has been a really exciting 18 years for me."
Munck said the firm struggled with developing M&A deal work from clients prior to 2005.
"It stabilized when Larry arrived because Larry would handle any transaction," Munck said. "It really didn't matter what it was. He would just figure it out and get it done. That changed everything on that side of the firm."
Munck Wilson further strengthened its transactional practice in 2012 when the firm hired Randy Ray from Gardere.
In 2021, the firm's deal team led two major transactions.
In February 2021, Ray was the lead legal advisor for Tyler Technologies in acquiring NIC Inc. in a $2.3 billion all-cash transaction. At virtually the same time, Ray was the lead legal advisor for Plano-based CarOffer, an automated instant vehicle trade platform that sold a majority interest in the company to rival CarGurus.
Tyler Technologies Chief Legal Officer Abby Diaz said Tyler relies on Ray and Munck Wilson to handle its M&A activity. She said Munck Wilson is a "mid-market firm with Big Law talent."
"Randy has deep domain expertise, but perhaps what most cements our relationship is his nuanced understanding of Tyler, its business and its culture," Diaz said. "He and his team are easy to work with, reliable and responsive. Randy has been instrumental in our success. I most want to emphasize how much he and his team feel like part of our internal team – it is a great source of relief and strength to know how quickly and easily we can turn to them, and how much we can trust that they can jump in and hit the ground running."
The firm's next big lateral acquisition came in 2006 when litigation partner Mike Wilson joined the firm from a litigation boutique.
"When we were building the firm — and we've gone through different permutations over the years — what I wanted more than anything was to try Big Tech cases and handle Big Tech disputes," Munck said. "A lot of times as patent attorneys, we get ourselves too far into the weeds. We needed a trial practice that could work with us and learn what we know and be able to tell our story. When Mike joined, that was a big turning point for our litigation practice. Mike brought the ability to understand tech. Most importantly, he was a great trial attorney. Mike gave the firm the ability to try anything — complicated trade secret and patent cases have been his forte."
In 2008, Munck Wilson added Michael McCabe from Haynes and Boone, which gave the firm labor and employment litigation expertise.
The firm now has 40 lawyers who practice litigation full time and another dozen patent lawyers who also handle some litigation.
Wilson said he worked entirely on his own matters during his first six months but then "worked on case matters with just about every partner."
"Just the overall talent and breadth of the talent has grown," he said. "Now, I am probably working with 30 different lawyers at the firm on different matters."
Wilson is the lead discovery counsel on Winter Storm Uri against the power generators, represents a client in a $100 million product liability case against a research institution and is involved in several trade secret and patent litigation matters.
In 2017, Munck Wilson acquired Howison & Arnott, which added seven IP lawyers in Austin and Houston. A year later, the firm acquired Los Angeles-based Heckler Law Group, giving Munck Wilson its first West Coast presence.
Munck said he sees the firm growing its teams in Austin, Los Angeles and South Florida.
The firm hired Jenny Martinez in 2018, a litigation partner at Godwin Bowman — a move the firm leaders called "transformational."
"When Jenny joined us, it changed the nature of the firm," said Mandala. "It was a concerted effort to increase our diversity. Jenny quickly became co-chair of litigation and [joined] our executive committee. The impact that had on our recruiting over the last five years has been incredible. Female lawyers now see us as a great destination where before they saw us as an all-male tech shop. We tripled our women partner count after Jenny joined."
"All of us in senior leadership came to this firm from other firms," Wilson said. "There is a risk at a firm built on laterals. There can be a lot of siloing and lack of collaboration. There have been people we've hired that didn't work out and left. Somehow, we have managed to build a group that wants to work together and wants to collaborate together, and that has been a key to success."
Wilson said that there are "some structural issues that contribute" to the firm's success.
"We've always included hardcore tech guys in our litigation matters," he said. "When you go through a war with those people, which a trial is, there is a lot of stress. There is a bond that develops across the practice groups. There's also a lot of emphasis on originators sharing financial benefits with people who contribute, and that encourages collaboration."
Munck agreed.
"If you are team oriented, this is a great place to practice law," he said. "That means sometimes you get to be the quarterback and sometimes you get to be the water boy. It just depends on the circumstances, and everybody here is willing to do that from an ego perspective."
Munck said successful law firms were built around a practice group — for him that meant technology — that is thriving and other practices are offshoots.
"I knew we needed hardcore IP, but I also knew we needed transactions and litigation and we'd eventually need labor and employment," he said. "When I got involved with the telecom industry, it became obvious we also needed real estate on call centers and cell towers alone. That's always been the plan.
"The expertise we had working with tech companies could be easily applied to other areas or industries," he said. "We now have a thriving hospitality practice, a thriving sports and entertainment practice. Think about intellectual property and how telecom was over the years, and now we're transitioning into a time when life sciences and artificial intelligence and machine learning are such a big deal."
"There's always something that presents a unique opportunity for us to continue to grow," Munck said.
Mandala said that the firm has created an advisory committee of younger partners to "interface" with the executive committee and to give them an opportunity to be involved in firm management decisions.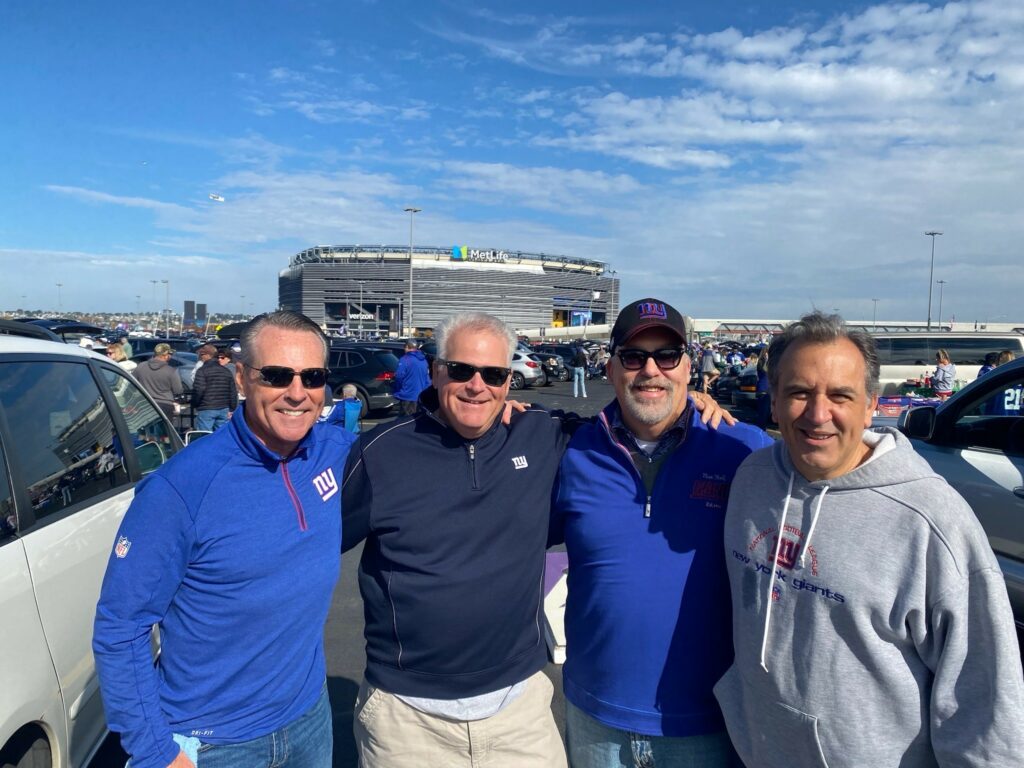 Munck and his childhood friends from Long Island at a New York Giants game
Asked when the three named partners plan to step back from their firm leadership positions, Munck, a lifelong New York Giants football fan, said, "I think as soon as we can find somebody to take our roles, I think myself and Larry and Mike would like to give them up."
"Oh, I think that is totally wrong," Wilson said laughing. "Bill is the Jerry Jones of Munck Wilson Mandala. They are going to bury him in this conference room."