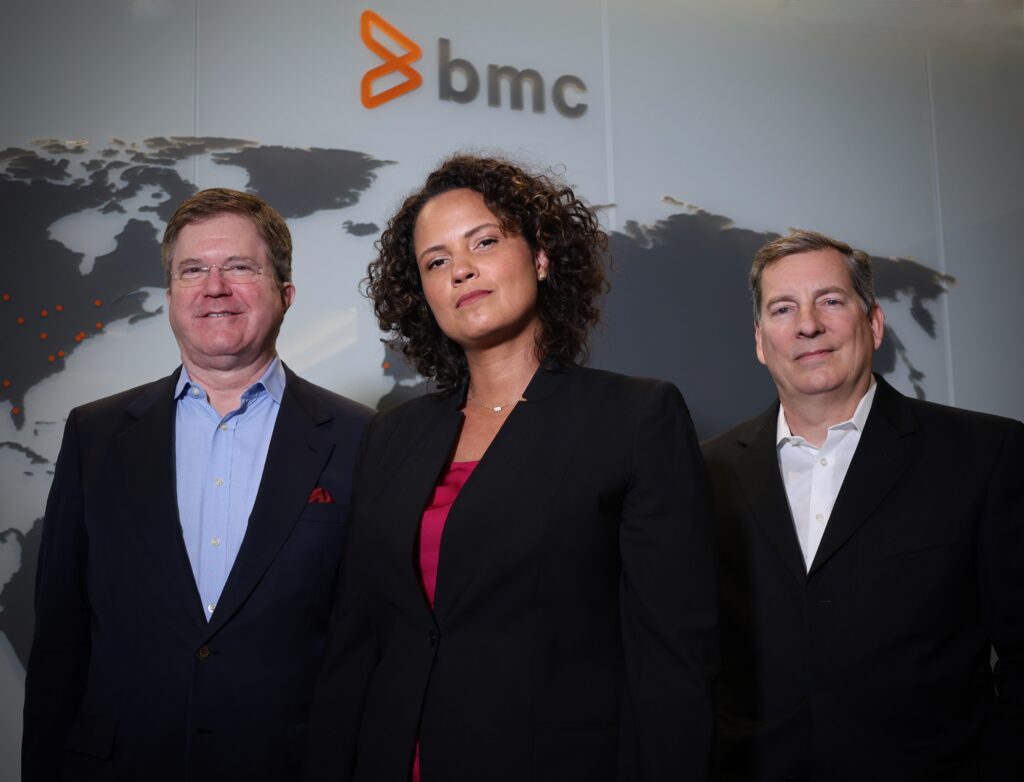 From Left: Sean Gorman, lead outside counsel for BMC; Sarah Menendez; and Patrick Tagtow
BMC Software Senior Counsel Sarah Menendez spent last Memorial Day checking her phone messages and emails every 30 minutes to see if U.S. District Judge Gray Miller had issued his verdict in BMC Software v. IBM.
"I spent the entire day refreshing my email and harassing Pat and Sean for news," she said. "By the evening, I had pretty much despaired of getting a response that day."
Across Houston, trial lawyer Sean Gorman and his team had gone into their law offices on the federal holiday because Judge Miller, on a telephonic conference call the prior Thursday, said he would release his decision the following Monday.
"We kept checking PACER every few minutes but nothing," said Gorman, who had been hired by BMC to lead the breach of agreement and fraud case against IBM seeking hundreds of millions of dollars in damages. "As the work day came to a close, we thought maybe the judge had forgotten that it was a federal holiday. We went home."
Back at the Menendez household, she and her family were sitting down to a dinner of buttermilk brined baked chicken, biscuits and slaw.
At 5:53 p.m., Gorman and Menendez received an urgent email from their law partner, Andrew Zeve. The subject line: "Ruling."
"$717M for breach"
"$168M in interest"
"$717M in punitives"
"WOW!"
Gorman immediately called BMC General Counsel Pat Tagtow and then Menendez to read to them the decision by Judge Miller, who found that IBM made a "material misrepresentation" and acted in "bad faith" during contract negotiations when it agreed to not displace BMC's products from AT&T's mainframe systems but did so anyway.
"IBM is one of the largest technology companies in the world — and it exploited BMC's justifiable reliance for its own gain, cementing its abdication of good faith and fair dealing in the service of its own self-reliance," Judge Miller wrote. "IBM never intended to (and never did) pay for the right to displace. IBM's scheme to defeat BMC's contractual rights cheated BMC — a software company wholly dependent on the licensing of its intellectual property — out of hundreds of millions of dollars it was entitled to receive under the contract in exchange for the rights IBM exercised.
"IBM's conduct vis-à-vis BMC offends the sense of justice and propriety that the public expects from American businesses," Judge Miller wrote.
Tagtow was nearly speechless on the phone, but Menendez "was screaming with joy," according to Gorman.
"I had to read the [decision] all the way through twice to be sure," Menendez told The Texas Lawbook. "Then I am positive I said something high-pitched, loud, semi-coherent. Then I read parts of the judgment to my husband. And then I told my daughters, 'Mommy won her trial.' And then I called everyone. Pat first. Then Sean. Maybe Pat again. It was an amazing night."
The verdict was one of the largest damage awards in the U.S. in 2022.
The Association of Corporate Counsel's Houston Chapter and The Texas Lawbook have named BMC, Tagtow, Menendez, Gorman and lawyers at Bracewell and White & Case as one of two finalists for the 2023 Houston Corporate Counsel Award for Business Litigation of the Year.
ACC Houston and The Lawbook will honor the finalists and announce the winners on May 4.
"I had to read the [decision] all the way through twice to be sure. Then I am positive I said something high-pitched, loud, semi-coherent."
— Sarah Menendez
"The trial was so well run by Sean and the Bracewell team and went so well, we were confident on the breach and hopeful on the damages and fraud," Tagtow said. "But, of course, we were nerve-wracked as there are innumerable variables in a case like this. I had impressed upon [Sean] a dozen times to please call me immediately upon news, and he did."
"I had never felt a more profound sense of relief and elation in my professional career," he said. "I immediately found my wife to tell her. She lived the ongoing battle with me for five-plus years and was as happy with the news as I was."
IBM has appealed Judge Miller's decision to the U.S. Court of Appeals for the Fifth Circuit.
BMC and IBM are competitors in the mainframe software space, but IBM also provides information technology outsourcing services to BMC customers. In order to enable IBM's IT outsourcing work for BMC's customers, the BMC-IBM licensing agreement grants limited rights for IBM to access and use BMC software when acting as the IT outsourcer to BMC's software customers.
BMC argued that the agreement expressly prohibited IBM from displacing BMC software with IBM software for certain customers, including AT&T, one of BMC's largest mainframe customers, unless IBM first purchased BMC licenses.
The litigation in the Southern District of Texas was contentious and fierce. There were 52 depositions, 17 expert reports, hundreds of thousands of pages of documents produced as evidence and more than 950 court docket entries.
"In 2017, BMC discovered that IBM had embarked on a course of action, in violation of its agreements with BMC and the law, to target BMC's core mainframe software customers," said Gorman. "Pat envisioned and developed the legal response, and over the next five years led a unified team of BMC and outside lawyers to a landmark $1.6 billion trial victory against IBM."
Born in Minnesota, Tagtow and his family moved to Texas when he was in the ninth grade.
His father was the first in his family to go to college and entered into a career in computer technology, eventually starting his own business.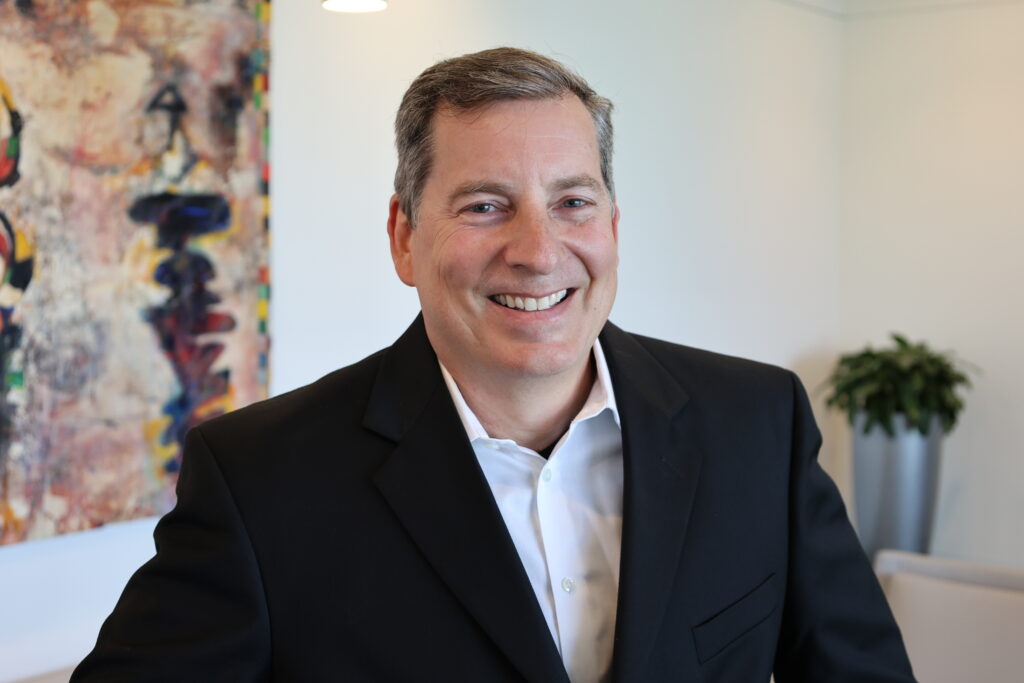 Tagtow first thought about becoming a lawyer — a general counsel actually — when he was in the fifth grade. One of the speakers addressing his class for career day was the general counsel of Peterbilt.
"He spoke of his career path, travel, rising in the ranks of the company practicing law and working through complex issues," Tagtow said. "I was transfixed. I locked my sights on being a lawyer, and specifically a general counsel at a global company, and it never wavered from that goal."
Tagtow majored in computer science at the University of Texas with the intention of being involved in technology law. He earned a joint JD-MBA degree (MBA focus was international business) at the University of Houston Law Center with the intention of joining a global company in-house.
Premium Subscribers: Click here for a Q&A with Pat Tagtow in which he reflects further on the "best day of [his] work life," how the role of the general counsel has evolved during his career and what he considers his most important role as a GC.
"One humorous misstep was taking many classes in Japanese in college believing it would be a strategic benefit in U.S. business when I got out of law school," he said. "At the time I was in undergrad, the seven largest banks in the world were in Japan, but by the time I graduated law school Japan was in the midst of a major financial crisis and they were totally off the radar."
In 1993, Tagtow joined Johnson & Gibbs in the commercial litigation section. He then made the lateral move to Haynes and Boone in Houston.
He wanted to go in-house and corporate legal departments were hiring — but only transactional lawyers, not litigators.
Six years later, in 1999, BMC hired Tagtow for litigation. BMC promoted Tagtow to general counsel in 2011.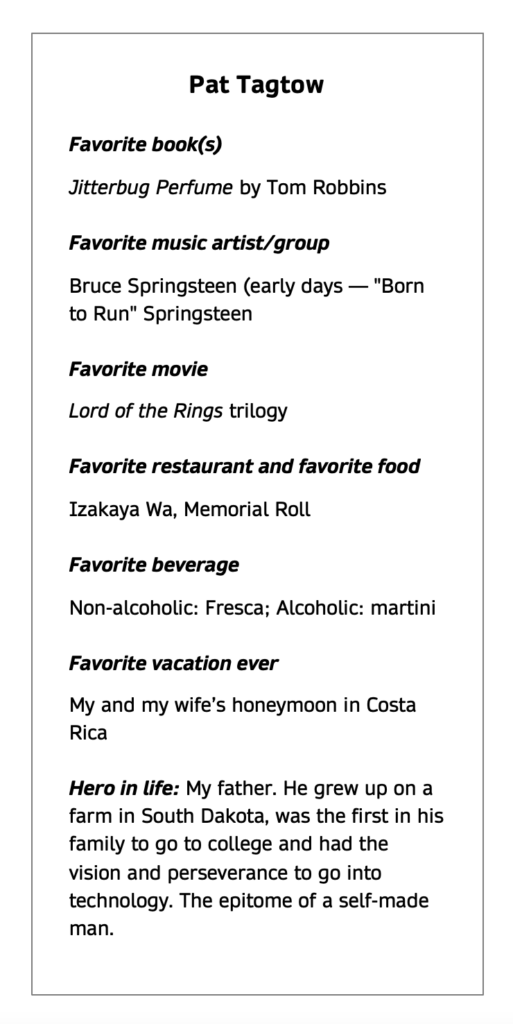 Tagtow said BMC officials first "heard of potential violations of our contract [with IBM] through word of mouth and rumor."
"Business dictates approaching most things with diplomacy, which we did for months and exhausted to no avail," he said. "Faced with a clearer and clearer picture that the single biggest threat to our company was taking action with one of our largest accounts in violation of our hard-fought protections in our contract, and suspecting a broader intent, we knew it would be a big fight.
"We knew IBM's scorched-earth litigation tactics in other arenas," he said. "But in such a situation with a much larger opponent, if you roll over you are telling them they can do whatever they want to you. We did not roll over."
Tagtow "was the impetus" for BMC filing the lawsuit. He lobbied the company's CEO, CFO, head of mainframe and head of sales to get them on board.
"I explained the risk of not taking action, particularly if the wrongful behavior extended beyond AT&T, which I suspected was the plan — and which discovery in the litigation ultimately confirmed," he said.
The first point of business for Tagtow was to hire outside counsel. He interviewed several law firms.
"BMC engages very collaboratively with our outside counsel in litigation and has high expectations of communication, involvement and quality," he said. "While we spoke with many legal teams at several firms, all very good lawyers and excellent firms, we felt a particular connection with Sean Gorman and Chris Dodson at Bracewell. The combination of intelligence, legal skills, energy, commitment to a collaborative and inclusive process, and of course a budget we could work with, resulted in teaming with Bracewell."
Gorman and Dodson moved their practices to White & Case in January 2023. Key appellate lawyers, including Jeff Oldham and Warren Harris, are partners at Bracewell.
"These are two excellent firms teaming up for the appeal," Tagtow said.
Tagtow said IBM "hired an army of New York lawyers."
"I think we counted about 30 lawyers on the other side by the time of trial," he said. "They tried every tactic to delay, withheld discovery, caused conflicts that resulted in so many hearings I lost count. It was clearly the most contentious litigation I had ever experienced with the most street-fighting tactics [from] the other side that I could believe. That dragged on for five years. Clearly one of their strategies was banking on our running out of money for the case or will to fight, but they were wrong on both."
BMC filed the lawsuit against IBM in July 2017. Three months later, Tagtow hired a new head of litigation: Sarah Menendez, a former trial attorney at Locke Lord and senior counsel for litigation at Columbia Pipeline Group, which is now part of TransCanada.
Sarah Menendez and Pat Tagtow
"Sarah is amazing. She is brilliant, hard-working, strategically clever and has the best attitude and demeanor of anyone with whom I have litigated," Tagtow said. "She provided critical day-to-day support including gathering documents and records for discovery, scheduling and preparing witnesses for depositions, reviewing and providing input on all filings. She was part of the extended litigation and trial team that collaborated on all significant aspects of the case."
"Sarah is remarkable," he said.
Menendez was born and raised in Houston. Her parents immigrated to the U.S. from Jamaica. Her mom was a homemaker who homeschooled their six children until they reached high school. Her dad was a computer programmer and entrepreneur.
There were no lawyers in her family, but her dad hoped she would go into a profession like law.
Menendez went to college to be a journalist.
"I loved writing and travel and learning about other cultures, and I had the very specific dream of being a photojournalist for National Geographic," she said.
At the University of St. Thomas, she took an investigative journalism course taught by professor Nicole Cásarez. The students in the class partnered with law students at the University of Houston to work on cases for the Innocence Project.
A major impact on her career choices was the case of Anthony Graves, a 26-year-old who had been wrongfully convicted of the gruesome murder of a grandmother and five children in Texas in 1992.
"No physical evidence tied him to the crime, only the testimony of a witness — Robert Carter, who was convicted of the murders himself," Menendez said. "Carter recanted his testimony prior to trial, but the district attorney withheld that information from the defense."
The DA was later disbarred for his misconduct. Graves spent more than 18 years in prison — 12 of those years on death row — before he was ultimately exonerated in 2010.
Menendez said her contribution to the case was largely insignificant. She read court records and organized files.
"However, he had a massive impact on my life — his case sparked my interest in law," she said. "It's a profession where the smallest fact can have the largest impact — where everything you do might matter. It's a deeply valuable and deeply important profession, and at its best that fact suffuses even drudgery with meaning."
Menendez met her husband when she was in college. As she was busy taking classes in newswriting and photography, he was studying for the LSAT.
"It looked sort of fun," she said. "I started playing around with the logic puzzles, and I loved them. Mike said that I should take a practice test, and wouldn't it be funny if I ended up becoming a lawyer. And the rest is history."
After graduating from Harvard Law School in 2010, Menendez practiced civil litigation for nearly five years at Locke Lord.
In May 2015, she joined the corporate legal department at Columbia Pipeline.
"Getting to know my clients on a deeper level, and to be able to shape the way that they do business, has always appealed to me," she said. "So many disputes could be avoided altogether if the parties just had a critical piece of advice at a critical time. In my role, I get to be the person my clients call at those critical points — helping them to think through potential points of contention and ideally to solve them before they even become problems. It's one of the parts of the job that I enjoy most to this day."
In October 2017, Tagtow asked Menendez to join BMC's in-house legal team.
"I was excited about moving into the tech sector," she said. "I was also excited because it was a significant increase in responsibility — not only would I be reporting to the GC, but I looked forward to having more direct responsibility for more complex litigation. Little did I know how very true that would be."
Tagtow introduced Menendez to Gorman and the litigation team during her first week on the job.
"It was initiation by fire," she said. "The biggest challenge was that I was learning about the case at the same time that I was learning about the industry and meeting all of my new coworkers. It felt very much like jumping on a moving treadmill. But it turns out that doing that does get you up to speed very, very quickly. There's a reason that business schools teach via case-study. I actually can't think of a better way to get to know an industry than from the middle of a big case. It taught me about our customers, our partner relationships, our products, our intellectual property — all at a much deeper level than I would have known to dive into absent a practical reason to do so."
Menendez said the case against IBM was bigger than any case in her career.
Premium Subscribers: Click here for a Q&A with Sarah Menendez, where she shares more about her best day at BMC and reveals what factors she considers when hiring outside counsel.
"At its core, this is actually a very simple case — it's a case about broken promises and the consequences of broken promises," she said. "But unlike the others, this case took five years, 52 depositions, thousands of pages of briefing and two weeks of trial. And that's not to mention all of the other hearings that took place over the course of the case."
Menendez said she is "a fairly involved client" when it comes to litigation, but she was even more so in this case because of its size and significance.
"I attended every hearing and every BMC deposition," she said. "I reviewed and edited every single thing that was filed in this case. I saw myself as a true part of the team. It was a tremendous amount of work, but as I've mentioned before, I was working with some of the most talented attorneys in my career. I think that we brought the best out of each other, and I was sincerely honored to be a part of the team."
"Wild horses couldn't have kept me away [from attending the trial]," she said. "I attended every day of trial, sitting at counsel table, listening to testimony, passing notes with my perspective and suggestions, and generally doing any legal work that would take the pressure off of the trial team."
Symmetry Energy General Counsel Stacy Williams, who hired Menendez at Columbia Pipeline, said Menendez is an effective lawyer and leader "because clients trust her and she is able to build that trust because she has great technical expertise that is tempered with real practical advice."
O'Melveny & Myers partner Kristin Cope said Menendez creatively seeks solutions to resolve litigation and disputes.
"I ran a significant dispute for her the last two years, and Sarah was the kind of client you want to work with but rarely get to," Cope said. "She was truly involved, by knowing the issues and asking good questions and adding true value with her insights, and yet she trusted my advice and intuition and made my team feel valued and supported. That involvement plus trust is a potent combination."
"Sarah makes her own team members, employees elsewhere in the organization feel seen and important," Cope said. "She also does this for outside lawyers. At a mock trial, for example, she did not just congratulate the presenting lawyers, but took time to very specifically and extensively praise the work of the associates, noting their individual contributions, recognizing that much of the 'seen' work was accomplished by them, and thanking them for their diligent efforts."
Tagtow said Menendez was closely involved in every aspect of the case.
"While I reviewed and provided input on all key filings, she reviewed and had a hand in every filing, providing very valuable input," he said. "We jointly engaged in regular case meetings to strategize with the Bracewell team. I provided strategic and sometimes factual input and made or approved all major decisions on strategy and tactics throughout the litigation."
Menendez said Tagtow was "critically important to the IBM litigation — much more so than any other GC I know of."
"He even drafted critical portions of the opening and closing arguments," she said. "Pat is a perceptive and exceptionally talented litigator. He is always there to ask the tough, vital question. He was never afraid to make a critical call, was right there alongside the trial team, offering perspective and encouragement, and maybe just as importantly is just downright fun to work with."
Gorman agreed, pointing to two specific "trial interventions" by Tagtow regarding the fraud claim that "illustrate the impact Pat's insight" had on the case and the outcome.
"As I was preparing the opening, I told Pat that I didn't think I should ask for punitive damages in the opening. We were, after all, asking for an eye-popping $717 million in actual damages," Gorman said. "After a spirited exchange, Pat prevailed. And Judge Miller didn't bat an eye at my request for punitive damages."
"For closing, Pat went even further," Gorman said. "The night before closing, Pat handed me a piece of paper on which he had written a page of text that he wanted me to add at the end of my closing. His elegant explanation for why IBM's conduct was not only a breach of the BMC-IBM licensing agreement, but also fraudulent, found its way into Judge Miller's findings of fact and conclusions of law, yielding $717 million in punitive damages."
Tagtow said there was "no decision to make" whether he should attend the trial.
"This was the single most important event in my professional life to date and surely beyond," he said. "My role was two-fold: I wanted to be the physical representation of BMC's legal rights at the trial, and I absolutely had to be where all the action, planning, strategizing and drafting was occurring real-time.
"It would take a coma to keep me from that trial, and even then I would somehow wheel the bed into the courtroom," he said.
To be sure, there were some lighter moments during the litigation.
During a working Zoom meeting with all the lawyers in 2021, Menendez was working from home as part of the Covid-19 protocol. At the time, her youngest daughter, Frances Marcella, was 4 years old and her oldest daughter, Emilia Grace, was 6.
"They are very curious about my work, and they would frequently — almost always — come in and say hi when I was having virtual meetings," she said.
One day, Emilia Grace walked in on a Zoom meeting and asked her mom what the man on the computer screen does.
"I told her that he was a lawyer," Menendez said. "And she was extremely confused and she said, 'But mommy, he can't be a lawyer. He's a boy.' Then she thought about it for a minute and said, 'Wait. Can boys be judges too?' I actually had to tell my kids that there are, in fact, lots of boys who are very good lawyers and judges, and that boys can do anything that girls can do.
"This profession and this case have fundamentally shaped the way that my children see the world," she said. "It's not just that they know they can do anything — it's that the alternative has literally never occurred to them. And I will be forever grateful for that."