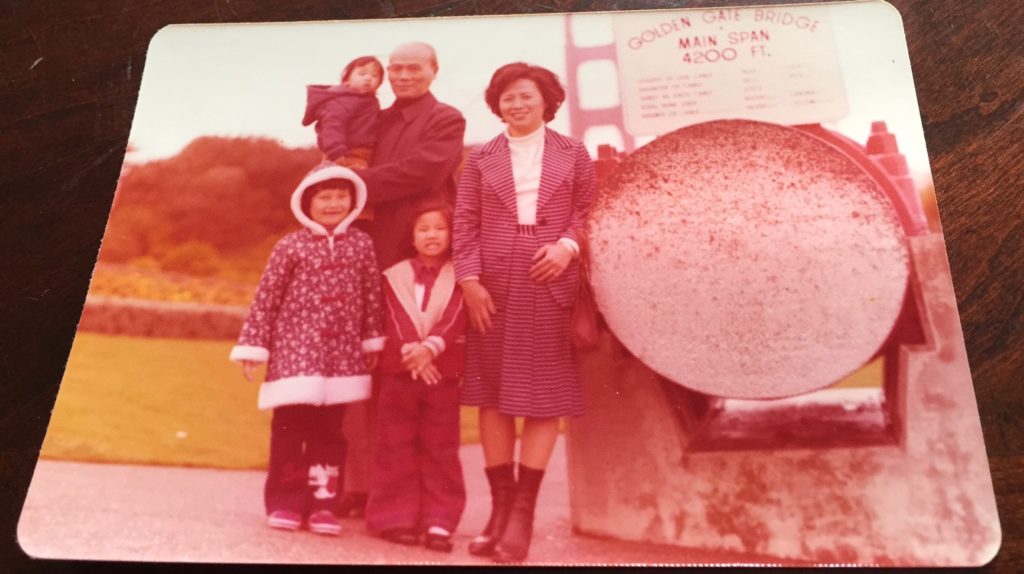 Judy Liu (Lower Left) arrived at age 6 with her mother to join her family in San Francisco
Judy Liu arrived in the U.S. from Taiwan in 1977 with her mother when she was 6 years old. She knew no English. She had no American friends. Only a few of her mother's extended family members were here.
"It was just me and my mom," Liu said. "My first vivid memory of arriving in San Francisco was eating at McDonalds. It is funny now, but it was such a big deal to me then."
Liu studied hard as a kindergartener and was fluent in English within months and sought to learn American culture as quickly as she could. Even so, the kids in school called her racist names. Texas in particular was not always friendly and inviting.
But Liu survived and thrived. She is the quintessential immigrant success story – magna cum laude at Columbia University, law school at Harvard and a first job at a big corporate law firm.
Four decades later, Liu is an associate general counsel at CenterPoint Energy, an $12 billion electric power company that operates in eight states.
Premium Subscribers: Go here for an exclusive Q&A with Judy Liu. She provides personal insights, how she selects outside counsel and key things outside counsel should know about her. For information on premium subscriptions, including marketing and advertising benefits please contact Brooks Igo at [email protected] .
As a leader in CenterPoint Energy's legal department, Liu has been managing about 150 active lawsuits a year. As the Houston-based company's director of corporate claims, she and her department handled more than 7,200 claims in 2019 and they actually recovered more than $12 million in damages to CenterPoint assets.
And last month, Liu added new responsibilities as an associate GC handling risk, claims, health safety and environmental. She is keeping part of her litigation docket.
Citing her extraordinary success, the Houston Chapter of the Association of Corporate Counsel and The Texas Lawbook are pleased to honor Liu with the 2020 Houston Corporate Counsel Award for Senior Counsel of the Year for a Large Legal Department.
"Judy selects and retains outside counsel, pairing outstanding lawyers with matters they are adept at handling and is currently managing outside counsel from over a dozen law firms in different states," said Norton Rose Fulbright partner Joseph Graham, who nominated Liu for the award.
"Like an air traffic controller who handles dozens of planes simultaneously, Judy is incredibly skilled at handling her large docket, always ensuring that outside counsel is proceeding in ways favorable to CenterPoint," Graham said.
Liu has now been in the legal department at CenterPoint for 17 years and said she still loves her job and the work.
"It has never been static," she said. "There are always new things being added to my plate."
Liu, who was born in Taipei, Taiwan, said that her parents separated when she was in kindergarten. Her mother decided to follow several of her family members in moving to the U.S.
Her grandparents and mother, she said, left comfortable lives in Taiwan to "start over in a new country that wasn't always welcoming … but they saw better opportunities here for the next generation.
"I didn't appreciate as a child what a sacrifice that was for them," she said. "Moving to the United States opened up many more possibilities and opportunities than I might have had otherwise. At the same time, growing up in the United States as an immigrant has meant that I sometimes don't feel like I completely belong in either place.
"My mother was in her mid-30s when she came to the United States, learned a new language and got a job outside the home for the first time, all while raising children as a single mom," Liu said. "She never complained and raised us to be grateful for all that we had. I'm still learning these lessons."
Liu's mother took classes at a Houston community college and became a bookkeeper at a family-owned appliance parts company.
Elementary school in Taiwan, Liu said, "was much stricter than in the U.S." For example, she said Asian children cleaned up classrooms at the end of the day, took out the trash, cleaned and mopped the cafeterias.
"Asian culture teaches children to be strictly obedient, and they are expected to do exactly what they are told to do," she said. "In America, it is just not as strict."
"I primarily learned English by watching Sesame Street," she said.
Liu said that her grandfather watched the TV evening news each day, and she would watch with him, causing her to be fascinated at an early age with current events.
In the fourth grade, Liu's mother bought her a subscription to Time magazine.
"I told my mother that I wanted to be the editor of Time," she said. "I found the news stories to be very fascinating. It opened up the world to me."
Liu decided early that she wanted to go to college in New York City because she had read several books that were set in the Big Apple. Columbia was her choice.
"I was fascinated by New York City and the idea that 'if you can make it there, you can make it anywhere.' I thought New York City would be a great place to go to school because the city itself is like a classroom," she said. "After learning about a particular artist in art history class, I could take a short subway or bus ride and see the artist's works in person."
Immediately after college, Liu deferred starting law school to teach English in China at Hubei University, which is in a city of about 500,000 people a few hours from Wuhan in Hubei Province. She had taken several classes about China and wanted to see the country for herself.
"Even as a Chinese American, living in China was a shock," she said. "There was no running hot water in the apartment, and power would go out intermittently. The sheer number of people even in a relatively small provincial town gave you a sense of China's population challenges."
Liu said the Chinese were welcoming and very curious about America and Americans. Many of her students were children of poor farmworkers and were the first in their families to receive education beyond grade school.
"I was moved by how seriously they took their responsibilities to their families, because the educational opportunity was one that could change the lives of the entire family, not just the individual student," she said.
After six months in China, Liu came back to the U.S. in 1994. Despite no lawyers in her family, she applied to Harvard Law School and was accepted.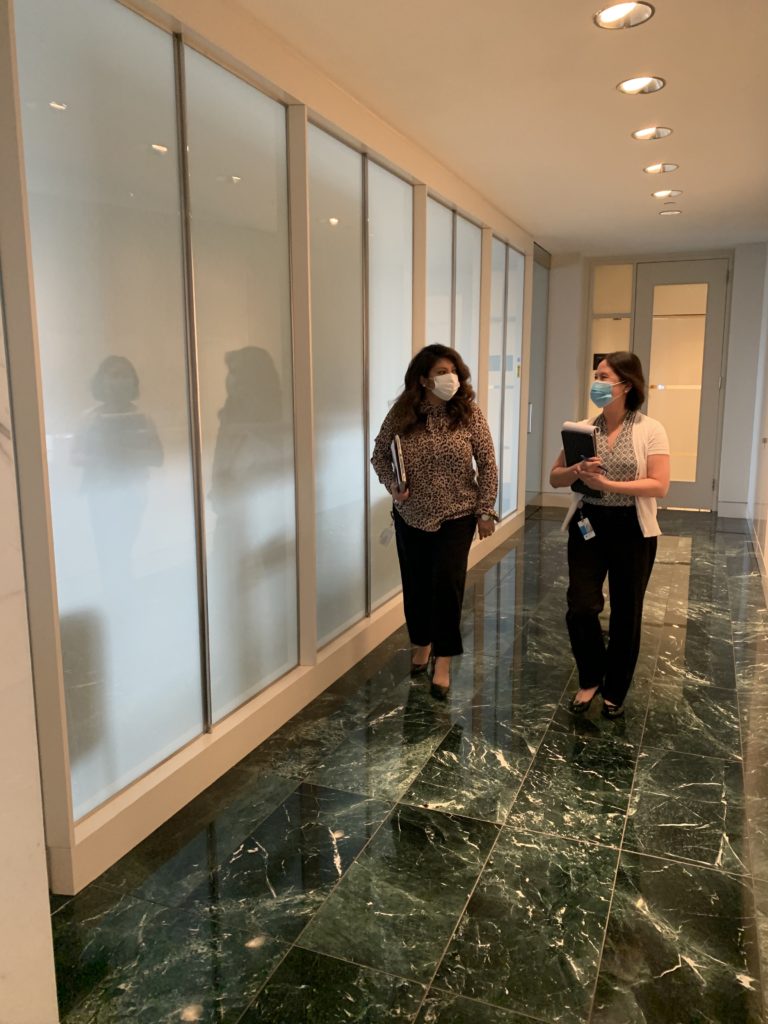 "Maybe it would be in any family, but particularly for an Asian immigrant family, Harvard was the pinnacle of higher education," she said.
During her second year, Liu took a litigation workshop that included a mock trial.
"I really enjoyed it, especially organizing the case and cross-examining witnesses, which surprised me because I don't like conflict," she said. "I'm pretty introverted."
That same year, she joined the Legal Aid Bureau, which provides free legal services to low-income clients.
"I wanted to develop some practical lawyering skills to balance out what I was learning in classes," she said. "It was an eye-opening experience, and my first realization that being a lawyer isn't just about dealing with the legal issues, which were challenging in and of themselves for a law student. Many of the clients were dealing with family, financial and other social issues that also had to be addressed and sometimes were as significant as the legal issues."
In 1997, Liu joined Baker Botts as an associate in its Houston litigation practice. During her five years at Baker Botts, she represented major energy companies and utilities, including CenterPoint, in an array of employment and commercial litigation matters.
"I learned so much from the experienced lawyers at Baker Botts," she said. "I loved the people and the culture of the firm."
Liu said she regrets that none of the scores of cases she worked on went to trial.
"We would get cases so close to trial and then we would win on summary judgment or the parties would settle," she said.
In late 2002, Liu said that Carol Helliker, deputy general counsel at Houston Lighting & Power, contacted her about a position at the power company, which changed its name to CenterPoint in 2003.
HL&P had been one of Liu's first clients at Baker Botts. She had handled litigation matters for the energy giant.
"At that point, I was not looking for another job, but when the opportunity presented itself, it seemed too good to pass up," she said.
Liu started as senior counsel in 2003 and was promoted to assistant general counsel in 2007 and then associate general counsel in 2011.
With a litigation docket that ranges from 120 to 150 cases, she handles personal injury complaints, which include trip and fall matters, service interruptions, catastrophic injuries, fatalities, auto accidents and explosions causing property damage. Major litigation may stem from fires and explosions, electrical contacts and electrocutions and natural disasters, such as flooding and hurricanes.
Lawyers who have worked with Liu said that she is aggressive in defending CenterPoint, but that she also wants to be fair and considerate.
"Judy has really excellent instincts and judgment," said John Anaipakos of Baker Botts. "No matter how bad the facts or how fierce the opponent, she never gets rattled in litigation. Although her very pleasant demeanor might suggest otherwise, Judy can be tough as nails in settlement negotiations or at trial or whenever the circumstances merit."
Amy Snell, a partner at Shipley Snell, agreed.
"Judy handles a high volume of cases, and she does it effectively and is very responsive to outside counsel," Snell said. "She remains extremely calm when situations are difficult and makes great decisions that are in the best interest of her client. Judy does not litigate just to litigate."
Lawyers who have worked with Liu said she gets involved early in litigation and is very thoughtful in deciding when to fight complaints and when to have a quick and early resolution.
"Unfortunately, many of the matters I handle involve accidents or events that can have life-changing consequences for the people involved," Liu said. "While we can't change what has already happened, we can try to improve processes, take actions to make certain activities safer or educate people about hazards.
"Without getting into specifics, I've been able to help guide or influence those types of changes, and that is a very satisfying aspect of my work," she said.
Internally, Liu is credited with reforming the company's claims department, which includes about 30 licensed claim specialists, during the past 18 months. They said that she has raised morale, improved work-life balance and empowered employees in the workplace.
Joseph Graham of Norton Rose Fulbright said Liu "strongly believes in giving back to her community" through public service, pro bono work and community service organizations.
For five years, Liu has actively supported Young Audiences of Houston, a nonprofit serving children through arts-in-education programs and services in schools, hospitals, libraries and juvenile detention centers. She also is an avid advocate for the Houston Ballet and its educational outreach program Chance to Dance.