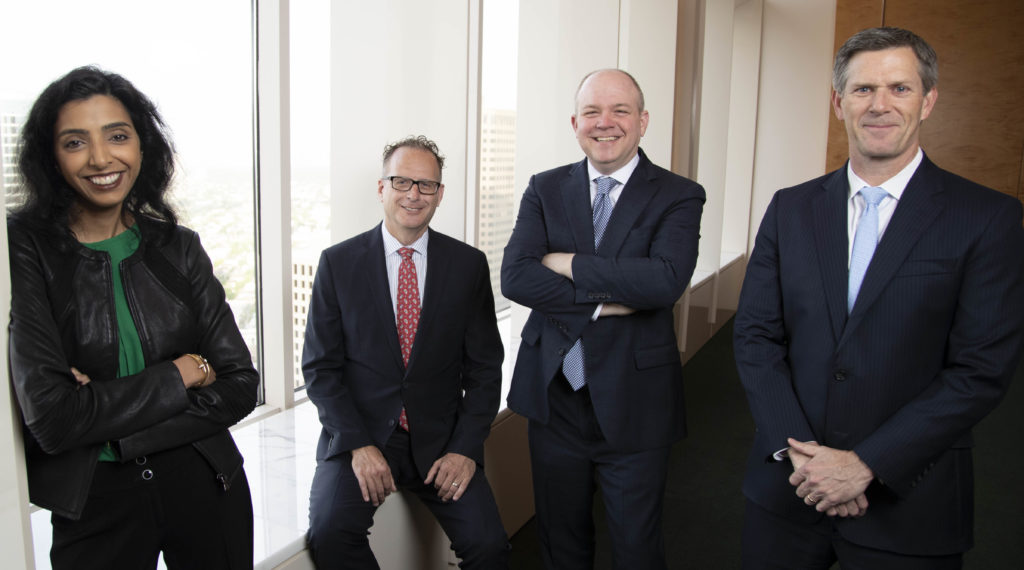 Monica Karuturi was in Delhi, India, enjoying some vacation time last February with her sister when she got a call on her cell from her boss at CenterPoint Energy. The Houston-based electric and natural gas utility was interested in buying Vectren Corporation, an Indiana-based utility.
A couple days later, Karuturi, an associate general counsel and top M&A in-house and securities in-house lawyer in CenterPoint's corporate legal department, was on a flight to New York City to meet with Vectren executives and financial advisors.
"The meeting lasted a few hours but we signed the NDA [non-disclosure agreement] and it was the start of several rigorous months of negotiations, due diligence, drafting and editing of documents and integration planning," Karuturi told The Texas Lawbook in an exclusive interview.
CenterPoint and Vectren officially announced the $6 billion merger on April 23, 2018.
But the merger itself was only one aspect of a highly complex, transformational deal for CenterPoint that included nine separate transactions.
The Association of Corporate Counsel's Houston Chapter and The Texas Lawbook announced Thursday night that CenterPoint, Karuturi and the two outside law firms involved in making the deal happen – Akin Gump and Baker Botts – are the winners of the 2019 Houston Corporate Counsel Award's M&A Transaction of the Year.
The award judges who reviewed the nominations said that Karuturi's work in leading the deal team and then putting together seven different financing transactions for CenterPoint was "nothing short of amazing."
Karuturi literally worked a couple thousand hours during the yearlong process that it took to get the Vectren deal closed.
"There were lots of weekends, lots and lots of late nights – the work was constant," she said. "The communications aspect was also crucial because we needed to make sure that management and the board knew what was going on."
Born in Rochester, New York, to parents who were immigrants from India, Karuturi and her family moved back and forth from New York and California a handful of times because her father was in corporate finance for Xerox.
"My parents have always been my first source of inspiration," she said. "They built their lives in a new country with hard work and grit. I tried to model myself after them, and they are responsible for any success I have achieved."
That being said, Karuturi admits there was tremendous pressure on her starting as a child to become a medical doctor.
"When I was four, my grandfather gave me an office stamp pad that read, 'Monica Karuturi, Cardiologist.' But medicine just didn't resonate with me the way my parents and family hoped it would," she said.
Karuturi went to Brown University for college, Columbia University to get a master's degree in public health and then to Georgetown University Law Center for her doctor of jurisprudence. Her husband went to medical school at Baylor.
"I had never stepped foot in Texas until I visited my husband during his medical rotation," she said. "He really loved Texas. It grew on me. Texas is now my adopted home."
During the summer after her first year in law school, Karuturi's clerked in the corporate section at Weil Gotshal in New York.
"I realized in those few weeks at Weil that I was a deal junkie and loved corporate transactional law," she said. "I liked the negotiating of a deal. I liked that both sides had to see value in a transaction for it to work. And I liked creating something."
Upon receiving her law degree in 2006, Karuturi joined Baker Botts's Houston office, where she worked on several major transactions, including:
TEPPCO Partners' $3.3 billion merger with Enterprise Products Partners;
ArcLight Capital Partners' $400 million acquisition of a controlling interest in Buckeye Partners; Dominion Exploration's sale of offshore natural gas and oil exploration and production operations to Eni Petroleum for $4.7 billion;
Valero Energy's $2.25 billion securities offering; and
CenterPoint's $1.15 billion securitized transition and system restoration bonds in two separate offerings.
"I learned so much at Baker Botts," she said. "At a law firm, you see so many more deals than when you are in a corporate legal department. But in-house, you realize that the M&A deal or securities offering is just the beginning for the business. What comes next is a lot of work."
In 2010, Houston-based LyondellBasell, fresh from exiting bankruptcy and reorganization, hired Karuturi as corporate counsel to handle its securities, corporate governance and strategic transactions – a position she held for nearly four years.
CenterPoint General Counsel Dana O'Brien, who recently left to become the GC at Brinks, came calling in the fall 2013 offering the position of associate general counsel for corporate and securities.
"When I interviewed, Dana told me that CenterPoint didn't do too much M&A and that M&A would not be a big part of what I would be doing for the company," Karuturi said. "I think Dana and I were both surprised at how that turned out.
"Dana has been an incredible mentor for me," she said. "She invested in my development at the very start of my career at CenterPoint and saw potential in me that I didn't know was there. She is a compassionate and inspirational leader who truly cares about her team."
In reality, Karuturi has completed a total of 23 M&A transactions and securities offerings for CenterPoint with a combined value of $18 billion.
In 2016, for example, she led CenterPoint's acquisition of Continuum Energy's retail business for $77 million and the company's $363 million purchase of Enable Midstream's retail business at the same time.
"The same night, I was literally running back and forth between meetings on the two deals, working with different outside on each one," she said.
But Karuturi said that no deal she handled previously had the size, complexity or importance of the Vectren merger.
"The Vectren transaction was truly a transformational deal for CenterPoint," she said. "We added jurisdictions that we were otherwise not heavily involved in. This transaction also was a substantial achievement for both law firms we used – Akin Gump and Baker Botts."
Karuturi said that Akin Gump partners had invited several senior lawyers from CenterPoint to meet with its key corporate partners a few months earlier. CenterPoint liked what they saw and heard and hired Houston partner W. Robert Shearer to lead the outside M&A team.
The acquisition also involved a $5 billion unsecured bridge term loan facility, which Karuturi and Akin Gump also handled.
CenterPoint then hired Baker Botts to work with Karuturi on seven separate securities and financing transactions. Baker Botts actually advised Vectren in the merger.
"On numerous occasions during the negotiation of the merger agreement, outside counsel would come to stalemates," Baker Botts partner Timothy Taylor wrote in nominating Karuturi and CenterPoint. "Monica would constantly probe and think outside the box to come up with compromises and solutions that both parties could live with. On more that one occasion, she would reach out to Vectren's general counsel directly to move the parties off of a sticking point.
"Monica is practical and pragmatic and works tirelessly to achieve her client's goals and objectives," Taylor said.
A big moment for Karuturi came in late March – only days before the merger would be publicly announced.
"I went to our regular board meeting prepared to help someone else brief the board on the details of the transaction," she said. "But just before the meeting started, I found out that I was going to be the lead speaker. It was a lot of pressure – our board is very thoughtful and substantive and asks lots of questions – but also an extraordinary opportunity."
As a result of the transaction, Centerpoint now has a market cap of more than $15 billion and nearly $11 billion in revenues.