"Are you scared?"
Chris LaFollette, donning a hard hat and blue jeans, stood on a shaking platform in the midst of a simulated blowout.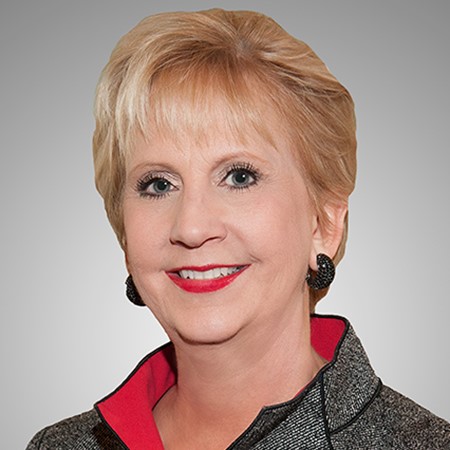 She was finishing up her week at drilling school, an opportunity arranged by a client she advised.
The operator asked LaFollette to remember that feeling on the rig simulator – the drop in her stomach, the nervousness and the way her hands clenched – if she ever got a call from a client that there was a problem. That it was her who needed to answer the phone, not her voicemail, that she needed to be at-the-ready to act immediately, not to put off following up for a few hours.
It is one of many, many memories that stick in LaFollette's mind after 40 years of practicing law in Houston and retiring from Akin Gump Strauss Hauer & Feld's partnership at the end of 2020.
"I was really just a lucky girl from South Texas who got to have a career that I have a passion for and love," she said as she reflected during an interview with The Texas Lawbook.
The Brownsville native began her career as a junior high history teacher before being drawn to the law, urged along by the pursuit of being challenged in a new way.
After graduating from Loyola Law School, LaFollette moved to Houston and joined Andrews & Kurth.
"In 1980, quite frankly, as a female getting out of law school, when they asked, 'What do you want to do?' I replied, 'What do you need?'" said LaFollette.
Well, the firm needed corporate attorneys. For LaFollette, it felt like a stroke of luck as much as it was a natural fit for her disposition and tenacity.
"Something about corporate vs. litigation is that you're always trying to help people if they want to buy something, sell something, raise money. You have to figure it out, and the goal is to try and accomplish that."
LaFollette focused her practice on energy transactions, a space that's been more than broad-ranging over the last twoscore years between financial collapses, political upheaval, a global pandemic and countless iterative nuances in between.
"Adaptability is the key. For me, capital markets and M&A were just the basic tools, and it was more about the big questions: How do you deal with commodity prices going back and forth? Who is going to take the environmental liability since energy is a dirty business?" said LaFollette.
"You have to be able to adapt quickly because the speed of change is getting faster."
LaFollette primarily worked with Corporate America, often finding herself in the boardroom, as she advised issuers, investors and underwriters on matters that spanned public offerings, private placements, master limited partnerships and M&A.
Her bound volumes and deal cubes include work on Cimarex's $1.6 billion acquisition of Resolute Energy Corp. and SRC Energy's $1.7 billion combination with PDC Energy, among many others topping the $1 billion mark.
It's her innate ability to navigate personalities that LaFollette believes was the most crucial element in her relationships with clients and their successful outcomes.
"To me, that was the most critical part, the most important part and the part that would keep me up at night because you're talking about the stakeholders, the shareholders, the investors, the banks that have loaned money to these drill projects, the employees whose livelihoods depend on a company," she said.
LaFollette joined Akin Gump in 2004 and, four years later, was named partner in charge of the Houston office, a title she retained until 2020.
The leadership role not only revealed the intricacies and importance of the business of law in practice, but allowed LaFollette to get to know partners across the firm's 20 offices and those that worked in different practice groups.
"I felt like I was learning, but I was also given a voice at the table," said LaFollette.
Now serving as partner emeritus at Akin Gump, LaFollette has turned her attention to mentorship and lending a hand for women's events.
"This isn't a profession where you can be a loner successfully. This is a profession where you're going to have so many pull you up, lift you up and keep you going," said LaFollette.
LaFollette points especially to Mark Zvonkovic as an integral player in her career.
The two found common ground back in the 80s over driving a 280Z – his was blue and LaFollette's was burnt orange "like the sunset and [her] beloved Longhorns" – and having parents that were educators.
"He was calm, he was smart and he gave me incredible perspective because the clients really valued him. He taught me how important it was to embrace a situation. Yet, he never lost sight of what mattered," explained LaFollette.
She recalled a time that the two were on the road for six weeks doing a bunch of transactions for a large company. LaFollette had to continue to stay away on a Friday night to work, and Zvonkovic returned to Houston. That night, he went over to LaFollette's home and took her husband a six-pack of beer and her daughter a cookie.
"What partner does that for their associate?" asked LaFollette.
"It takes someone who is going to invest and cares – not just teaching you the skills of practicing law because it's going to change so much and keep changing, but teaching you how to deal with all those surprises that come along the way and to help other people get to where they need to be," she continued.
Looking back now, LaFollette wishes she could hit a reset button.
"How cool would it be to begin your career right now?" she asked.