When a business relationship falls apart and litigation is inevitable, you're usually looking at several years before the case is tried and a final judgment comes down — particularly if it's a federal case.
Not in U.S. District Judge Alan Albright's court.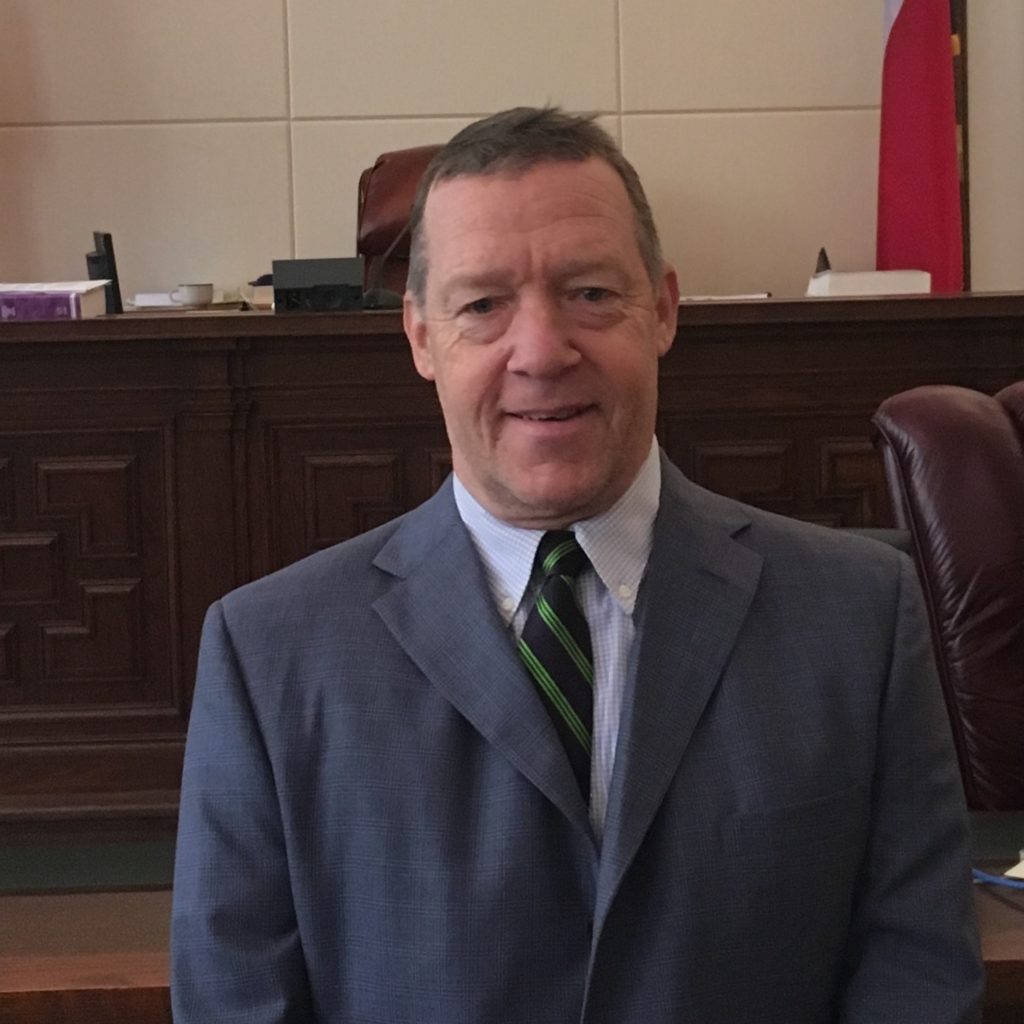 The judge, who presides over the Waco division of the Western District of Texas, just issued the final judgment for his first patent trial since he officially took his seat in September 2018. The case pitted two Texas companies, Diamondback Industries (not affiliated with Diamondback Energy) and Repeat Precision, against each other after their short-lived business relationship went sour. The result? A $40 million judgment in favor of Repeat Precision — and a 150-page ruling that repeatedly questioned the credibility of testimony by Diamondback's CEO.
Judge Albright took the case to a bench trial in late January — less than a year after the lawsuit was filed. The quick turnaround was particularly remarkable due to the multifaceted nature of the case. Beyond patent infringement, the parties' accusations ran the gamut: breach of contract, fraud, theft of trade secrets, antitrust violations and tortious interference.
"This was not a straightforward streamlined case; it was a case with a lot of very complex issues and a lot of legal specialties," said Scott Hastings, a Dallas-based partner at Locke Lord and the lead lawyer for Repeat Precision. "There were more than 20 depositions and tons of third-party discovery, and we still were able to get to trial in one year because everyone worked hard and the court put procedures in place that really expedited the matter."
"Judge Albright was very well-prepared for every hearing. He did a good job making a decision on the merits," he added.
In a ruling issued April 3, Judge Albright ordered that Diamondback take nothing on its claims. He awarded Repeat Precision $17 million in actual damages and nearly $23 million in punitive damages, half of which were enhanced damages — a rare form of damages in the patent world. The award also included Repeat Precision's attorneys' fees.
"It was a clear indication that the judge found this to be an egregious case of infringement," Hastings said.
The final judgment followed a 150-page findings of fact and conclusions of law issued in mid-March in which Judge Albright found that the "credibility and evidence stacked up in favor of Repeat Precision and all-but-crumbled against Diamondback."
He left none of his thoughts about Diamondback's case to the imagination.
"Diamondback's story at trial was sometimes so internally inconsistent or implausible on its face as to the key factual elements that it strained credulity to believe any of it," the judge wrote.
Diamondback's lead lawyer, Decker Cammack, said his side disagrees with the judge's findings.
"We're keeping our options on the table, including our ability to appeal," said Cammack, a partner at Fort Worth law firm Whitaker Chalk Swindle & Schwartz.
The business deal
Diamondback Industries is a privately-held company based in the outskirts of Fort Worth that manufactures explosive devices, including power charges and setting tools that oil and gas companies use for fracking operations. Diamondback is led by Derrek Drury, the company's CEO, who describes the company on its website as a faith-based enterprise that strives to "conduct business in a Christ-like manner. Our main goal is to bring glory to His name." Diamondback's president is Benton Cantey, who is also a high-regarded corporate M&A partner at Kelly Hart & Hallman.
In November 2017, Diamondback obtained a patent for its disposable setting tool, which oil and gas operators use to place a frac plug in the desired location within a wellbore — essentially, it helps operators pinpoint where they will perforate the wells and conduct fracking operations. While setting tools have been used for the past 40 years, a disposable option is a more recent development. Because disposable setting tools are much cheaper, lighter and reduce the risk of human error, they have become the preferred alternative.
Diamondback's patented setting tool included its "Diamondback Eliminator Power Charge," a one-of-a-kind charging mechanism that gave Diamondback a 99% market share for power charges that operate disposable setting tools.
The legal battle arose out of a licensing agreement that Diamondback reached in early 2018 with Houston-based Repeat Precision, a frac plug manufacturer that is a 50-50 joint venture between NCS Multistage Holdings and R.J. Machine Company. The agreement granted Repeat Precision the exclusive rights to sell Diamondback's patented technology and barred others, including Diamondback itself, from selling the disposable setting tools.
After entering the deal, Repeat Precision greatly invested in expanding its manufacturing facilities in Mexico to produce the disposable setting tools.
During the short-lived amicable period of their relationship, Repeat Precision explored the possibility of acquiring Diamondback, and the parties signed a nondisclosure agreement which said that Repeat Precision would not misappropriate Diamondback's trade secrets. Repeat Precision ultimately passed on the deal.
However, the licensing agreement lived on. While the agreement prohibited Diamondback from selling disposable setting tools to customers, the parties agreed to suspend any enforcement of the provision unless and until Repeat Precision asserted it. Diamondback sold its own products without objection from Repeat Precision until after the litigation began.
In the months leading up to the litigation, Diamondback had continued selling to customers — including to existing and potential customers of Repeat Precision. In doing so, according to court testimony, Diamondback told them that Repeat Precision had stolen and misappropriated Diamondback's trade secrets related to its disposable tools and power charges, had committed fraud and had no valid license to make or sell Diamondback's disposable setting tools.
In his findings-of-fact, Judge Albright said such statements were false and malicious and that Diamondback had gained business by defaming Repeat Precision to customers that had included big players in the industry like Schlumberger, Concho Oil & Gas, Hunting-Titan and Mewbourne Oil Company.
According to Judge Albright, keeping the exclusivity agreement was clearly important to Repeat Precision. Throughout 2018, during multiple rounds of revisions and counter-revisions of the overall agreement, Diamondback had repeatedly tried to get key changes in the exclusivity provision. At one point, Repeat Precision released its right of first refusal for any serious offer for Diamondback, but never budged on the issue of exclusivity rights.
Then, Diamondback went a step further: It sued Repeat Precision.
Lawsuit after lawsuit
Diamondback filed its lawsuit against Repeat Precision Nov. 2, 2018 in Fort Worth federal court, which triggered Repeat Precision to exercise its right under the licensing agreement to exclude Diamondback from selling the products. Repeat Precision communicated this to Diamondback when it filed a new lawsuit Nov. 26 in Houston federal court — which it argued was the proper venue per the forum selection clause in the agreement.
The second lawsuit led to an all-out feud when Diamondback cut off the supply of its power charges to customers who purchased disposable setting tools from Repeat Precision. This was problematic for Repeat Precision and its customers because the setting tools would not work without the power charges.
In other instances, Diamondback only sold power charges to customers if they agreed to purchase its disposable setting tools instead of Repeat Precision's.
The parties tried to negotiate, but their talks fell apart in February 2019, when Diamondback reasserted its claimed right to refuse to sell power charges to Repeat Precision and its customers.
Diamondback filed a new federal lawsuit Feb. 2, 2019 in Waco — the agreed upon halfway point — and the case got assigned to Judge Albright.
Within two weeks of the lawsuit being filed — Valentine's Day, to be exact — Judge Albright got the parties together for a preliminary injunction hearing. Four days later, the judge issued an injunction halting Diamondback's boycotting tactics in an "intent to preserve and restore the status quo that existed in the business relationship … prior to the initiation of litigation."
Amazingly, despite the deep animosity between the two parties, there were barely any discovery issues in the months leading up to trial.
Hastings credited this to Judge Albright's approach to the "D" word: He issued a scheduling order that instructed the parties to schedule a short telephonic hearing with the judge before filing any discovery motions.
Hastings said the parties "invoked the procedure" just one time, which resulted in Judge Albright returning "a very fair, down-the-middle ruling."
"[Judge Albright's] plan was if he can get on the phone for five or 10 minutes with the parties, he'd rather do that than spend a couple of weeks and have clients spend more money resolving the discovery issue," Hastings said.
In addition to Repeat Precision, Diamondback also sued three individual defendants: NCS CEO Robert Nipper, R.J. Machine principal Gary Martin and his son, Grant Martin, who serves as Repeat Precision's president.
The corporate-individual combination on the defense side led to two law firms to join forces: Locke Lord and Susman Godfrey — who typically face off on opposite sides of the "v."
Houston Susman Godfrey lawyers Trey Peacock, Shawn Raymond and Krisina Zuñiga were representing Grant and Gary Martin, while Locke Lorde's Hastings and colleagues Anna Finger, Charles Phipps, Susan Adams and Paul Schuster were representing Repeat Precision, NCS and Nipper.
In October, Diamondback dismissed Nipper and the Martins from the lawsuit. But since the two teams had been working so well together, Hastings said the client decided to send both into the trenches together at trial to jointly represent Repeat Precision.
Judgment Day
Asked what the highlights of the trial were, Hastings said the trial "went so quickly and efficiently that the whole thing was almost a highlight."
In three day's time, the parties put on 12 live witnesses and five more by video deposition. Each side got 11 hours to put on evidence, and surprisingly, both sides had time to spare when they finished presenting their cases.
"But not much," Hastings clarified.
Something personally gratifying for Hastings was the opportunity to see the two associates on his trial team — Zuñiga and Finger — handle their first trial witnesses in their careers. Zuñiga, a 2015 graduate of Stanford Law School, handled the direct examination of Grant Martin, while Finger, a 2017 graduate of the University of North Carolina School of Law, direct-examined two Repeat Precision-related witnesses and cross-examined one of Diamondback's field representatives.
The most important testimony of the trial came from Drury, the Diamondback CEO. Judge Albright found his testimony so incredible that the judge dedicated 11 pages in his findings of fact opinion to dissecting Drury's testimony before laying out the facts of the case. He included many excerpts of the cross-examination of Drury, which was handled by Raymond.
"To an overwhelming degree, the credibility and evidence stacked up in favor of Repeat Precision and all-but-crumbled against Diamondback," the judge wrote. "Mr. Drury's credibility, in particular, was shredded on cross-examination."
Page by page, 150 in all, Judge Albright tore into Diamondback's legal arguments — Drury's testimony often cited as the reason why his company's position in the case didn't work.
Judge Albright often sprinkled in his legal findings as he laid out the facts of the case. In the section summarizing Diamondback's intentional boycott, the judge ruled it "a specific attempt to monopolize the disposable setting tool market" and that Diamondback's actions "constituted an unlawful tying of goods." He also ruled that it proved Diamondback "acted with malice."
Judge Albright even took the time to address Diamondback's claims that were voluntarily dismissed with prejudice even though "it ordinarily would not be necessary" to do so.
Among those voluntarily dismissed claims were fraud and fraudulent inducement related to the licensing agreement. Even though they were "meritless," Diamondback indicated during pre-trial proceedings that they would be pursuing these claims at trial, maintaining that they were "meritorious."
After Diamondback closed its case at trial, Repeat Precision moved for a directed verdict. But after a short break, Diamondback withdrew its fraud and fraudulent inducement claims.
"Had plaintiff not dismissed these claims this court would have granted a directed verdict," Judge Albright wrote. "Those claims were baseless and were not made in good faith."
One example of Diamondback's "baseless" fraud claims was its argument that Repeat Precision committed fraud by misrepresenting that it would promote Diamondback's power charges to customers, since it later looked for alternative sources for power charges.
Judge Albright pointed out that Repeat Precision only did so after Diamondback began the boycott of supplying its power charges in November 2018.
"Mr. Drury literally coordinated with Grant Martin to prepare marketing flyers," Judge Albright wrote. "The court finds that Diamondback knew Repeat Precision was promoting Diamondback power charges before Diamondback filed this claim."
"This allegation is the equivalent of an arsonist starting a fire and then complaining about fire truck noise."