© 2016 The Texas Lawbook.
By Natalie Posgate
(Oct. 27) – By all accounts, corporate transactional lawyers in Texas are busier than ever. But the heavy workload has not yet translated to the wave of new mergers and acquisitions that many legal experts are predicting.
While total deal count remains mired in mediocrity, competition among Texas lawyers and firms to represent buyers and sellers in M&A has gotten even stiffer.
New data from The Texas Lawbook's Corporate Deal Tracker shows that Texas-based attorneys worked on 7.7 percent fewer mergers, acquisitions, divestitures and joint ventures in the third quarter than they did a year ago. In addition, the value of the deals they handled dropped 53 percent.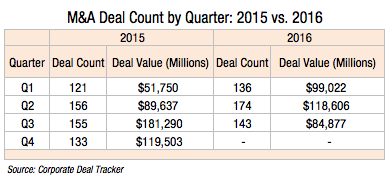 Overall, M&A deal count during the first three quarters of 2016 is 5 percent higher than it was during the same time period in 2015.
The Corporate Deal Tracker shows that energy M&A remains flat while other sectors, including technology, manufacturing and food & beverage, have witnessed a surge in mergers and acquisitions.
This trend is also impacting the law firm league tables.
Perennial powerhouse Vinson & Elkins handled nearly 50 percent more corporate transactions (M&A and securities offerings combined) than every other law firm operating in the state.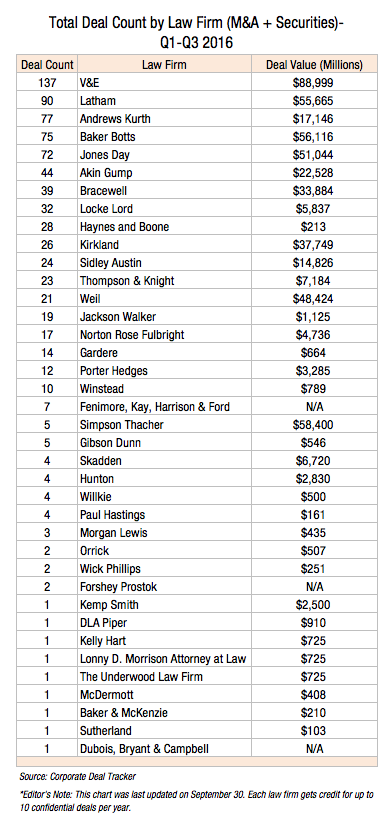 But the Corporate Deal Tracker shows that the Texas offices of the global firm Jones Day actually edged out V&E for number one in the M&A rankings in Q3.
Jones Day lawyers in Texas were involved in 64 deals valued at $48.4 billion – six transactions more than V&E. Jones Day, for example, represents Oncor in its $18.7 billion sale to NextEra.
The firm also benefitted tremendously from its global reach, as Jones Day lawyers in Dallas and Houston represented more than a dozen companies in deals that had no ties to Texas. For example, the firm's Dallas office was involved in representing California-based technology company Intersil in its $3.2 billion sale to a Japanese semiconductor manufacturer. Jones Day also worked on Ohio-based Sherwin Williams' $11.3 billion acquisition of a competing Minnesota-based paint maker.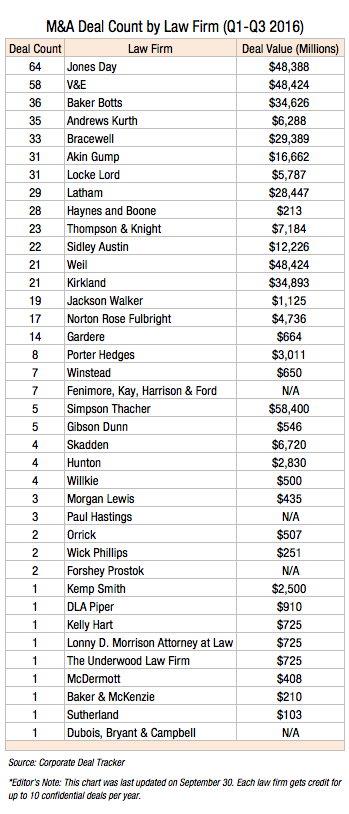 V&E did 58 M&A deals valued at $48.4 billion. Baker Botts came in third with 36 deals valued at $34.6 billion. Andrews Kurth, Bracewell, Akin Gump and Locke Lord followed.
The Corporate Deal Tracker, which documents all deals handled by lawyers based in Texas, shows the following:
• The first three quarters of 2016 and first three quarters of 2015 both saw 44 deals valued at $1 billion or more;
• Technology deals have dramatically increased, nearly tripling both in Q3 and Q1-Q3 2016;
• Food & beverage was the sixth most active sector for Texas M&A lawyers during the first nine months of 2016. The amount of food & beverage deals nearly doubled in Q3 compared to the first half of 2016, and only one was recorded at this point in 2015;
• Both Q1-Q3 2016 and Q1-Q3 2015 saw 211 energy deals;
• Energy deals decreased by 17 percent during the third quarter;
• Real estate, healthcare and financial services deals also plummeted in the third quarter, by 78 percent, 50 percent and 88 percent, respectively;
• Jones Day had the biggest improvement for deal count (113 percent) as well as deal value (116 percent) among the top 15 ranked firms;
• Bracewell and Locke Lord also saw a dramatic increase in work, upping their deal count by 94 percent and 93 percent, respectively;
• Among the top 15 ranked firms, Norton Rose Fulbright fell the most in deal count from Q1-Q3 2015 (47 percent), and Andrews Kurth Kenyon fell the most in deal value (92 percent); and
• Nine of the top 15 ranked firms saw a decline in deal count during the same time period.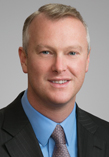 The leaderboard for individual M&A lawyers is tight. Kirkland & Ellis' Andy Calder ranks No. 1 for leading four deals and co-leading 10 other deals during the first nine months of 2016 – a 75 percent jump from the transactions he led during the first three quarters of 2015.
Mike O'Leary, a partner in the Houston office of Andrews Kurth, led eight deals, while Jim Griffin, a partner in Weil's Dallas office, led seven transactions.
The fourth quarter has started well for Calder. He represents a Blackstone Group affiliate's $1.2 billion sale of its interests in two coal-fired power plants in the Philippines to Aboitiz Power Corp. He's currently working on multiple deals, which are likely to be announced soon.
Calder said interest among his private equity clients "across the board in all sectors of the energy space" has kept him and his Houston colleagues incredibly busy this year.
"Many private equity funds [we represent] are involved both in midstream and upstream, as well as power," said Calder, the head of Kirkland's Houston office.
Calder said non-private equity strategic deals also "really picked up in the summer," after commodity prices began stabilizing and companies began to "reach valuations they felt more comfortable" with.
"In 2015, many private equity funds didn't deploy much capital and wanted to," he said. "When they saw conditions begin to improve, they really passed a tipping point of confidence in 2016 then began deploying capital at a very rapid pace as a result of that."
Other lawyers focused in the energy space say they continue to stay busy, but in different ways than what typical M&A work entails.
"I've been doing a lot more counseling and work on restructurings, such as trying to refinance debt or obtain new methods of financing," said James Cowen, a partner at Porter Hedges who represents clients in the upstream, midstream and downstream industries.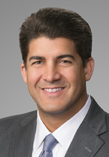 Cowen said the improvement in commodity prices has helped some clients gain confidence in doing deals, but it's difficult to tell at this point what's to come with upcoming deal flow.
"Although we can't forecast, we're all hopeful deal activity will pick up going into next year, but we can't say with confidence that's exactly going to occur," he said.
Energy isn't the only business sector that piqued the interest of private equity funds this year. Chris Converse, a partner at Gardere Wynne Sewell whose clients include the Hunt family's Rosewood Private Investments, said deal work for him personally has been up by about 10 to 20 percent over the last year, especially investments tied to U.S.-based manufacturing companies.
He said these companies make anything from rubber mats for industrial or consumer use (such as yoga mats), to plantation shutters for residences, industrial cutting machines, nutritional products, glass used in construction and socks.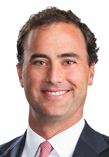 "They're a lot of products that are really mundane, but they're associated with businesses that are conservatively managed and typically family-owned that I think private equity firms have identified as being good opportunities to grow and be more professionally managed," said Converse, who is co-chair of Gardere's private equity practice group. "For the first three quarters of this year, those private equity firms are basically continuing an acquisition strategy … that started probably one or two years ago."
Converse said deals in the manufacturing industry may have seen an uptick this year due to lower oil and gas prices, which resulted in "lower supply costs" for manufacturers. Though not unique to manufacturing, Converse said a current global trend driving deal flow is the phenomenon of baby boomers retiring, which means they're selling off their businesses.
"A lot of these companies are family-owned but don't have succession planning in place, or a son or daughter taking over the business," Converse said. "They're looking to sell out, and the private equity buyers are folks that increasingly can pay the most right now because they have capital they have to deploy."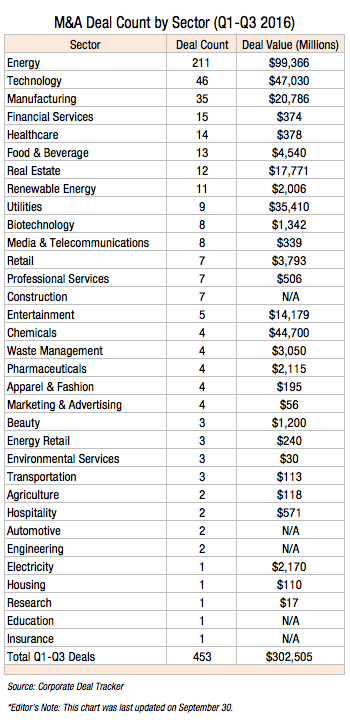 In terms of number of deals, no sector saw more growth so far this year than technology. Tech deals spiked to No. 2 as the type of transaction that Texas M&A lawyers did the most work in, only behind energy. There were 46 such deals during the first nine months of this year – 14 of which occurred in the third quarter – compared to only 17 tech transactions during Q1-Q3 2015.
"Technology is one of the top areas in M&A this year," said Weil's Griffin, who worked on Microsoft's $26 billion purchase of LinkedIn in June. "It's the leading sector in the U.S. and Asia. We get more than our fair share of big tech deals."
Next up in the series: The Texas Lawbook hears more from Griffin, who ranks No. 3 for deal count and No. 2 for deal value among 301 other M&A lawyers in the state. And then, the Corporate Deal Tracker examines the shrinking amount of capital markets work in the first nine months of 2016 and the four firms competing for the bulk of it
(Editor's Note: A full version of all the Corporate Deal Tracker's new data can be found at the bottom of the TLB homepage.)
© 2016 The Texas Lawbook. Content of The Texas Lawbook is controlled and protected by specific licensing agreements with our subscribers and under federal copyright laws. Any distribution of this content without the consent of The Texas Lawbook is prohibited.
If you see any inaccuracy in any article in The Texas Lawbook, please contact us. Our goal is content that is 100% true and accurate. Thank you.