The date of Feb. 9, 2021, was a grim time in America. The coronavirus pandemic was entering its second year and the Senate was beginning an impeachment trial of Donald Trump over House accusations he incited an insurrection at the Capitol weeks earlier.
Enter the cat lawyer.
During a remote Zoom civil forfeiture case in the 394th District Court, Presidio County attorney Rod Ponton appeared online not as himself, but as a small white kitten with sad eyes and a moving mouth.
"Mr. Ponton, I believe you have a filter turned on in the video settings," Judge Roy Ferguson calmly advised as two other lawyers shown on the screen kept straight faces.
"I'm here, live, I'm not a cat," Ponton said as he tried to turn off the filter. Those words soon would delight millions when Ferguson posted the 40-second clip to the court's YouTube page.
Ferguson, who is based in Alpine, last week recalled the famous incident during a discussion of post-pandemic court proceedings at the annual meeting of the State Bar of Texas.
"We all needed it," he said.
Ponton, for the record, told reporters at the time that his embarrassment was secondary to providing levity after a stressful year of locked down life.
Ferguson was joined on the panel by Texarkana attorney Jennifer Doan and Michelle Casady, litigation reporter for The Texas Lawbook. Megan LaVoie, administrative director of the Office of Court Administration, moderated.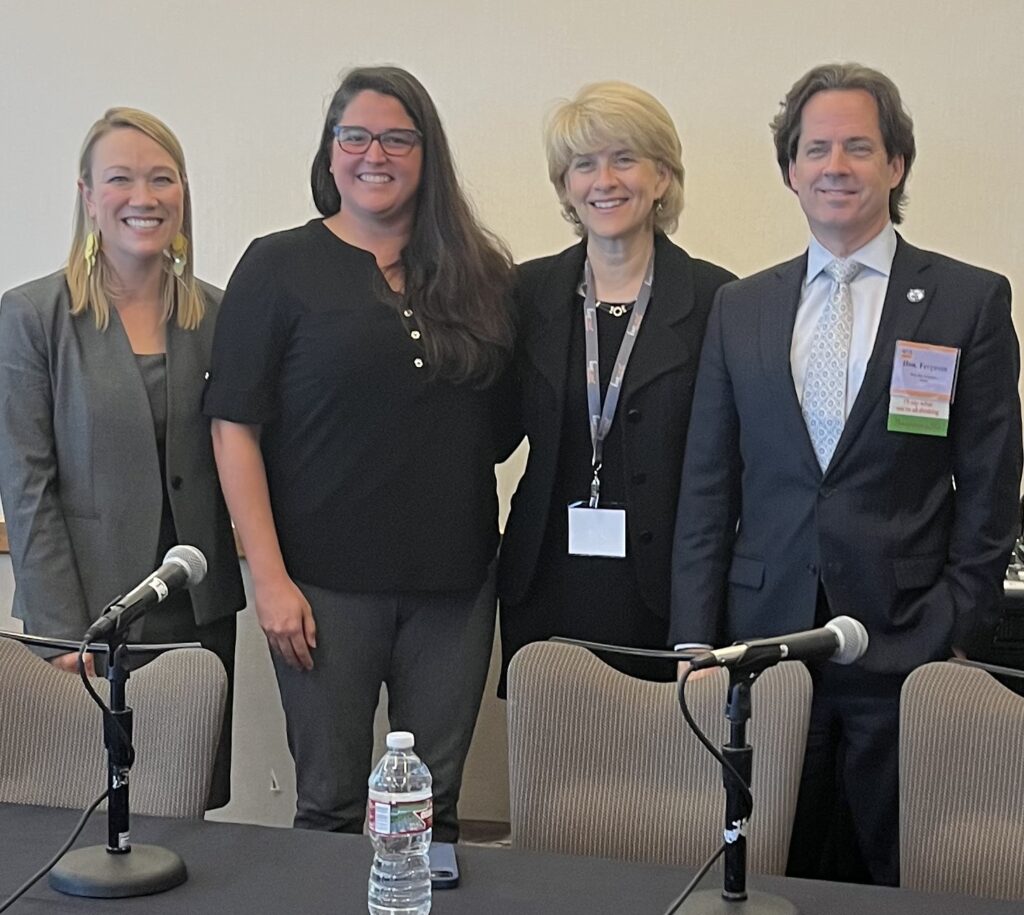 Megan LaVoie, Michelle Casady, Jennifer Doan, Judge Roy Ferguson
Ferguson recalled a call he got during Spring Break 2021 from then-OCA Director David Slayton, telling him that courthouses throughout Texas would be locked on Monday. Ferguson spent the rest of the week helping Slayton test platforms that could support remote proceedings.
"I was sitting on the floor in a lake house with my children running amok, looking down at this laptop, testing the WebEx and Skype and all of these things," he said. "And we settled on Zoom in one of those calls. An hour or so later, David calls and says, 'Hey, we just bought Zoom licenses for every judge in the state of Texas. So, it happens just like that."
The initial result was chaos, he said, as judges and lawyers tried to figure out which lawyers and parties to show on the screen and who should be kept off-screen in a breakout room. But because Texas courts were such a large client, Zoom began making updates requested by Slayton and others.
Doan appreciated the state's Zoom software when she had to navigate remote hearings on different platforms in federal court. She recalls working with counsel for a co-defendant to try and get a case transferred out of federal court. The other lawyer would go first on the law and she would follow with the facts.
Things went awry when her compatriot came into view horizontally "like the Talking Heads video back from the '80s," Doan said. The judge asked him to click out and try again but he was still sideways.
"His IT team is a big firm. And I'm thinking we're going to lose this motion to transfer. We are not persuasive to anybody when you're arguing like that," she said.
As a reporter following litigation, Casady said she initially wondered if the courthouse closures would affect her job.
"To my surprise and delight, and the delight of my editors I'm sure, there was plenty to cover," she said. "I was able to cover a hearing in Harris County District Court from my couch and an hour later cover oral arguments in the Eastland Court of Appeals. So, for me it really kind of broadened my ability."
"I feel like the Texas courts generally did a good job of making it clear and easy to access," Casady said.
Today, Covid-19 is no longer a state or federal emergency and courts are pretty much back to normal. Statistics shared by LaVoie show a steep decline in the number of Zoom hearings held by Texas judges, from an average of about 108,000 a month in 2020 to an average of about 11,000 a month in 2023.
"So, from March 2020 through May of 2023, Texas courts have had more than three million hearings on Zoom with more than 12 million participants," said LaVoie.
The future of court technology use is uncertain amid a pushback among some Texas legislators to pandemic restrictions. Lawmakers this year declined a request from the Supreme Court to fund a series of kiosks that would use remote technology to help lower-income Texans access courts and civil legal services.
In January the Texas Supreme Court adopted the new Texas Rule of Civil Procedure 21d. Under the rule, a party or the court may give notice to allow or require a participant to appear at a court proceeding by videoconference, teleconference, or other available electronic means. A court must not require a party or lawyer to appear electronically for a court proceeding in which oral testimony is heard, absent good cause or the agreement of the parties. A court may not order a remote jury trial absent agreement of the parties.
Ferguson, who is a member of the Texas Supreme Court's Judicial Committee on Information Technology and the SBOT Court Rules Committee, said a "very small group of extremely vocal people" opposed the rule.
"I thought the rule that they ultimately landed on was actually a really good compromise to say lawyers have a right to object and judges must allow the objections, must listen and must rule," he said.
Ferguson still uses the technology for its efficiency in administering civil justice in his sprawling West Texas judicial district, which encompasses about 20,000 square miles and is larger than nine states. His staff polls Zoom hearing participants and has found 98 percent satisfaction.
"Now that we do have a choice, it becomes a great value to clients and the lawyers so that you can have eight hearings in eight counties in a single day," he said.
Doan favors the use of remote technology for certain expert witnesses who are not going to be giving extensive testimony but says "I do not ever want a Zoom trial again the rest of my life."
Her advice to practitioners deciding whether to seek a remote hearing is to know the judge's preference and practice. For example, one federal judge in the Eastern District of Texas is on the record as preferring to assess witness credibility in person, she said, so seeking a remote hearing might make him think you're hiding something.
Doan and Ferguson both praised the use of online tools that allow summoned jurors to complete questionnaires, saying it shortens voir dire. LaVoie agreed, saying that making jury duty easier improves public trust and confidence in the courts.
Now that courts are operating in person, Casady wishes more judges would provide livestreams to further government transparency, open courts and democracy.
In Austin, where the Bar convention was held this year, the new Travis County Courthouse has integrated technology to facilitate remote and hybrid hearings. There are eight video screens in the jury box and screens at attorney tables, the witness stand, and gallery.
Judges have control centers at their bench with ability to adjust lighting, control white noise, select who is "live" to present, and override all AV in the room.