HORSESHOE BAY, TEXAS – A ballroom full of family, friends, colleagues and judges of the Dallas legal community gathered Thursday night to honor Dick Sayles as the Dallas Bar Association's Trial Lawyer of the Year.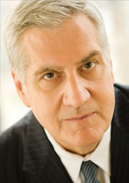 The award was presented to Sayles during the DBA's 27th Annual Bench Bar Conference at the Horseshoe Bay Resort in the Texas Hill Country.
Throughout the four decades of his legal career, Sayles has taken more than 150 cases to trial and has won more than a dozen jury verdicts exceeding millions of dollars.
He is known in the legal community for doing it all – patent litigation, personal injury, complex commercial cases.
Sayles made history in 2009 when he won a $1.67 billion verdict in East Texas for Johnson & Johnson subsidiary Centocor in a patent infringement case involving a popular arthritis medication, Humira. Until a couple years ago, it was the largest patent verdict in U.S. history. Since winning that verdict, DBA President Michael Hurst told the ballroom, Sayles has taken "15 other lawsuits" to trial.
"That's Dick Sayles," Hurst said when introducing the honoree at the awards dinner.
Hurst said after becoming DBA president, one of the first things he did was recommend Sayles for this year's Trial Lawyer of the Year.
In response, he said, there was only one question from Hurst's colleagues: "He hasn't already won this award?"
When accepting his award, Sayles attributed a lot of his success to one simple word: luck.
"I was not a good student, I drank too much," Sayles said, but later, "I was a federal clerk, so people treated me nicely."
During his clerkship for U.S District Judge Robert M. Hill, he said legendary trial lawyer Tom Unis was on the same bus route that Sayles took to get to work at the Dallas federal courthouse. One day, Unis offered the young lawyer a ride.
"What rookie lawyer ever gets the luck to get a ride from one of the greatest lawyers to walking the halls?" Sayles said.
Sayles launched his legal career working for legendary lawyer Jim Coleman. In 1994, he left the mothership of Carrington, Coleman, Sloman & Blumenthal to start his own firm with law partner Mark Werbner. Now at 12 attorneys, Sayles Werbner is still going strong.