If you could pick a word to epitomize deal flow in the first half of 2021 across the U.S., SPAC would be a contender.
SPACs, or special purpose acquisition companies, made a rampant appearance as — typically -– private equity firms sought to put piles of dry powder to work after several brutal quarters last year and in anticipation of sweeping and far reaching tax changes with the onset of a new federal administration.
The blank check company concept is not new. Private equity sources forecasted a flurry of SPACs heading into 2020, but were derailed by the pandemic and, closer to home in Texas, oil's collapse.
And while the public offerings tied to SPACs and the subsequent mergers with targets have cooled in the past few months, transaction activity tied to Texas companies in the first half of 2021 reflect the broader themes seen across the country.
According to Mergermarket, which provided exclusive data to The Texas Lawbook that tracked mergers and acquisitions activity involving one or more entities based in Texas, the first half of 2021 has already eclipsed the entirety of 2020 by transaction value.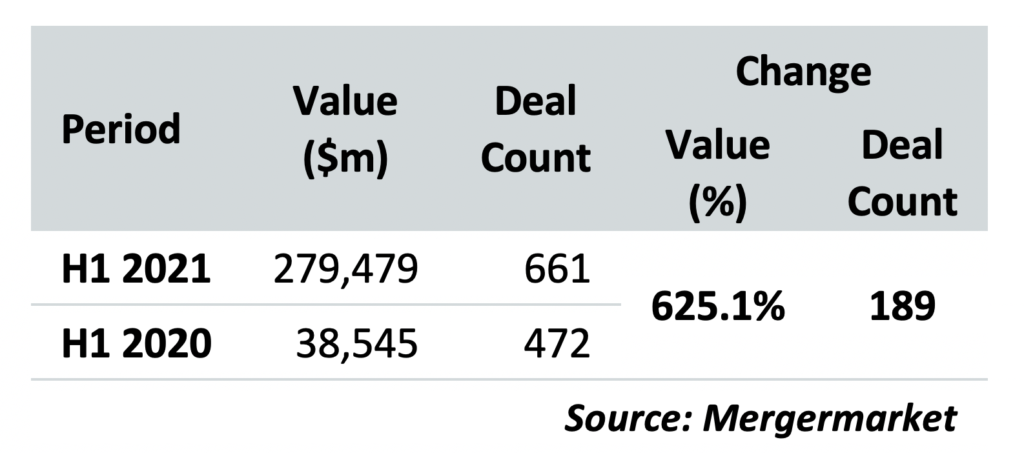 Over 625% higher, the first half of 2021 has accounted for $279 billion in transaction value for 661 deals over the first half of 2020's $247 billion across 1,092 deals.
The explanation for the jump is elementary: a global pandemic paired with a cataclysmic oil flatline scared investors as uncertainty crippled the surety needed to take even the simplest of transactions to the finish line in the second quarter of 2020.
Eagerness rebounded in the first half of 2021 as vaccination news buttressed market rallies and consumer confidence returned.
The breakdown of the top 10 transactions tied to Texas companies showed renewed vigor.
AT&T's planned spinoff of its WarnerMedia unit and combination with Discovery Inc. – which Mergermarket valued at more than $96 billion in its research – was more than 10 times larger than the second-place contender, Cabot Oil & Gas' purchase of Cimarex Energy.
Behind the combination of the Houston and Denver companies was the return of Houston-based Fertitta Entertainment Co. to the public markets by way of a de-SPAC merger with FAST Acquisition.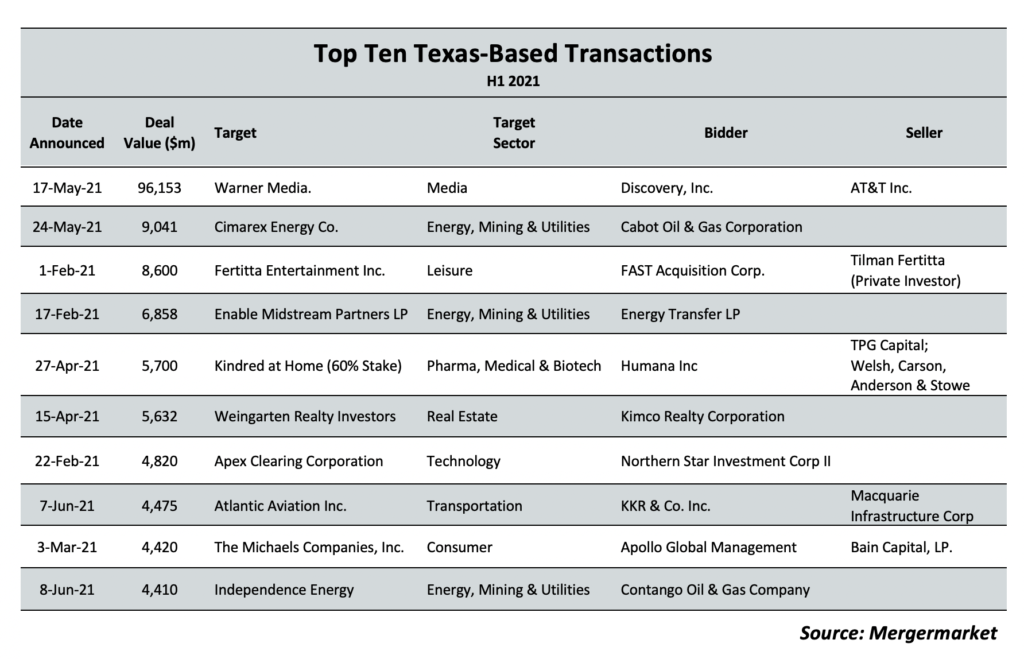 To see the Top 50 M&A transactions click on the chart above or click here.
Another SPAC transaction – Apex Clearing's merger with Northern Star Investment Corp. – and two other oil & gas transactions – Energy Transfer's acquisition of Enable Midstream and the merger between Independence Energy and Contango Oil & Gas – were included in Mergermarket's top 10.
While SPAC public offerings have cooled, the corresponding merger transactions for targets, already seen in the two mergers above, will continue to impact transaction activity in the latter half of 2021.
Private equity in particular is expected to further back intelligent combinations in energy, in addition to finding earlier-stage and lower middle-market companies, especially tied to technology solutions, to back as they look to get creative to circumvent bloated valuations.
By value, media gobbled up more than 35% in Mergermarket's sector breakdown of deals in the first half of 2021, weighted by the WarnerMedia-Discovery combination.
Energy, mining and utilities and technology transactions accounted for 15.4% ($43.1 billion) and 15% ($41.9 billion) of the activity respectively by transaction value.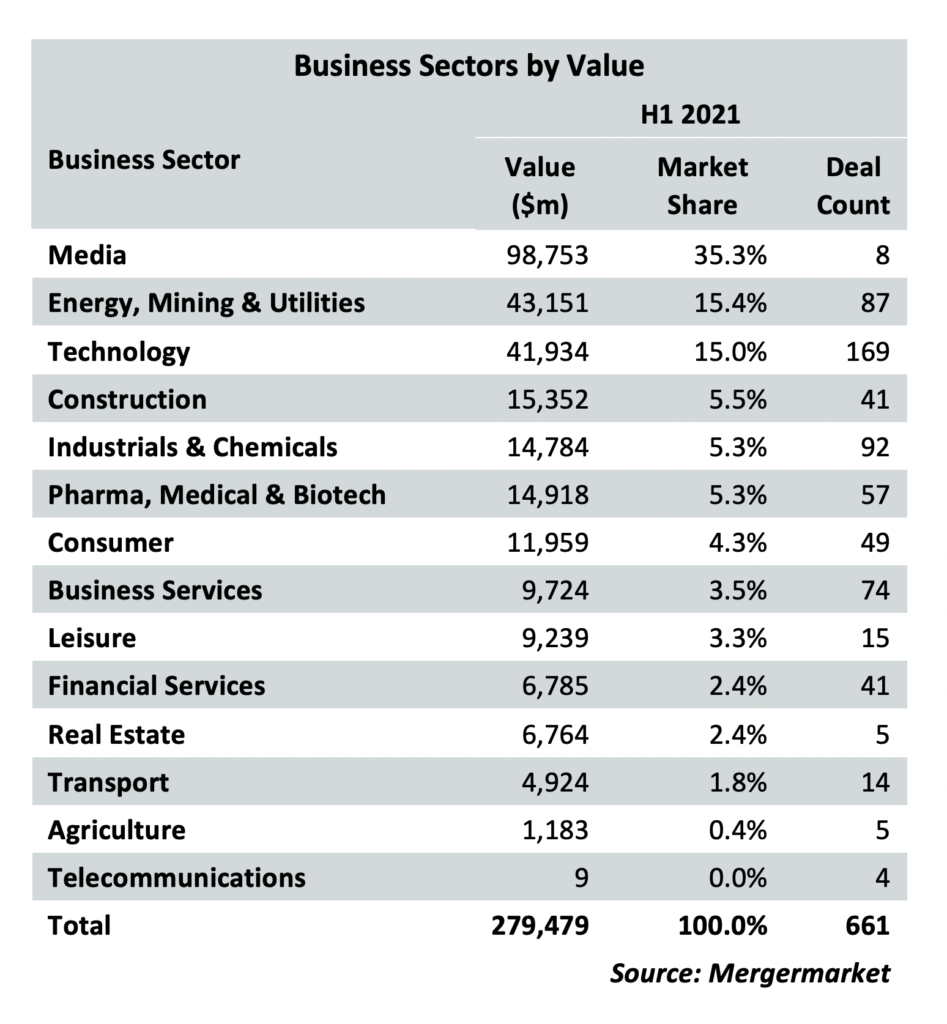 While there were169 tech transactions, energy, mining and utilities saw 87, despite the larger transaction value sum.
The figure tracks with what legal and financial experts have indicated: 2021 will involve more intentional strategic combinations; it will be a year defined by larger meaningful transactions than merely growth for growth's sake.
"The buzzword of the day is 'scale.' Strategics are looking for synergies to become more efficient and cut (general and administrative expenses)," according to Eric Otness, a partner in Skadden, Arps, Slate, Meagher & Flom's mergers and acquisitions practice group based in Houston.
"That is what is driving all of the deals. That is the moment we're in, and I think it is going to continue," he added.