Dick Sayles has spent his nearly five decades as a Dallas trial lawyer going, as Bob Seger would say, against the wind.
On Friday, Sayles announced that he has departed Bradley Arant to start The Sayles Law Firm with a unique business strategy: He is not seeking any new clients. He is hiring no additional lawyers. And his business plan calls for no future growth or expansion.
Instead, Sayles, who has taken more than 150 complex commercial litigation disputes to trial, plans to use his independent status to work with lawyers at other firms, including Bradley Arant, who are involved in high-stakes courtroom battles.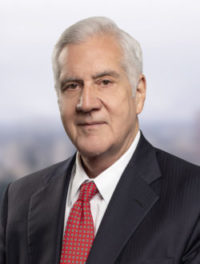 "I want to use my decades of experiences and skills to help lawyers at other firms by joining their trial teams and helping them prepare for big trials," Sayles told The Texas Lawbook in an interview. "I love being in the courtroom and I've had great successes in big trials. I want to share those experiences and still do what I love most."
"I'm also intrigued by the idea of serving as opposing counsel in mock trials where a firm needs strong and vigorous opposition in testing their cases," he said.
A 1974 graduate of the University of Houston Law Center, Sayles has represented plaintiffs and defendants, Davids and Goliaths.
Sayles, who is 74, spent two decades practicing complex commercial litigation at Carrington Coleman under the guidance of legendary lawyer Jim Coleman. In 1994, he and fellow Carrington Coleman alum Mark Werbner started a premier litigation boutique, Sayles Werbner, which prospered for 25 years. Four years ago, the duo went their separate ways – Sayles joined Bradley Arant to help the firm plant a flag in Dallas, while Werbner joined Winston & Strawn.
As the original managing partner of the Dallas office of Brandley Arant, Sayles helped launch the firm's North Texas operations with 11 attorneys and grew the Dallas office to nearly 50 lawyers.
"I have nothing but respect for the lawyers and leaders at Bradley," he said. "I plan to continue partnering with some Bradley lawyers on key cases. Because Bradley is a big firm with so many clients, it also has client conflicts. By going on my own, it gives me the opportunity to do more of what I did pre-Bradley and that is focus on trials."
Jonathan Skeeters, Bradley Arant's managing partner and board chair, congratulated Sayles on the move and said the firm looks forward to "partnering with him on significant matters for many years to come."
"We couldn't have asked for a better introduction to the Dallas market than to have partnered with Dick Sayles for the past four years," Skeeters said. "We owe him a debt of gratitude for the time and talent he's devoted to Bradley, and we are better off for having had him as our partner. He will be missed."
In 2015, The Texas Lawbook featured Sayles in a project called "Lions of the Texas Bar." The full feature article can be read here.