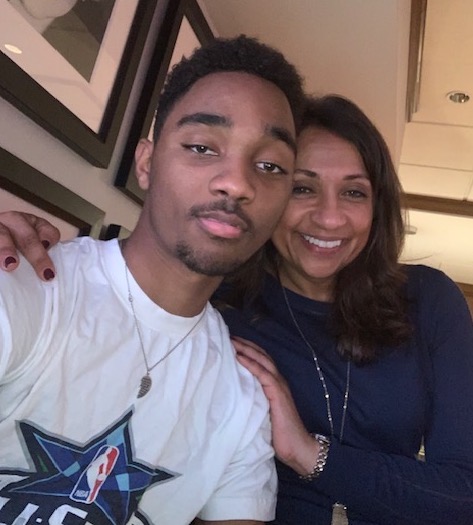 For nearly 20 years, Mary Kay Chief Legal Officer Julia Simon and her family have lived in the same house in their Preston Hollow area neighborhood of North Dallas. It's the neighborhood that her 17-year-old son Jared Shaw has been raised in, played with his friends in.
Jared runs track for the June Shelton School, a private academy in North Dallas. During the pandemic shelter-in-place, at the suggestion of his coach, Jared began jogging in his neighborhood to stay in shape. During the last week of April, he was out on a run near W.T. White High School, when a woman shouted as he passed her walking on the sidewalk: "You need to stay out of this neighborhood!"
Jared is African American. He was jogging in his affluent neighborhood, just a few blocks away from the house where his family has lived for decades. The woman was white, and whether or not she knew it, young Jared was her neighbor. But her message, though only eight words, was perfectly clear.
"The danger that comes with the assumption that my son doesn't belong is a problem that keeps me constantly worried about his safety, Simon said in a May 7 Facebook post accounting the event. "My friends of all races, I need your help dispelling the notion that my son is dangerous because he is black. If anything, it is unfortunately the case that he is IN danger because he is black."
Simon is among a growing number of African Americans who are beginning to come forward with their own experiences of routine racism as the nation undergoes a historical awakening in light of a string of heavily publicized killings of African Americans.
To be sure, Simon normally doesn't post on social media — especially personal stories. She only joined Facebook so that she could keep up with a mom friend group that almost exclusively communicates on the social media platform.
She's also not a woman who cries very often; her litigation-heavy, three-decade legal career has kept her skin tough. But days after her son's running incident, she saw the video of the murder of Ahmaud Arbery, who was shot to death Feb. 23 by two white men as he was on a run in a southern Georgia neighborhood.
That's when Jared's experience truly sank in for Simon. While she had gone out looking for the woman to educate her, Simon said she was not emotional until the news of the Arbery shooting.
"I didn't think about him (Jared) getting shot … but then I saw the video and I visualized that being my son who got stopped by those guys in that truck," Simon told The Texas Lawbook last week. "That's when I started crying.
"I don't know if my best girlfriends who are white can do that, because they can't imagine a world where their son would be jogging and people would stop them with a gun and end up dead," she said. "This was the story of my son, absent the gun and the vigilantes. That hit way too close to home and I had to say something."
Simon's post has helped inspire other black lawyers of the Texas legal community to come forward with their personal experiences of racism. Most recently, Kimberley-Clark Deputy General Counsel Shonn Brown wrote a Facebook post about her 17-year-old son and a group of friends being racially profiled at a North Dallas Sonic Drive-In the weekend after Memorial Day. Brown's post went viral and was followed by a June 7 community rally where hundreds showed up to support the affected families, a sit-down meeting with Sonic officials and a public statement by the restaurant in which it pledged changes within the company.
Simon said her son would have endured a double-dose of racial discrimination had he not been on a date the same evening as the Sonic incident. Simon and her son are close with the Browns and the other families affected by the incident. It's a friend group that also includes the teen daughters of Neiman Marcus Assistant General Counsel Tasha Grinnell and Dallas County Associate Judge Monica Purdy.
"I will like that girl forever," Simon said.
One of the emotions Brown said she felt after her son's experience was grief over his loss of innocence; he had finally experienced the racism that she has warned him about since he was 11 years old.
"It occurred to me that part of the problem is suddenly [our 17-year-old boys] look like men," Simon mused about her own son's experience. "They don't look like boys; they look like the men that are dying. "Yes, there's a loss of innocence, but it's also the realization that they've lost the benefit of the doubt. Just because their features have changed — they have more muscle and look more like men — they have lost the benefit of the doubt through no fault of their own.
"There's nothing fair about that," she said.
Simon said she did not learn about what happened until the following day from Jared's older sister, Alexandra Shaw, who he told after he came home from his run. By the time Simon found out, other parents already knew because Jared's friends had seen him post about it on Snapchat.
"The reason they don't tell us all this stuff is because they know we are worried," Simon said. "For people to think he's some kind of threat breaks my heart. What I learned is how strong kids are — they think, 'This is my reality. I have to change to make other people feel comfortable around me.' I really thought we were making progress."
In the 26 years Simon has lived in the Preston Hollow area, she said this is the first negative racial experience that she can recall.
However: "I could be oblivious because I'm working all the time," she admits.
Simon recalled a time when a Geek Squad car was parked in front of her family's house and her 90-something next door neighbor wanted to know why the police were at her house.
"I thought, 'Miss Ruth is senile,'" Simon said. "It threw me off."
But when it comes to her children, Simon is extra adamant about trying to protect them from acts of racism.
She said that while she trusts her "friends of all races" to take care of her son when he is in their homes, she has to remind them and Jared himself that he can't partake in certain typical teenage pastimes that his white friends might do without much consequence — "TPing" a school chum's house is out.
"We have been perpetuating the differences for our children because we know they exist," she said. "We say, 'Jared can't do this,' and most respect our wishes. But we've got to do it. We constantly remind them that they're going to get treated differently. It may perpetuate the problem, but at the end of the day, I want him to come home alive."
While Simon expressed relief that the eyes of white Americans are beginning to open wider about the racism that is still rampant today, she said she's been frustrated for a number of years.
It came to a head for her in 2012 after the fatal shooting of 17-year-old Trayvon Martin.
"I honestly could not understand why mothers of all colors were not outraged that a young boy minding his own business was stopped by a grown man and ended up dead, and it's the boy's fault?" Simon said.
"It takes a man literally being murdered in the street over a $20 bill," Simon added, referring to the May 25 death of George Floyd in Minneapolis that has since sparked protests across the nation. "My level of frustration is how did you not see it was bad for Trayvon? If you had, would this man be alive?
"It's a burden every time it happens," she said. "My son is really just trying to live his life and is trying to have a positive attitude, but it hasn't worn him down yet. "We've allowed another generation to be exposed to systemic racism … it's not OK and it means I have failed. But I didn't fail by myself, and that's what I have to remember.
"Everybody else failed too and we can do better, and it's not too late."
Editor's Note: The Texas Lawbook and the DFW chapter of the Association of Corporate Counsel will be hosting a webcast on Monday at 4 p.m. that will put this story in a larger context. The panel will include Simon, Brown, Grinnell, Judge Purdy, Stewart Law Group founder Amy M. Stewart and will be moderated by Michael K. Hurst of Lynn Pinker Hurst & Schwegmann. The conversation will explore race, law enforcement and the role of corporate lawyers. Please email Brooks Igo at brooks.igo@texaslawbook.net for more details.
The Texas Lawbook would like to tell more stories of our readers of color that chronicle their everyday experiences with racism. If you would like to tell your story, please email Natalie at natalie.posgate@texaslawbook.net