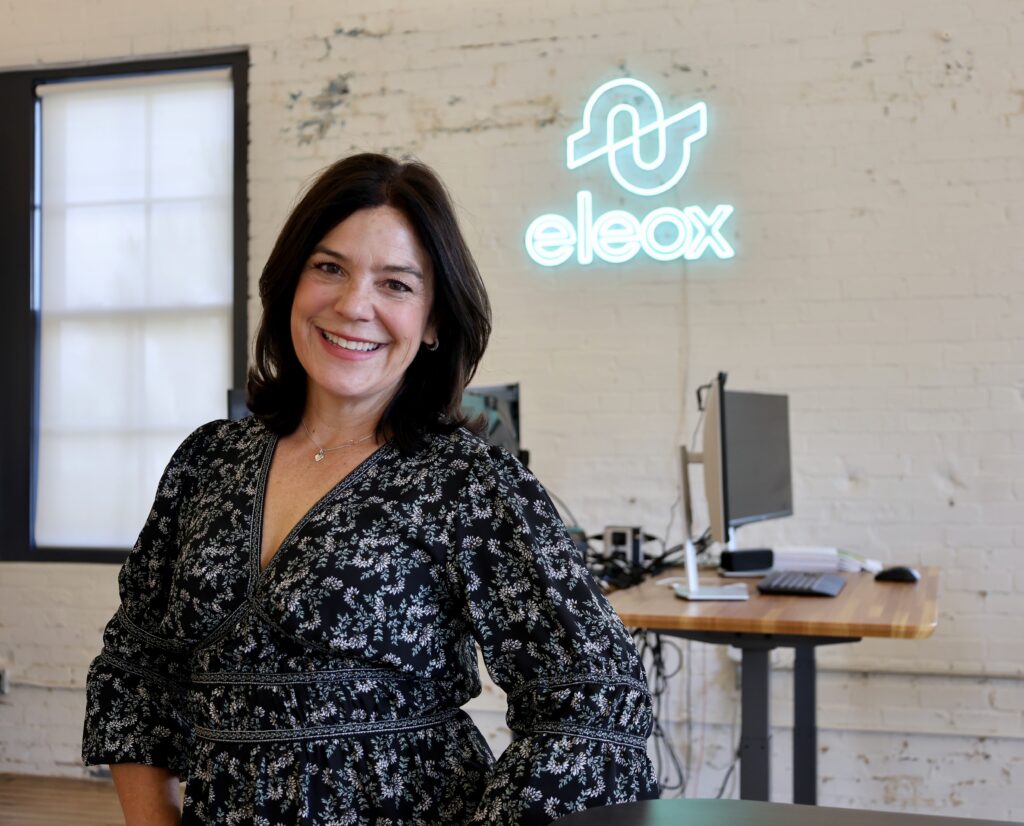 Rebecca Gottsegen
In the fall 2021, six large North American energy companies — BP, Castleton Commodities International, Koch Energy, Macquarie Group, Mercuria Energy America and Shell Energy North America — that vigorously compete against each other day and night decided to form a new joint venture that used real-time digital technology that would help them resolve certain operational inefficiencies in natural gas post-trade processing.
On its Nov. 15 launch, Eleox had a CEO and a finance director but desperately needed a top in-house lawyer.
"When I heard that six global energy trading companies were investing in a startup utilizing blockchain and distributed ledger technology, I jumped at the opportunity," said Rebecca "Becky" Gottsegen. "I like to call it 'coop-etition' because the six members are competitors cooperating to solve an industry problem — specifically, automating the physical natural gas post-trade process of confirming a trade, nominating the natural gas on the pipeline and settling invoices with the pipelines and counterparties."
Eleox named Gottsegen its first general counsel in January 2022.
"One of my strengths is building. I like making things happen. My Type A, overachiever personality calls me to roll up my sleeves and wear a lot of hats. I love a blank canvas."
Premium Subscribers can find a Q&A with Becky Gottsegen by Clicking Here.
Gottsegen has done everything during her first 16 months on the job — helping pick brand colors, finding 'hip Heights office space,' writing press releases, negotiating contracts with business partners. Check. Check. Check. And check.
"Some of my biggest challenges were managing the expectations of six heavy-hitter investors — delivering antitrust reminders and training, ensuring cybersecurity and data protection, getting them to agree on SaaS [software as a service] agreement terms and protecting our IP by timely filing patent applications," she said.
Citing Gottsegen's extraordinary and unique achievements in such a short time period, the Association of Corporate Counsel's Houston Chapter and The Texas Lawbook name her as one of two finalists for the 2023 Houston Corporate Counsel Award for General Counsel of the Year for a Solo Legal Department.
ACC Houston and The Lawbook will honor all finalists and announce the winners of the 2023 Houston Corporate Counsel Awards on May 4 at a ceremony at the Four Seasons.
"Despite having only served in the GC role at Eleox for one year, Becky has already been an integral part of the company's formation and joint venture, rapid growth and innovation, as the company plans to launch its platform to all market participants in 2023," said Shearman & Sterling partner Alain Dermarkar, who nominated Gottsegen for the award.
"Becky has shepherded the company though executive team and advisory board additions and changes, office space lease negotiations, risk management challenges, digital transformation, as well as general contract negotiations and employment matters," Dermarkar said.
Gottsegen is responsible for all legal aspects at Eleox, including employment, contracts, corporate governance, compliance, transactions and disputes.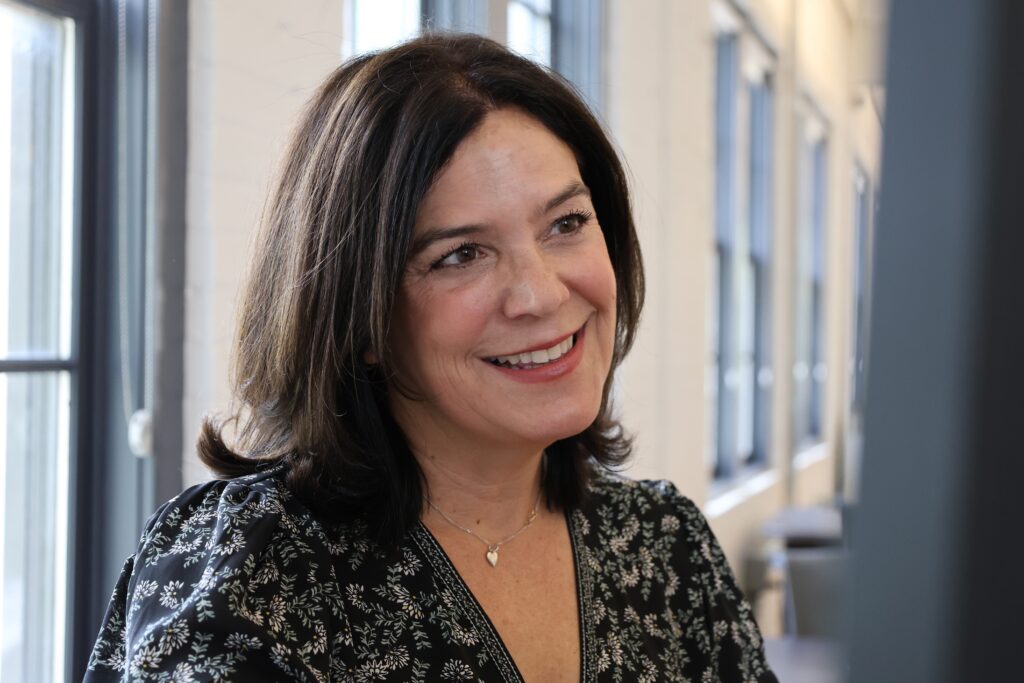 "My Type A, overachiever personality calls me to roll up my sleeves and wear a lot of hats. I love a blank canvas."
Photo: Sharon Ferranti
"As much as any in-house attorney I have ever worked with, Rebecca understands her company's business and how legal issues impact that business," said Kean Miller partner Michael Phillips​. "Rebecca has a keen sense of how to best handle a legal dispute that will minimize its impact on the business. In doing so, she always makes outside counsel feel part of the business team and ensures that outside counsel is aligned with the business strategy as well as the legal strategy.
"She never loses sight of her role with the company and how decisions she makes impact the overall business goals of the company," Phillips said.
Gottsegen was born in New Orleans. She was the seventh of eight children — all born within 16 years of each other — in an Irish-Italian family. Her mom "had her hands full taking care of eight kids" and her dad was a human resources executive.
"Nearly every night, we all squeezed around our oval kitchen table for dinner and listened to each other's high and low points of the day," she said. "No one was excused until everyone was heard, which could last hours on some nights. A tradition I have carried over to my family."
"We learned from our parents the importance of teamwork, kindness, hard work, respect, integrity, conflict resolution and involvement in the community," she said.
Gottsegen's parents were married for 62 years and had 27 grandchildren and 11 great grandchildren.
She is the only lawyer in her family.
"But my siblings pegged me as the lawyer of the family early on because I was always the rule follower and very analytical," she said.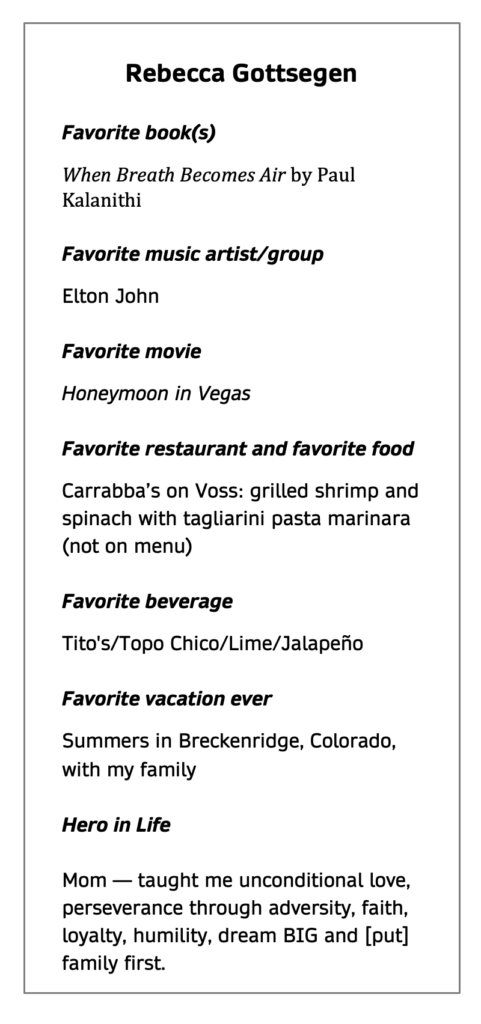 Gottsegen majored in journalism at Loyola University New Orleans. She worked as a news producer at the CBS affiliate in New Orleans through college.
"I learned how to ask tough interview questions, research issues and the art of storytelling through clear, crisp writing," she said. "My communications law professor encouraged me to go to law school thinking it would help me land a political or legal correspondent position. But that never happened."
Gottsegen joined the American Inns of Court as a law student at Loyola University New Orleans College of Law, where she met judges and lawyers who served as mentors and guided her through her first few years of practicing law.
A labor and employment boutique, The Kullman Firm, hired Gottsegen as an associate in 1993.
"It was baptism by fire in that I was arguing my first motion for summary judgment in federal court within three months of passing the bar," she said. "Labor and employment law came naturally to me — maybe because I grew up listening to my dad talk about HR, workplace disputes and union organizing, or maybe because employment legal claims had a human component to which I could relate."
In 1999, Gottsegen moved to Jones Walker, where she gained more experience in a variety of legal areas. She made partner in 2000. In 2004, she went part time after she gave birth to her second child.
Part time meant 40 hours a week instead of 70," she said. "Those years with infants were not easy, but my clients were understanding and one even set up a playpen during trial prep for me to bring along Alex, my middle child."
Gottsegen, her husband, three children ages 3 and under, four cats and a dog lived in a house was close to Lake Pontchartrain when Hurricane Katrina hit. The levee breached and the entire downstairs of their home was flooded. They evacuated.
"Little did we know that we would not return," she said. "The nasty black water sat in our house for several weeks. All of our furniture and belongings were covered in mold, and the stench was overwhelming."
The family moved to Houston, where Gottsegen worked from the Jones Walker office. Her legal practice grew and became much more varied, adding several clients in the energy sector.
"Our office space is an open floor plan with our standup desks positioned inches apart, where we can all see each other over our double-monitors. We think out loud, take breaks to play pingpong, and we feed off of each other's positive energy."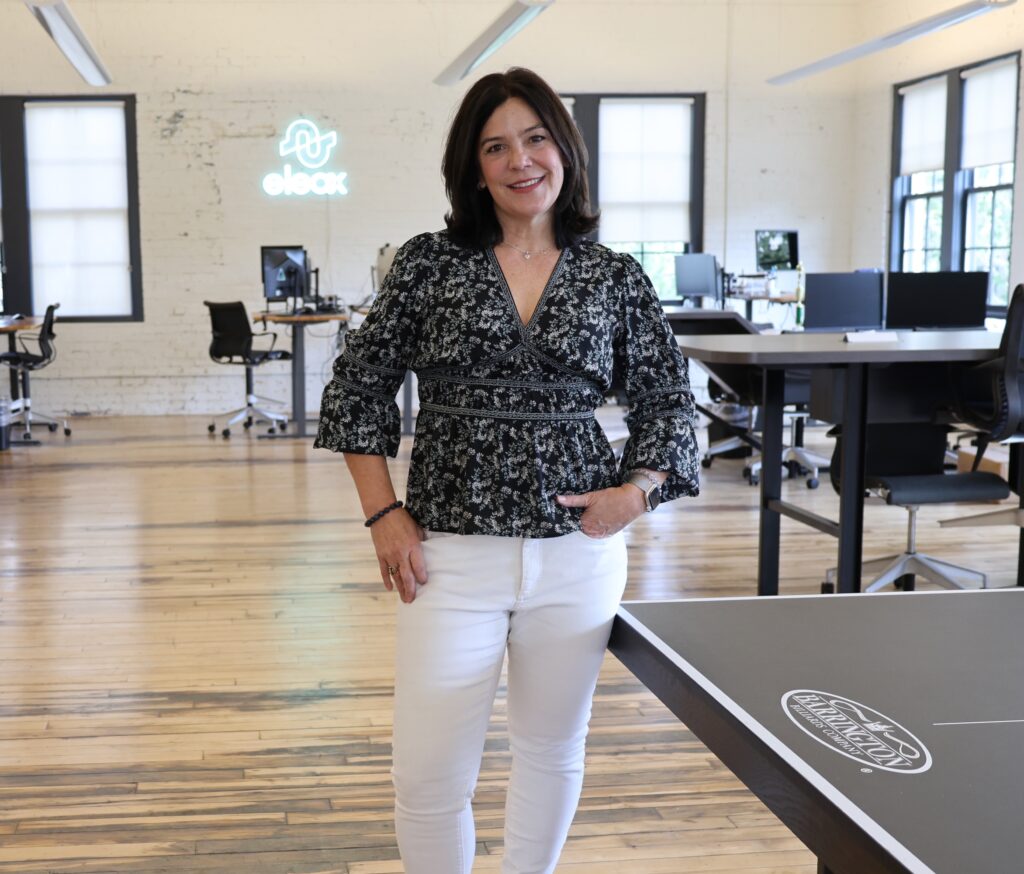 Photo: Sharon Ferranti
One of those clients was Cal Dive, a global marine construction firm that had recently completed an acquisition and needed risk management and labor and employment legal assistance related to the integration. Cal Dive's GC was a former Jones Walker partner who approached Gottsegen about joining their executive team and helping build an HR team.
"At first, I was hesitant to leave my clients and the legal practice I had built," she said. "The deciding factor was the opportunity to switch from helping clients with the problem du jour to being an insider [and] part of team with a common vision, building something together and learning from each other. I was excited be immersed in the day-to-day collaboration and strategic planning."
Gottsegen spent nearly four years at Cal Dive and then more than seven years as general counsel and chief compliance officer at Cub Energy.
In January 2022, she joined Eleox.
Gottsegen said she is proud of her first-year successes, including:
working with the six consortium internal legal departments of major energy trading companies and getting them to agree on common legal terms for the Eleox SaaS agreement;
obtaining SOC2 compliance certification for how the company safely manages its clients' data;
satisfying the six consortium members and their chief information security officers (CISOs) that Eleox's information security policies and practices were hacker proof; and
filing its first patent application, which also was a first for Gottsegen.
Gottsegen said picking the right team was critically important because they spend so much time together.
"Our office space is an open floor plan with our standup desks positioned inches apart, where we can all see each other over our double-monitors," she said. "We think out loud, take breaks to play pingpong, and we feed off of each other's positive energy — usually with Alexa playing a country music mix in the background. Never a dull moment."
Lawyers who work with Gottsegen say she is "extremely focused and drills down on details."
"This attention to detail and determination makes her a good lawyer, good GC and good leader," Dermarkar said. "All in-house counsel need to juggle and address varying constituencies. But Becky takes it to another level. It takes a special person to be able to navigate the needs, expectations [and] wants of management and the disparate JV members that she is working with."
Phillips agrees.
"What I enjoy about working with Rebecca is her willingness to get her hands dirty," he said. "Often she takes control of a situation and personally handles tasks that she could easily delegate to others working with her. No matter the task, she is willing to take it on if that is what is best. She is always working toward the best outcome possible. You never feel like you are working for her but always with her as part of a team working together to resolve an issue."