© 2013 The Texas Lawbook.
By Mark Curriden, JD
Senior Writer for The Texas Lawbook
(September 2) – Wallace Jefferson, the first African-American to be chief justice of the Supreme Court of Texas and one of the most respected jurists in the nation, said Monday that he is resigning his position effective Oct. 1.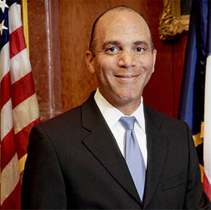 Jefferson, who has served on the state's highest court for a dozen years and nine as chief justice, said he slowly made his decision to step down during the past few months. His reasons: personal financial pressures and a realization that he had achieved most of the goals he had set out to accomplish.
"I love being chief justice because it is a great job, [but] I'm going to move on to some new challenges, though I'm not sure what yet," Jefferson said in an exclusive interview Monday with The Texas Lawbook.
Jefferson said that he informed Gov. Rick Perry of his decision last week and that an official announcement will be issued Tuesday.
Legal experts say that Jefferson's departure will have minimal impact on how cases are decided by the state's highest court because he is viewed as a moderate on a bench packed with conservatives.
But those legal insiders say Jefferson's resignation is a significant blow to those who advocate for desperately needed improvements in the administration of justice in Texas.
During the past four years, Jefferson has successfully worked with state legislators to significantly increase legal aid for the poor and middle class. He has pushed juvenile justice reforms designed to keep at-risk children in school and out of jail. And he dramatically increased transparency of the court system in Texas by having most court documents available to the public through the Internet and put cameras in the state Supreme Court so that people could watch every oral argument.
"The civil justice system is simply unaffordable for the poor and middle class today," he said in the interview Monday. "We implemented real reforms that have a direct and positive impact on people's lives. I'm very proud of the court for that."
Jefferson's achievements in administration of justice reforms gained him national notoriety, as he was elected president of the Conference of Chief Justices and serves on the council for the influential American Law institute, a century-old progressive legal organization that focuses on simplifying complex legal standards.
"He is one of the greatest chief justices in our state's history," said Harry Reasoner, a partner at Vinson & Elkins and chair of Texas Access to Justice, which administers legal aid programs throughout the state.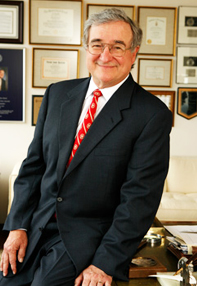 "Jefferson's national prestige has no match in our state's history," he said.
"If you went into a laboratory to build the perfect chief justice, you would come out with Wallace Jefferson," said Dallas appellate law expert Chad Baruch. "He is extraordinarily smart, very wise, compassionate and he has a great judicial temperament."
Perry appointed Jefferson to the state Supreme Court in 2001 to replace Alberto Gonzales, who left to become President Bush's White House Counsel. Perry promoted Jefferson to chief justice when then-Chief Justice Tom Phillips departed in 2004.
Jefferson, the first African-American to serve on the state's highest court, was a highly successful appellate lawyer in San Antonio. He argued two cases before the Supreme Court of the United States and won both of them.
"You are aware if you are the first African-American to serve in a high position, but far more important is doing the work and being successful," he said Monday. "It is important for society to know that this position is open to anyone, regardless of their race or gender."
Jefferson said that having one child in college and two more in high school while living in a more costly urban environment (Austin) put significant financial pressures on his family.
The state legislature considered giving Texas judges a 21 percent pay increase earlier this year, which would have been the judiciary's first salary increase in eight years, but ended up reducing that to 12 percent. The raise increased the annual salary of the chief justice from $152,500 to $170,000.
Jefferson said that if the legislature had passed the higher compensation increase, "it would have made it a more difficult choice."
"This is not meant as a criticism of the legislature because these are public service jobs," he said. "You know going in that it is going to be a sacrifice."
Legal industry insiders say that Jefferson will get lots of job offers, from partnerships at large law firms and appellate practices to positions in academia or possibly even general counsel spots.
"I'm open to anything, as long as it is interesting and challenging work," he said.
Jefferson said his biggest disappointment as chief justice was his inability to push through judicial selection reform, especially the elimination of electing judges through the partisan process.
"It is an irrational way of selecting judges," he said. "Just because you have a "R" or a "D" by your name does not mean you are more qualified to be a judge."
While Jefferson expressed doubt that judicial election reform is politically possible, he added, "whether it will happen or not, it is still worth the fight."
Gov. Perry is expected to name a new chief justice in a few days. The person he chooses will have to face election next fall if the individual wishes to remain in the position.
Justices and lawyers contacted Monday about Jefferson's expected announcement reacted almost uniformly: all were sad and surprised to learn that he is leaving but they were united in their praise of the chief justice.
Justice Nathan Hecht, the longest serving member of the state Supreme Court, said Jefferson has been "an exceptional chief justice."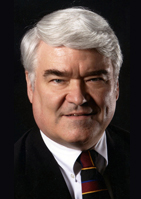 "Wallace has had a steady hand on the till and he has provided solid leadership when it was needed," he said.
Hecht said that Jefferson started the Supreme Court's summer session, which includes the justices gathering at an off-site location, such as San Antonio or Galveston, for three or four days in August.
"We would work the entire time but we did so in informal sessions," he said. "We ate meals together and invited in special speakers. It helped us build relationships."
Asked to compare Jefferson to his predecessor, Tom Phillips, Hecht replied, "Tom took an academic, historical approach to things. Wallace is much more practical. Wallace sees ways to use the judiciary to improve our society through our traditional rule-making and decision-making functions."
Hecht said Jefferson has a very dry sense of humor, but that he operates the court and court conferences in a very business-like manner.
"Wallace lets everyone have their say in conference but then he pushes hard for commitments," he said. "People do not feel free to blurt out comments, which is a good thing because it could quickly get out of control."
Justice Jeffrey Boyd said Jefferson will certainly be recognized as the first African-American to serve on the state Supreme Court, "but it will be a disservice to him and to the Court if that's all he's remembered for."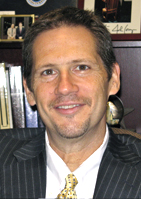 "I will remember the Chief for his commitment to improving access to justice in Texas, particularly his role in promoting greater funding for programs that help low and middle-income citizens obtain legal guidance and representation at a time when legal costs have closed the courthouse doors to many in our State," Boyd said. "And, in the face of significant opposition, his role in promoting court-approved forms and guides to help self-represented litigants pursue their cases.
"But mostly, I will remember the Chief for the dignity with which he led those of us inside the Court and represented us to those outside the Court," he said. "He has consistently dealt with others with the perfect mixture of conviction, compassion, propriety, and respect, and by doing so he has encouraged respect that is fitting for himself and for the Court."
Former Texas Supreme Court Justice Harriet O'Neill describes Jefferson as a "transformative chief justice."
"Not only is he a brilliant jurist, Chief Justice Jefferson has worked tirelessly to improve the judicial system for all Texans," says O'Neill, who is now an appellate lawyer in Austin. "Thanks to his leadership, critical legislative funding was secured to save much-needed legal aid programs that faced financial ruin when IOLTA returns precipitously dropped."
O'Neill pointed to Jefferson's creation of the Permanent Judicial Commission for Children, Youth and Families to address systemic failures in the area of child protection, and to improve the lives and life chances of Texas children.
"He led the way in innovative juvenile justice reform," O'Neill said. "His efforts to overhaul the court system's outdated technology have enhanced the Court's efficiency, transparency and created opportunities for educational outreach about the judicial branch of government that have never before been possible.
"But for me and all who have had the pleasure to serve with Wallace, his personal character has had the most profound effect," she said. "His humility, kindness and sense of humor deeply touched and inspired the Court and its staff throughout his tenure. Chief Justice Jefferson's legacy is immense, and Texas is a better place for his outstanding public service.
Appellate law experts view Jefferson as a moderate-conservative on a Supreme Court known for its pro-business and pro-insurance company decisions. He has frequently dissented when he believed those rulings went too far against consumers.
A good example came last year, when a majority of justices, in a case called Timothy Ruttinger v. Texas Mutual Insurance, ruled that the state's worker's compensation laws passed two decades earlier eliminated the right of injured employees to sue worker's compensation insurance carriers that act in bad faith.
Jefferson strongly objected, pointing out that the legislative record makes it clear that lawmakers never intended the law to be interpreted the way the other justices viewed it.
"In doing so, the Court disrupts the statutory equilibrium and substitutes its judgment for the Legislature's," he wrote.
Two months ago, Jefferson issued another blistering dissent in a First Amendment libel case when his fellow justices ruled that media outlets and news reporters should be forced to stand trial on defamation charges even when the news they reported was substantially true.
The court's decision "abridges the freedom to report on a matter of public concern" and it "collides violently with the First Amendment," Jefferson wrote, objecting to the majority's ruling.
Don Cruse, an Austin appellate law expert who operates scotxblog.com, says Jefferson is "the kind of judge you want to hear your case."
"He is very attentive of the effect court decisions have on real people and the litigants," says Cruse. "He's much more practical in his decision-making. He shows a great appreciation for how the rules of procedure and the facts of a case fit together."
Legal experts point out that Jefferson is such a believer in stare decisis that he once dissented from a decision and six years later dissented from his own dissent because he said it was too late for the court to change its mind.
"Wallace is not viewed by almost anyone as a political ideologue," says former Texas Supreme Court Justice Craig Enoch, now a partner at Enoch Kever in Austin. "That gives him great credibility and influence with both the legal community and in the political world."
Peter Kelly, a Houston lawyer who specializes in appellate law, said even plaintiff's lawyers agree that Jefferson has "led with a centrist, reasonable voice" during an era when "extreme political pressures" have been placed on the Court.
"Despite pressures from litigants and outside groups, and perhaps even from inside the Court's chambers, his has been a jurisprudence of temperance and restraint," says Kelly. "As the head of the third branch of the Texas government, he has been unflagging in his efforts to ensure that the judiciary and the citizens who appear before it have the resources to do justice and equity across the State."
"I can make a strong argument that he is the best chief justice in my lifetime," says former Chief Justice Phillips, who now practices law in Austin.
"He has been an extremely consequential chief justice in the administrative area," he says. "He has accomplished a lot of things I wanted to do and has done some great things I never even thought of."
© 2013 The Texas Lawbook. Content of The Texas Lawbook is controlled and protected by specific licensing agreements with our subscribers and under federal copyright laws. Any distribution of this content without the consent of The Texas Lawbook is prohibited.
If you see any inaccuracy in any article in The Texas Lawbook, please contact us. Our goal is content that is 100% true and accurate. Thank you.