The Austin office of Foley & Lardner is under construction, both literally and figuratively. To get to the 30th floor conference room in one of Austin's oldest skyscrapers involves a detour through a hard-hat zone and a transfer to a freight elevator.
For Edward Burbach — seven months into his tenure as Austin managing partner — the construction is an inconvenience that will pay off in an expanded workspace centered around a large balcony with panoramic views of the morphing city skyline.
He's similarly bullish about strategically growing the eight-member Austin office and boosting the firm's Government Solutions practice group, which he chairs, and State Attorneys General practice group, which he co-chairs. Burbach wants to expand Foley's footprint by adding lawyers in intellectual property, transactions and real estate.
The changes come after a challenging journey over the past five years as the office went through a merger, saw intense competition for talent from larger firms moving into Austin and suffered the unexpected death of one of their own.
The December death of Austin managing partner Kim Yelkin at age 67 was a tough blow for the close-knit office, especially for her lobbyist colleagues who were getting ready for the January start of the 88th Texas Legislature. Yelkin had opened the office for Gardere Wynne Sewell in 2002 and served as its leader for 20 years. She was a pioneering female lobbyist who was in the middle of major insurance battles at the Capitol and a popular fixture at the Texas Department of Insurance, where she was known for her regulatory expertise and spunky personality.
Kim Yelkin and Ed Burbach at the firm's offices.
Yelkin stacked the office with lawyers and lobbyists with deep government experience. Her recruits had advised top state officials, including a governor, attorney general, secretary of state and Texas House speaker.
One of the former assistant AGs was Burbach, who joined in 2007 after four years working as Greg Abbott's deputy attorney general for civil litigation where he handled an active docket while managing 11 divisions staffed by more than 250 attorneys. The division oversaw disputes regarding the historic Texas tobacco settlement and a challenge by school districts to the state's school finance system.
Now, Burbach represents clients targeted by state attorneys general and the Federal Trade Commission. He helped resolve issues with the Texas AG on the 2020 merger of Sprint Corporation and T-Mobile US.
Last October, Burbach and Austin colleague Robert F. Johnson III tried a groundbreaking case for a multilevel marketing client against the FTC in Dallas federal court and are awaiting a decision from Senior District Judge Barbara M. Lynn.
In his leadership roles, Burbach works closely with about 40 lawyers across the firm who represent clients before government agencies on issues involving transportation, government procurement, prescription drugs, energy and economic development.
He also educates the firm's 1,000 plus lawyers who don't practice in the government sector to better anticipate their clients' needs.
"If you're doing M&A deals all day long, you're not really thinking about government," he says. "But the clients are certainly thinking about government and the regulatory hurdles that they have to meet in their everyday business, whether it be at a federal or state level.
"Certainly, Covid brought that to the forefront," he says. "Every business in the United States suddenly had a regulatory problem and suddenly had issues with regard to federal or state government. And it really highlighted what we do in that group much higher."
Growing the AG Practice
Burbach, 61, grew up in Milwaukee and knew of Foley as the city's historic premier firm. He set his sights on the University of Texas and earned bachelor's degrees in finance and German and then his J.D. in 1984.
He became a partner at Strasburger & Price in Houston where he developed experience in the energy industry. He says his maritime practice included cases involving injury and death, cargo and pollution claims and contractual disputes, and was good preparation for the variety of cases he would oversee for then-AG Greg Abbott.
After four years with the state, Burbach says he thought he would go back to his old firm but a chance meeting at a pediatric dental office changed that.
In 2007, Burbach had taken his son Beau to the dentist and Yelkin was there with her daughter Chloe. Beau and Chloe had grown up together, and while they caught up Yelkin took the opportunity to pitch Burbach.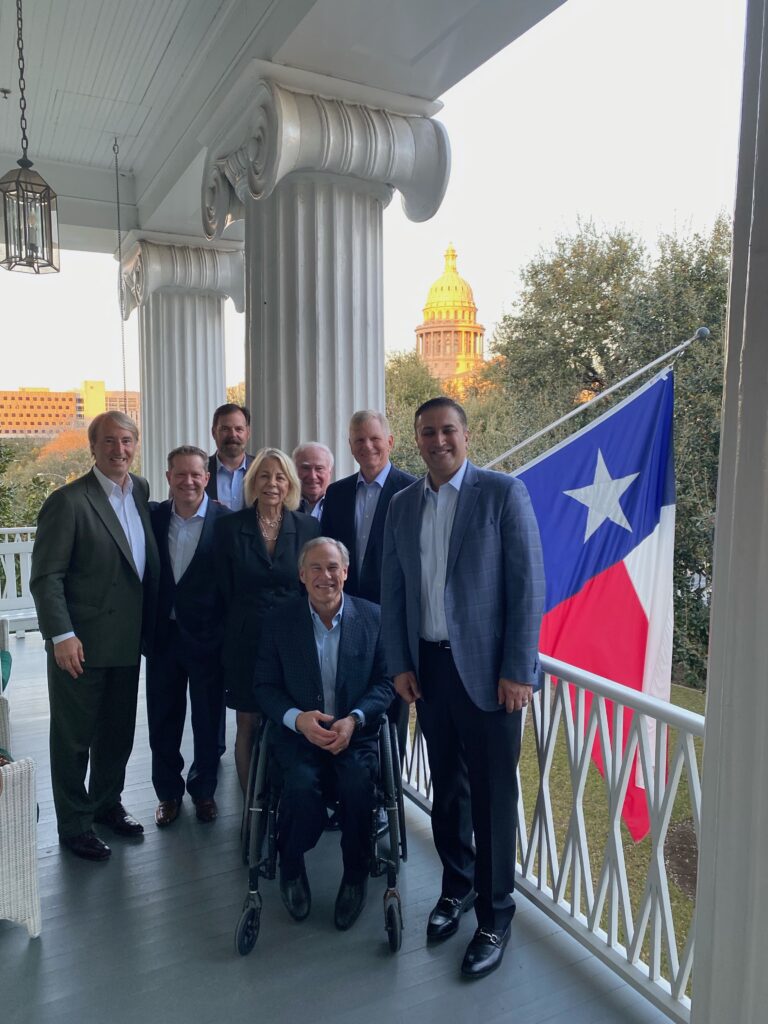 Foley Texas leadership dined with Abbott at the Governor's Mansion in 2022. In photo from left to right: Ed Burbach, Michael Newman, Craig Chick, Kim Yelkin, Bob DuPuy, Mike Rogers and Foley Chairman and CEO Daljit Doogal.
"What I realized is Gardere really understood and appreciated what we were trying to do with the state AG practice. The Austin office was heavily concentrated on government issues and certainly lobbying and Kim's world of insurance regulation. And they very quickly understood what you could do with a state AG practice," he says.
Burbach knows well the enormous powers of state attorneys general, particularly in areas of consumer protection, civil Medicaid fraud and antitrust. He used that knowledge to build a thriving practice representing companies who find themselves in the crosshairs of AG investigations.
Merger Benefits Austin Office
On April 1, 2018, Gardere and Foley combined forces. The merger gave Foley a presence in Austin, Dallas and Houston. The firm ranked 19th in The Texas Lawbook 50, based on Texas revenues of $151.9 million in 2022. The revenue represented a slight decrease of 1.1 percent from 2021.
Kent Zimmerman, a partner at the Zeughauser Group who advised on the merger, says the Austin office benefits from having well-connected and seasoned practitioners for Foley clients wanting to grow in Texas.
"A lot of the action on the regulatory front is shifting to the states, in states like Texas and in states like California also," he says. "A growing group of law firms find that a high-quality state AG practice is particularly valuable and lucrative."
Foley is one of a growing group of law firms recognizing the power of state laws that can leave companies exposed to millions, and even billions, in fines.
"Being in a position of influence in Austin is valuable to their clients," Zimmerman said.
Burbach sees growing concerns among a variety of business over ESG issues in both red and blue states. This includes restrictions like those Texas has adopted to punish investors who boycott oil and gas activities or the firearms industry. On the flip side, some liberal states want their state pension investments to promote sustainable development.
Artificial intelligence also is emerging as an issue on the state level. Burbach points to California Attorney General Rob Bonta, who last year expressed concern about the potential for racial and ethnic disparities in commercial decision-making tools. Bonta sought information about how healthcare facilities and other providers were using algorithms to help make decisions about patient care or hospital administration.
Burbach came to lead Foley's government solutions practice group in 2021 after the chair of the business law practice group, Steven W. Vazquez, asked him for suggested leaders. When he offered the list, Vazquez told him one name was missing — his own.
"And for someone like me to have that kind of a leadership position that quickly, it shows the entrepreneurial spirit of the firm," Burbach says. "Kim certainly had a lot of influence with the firm as the office managing partner of Austin and other leadership roles. So, I think it was happily surprising that when we merged, they really wanted us to have leadership roles."
Remembering Kim
Burbach has embraced credos instilled by Yelkin, including her desire for the firm to deliver "soup to nuts" for a client from the state agency level to an administrative hearing and the courthouse. "And if that didn't work, our lobby folks would get the law changed. So that's full service," he says.
Yelkin also had a famous "no assholes" rule to keep the small office team working together.
Foley of counsel John Sepehri, who worked with Yelkin at the Capitol on state insurance regulatory issues, explains: "She wanted a collaborative, collegial culture here, and she wanted people that were tough, ambitious, hardworking, dedicated to our clients. But decent people, too."
Yelkin's loss was felt strongly by one of her pro bono clients, a fraternal benefit society for African American women that she helped get out of receivership. The Texas Department of Insurance in 2020 ended a two-year process to convert the Grand Court Order of Calanthe to a mutual life insurance policy.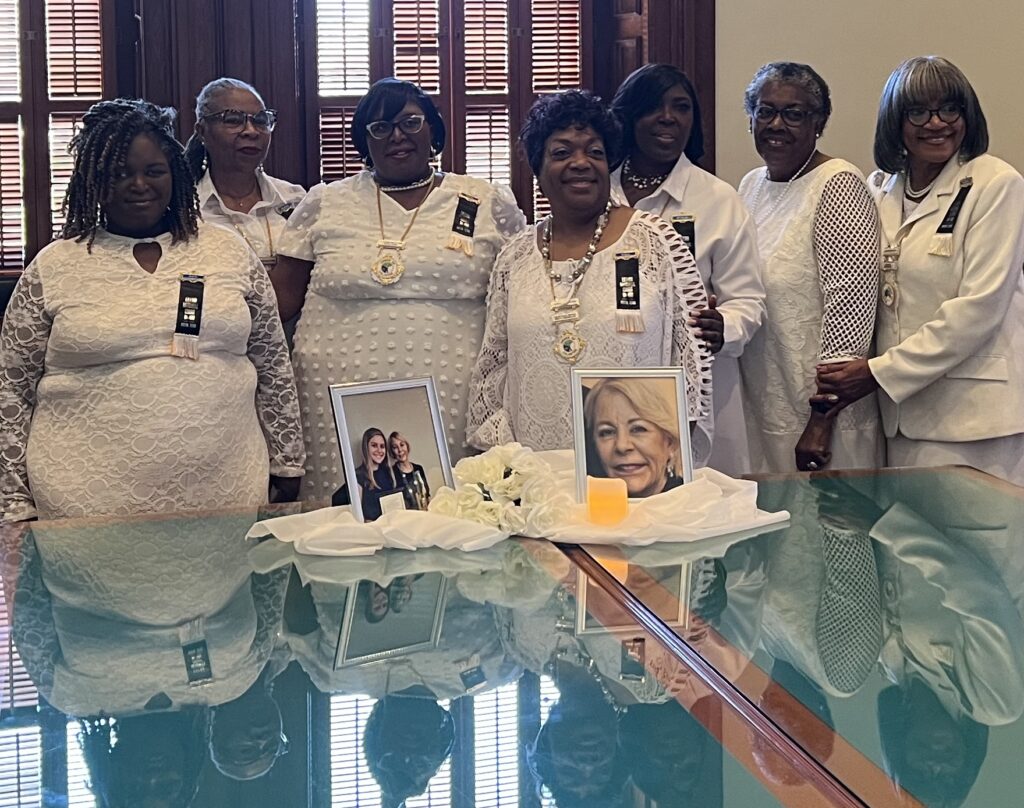 Members of the Grand Court Order of Calanthe remembered Yelkin's pro bono service at the Texas Capitol in March.
Yelkin, who never married and adopted her daughter from Russia, treated her colleagues and clients as her family, according to memorial remarks from Nanette K. Beaird, a Foley government affairs regulatory attorney.
"If our office had a mom, it was Kim" said Beaird. "If someone was needed to lay down the law or just lift someone up, she was there. We always knew we could count on her."
Lobby Practice Thrives
At a time when many legacy Texas firms have gotten out of lobbying, Foley is fully supportive of the practice. The firm ranked third overall in the 2023 Texas Lobby Power Rankings by the publication Capitol Inside. Its 2023 lobby clients included GuideStone Financial Resources of the Southern Baptist Convention, Costco, Asurion, the Texas Hydrogen Alliance and the Metropolitan Transit Authority of Harris County.
Craig Chick, a former independent lobbyist, said he never thought he would be comfortable as a non-lawyer working at a law firm until the merger.
"The selling point was this was a national firm," says Chick, who now lobbies for Foley in-house as director of public affairs. "My practice has always been very diverse, but it's become more so."
Chick serves on the board of Habitat for Humanity Texas and did pro bono lobbying for the organization during the 2023 session. He succeeded in passing some affordable housing bills and worked on one big "out of the box" idea that would have created a $50 million revolving fund that housing nonprofits could access for interest-free loans to develop single-family homes for low-income families. The bill, which Chick says would have generated an estimated $375 million in economic activity over three years, passed the House but died in the Senate.
In addition to Chick, Johnson and Sepehri, members of Foley's Austin lobby team in 2023 included Arthur V. "Val" Perkins, Amy Beard and David G. Cabrales.
Conservative Growth
Competition has intensified in Austin over the last five years as top national firms moved into Austin. Foley didn't give in to pressure to boost its lawyer count, Burbach says.
"A lot of those firms were probably overpaying for talent, giving three-year guarantees to people when it was pretty obvious that at the end of those three years there was no way they could perform at the levels that their firm wanted them to," he says. "And we're seeing that right now. You see the law firms that are laying off, and I think that's a symptom of that strategy."
Burbach was back in his hometown this summer, enjoying Wisconsin's milder weather and interviewing lawyers who might mesh with the firm's Midwestern culture and who want to stay around for the long term.
"We're actually above budget for the year, which is pretty unusual for most firms," he says. "So, I think that fiscally conservative approach really pays off in these times where, you know, a lot of clients are feeling pressures."
He says the firm has been able to expand "slowly and intentionally and with good people that really want to go to a firm for the long haul, not just to get a three-year guarantee but actually spend their career there."