As the great ballplayer/philosopher Yogi Berra might have put it, "It's déjà vu all over again." In the face of disruptions from the Covid-19 pandemic and plunging oil prices, out-of-state firms operating in Texas' corporate market did in 2020 what they've been doing for the past decade: adding more lawyers and increasing revenues.
In a few ways, last year wasn't simply the same old story. A non-Texas-based law firm seized the crown as the state's top gun in corporate law revenues – that's never happened before. In another first, the out-of-state firms pushed their collective revenues per lawyer above the symbolically important $1 million threshold.
The meat of the story for these non-Texas firms remains unchanged – their stellar financial performance. Exclusive Texas Lawbook data shows that 40 corporate law firms with out-of-state origins generated total Texas revenues just short of $4 billion in 2020, a gain of 8.3% from the previous year (see chart). Revenues grew by just 4% for the overall Texas market, according to the annual Texas Lawbook 50 rankings.
The national firms also led the way in Texas hiring, increasing their total lawyer headcount more than 4% to 3,835. For the Texas market as a whole, jobs for corporate lawyers were flat in 2020.
In Texas corporate law, the national firms' relentless Texas expansion over the past decade has contributed to a dizzying upward spiral of hourly rates, revenues per lawyer, firm profits and lawyer salaries. For the top-tier Texas lawyers themselves, the growing financial clout has meant a path to leadership positions at firms with national and even global platforms. Overall, the Texas market has been evolving and diversifying.
"Corporate law firms no longer feel geographically bound or limited, and they are willing to aggressively expand their footprint to attract the right talent and the right clients," said Michael McKenney, managing director of Citi Private Banking's Law Firm group. "This has been happening for a few years now in Texas, and it is going to continue."
In 2020, the top performers among elite national firms saw their Texas revenues soar. Simpson Thacher spiked 58%. Kirkland & Ellis jumped 35%. Alston & Bird increased 32%. McDermott rose 32%. Shearman & Sterling was up 25%. Morgan Lewis grew 22%. Weil Gotshal added 19%.
The big gains extended to national firms that target Texas' middle and upper-middle markets. Perkins Coie climbed 50%. Baker Hostetler was up 37%. Polsinelli and Dorsey & Whitney both jumped 17%.
Revenue gains this big stack up well against some of America's top companies in 2020. Facebook's revenues increased 22%. Google's revenues jumped 13%, and Apple's saw a 6% bump. Three national firms even matched or exceeded Amazon's 37% increase in revenue.
Texas-based firms make up the rest of the market – so simple math indicates they as a group had a below-average performance in 2020. The Texas firms' finances will be the subject of an upcoming Texas Lawbook story, but for now four facts will suffice to sum up the current state of Texas corporate law:
In 2020, law firms headquartered outside Texas made up two-thirds of The Texas Lawbook 50 revenue rankings – up from one-in-four during 2014.
Out-of-state firms widened their lead over Texas-based firms from 56.3% of revenues from The Texas Lawbook 50 in 2019 to 58.8% in 2020.
Their share of corporate lawyer jobs rose from 50.6% to 52.1%.
And Kirkland, a firm with a Chicago pedigree, became the first out-of-state firm to claim the top spot in The Texas Lawbook 50 – jumping over three firms with deep Texas roots to do it.
With Covid-19 vaccinations, the state economy has taken strides toward returning to normalcy in 2021. The national firms are adding offices and lawyers with an eye toward using their size and scope to continue growing their Texas operations.
"The volume of work in Texas is increasing as companies such as Tesla, Oracle, Schwab, Toyota, Fidelity and Vanguard move their corporate offices to Texas," said Einat Sadka, director of Citi Private Bank's Law Firm Group in Dallas. "Bigger, more national platforms make more sense now."
Lone Star Rising
For corporate law, the lure of Texas is palpable. Its economy is big, fast-growing and diverse. As Sadka noted, the state has become a mecca for large companies relocating from states with high tax and regulatory burdens. As Texas corporate clients became more receptive, the national firms saw opportunity and were willing to pay the price to seize it.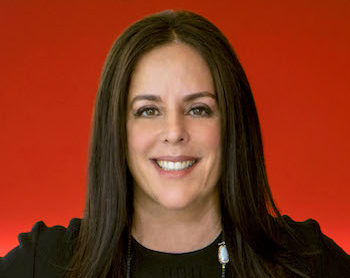 "I think we could add a couple dozen lawyers right now and have more than enough work to keep them busy."
— Yvette Ostolaza, Sidley Austin
The national firms grew in Texas by using their deep pockets to hire many of the state's best corporate lawyers and focusing this high-priced talent on such lucrative practices as corporate finance and bankruptcy. When big money is at stake, many clients will gladly pay top hourly rates for the most highly skilled lawyers.
"Keep in mind that more money is spent on legal services in the U.S. than all other countries combined, and the legal spend in Texas is one of the highest and fastest-growing," said Kent Zimmermann, a legal consultant at Chicago-based Zeughauser Group. "That is all you need to know about why so many national law firms are opening and growing in Texas."
Kirkland, the world's richest law firm, now has three Texas offices – more than it has in any other state or even any other country. Kirkland employs more than 300 attorneys in Texas with $528 million in revenue last year.
By seizing the Texas opportunity, lawyers based in the state are playing increasingly significant roles within the national law firms. Lawyers in Dallas, Austin and Houston for Gibson Dunn, Latham, Norton Rose, Baker McKenzie, Winston & Strawn, Morgan Lewis, Weil Gotshal, King & Spalding, Simpson Thacher and a half-dozen other firms either sit on their firmwide management committees or hold firmwide leadership positions.
In April, Sidley Austin, a corporate law firm with 2,000 attorneys in 20 cities worldwide and $2.4 billion in revenues, became the first non-Texas global law firm to make a Texas partner chair of its management committee – Yvette Ostolaza of Dallas. Sidley has increased its Texas revenues 86% since 2015.
"Texas is such a dynamic market as more and more national and international companies relocate here," Ostolaza said. "I think we could add a couple dozen lawyers right now and have more than enough work to keep them busy."
Legal industry insiders say these developments are clear signs of Texas' growing importance for law firms maintaining a truly national footprint.
"Yvette's appointment to be Sidley's global chair and Kirkland opening a third Texas office demonstrate just how important Texas and the Texas economy has become to the world of corporate law firms," Zimmermann said. "These are very smart and strategic law firms, and they are making these moves because they are important to their law firms' futures."
Revenues Per Lawyer
Revenues and headcounts yield revenues per lawyer, which McKenney, Zimmermann and other analysts consider as the best gauge of law firms' financial health. Only four of 40 firms saw RPLs decline in 2020, adding another data point attesting to the strength of the out-of-state contingent in Texas.
Once again, a non-Texas firm at the state's highest RPL in the state. Simpson Thacher, a New York firm, generated Texas revenues per lawyer of $1,840,000 in 2020, up nearly 30% from the previous year. Kirkland was the leader in 2019 – but it slipped to the second spot in 2020 despite a 10% gain to $1,820,000.
In 2019, the 40 national firms' average Texas revenue per lawyer was below $1 million – by a mere $4,000. Another financially sound year pushed the average above $1,033,00, a figure that suggests the non-Texas firms skew toward the top of the market. In all, 18 of the 21 corporate law firms with Texas revenue per lawyer above $1 million were from out-of-state.
Some other tidbits from the 2020 data on the non-Texas segment of the market:
Only three of the 40 non-Texas firms made the Top 10 in the Texas Lawbook 50 revenue rankings – Kirkland, Norton Rose and Sidley.
But out-of-state firms fill eight of the next 10 spots – so 11 of the Top 20.
Fifteen firms increased Texas revenues at double-digit rates.
Ten firms saw Texas revenues decline, with Katten down almost 18%, followed by Norton Rose Fulbright at 12% and Baker McKenzie at 11%.
Only two firms were among the Texas Lawbook 50'sTop 10 in lawyer headcount: Norton Rose Fulbright fourth at 365 and Kirkland sixth at 290.
Eleven firms increased jobs for Texas lawyers at double-digit rates. The standouts by number: Kirkland at 54 lawyers (up 23%) and Baker Hostetler at 28 lawyers (up 40%); by percent, Shearman at 48% (20 lawyers) and Perkins Coie at 47 % (12 lawyers).
Fourteen firms reduced employment of Texas lawyers – all but one with percentage changes in the single-digits. Baker McKenzie reduced its Texas headcount 18% – from 113 in 2019 to 93 in 2020.
Due to falling revenues, Katten and Norton Rose Fulbright both saw revenue per lawyer drop below $1,000,000, a benchmark they each achieved in 2019.
An Ever-Evolving Market
Kirkland epitomizes the popular view of the national firms coming to Texas in the past decade – brash, aggressive, disruptive. Kirkland and others in the latest wave of out-of-staters have their counterparts in firms like Jones Day, Weil Gotshal and Baker McKenzie – three global firms that first planted their flags in Texas in the 1980s.
For the most part, they're still doing well in a Texas market the newcomers made increasingly competitive.
Drawn by work in the savings & loan scandal, Cleveland-based Jones Day opened in Dallas in 1981 and expanded to Houston in 2001. A familiar name in the Texas legal market, the firm saw its 2020 Texas business grow more than 11% to $122 million, good enough to rank 19th on Texas Lawbook 50 list.
Weil Gotshal, known for its bankruptcy and restructuring practice, opened in Houston in 1985 and two years later in Dallas. The New York-headquartered firm was No. 22 in the Lawbook 50 rankings and produced nearly $100 million in 2020 revenues, up more than 19%.
Chicago-founded Baker McKenzie, which opened in Dallas in 1986, slipped to No. 24 in the Lawbook 50 after seeing 2020 declines of 11% in revenues and 18% in lawyer headcount. But Baker McKenzie's one-year downsizing focused the firm on more profitable practices, and revenue per lawyer increased 8% to $1,021,505.
Not all corporate law firms that opened branches in Texas were successful. New York's Chadbourne & Park and Chicago's Jenner & Block both tried to break into the Texas legal market before 2010. Both failed. Jenner closed up shop in 2007 and Chadbourne merged with Norton Rose Fulbright in 2017.

"This office has been one of the busiest at the firm over the past nine years or so."
— Tim Fenn, Latham & Watkins (Houston)
The most recent wave of newcomers began with Los Angeles' Latham & Watkins opening a Houston office in 2010. Simpson Thacher, Sidley Austin and other national law firms followed. Latham and the others recognized that Texas corporations' general counsel were no longer wedded to just one or two law firms based in Texas.
"Last year was one of the firm's best since we opened in Texas," said Tim Fenn, Latham's managing partner in Houston. "This office has been one of the busiest at the firm over the past nine years or so."
Atlanta-founded King & Spalding, which has served for decades as lead outside counsel to Coca-Cola and Delta Airlines, opened a Houston office in 1995 and reported Texas revenues of $153.3 million in 2020 – an 18% jump over the year before.
Morgan Lewis, a Philadelphia-based firm, started its Dallas office in 2005 and opened in Houston two years later. The firm's Texas lawyers generated $109.5 million in 2020 – up 22.4% from the prior year.
The newest addition came in June – Los Angeles' O'Melveny & Myers opened offices in Austin and Dallas. Like most of the other non-Texas firms, O'Melveny entered Texas by making lateral hires from firms already established in the state.
A handful of national and global firms took another route, gaining their footholds in Texas through mergers with firms operating in the state.
Pittsburgh-based K&L Gates swallowed up Hughes & Luce in 2007. London's Norton Rose combined with Houston's Fulbright & Jaworski in 2013. San Antonio-based Cox Smith merged with Detroit's Dykema in 2015.
Three mega-mergers took place in 2018: Houston-based Andrews Kurth and Virginia-headquartered Hunton & Williams combined. Dallas' Gardere merged with Milwaukee-based Foley & Lardner. Detroit's Clark Hill swallowed up Strasburger & Price.
Mergers are still a viable path for out-of-state firms seeking to expand in Texas. Dallas-based Thompson & Knight, the No. 12 firm on the Texas Lawbook 50 with revenues of $179 million in 2020, will combine in August with Tampa's Holland & Knight, a firm with $75 million in Texas revenue last year.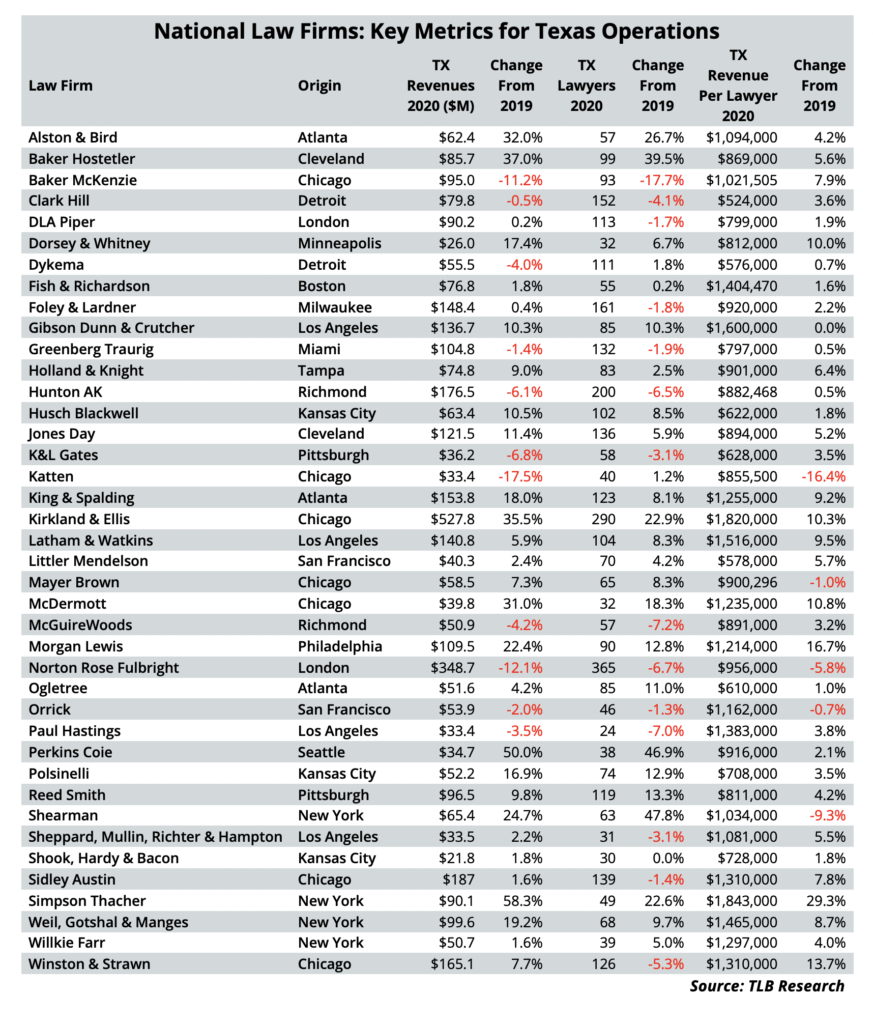 Editor's Note: Over the next three weeks, The Texas Lawbook plans to publish articles addressing the following subjects: (1) Which cities produce the most successful law firms in Texas; (2) Examining the Texas law firms that have scored great success by focusing on Texas; (3) Texas-based law firms' efforts to expand outside of Texas; (4) Is there room in Texas for more elite national law firms to open offices in Texas: and (5) which law firms made the "Texas Elite" list.