By Natalie Posgate
Staff Writer for The Texas Lawbook
Kevin McDonald, a lawyer with an abundance of in-house counsel experience, has returned to Fulbright & Jaworski as a partner in the Houston office.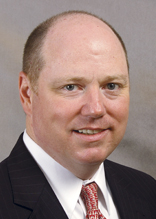 McDonald returns to Fulbright with expertise in litigation, corporate governance and crisis management after spending years serving in management roles with the corporate legal departments at Cooper Industries, Anadarko Petroleum Corporation and Valero Energy Corporation.
His career at Fulbright began in 1992, working in Houston and Austin for a decade. After Fulbright, he worked as the managing counsel at Valero, where he built and managed the litigation department. He then moved to Anadarko as the associate general counsel, where he managed global litigation and provided support for commercial transactions and corporate compliance issues.
Before returning to Fulbright, McDonald was the senior vice president, general counsel and chief compliance officer at Cooper Industries. At Cooper, McDonald counseled the company's board of directors and senior management on legal, compliance, risk management and legislative topics.
McDonald is a graduate of the University of Texas School of Law and received his B.A. from Texas A&M University. In 1998, he won the Houston Bar Association President's Award.
PLEASE NOTE: Content of The Texas Lawbook is controlled and protected by specific licensing agreements with our subscribers and under federal copyright laws. Any distribution of this content without the consent of The Texas Lawbook is prohibited.