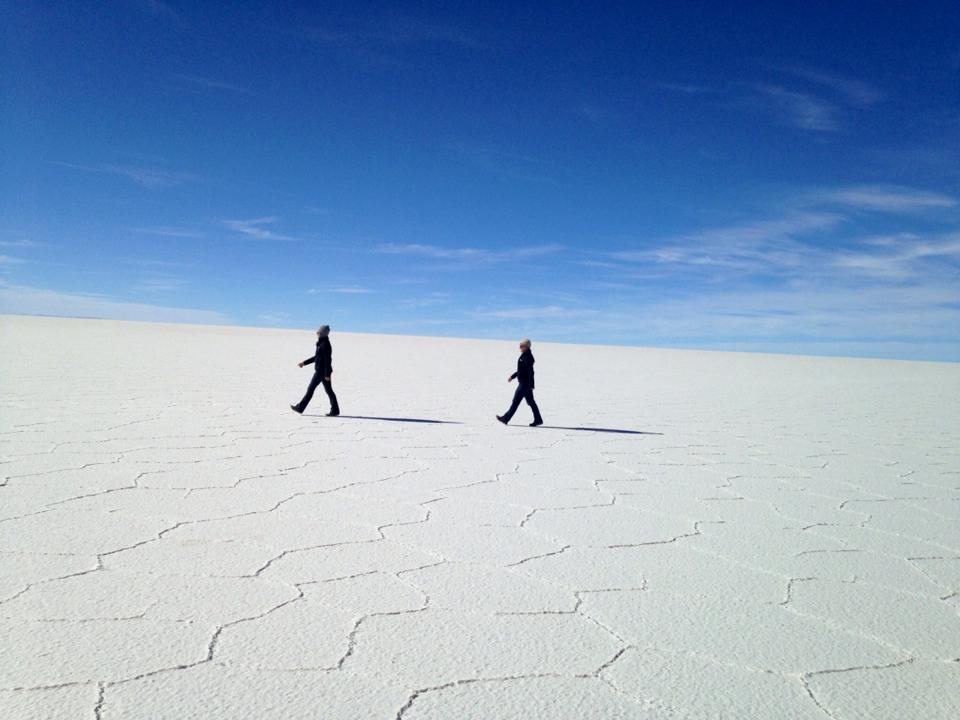 KINDEL NUNO (RIGHT) FOLLOWS HER COUSIN, LEAF BOSWELL, ACROSS THE SALAR DE UYUNI IN BOLIVIA 2015.
---
Mattress Firm General Counsel Kindel Nuno does not mince words about December 2017 – a time, as she puts it, "the world came crashing down."
"It was horrible – among the worst days of my professional career," she said. "It was the moment in my career that the bottom fell out, and I had a foreboding pit in my stomach."
The Houston-based retailer, which operated 3,200 stores and generated more than $3 billion in revenues, faced difficult financial issues and needed to finalize an asset-based revolver as a new line of credit just to meet payroll.
The crisis, according to lawyers, was directly caused by the actions of Mattress Firm's parent company 8,627 miles away that had nothing to do with the bedding giant.
Mattress Firm had just made a large payment to an European affiliate and was expecting cash back as part of the revolver when South African-headquartered Steinhoff International Holdings, N.V., was accused of a massive accounting scandal that was being called the Enron of South Africa.
As a result, Mattress Firm's lenders in Europe cut off credit to the Steinhoff subsidiary.
"Our [senior vice president] of finance told me earlier that week that we needed to get the credit facility in place within a week or we wouldn't make payroll," Nuno told The Texas Lawbook in an exclusive interview. "If we didn't get it done in time, we would need to shutter our stores the following Wednesday – the Wednesday before Christmas."
"Those days leading up to closing were extremely dark for a few of us," she said. "The rest of the company was in full holiday cheer. No one else realized how close to the brink we were."
Nuno, Mattress Firm senior counsel Daria Russell and company leaders "simply through grit, determination" and the trust of a former lender allowed Mattress Firm to meet the deadline to cover payroll by less than half an hour.
Disaster avoided.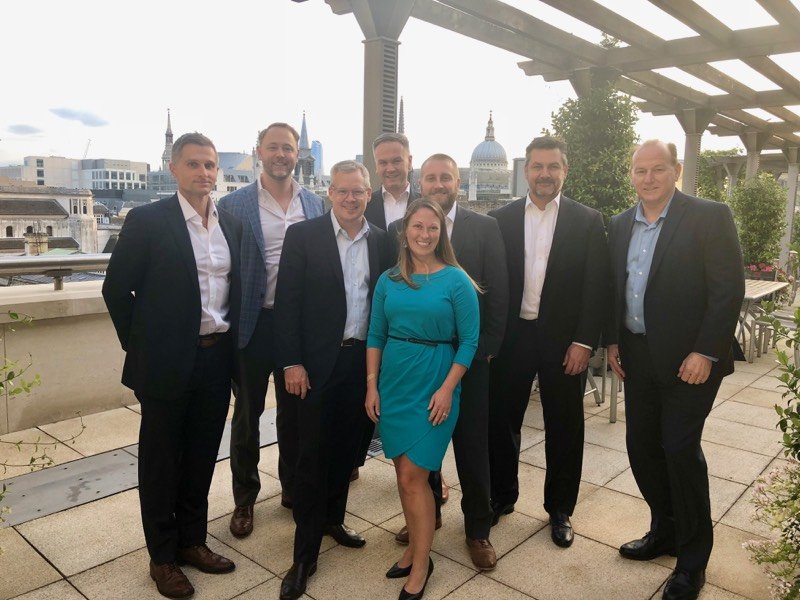 KINDEL (FRONT) WITH MATTRESS FIRM EXECUTIVE TEAM: (FROM LEFT) HENDRE ACKERMANN, SCOTT MCKINNEY, STEVE STAGNER, BOJAN GUZINA (SIDLEY), NATHAN BRUNO, THOMAS OSMUN (ALIX PARTNERS) AND RANDY CARLIN
---
"We strategized and pushed for a Chapter 11 filing to reorganize starting in January 2018, but while we were close to the edge, our board, executive leadership and creditors continued to think we could overcome outside of the court process," Nuno said.
But 10 months later, the nearly inevitable occurred.
Nuno and her team played a critical role in guiding the bedding giant through a complex multibillion-dollar corporate restructuring using the Chapter 11 bankruptcy process, which allowed the company to close unprofitable stores, restructure debt and exit bankruptcy with more than $500 million in financing for future growth.
Citing her extraordinary leadership during a time of crisis, the Association of Corporate Counsel's Houston Chapter and The Texas Lawbook are pleased to honor Nuno with the 2020 Houston Corporate Counsel's General Counsel of the Year award for a Small Legal Department.
Note For Premium Subscribers: 'I Have No Money and No Time' – Bonus Q&A with Mattress Firm GC Kindel Nuno for Texas Lawbook Premium Subscribers can be found here: Kindel Nuno discusses her life mentors, her best and worst days at Mattress Firm, her criteria for hiring outside counsel, important info for the lawyers she hires and her biggest challenges ahead. For information on premium subscriptions, including marketing and advertising benefits please contact Brooks Igo at brooks.igo@texaslawbook.net .
Nuno is one of three Mattress Firm lawyers receiving Houston Corporate Counsel awards in 2020. Daria Russell, senior counsel for corporate M&A and governance, and Mindy Harper, senior counsel for litigation, are receiving the 2020 Senior Counsel of the Year honors. The Texas Lawbook will publish in-depth features on each of them in the next week.
"Daria and Mindy – honestly, I don't know what I'd do without them," said Nuno, who hired Russell in 2015 and Harper in 2016. "Daria has long been a fixture in my life and career. Since our early days at Fulbright together, we were each other's 'gut check,' and I still trust her second opinion regularly today.
"The three of us approach our practice with the same philosophy: When the situation becomes overwhelmingly ridiculous – which happens more often than you'd think – all you can do is laugh," she said. "Take that moment to recognize that we're in this together and will manage. Then, refocus and get back to work.
"I can't imagine being the in trenches with anyone else," she said.
Lawyers who have worked with Mattress Firm say Nuno has put together an extraordinary team who are experts in their business, are great lawyers and clearly trust one another.
"Kindel doesn't get rattled," says Haynes and Boone partner Mark Tidwell, who has represented Mattress Firm in several litigation matters. "She stays calm and focused and works through whatever challenge comes along, playing the long game."
And the legal challenges at Mattress firm have definitely required a long game.
Since joining Mattress Firm in 2012 as the company's first in-house lawyer, Nuno has led the company through numerous large M&A transactions. In 2014, the company purchased competitor Sleep Train for $425 million. The next year, the business acquired Sleep America for $12.5 million. In February 2016, Mattress Firm closed its acquisition of Sleepy's for $780 million.
Five months later, Nuno and her team found themselves in an unfamiliar spot. Publicly-traded Mattress Firm was targeted for acquisition by Steinhoff, which owned several large home furnishing chains across Europe. The transaction closed in September 2016 for $3.8 billion.
In all, Nuno has worked on more than 25 M&A deals for Mattress Firm.
"It is so many, I've lost count," she said.
Then came the financial cash-flow crisis and Steinhoff accounting scandal in December 2017 and the bankruptcy filing 10 months later.
"After some well-publicized accounting issues at the parent company level, Kindel helped to guide Mattress Firm through the public relations, marketing and compliance mine fields that followed," Shell Midstream senior counsel Robin Preussel Phillips wrote in nominating Nuno for the General Counsel of the Year award.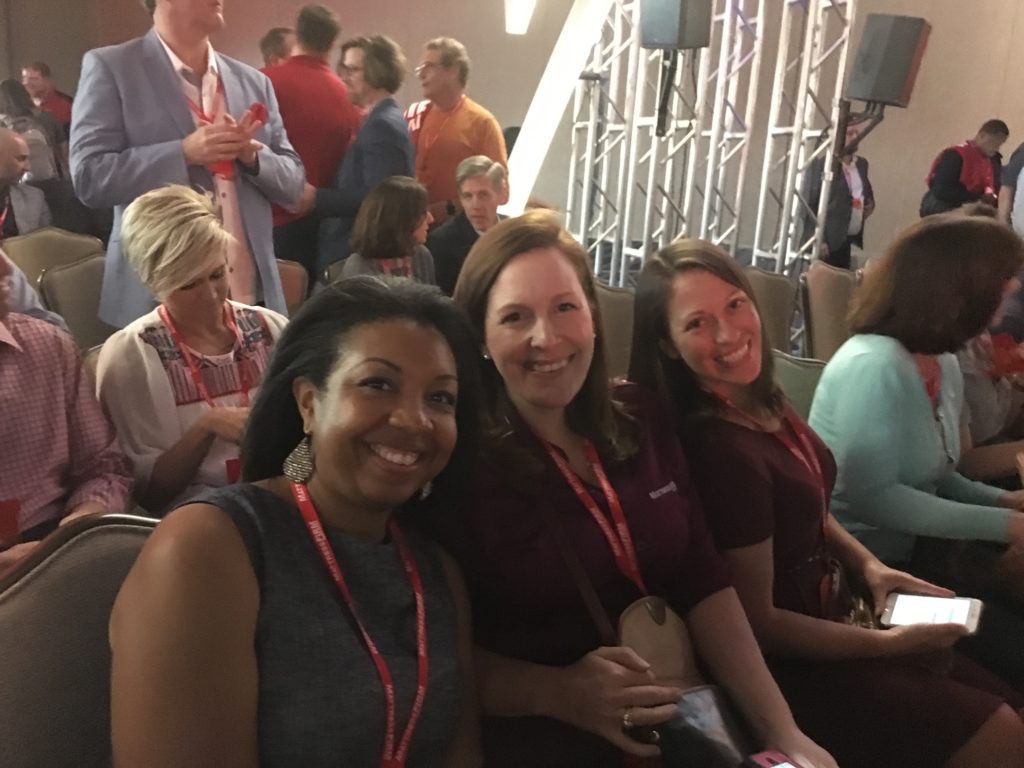 LEGAL TEAM MEMBERS (FROM LEFT) NIKKI POLLARD, MINDY HARPER AND KINDEL NUNO AT 'BEDTALKS' LEADERSHIP CONFERENCE IN HOUSTON 2017
---
"In 2018, due to financial difficulties and hundreds of unfavorable lease terms, Mattress Firm went through a Chapter 11 restructuring, emerging from bankruptcy only 48 days later, due in no small part to Kindel's guidance, organization and leadership," Phillips wrote. "In her time at Mattress Firm, the company has been through several iterations and a full corporate life cycle, and Kindel has courageously stepped into each role, both legal and nonlegal, that she has been asked to fill throughout each transition and in her day-to-day work."
Bojan Guzina, a bankruptcy partner at Sidley Austin, said Nuno is incredibly smart and works harder than just about any general counsel he has seen.
"That's a tough combo to beat," Guzina said. "In the leadup to the bankruptcy filing, she was working 18-hour days and spent countless nights at the office. She did this because she was invested in the ultimate success of the company's restructuring and the impact it would have on the company's employees.
"Kindel takes the time to understand complex issues and picks up on the critical concepts quickly, which enables her to delegate effectively," he said. "She is pragmatic and commercial and thus meshes well with the rest of the management team. Kindel does not take shortcuts and prides herself on doing things the correct way."
Nuno said she and her five-lawyer team made fast adjustments to their operation due to COVID-19. The shift to working at home was not a problem, but she said it has meant much less downtime.
"Because we have stores across the U.S., we have to read and analyze every emergency order issued by every state and municipality to see if our stores can be open and under what conditions," Nuno said. "And the orders change all the time."
Russell, Harper and the outside counsel who work with Nuno say she always recognizes that people are impacted by the decisions being made.
"Kindel treats outside counsel as part of her team, which makes it enjoyable to work with her and her team," Tidwell said. "Wisely, this may also be strategic: Since being made to feel a part of the team, outside counsel may be more motivated to understand Kindel's business and goals and drop everything when she calls."
Early Years in Houston
Born in Houston, Nuno grew up in Sugar Land. Her parents were born in Louisiana – her mother in New Orleans and her father in Shreveport – and they met each other while attending college at LSU and have now been married for 49 years.
Her father, Joe Elam, worked summers during college on the oil pipeline for Exxon then went to work for Exxon's legal department when he graduated from LSU's law school in 1973. He retired from ExxonMobil in 2005. Her mother, Colleen Elam, managed a Casual Corner clothing store and sold advertising for the Houston Chronicle.
Besides her father, Nuno also has two uncles and an aunt who are lawyers. One uncle is a public defender in New Orleans, and her aunt is a recently retired family court judge.
"Growing up, I never wanted to be a lawyer," Nuno said. "I loved to argue and did so often, but I chalk that up to stubbornness, which is definitely a family trait."
Nuno said she first wanted to be a farmer and then a veterinarian. She even went to Texas A&M's veterinary summer camp.
"By the time I reached college, I'd switched again – biomedical engineer so I could build prosthetic limbs," said Nuno, who went to Vanderbilt University. "When I declared my majors of psychology and political science, my father called me."
"Well, what grad school are you going to go to?" Elam asked his daughter. "Because you can't get a job with those majors."
Nuno's sister was already in medical school, so she didn't want to follow her footsteps.
"Law school," Nuno answered.
In 2004, Nuno graduated from the University of Texas School of Law and went to work in the corporate department at Fulbright & Jaworski – now Norton Rose Fulbright.
Norton Rose Fulbright & Secondment in Japan
"One of my first memories at Fulbright was walking into this large conference room and all the papers were stacked up for a closing," she said. "It was my responsibility to have them all signed."
Nuno said she loved Norton Rose Fulbright because of the breadth of the experience the firm offered young lawyers. She worked on M&A, finance, securities and corporate governance regularly.
"I was fortunate that the firm never forced me to focus solely on one area," she said. "I worked for nearly every partner in the section, and I learned all areas deeply."
In December 2004, Nuno worked on three separate deals on three different continents – Asia, Europe and North America.
"It was my first 96-hour workweek," she recalls proudly. "We could go home and shower, but we had to be back in 20 minutes. It was exhilarating and it prepared my stamina and endurance for what was ahead of me at Mattress Firm."
In 2010, Nuno got the opportunity of a lifetime. Mitsui, a giant Japanese trading house and client of Norton Rose Fulbright, awarded the firm a one-year secondment for one of its lawyers. They sought someone with oil and gas experience. Firm leaders struggled to find a lawyer to take the role. They asked Nuno, who was a sixth-year associate, if she was interested. She said she would think about it.
"The next thing I knew, I was receiving emails about the secondment package they were willing to provide," she said. "So, I went to Tokyo for an adventure. I had never met the client, wasn't an oil and gas expert – luckily, any good Texas lawyer knows a decent amount of oil and gas law – didn't speak the language and my firm didn't have an office in Japan.
"One of the partners had kindly cautioned me about the Japanese culture, advising me to observe and learn my role, especially as a female and a foreigner, quickly," she said. "I lived outside my comfort zone to the extreme during those first few weeks. I was there during the earthquake and tsunami that hit in March 2011 – that's a whole story in itself.
"By the end of my one-year stint, however, I didn't want to leave," she said. "I had a strong group of friends, both Japanese and ex-pat, respected and enjoyed my co-workers, loved the city and culture and especially loved not being allowed – seriously, not permitted – to take my laptop home."
Nuno visited the firm's Hong Kong office twice and traveled throughout Asia.
"I learned enough Japanese to navigate independently, and I don't think I've ever been so at peace in life," she said. "Very little stress – sure miss those days. I matured immensely, grew mentally and emotionally, and had experiences that never would have been available to me in the United States. I am forever grateful to Fulbright for the opportunity."
Going to Mattress Firm
Nuno was entering her eighth year at Norton Rose Fulbright and debating whether to seek partnership in the next year. She met with several partners about their likes and dislikes of being a partner.
"I had watched them for years and wasn't sure it was the right path for me," she said. "My time at Mitsui had given me a glimpse of the in-house world. I enjoyed the business aspects and being involved in the strategy discussions. I also had realized that I didn't want to start in-house at a lower level – I was too stubborn and outspoken for that."
Nuno had decided to seek partnership first – several Norton Rose Fulbright partners told The Texas Lawbook she would have been approved – and then seek an in-house position later.
Then, an unexpected door opened. Nuno's longtime client, Mattress Firm, went public in 2011 and sought its first general counsel.
Norton Rose Fulbright partner Gene Lewis told Nuno she should consider the Mattress Firm job.
"I told him that was crazy, they wouldn't want me – a young-looking girl – for that role," she said. "He offered to call the CFO and ask, to which I agreed."
"We'll stop our search if she wants the role," Mattress firm officials responded.
"I formally interviewed with the CEO and CSO and was awarded the role as the founding member of the Mattress Firm legal department," she said. "It's been a wild ride ever since."
During the eight-plus years that Nuno has been with Mattress Firm, she has led nearly two-dozen transactions. Three of the deals effectively doubled the size of the business.
"Our acquisition of Sleepy's in the Northeast was likely one of the more important, if not the most important," she said. "That acquisition added over 1,000 stores to the chain and achieved our strategic goal to be the first border-to-border, coast-to-coast mattress specialty retailer."
Nuno also points to two bet-the-company litigation matters that Mattress Firm has faced during her tenure as general counsel.
The first was a labor and employment lawsuit alleging age discrimination brought by the Equal Employment Opportunity Commission against Las Vegas-based Bedtime Mattress, a matter that arose because of Mattress Firm's purchase of Bedtime in 2007. The EEOC complaint was filed in 2011, a lawsuit was brought in 2013 and the litigation was dismissed in 2016.
The second was Mattress Firm's litigation in 2017 against Tempur Sealy, which was led by Mindy Harper, whom Nuno hired in 2016.
"The case was seminal in that it was the first time we stood up for ourselves against a vendor who we believed was taking advantage of their power over retailers," Nuno said. "But I look at our case brought by the EEOC in Nevada as the most important to me personally. The discrimination claims were baseless, and we stood our ground for over eight years refusing to take what I considered to be a plea bargain."
The EEOC ultimately dismissed the case.
"I recognize that it is normally too expensive and therefore a poor economic decision to fight on principle, but I wasn't going to stand down on that one," she said.
The successes and growth continued through 2016 when Mattress Firm was acquired for $3.8 billion by global retail giant Steinhoff, a South African holding company that offered the Houston company deeper pockets for continued growth.
There seemed to be nothing but smooth sailing ahead. Then came Christmas 2017.
'World Came Crashing Down'
Mattress Firm had just made a payment to a European affiliate and was waiting for the cash to come back, which was normally no problem for a business with such great assets and a rich parent company's support.
But that exact week, Steinhoff's CEO resigned amid reports that surfaced that executives at the corporate giant had committed accounting fraud amounting to an estimated $7 billion by inflating profits and asset values. The company's stock plummeted. The international media called Steinhoff "the Enron of South Africa."
"The world came crashing down in December 2017," Nuno said.
The news caused financial institutions normally ready to do business with Mattress Firm to step back. Without a new line of credit, Mattress Firm would shutter its stores and thousands of people would be suddenly out of jobs just days before Christmas.
"We managed to get an ABL revolver in place in less than 10 days, simply through grit, determination and our former lender's trust in the management team," Nuno said. "We made the deadline for payroll by less than 30 minutes."
No one knew the stress Nuno was under more than her husband, Kris Nuno, who is the divisional talent acquisition manager at Mattress Firm. The couple had been married less than two months when the crisis erupted.
"I remember that there was barely a honeymoon stage as she was pulled in for this special matter," Kris Nuno told The Texas Lawbook. "Kindel spent a lot of time in the office, and at times I would only hear her come into bed. I would wake up in the morning and she was already gone back to the office.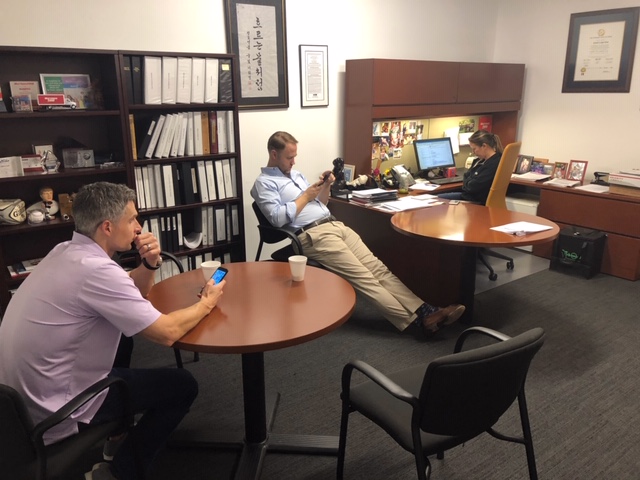 A 1AM WAIT IN NEGOTIATIONS: (FROM LEFT) HENDRE ACKERMANN, SCOTT MCKINNEY AND KINDEL NUNO
---
"On some occasions, she didn't make it back home – three days to be exact," he said. "Luckily, we worked in the same office, and I would see her while I dropped off breakfast or lunch. I knew there was something serious going on and was hoping for the best."
Even as one crisis was averted, another loomed. Nuno and her team advocated filing for bankruptcy protection so the company could restructure its debt.
Other corporate executives, board members and creditors disagreed. They believed Mattress Firm could fix its financial issues without filing under Chapter 11.
"By late August 2018, it was clear that would not be the case, and the board gave us the green light to prepare," Nuno said. "We were still digesting the Sleepy's acquisition, had converted three brands into one, had lost our primary supplier, had too many overlapping retail stores at high occupancy rates and had significant negative EBITDA."
"We were highly leveraged in a capital structure that wouldn't allow for new debt to come in, and our crumbling parent company didn't want to sell," she said.
Concerned that Steinhoff's "official outside counsel" put the parent company's interests above those of Mattress Firm, Nuno called lawyers she knew at Sidley Austin, which represented Mattress Firm's management in the Steinhoff transaction.
Within hours, Nuno was on the phone with Sidley partners Kelly Dybala of Dallas and Chicago partner Bojan Guzina – both corporate restructuring experts.
"Bojan was instrumental in helping us navigate, and frankly, survive the next several months," Nuno said. "The Sidley team was incredibly competent, supportive, responsive and dedicated."
Guzina, in an interview with The Texas Lawbook, said Nuno "has excellent judgment" and has built and retained an internal legal team that "is surprisingly small yet punches significantly above its weight."
"Kindel leverages her relationships within the management team to get support for a particular strategy – even if it is not the most "popular" option – in order to build consensus," Guzina said. "She's also remarkably calm under pressure. She participated in some of the most contentious prefiling negotiations between Mattress Firm and its creditors and was instrumental in resolving the major open points on the spot."
For five weeks, Nuno and her team negotiated tirelessly.
"I hardly slept the final week – in fact, didn't sleep for 72 hours from Oct. 2 to Oct. 5 – and my peers considered me crazy because I was juicing that week as well," she said. "We were supposed to file on Oct. 3, but the creditors and our parent company couldn't reach agreement on a few points."
By the night of Oct. 4, Mattress Firm and creditors were still at odds. Separately, critically important creditors in London that needed to consent to the deal were on the verge of backing away.
"I finally hung up on the lender group telling them that we were going to prepare for a Chapter 7 filing for the next day – we wouldn't make it through the weekend and Monday was a bank holiday, so the courts were closed," Nuno said. "After a couple hours, they called back, and we were moving forward."
Guzina said Nuno flagged difficult issues that could potentially arise in the bankruptcy process, which was extremely helpful for his team.
"As a result, we were never blindsided during the case, and when issues arose, we were able to resolve them quickly because we already had a plan in place," he said. "Mattress Firm was able to emerge from bankruptcy in less than 50 days – an incredible result considering that the company closed over 600 stores while in bankruptcy."
Corporate restructuring experts agree that Mattress Firm's six weeks in bankruptcy were extremely successful. The federal bankruptcy judge approved the company's restructuring plan Nov. 21.
Nuno's husband Kris said October 2018 was similar to the crisis 10 months earlier.
"Still long hours at the office and minimum interaction," Kris Nuno said. "However, Kindel's demeanor was different. She looked determined and focused, and I didn't see as much worry or strain. Perhaps the previous encounter gave her the confidence needed to get through the difficult circumstances."
But Nuno said the work didn't end with the approval of the exit plan.
"Emergence from bankruptcy is just one step in the overall process – a moment to be celebrated for sure, but a significant amount of work remains thereafter," she said. "All filed creditor claims need to be addressed, which calls for hearings, negotiations and more filings, as well as ongoing follow up hearings with the court."
Nuno points out that while Mattress Firm emerged from Chapter 11 effective Nov. 21, 2018, the bankruptcy case wasn't "officially closed" until March 24, 2020.
"The bankruptcy experience and the months that preceded it made me realize how much I loved and respected Mattress Firm," she said. "It was also the first time in a long time that our executive leadership team was fighting for the same goal and forged an incredibly strong bond through the process. We were capable of turning the ship around and we did it – on fire from the moment we emerged.
"That said, I never want to live through that experience again."