© 2017 The Texas Lawbook.
By Mark Curriden
(Jan. 12) – As a young law student, Alana Newhook dreamed of the perfect job – working as a lawyer for a professional hockey team.
Only a few years removed from law school, Newhook is living that dream.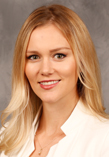 One year ago, Dallas Stars CEO Jim Lites and COO Jason Farris named Newhook the team's new general counsel.
Lawyers who know Lites, who is also a lawyer, and Farris say the Stars organization was not even seeking an in-house lawyer, but that Newhook convinced them they needed one for the future of the business and that she was the person for the job.
"It helps that I am passionate about the law and hockey," Newhook says. "Persistence is the key. Never in my wildest dreams did I think I would get the gig I have now so early in my legal career. It has been a whirlwind and a blessing to work with the Dallas Stars organization.
"I have my dream job," she says.
At age 29, Newhook may be the youngest corporate general counsel in Texas.
"Alana is smart and savvy beyond her years," says Winstead partner Paul Wageman. "The fact that she has thrived in such a competitive culture is a testament to her talent and skill as a lawyer, business leader and communicator."
Newhook joined the Dallas Stars as corporate in-house counsel in April 2014. She was promoted to general counsel and vice president in December 2015.
During the past years, she has been significantly involved in some of the Stars' biggest business matters, including:
Negotiating radio broadcast agreement;
Acquisition of two additional Dr Pepper StarCenters;
Restructuring/negotiation of leases with cities;
Acquisition of AHL minor league affiliate, the Texas Stars, and the acquisition and amendment of the lease with the City of Cedar Park of the H-E-B Center at Cedar Park in north Austin;
Naming rights agreement;
Concessionaire agreement;
Worked with Texas Rangers corporate counsel Kate Cassidy and other professional sports teams in Texas to change the Texas Constitution to allow the 50/50 Raffles at home games to fund the Dallas Stars Foundation; and
Venue management agreement.
"I see my role as helping the organization manage risks while supporting the business opportunities that are valuable to our organization," Newhook says. "The words that are on the contracts we write and the legal advice that we give really comes to life when you see how it affects our community and our fans."
Born in Toronto, Newhook and her two brothers supported the Maple Leafs growing up. Her father coached high school hockey.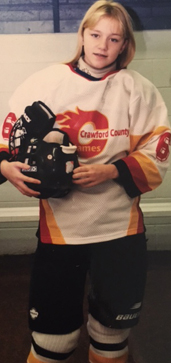 "I've been a die-hard hockey fan my whole life," she says. "I started playing ice hockey when I was 7 years old. There was no girl's team, so I chopped off my hair, much to my mother's chagrin, so that it hid under my helmet and signed up for the boy's team.
"Once I was on, they couldn't kick me off," she says. "Hockey has always been a part of my whole life."
Newhook went to college at Colgate University in New York, where she played for the women's hockey team and graduated magna cum laude with a degree in political science.
After college, Newhook moved to Dallas to attend the SMU Dedman School of Law. Even then, she focused on her objectives.
"I wrote my law school papers on hockey and NHL issues. I wanted to know as much as I could about sports issues and the business of sports," she says.
Upon graduating in 2012, Newhook was hired by Wilson Elser as a litigation associate.
"Even then, I knew I wanted to keep hockey and sports close in my life," she says.
Newhook found herself in a position as a young lawyer to work with the Dallas Stars leadership on a handful of legal matters after Tom Hicks sold the hockey team to the Gaglardi family.
"I tried to look for ways that I could use my legal training to bring value to a player, to a team to a league – how I could meld my love of the law with my love of sports and hockey, in particular," she says. "Fortunately, I was able to get into a room with the ownership and leadership of the Stars.
"They didn't have an in-house attorney and they really weren't looking for one at the time, but thanks to some persistence, it morphed into the role that is the GC position now," she says.
Newhook, according to lawyers familiar with the Stars organization, demonstrated to Lites and other Stars executives that she, as an in-house counsel, could provide advantages to the team.
"It helps to know the business and understand the lingo, as well as to have a passion for the sport," she says. "Everyone in our organization is so committed to supporting the team on the ice.
"When we lose a tough game, there's definitely a change in the energy in the office," says Newhook, who attends as many as 30 of the 41 home games a year. "It's a tangible factor."
In August, Newhook expanded the team's in-house legal department by adding SMU Dedman graduate Cara Martin as associate legal counsel.
"Our preference is to keep as much legal work in-house as possible," she says.
Newhook says she hires outside counsel to handle legal specialty matters, including public finance, tax and certain types of commercial litigation. She regularly works with Winstead, Hunton & Williams and Vincent Serafino.
"I need outside counsel who knows their stuff," she says. "I'm not calling you to have you repeat the question back to me. I already have the question – I need the answer. Expertise on subject matters is very important to me, but so is knowing our business and our industry and providing practical advice for us to move forward."
Fellow corporate general counsel say Newhook could shatter many glass ceilings.
"Alana is a talented lawyer with a very bright career ahead," says FedEx Office General Counsel Kimble Scott, who is also the president of the Texas General Counsel Forum's DFW Chapter.
"As general counsel of the Dallas Stars, she is already the envy of many attorneys as she has combined her legal skills and talents with her passion for hockey," Scott says. "I expect to see great accomplishments from Alana throughout her career."
© 2017 The Texas Lawbook. Content of The Texas Lawbook is controlled and protected by specific licensing agreements with our subscribers and under federal copyright laws. Any distribution of this content without the consent of The Texas Lawbook is prohibited.
If you see any inaccuracy in any article in The Texas Lawbook, please contact us. Our goal is content that is 100% true and accurate. Thank you.