U.S. Bankruptcy Judge David Jones, one of the most prominent and busiest bankruptcy judges in the U.S., is expected to resign his position Monday over allegations of an undisclosed relationship with a former Jackson Walker bankruptcy lawyer who never appeared before him in a case, according to sources at the U.S. Court of Appeals for the Fifth Circuit and the U.S. District Court for the Southern District of Texas.
Judge Jones confirmed his resignation to The Texas Lawbook on Sunday.
Judge Jones is being temporarily replaced on the SDTX's complex business bankruptcy court panel by his mentor, Judge Marvin Isgur. The more than 1,100 bankruptcy cases on his docket will be transferred to the district's four other bankruptcy judges.
"I have always said that the bankruptcy process should be about the participants and the preservation of jobs. I have become a distraction to the good work that the court does."
— Judge David Jones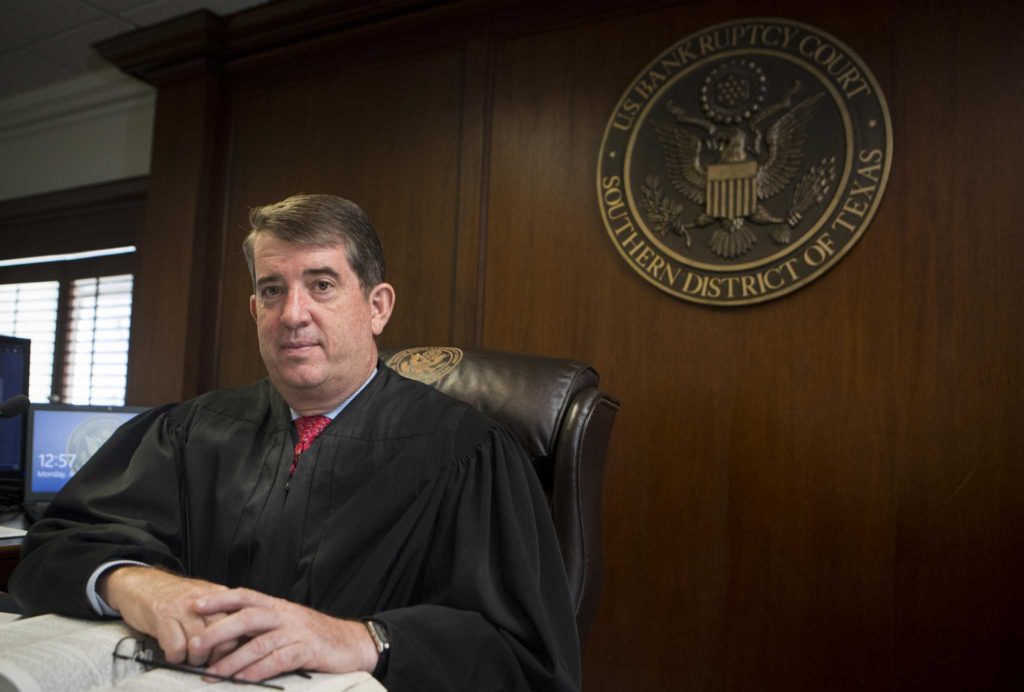 Photo: The Houston Chronicle
The Fifth Circuit officially opened an ethics investigation Friday into whether Judge Jones should have publicly disclosed a romantic relationship he had with Houston bankruptcy lawyer Elizabeth Freeman, a former lawyer at Jackson Walker — a law firm that represented scores of debtors and creditors involved in cases in Judge Jones' court. Freeman herself made no appearances in cases before Judge Jones.
Judge Jones is credited for singlehandedly reviving the corporate bankruptcy practice in Texas and presided over scores of multibillion-dollar Chapter 11 restructurings, including Brazos Electric Coop, Chesapeake Energy, JC Penney and Neiman Marcus.
"I love the bankruptcy process and the Southern District of Texas," Judge Jones told The Lawbook. "I have always said that the bankruptcy process should be about the participants and the preservation of jobs. I have become a distraction to the good work that the court does."
"To end that distraction and hopefully return focus, I have resigned," he said.
Seven corporate bankruptcy lawyers told The Lawbook this weekend that Judge Jones is the smartest and hardest working judge on the bench and none of them believed that his relationship with Freeman compromised his decision-making in any cases.
Even lawyers for creditors who Judge Jones ruled against in cases told The Lawbook that the judge has demonstrated "absolute integrity" and provided "well-reasoned legal authority" in his decision-making.
Many of those attorneys said, however, that Judge Jones' departure could have significant fallout for the popularity of the Houston bankruptcy court, which is widely viewed as one of the best venues in the U.S. for large, complex corporate restructurings. Without Judge Jones on the bench, debtors may decide to file their large corporate restructurings in other jurisdictions, such as Delaware, New Jersey or even the Northern District of Texas, which recently modified its rules to be more like the Southern District.
In 2016, Judge Jones implemented a series of substantive reforms that created a special two-judge panel to handle the biggest and most complicated corporate restructurings, to provide parties increased access to court officials and to make procedures more transparent and predictable.
"Very few [large-dollar] complex bankruptcies were getting filed here," Jones said in an interview with The Texas Lawbook in 2020. "There was not a next generation of Texas lawyers in the bankruptcy practice because there wasn't a need. I was worried we would not have a generation of bankruptcy lawyers left in Texas."
Since 2017, Judge Jones has been the busiest bankruptcy judge in the U.S., handling more Chapter 11 cases involving businesses with assets of more than $100 million than any other judge.
The allegations of misconduct against Judge Jones surfaced Oct. 4 in a federal civil rights lawsuit brought in Houston by Michael Van Deelen, who had sued offshore drilling conglomerate McDermott International in Texas state court in Montgomery County claiming company officials committed fraud and breach of their fiduciary duties to shareholders. Because McDermott filed for bankruptcy in 2020, Van Deelen's lawsuit was removed to federal bankruptcy court, where the Chapter 11 was handled by Judge Jones. In his current lawsuit, Van Deelen accuses Judge Jones of unethical conduct by being in a romantic relationship with Freeman, who was at Jackson Walker during the McDermott case. Jackson Walker and Kirkland & Ellis were the lead legal advisors for McDermott.
Lawyers for McDermott accused Van Deelen of "harassing and abusive behavior" and asked Judge Jones to issue sanctions. The court's recording system also captured Van Deelen calling Judge Jones a "son of a bitch."
Judge Jones declined to sanction Van Deelen, but the judge said he had concerns about Van Deelen's "mental stability" and believed that he "poses a legitimate risk to the safety of courthouse staff and litigants that oppose his position."
Van Deelen later sued Bloomberg for defamation for writing that Van Deelen stated in court that he would "shoot someone either during or after the hearing" in the McDermott bankruptcy case," according to court documents.
As a high school teacher, Van Deelen sued the Spring Independent School District in 2016 over unpaid employment benefits related to his accusation that students and a teacher were dealing drugs. An internal school investigation found no evidence of Van Deelen's allegations but claimed he targeted African American students with his accusations.
Van Deelen's allegations against Judge Jones were forwarded to the Fifth Circuit.
On Friday, Fifth Circuit Chief Judge Priscilla Richman issued a six-page judicial conduct proceedings document detailing the complaint against Judge Jones and that the Fifth Circuit was conducting an official inquiry.
Chief Judge Richman stated Judge Jones and Freeman have been in a relationship since 2017 and that they have lived in the same house together, though they were not married and never held themselves out to be spouses. During that time, Freeman's law firm, Jackson Walker, appeared before Judge Jones as legal counsel dozens of times, but the judge did not disclose the relationship to Freeman to the parties in most of those matters.
"Judge Jones has approved attorneys' fees payable to that firm in which supporting documentation, that was submitted to Judge Jones and is part of public records, reflects that services by Elizabeth Freeman were performed in connection with a number of cases for which fees were sought and approved, though Elizabeth Freeman was not shown as counsel of record on the face of pleadings," Chief Judge Richman wrote.
"There is probable cause to believe that Judge Jones has engaged in misconduct," the chief judge wrote.
Judges on the Fifth Circuit and in the Southern District of Texas were informed Saturday that Judge Jones had agreed to resign his position instead of putting his colleagues through the investigation. The resignation agreement, according to multiple sources, is expected to be finalized Monday.
While Judge Jones will be prohibited from working as a lawyer on bankruptcy cases in the Southern District of Texas for two years, several lawyers say multiple large corporate law firms or financial restructuring firms are likely to eagerly pursue to hire the judge for advisory positions that would pay him 10 times the estimated $175,000 a year he currently earns.