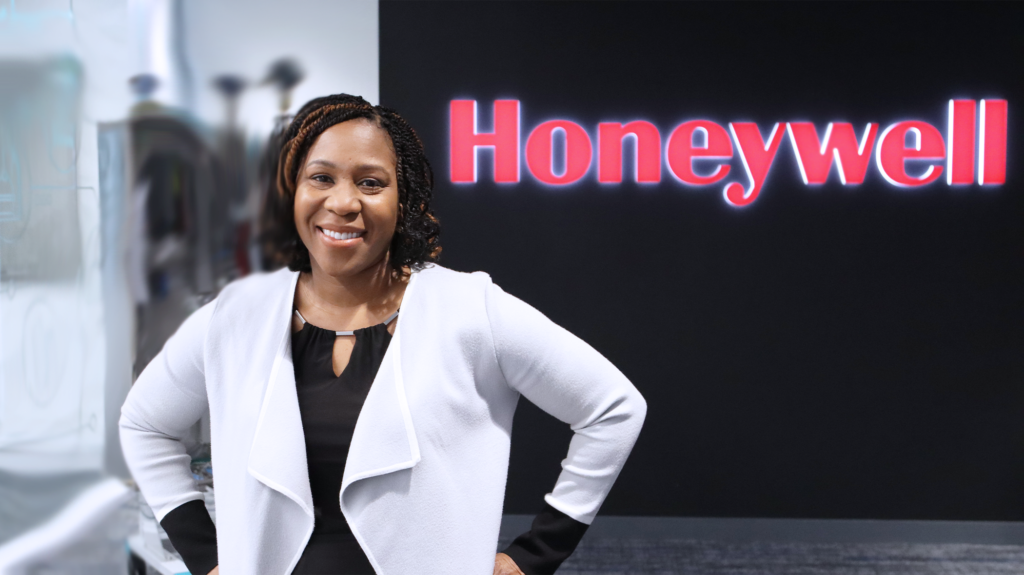 Dionne Hamilton
Dionne Hamilton was a senior in high school when she was interviewed by the student newspaper for an article about where she thought she would be in 10 years.
"I said I would be a lawyer working in a firm, married with one child," said Hamilton, who noted that she still has the article. "The only thing incorrect in that statement was the law firm part. I didn't know about in-house counsel at that time."
Hamilton is now the general counsel at Honeywell Smart Energy and Thermal Solutions, a unit of the global conglomerate Honeywell International, which has more than 200 attorneys in several locations.
In two-and-a-half years at Honeywell, Hamilton has scored huge professional successes, including leading the legal department's role in the company's launch of revolutionary gas meter technology that monitors residential and commercial activities in real time that will stop incidents before they occur. She advises senior corporate leadership on all legal issues, new regulatory activities and geopolitical subjects that impact operations, works on M&A and joint ventures and manages all aspects of the legal budget.
Industry leaders also say that Hamilton has become a national leader on issues involving diversity, equity and inclusion, including chairing Honeywell's highly touted Leadership Council on Legal Diversity's 1L Scholar Summer Program. (More details on the initiative shortly.)
Premium Subscribers: In a special Q&A Dionne Hamilton discusses her best day at Honeywell, what she looks for in hiring outside counsel and what she believes is missing from the push for diversity in the legal workspace Here.
Honeywell Smart Energv Assistant General Counsel Shelagh Swanberry Landry said Hamilton is a "pragmatic leader with an uncanny ability to demand respect while simultaneously attracting followers."
"Dionne is a forward-thinking leader who is constantly collaborating across teams and stakeholders to increase her knowledge base, understand trends and ultimately ensure she is providing the best solution to move a business forward," Landry said. "Dionne is a bridge builder, who upon joining any team immediately creates a vast network of relationships based on her willingness to support and champion others. Above all, Dionne is selfless and a relentless worker that brings out the best in her colleagues."
"As a person, Dionne is even better. Her demeanor, style, loyalty and humor shine bright every day," Landry said.
Citing Hamilton's extraordinary achievements in 2022 and before, the Association of Corporate Counsel's Houston Chapter and The Texas Lawbook have named the University of Texas School of Law graduate a finalist for the 2023 Houston Corporate Counsel Award for General Counsel of the Year for a Large Legal Department.
"Dionne is a terrific GC and leader because she takes the time to teach as well as lead," said Norton Rose Fulbright partner Joseph Graham. "Moreover, Dionne is one of the most likeable and well-respected attorneys that I know, and Dionne constantly gives back to the community."
No one can attest to Hamilton's influence on young lawyers as much as her two daughters.
"Everyone — and I mean everyone — in my family told me, 'You ask so many questions, you should be an attorney.' It was never a decision, it just was."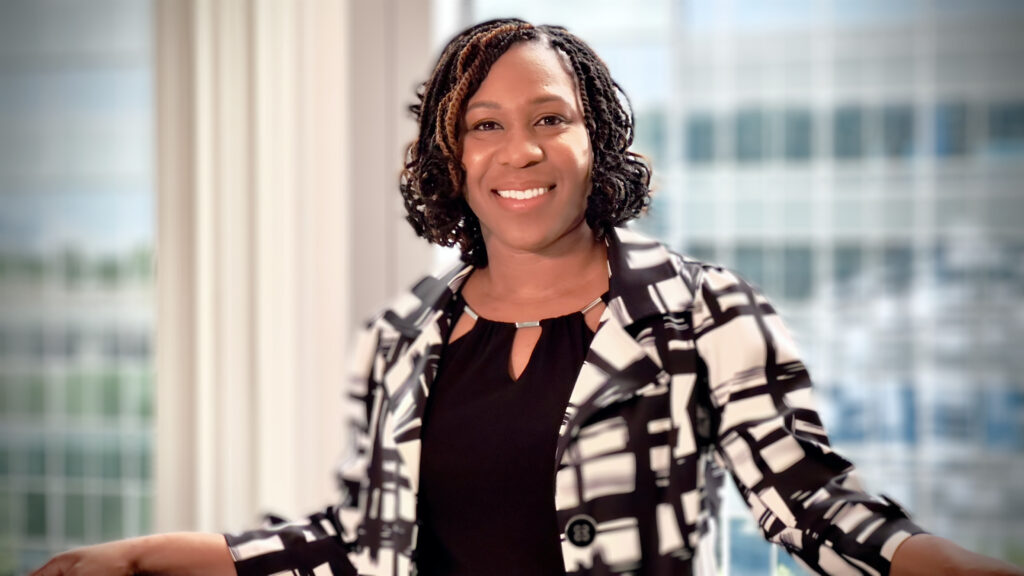 Photo: Sharon Ferranti
"Growing up with a mother who is an attorney has deeply influenced my life and career aspirations," said Dilari Cooper, who is a first-year law student at the University of Houston Law Center. "Witnessing her success and dedication to excellence has been incredibly inspiring to me, and I am eager to follow in her footsteps by building a successful legal career of my own."
"With the guidance and support of my mother, who has extensive experience in the field, I am confident that I can achieve my goals and make a meaningful contribution to society as a lawyer," she said.
Hamilton said she encouraged both of her daughters to pursue a law degree. Her oldest daughter earned her degree from the University of Houston Law Center and now works in the office of the chief counsel for NASA's Johnson Space Center.
"Even if they didn't practice, I said it is one of the most versatile degrees to have," she said. "You can do anything with a JD behind your name. Both took my advice."
Hamilton was born in Barbados in the Caribbean. Her family moved to Brooklyn when she was 5 and then Houston when she was 12.
As a small child, she suffered severe asthma attacks.
"After moving to Houston, the hospital visits due to asthma stopped and I have not had an asthma attack since, which is weird because there are plenty of asthmatics in Houston," she said. "Whatever was triggering my attacks was in New York."
Hamilton's mother worked in the housekeeping department of a major hotel chain. Her dad was a chef for most of her childhood but became a taxi driver, started an office cleaning business and also was a landlord.
"He is a strong believer in entrepreneurship," she said. "That first move from Barbados would be the first of many. When my daughter was applying to college, she said we moved every three years after her third-grade year. I said, 'No we didn't.' But after some time to reflect, she was right; we had moved every three years for work related opportunities."
Hamilton had no attorneys in her family, though two cousins and both daughters are following in her steps.
"It is funny. Even though no one was an attorney, they certainly thought they knew what attorneys were like because from a very early age, everyone — and I mean everyone — in my family told me, 'You ask so many questions, you should be an attorney.' It was never a decision, it just was," she said.
Hamilton received her bachelor's degree in history from the City University of New York. Then came the time to decide about law school.
The best advice she received came during a law school admissions fair from an African American working at the University of Texas' table. He told her to delay taking the LSAT and take a prep course first.
Hamilton did and it paid off. She was accepted at her top two choices — the University of Texas School of Law and Harvard University School of Law.
"I called the Harvard financial aid and asked if there was some form of assistance, scholarship or grant, I could apply for," she said. "The response I received was that their graduates can afford that debt load after graduation. I had no one in my sphere, in my universe, my whole life who could afford that amount of debt. Additionally, since I was from another country, my family and I did not fully appreciate the Harvard effect."
Hamilton talked with her parents about the options.
"Our conversation went something like this: Both are good schools in the Top 15, one is offering a scholarship and the other is not and is very expensive. So go to the more affordable one. So I chose UT," she said.
"During law school I worked in every possible sector — the attorney general's office tax division, as a clerk for the Texas Court of Criminal Appeals, for a solo practitioner whose checks did not always clear, a large law firm in Indianapolis," she said.
One of the internships during the summer of her second year was with United Technologies Corporation.
"I really liked the in-house experience," she said. "You're given meaningful work early and often."
UTC offered Hamilton a position and she took it upon graduating from UT Law in 1995.
"Just six months after graduating law school, I was on a plane to Beijing to negotiate a R&D agreement with an Aerospace-related entity in China," she said. "Also early on in my career, I formed the first WFOE (wholly foreign owned enterprise) in China for UTC, a Fortune 100 conglomerate."
Hamilton spent 16 years in the legal department at UTC. She spent six years as general counsel of United Space Alliance, a Houston-based joint venture of The Boeing Company and Lockheed Martin. The company managed and conducted human space flight operations for NASA under the space shuttle program.
From 2016 to 2020, she was senior counsel at Boeing, handling the legal work for its human space exploration business units, including its legal needs as a contractor for NASA's International Space Station.
In the summer of 2020, Hamilton felt it was time for a change.
"Boeing was facing significant challenges three years ago," she said. "They were working through the 737 Max issue, the failure of the Starliner vehicle to dock with the International Space Station and finally Covid affecting the commercial airlines in general. It was a good time to seek out other opportunities."
In October 2020, Hamilton joined Honeywell as general counsel of its Smart Energy and Thermal Solutions business unit, where she is involved in nearly every legal aspect of the company's operations.
Hamilton uses data and other tools to identify, implement and execute best practices across the organization to improve the efficiency and cost effectiveness of the legal function. She also has been at the forefront of "ensuring that safety, ESG and working capital improvement are at the forefront of each transaction."
Most recently, Hamilton and her team have focused on Honeywell's launch of new products — the AC-250 NXS and NXCM, which she describes as "game changers in the gas meter industry." Known as a "smart meter," the AC-250 NXS uses pressure and temperature intelligence monitors to react instantly to over-pressure, leakage or fire.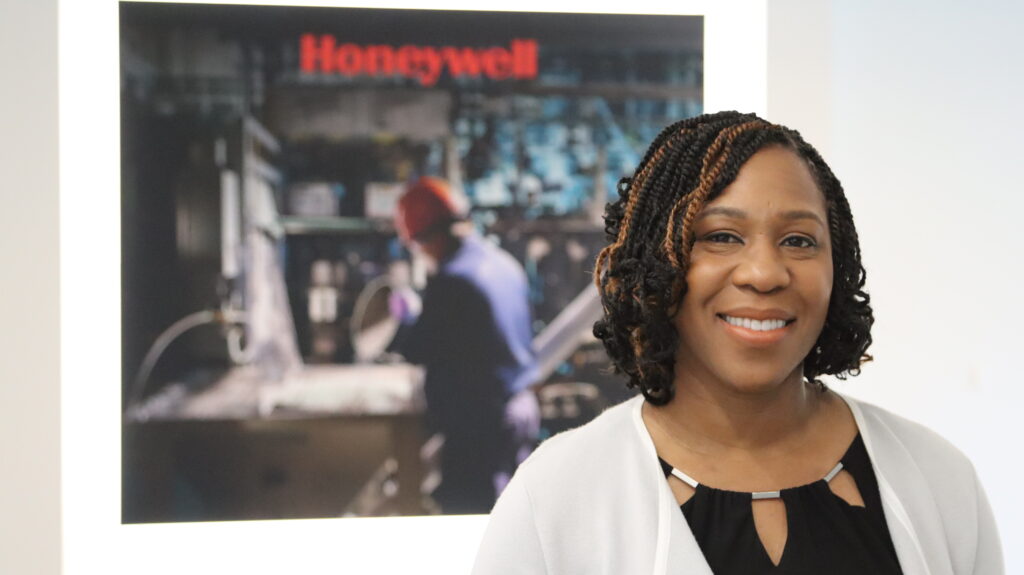 "I know my bias and my comfort zone and made a conscious decision to not do the easy thing, and I haven't looked back since."
Photo: Sharon Ferranti
"We had several pilot programs with customers to test out the new product offering," she said. "I successfully completed an agreement for the sale of the new product and other potential products and services, which over the lifetime of the agreement could be valued at hundreds of millions."
"I review all of the material related to new product launches, ads, marketing materials, case studies, website and manuals," she said. "I take a lot of pride and pleasure in knowing what we are doing to meet and/or exceed customer expectations and requirements and what innovations we are bringing to the market."
David Kawala, a partner at Swanson, Martin & Bell, said Hamilton "is a tireless worker who leads the legal team at Honeywell Smart Energy by example."
"In a short time, Dionne has skillfully structured and managed the legal needs of multiple corporate entities and their product lines within Honeywell Smart Energy," Kawala said. "Dionne's management style is direct and communicative. She listens carefully and balances multiple points of view in making well-reasoned decisions. Her approach is always positive and constructive. She exudes a quiet confidence without pretense."
Colleagues at Honeywell also praise Hamilton for her dedication and creative thinking when it comes to diversity, inclusion and mentoring.
"Dionne is passionate about her work and about making an impact in the community," said Jennifer Phan, who is general counsel of Honeywell's process solutions unit.
As a leader on Honeywell's Leadership Counsel on Legal Diversity, Hamilton worked on an initiative that pairs the law firms who work for Honeywell with diverse and underrepresented first-year law students.
"This allows the 1Ls to add both firm and in-house experience to their resumes," she said. "Our attorneys support this program by agreeing to participate, providing the 1Ls assignments, evaluations, social activities, virtual escape room fireside chat with Honeywell subject matter experts. This program occurs all across Honeywell in various states and business units. Everyone is very enthusiastic about the program."
Hamilton said she and Honeywell are currently working with Norton Rose Fulbright, Kean Miller and Reed Smith in Houston.
"We added fireside chats, one with former LCLD interns who are now practicing attorneys, to give advice and take Q&A from current 1Ls," she said. "We added mentors for the 1Ls, 1L spotlights where the 1L can present on a project they worked on during the summer and other activities so that the 1L scholars at the various Honeywell sites would have the ability to interact."
"It has been very successful because the 1L scholars are great, the initiative to hire underrepresented 1Ls is very motivating and uplifting for all those involved," she said. "When you see that the 1L is coming back to the firm for the following summer, it just feels great to be part of that."
In addition, Hamilton co-chairs the diversity efforts of the Association of Corporate Counsel Houston Chapter with Pattern Energy Senior Counsel Lauren Haller.
Each year, ACC Houston awards a dozen scholarships. The initial scholarship was $4,000. A few years ago, ACC Houston increased it to $5,000. And last year, the group awarded a $6,000 grant for someone who had an unpaid position.
"We assisted applicants that did not have summer employment and connected them with firms," she said. "We also connected former recipients with firms that were looking to hire attorneys who had completed the bar exam and were practicing. I think the program is successful because we know law school is expensive and we are making funds and opportunities available to these 1L and 2L students at three area law schools."
Graham, the Norton Rose Fulbright partner, said Hamilton visits with the firm's summer associates each year to tell her story and how she succeeded.
"Dionne is one of the best I have ever seen at 'paying it forward.' Of course, Dionne could rest on her laurels and continue to be just a terrific attorney," said Graham. "But instead Dionne is willing to put in the time and effort to mentor others in organizations such as the ACC and ensure their success as well."
Hamilton said the "explanation is quite simple and human" for why corporate law firms in Texas struggle with diversifying their partner ranks.
"White men make up the majority, and the next group they are most comfortable with are white women, women who remind them of their mothers, sisters or daughters," she said. "People have a bias for those that are most like them and those that are most familiar. They have more in common, more to connect on, and that probably accounts for why the number of women partners has steadily increased in Texas, but the number of ethnic minority partners has not."
Hamilton said the solution for law firm leaders is to "recognize that we all have implicit bias."
"Acknowledge it, now work past it. You have to be intentional," she said. "Why am I more drawn to this candidate versus that candidate. Is it because we had a better rapport, because we have a similar background and experiences? What about this other candidate? If the only real differentiator is my feeling of comfort, let me put that aside, because otherwise there will never be significant movement."
Hamilton said she recently had to do this herself.
"I had to choose someone that I would meet with regularly and have to engage with on a professional level," she said. "There were at least two others that I immediately felt very comfortable talking to and engaging with and there was a third that was a tad more challenging for me. I choose that person as my first choice to partner with."
"I know my bias and my comfort zone and made a conscious decision to not do the easy thing, and I haven't looked back since," she said.