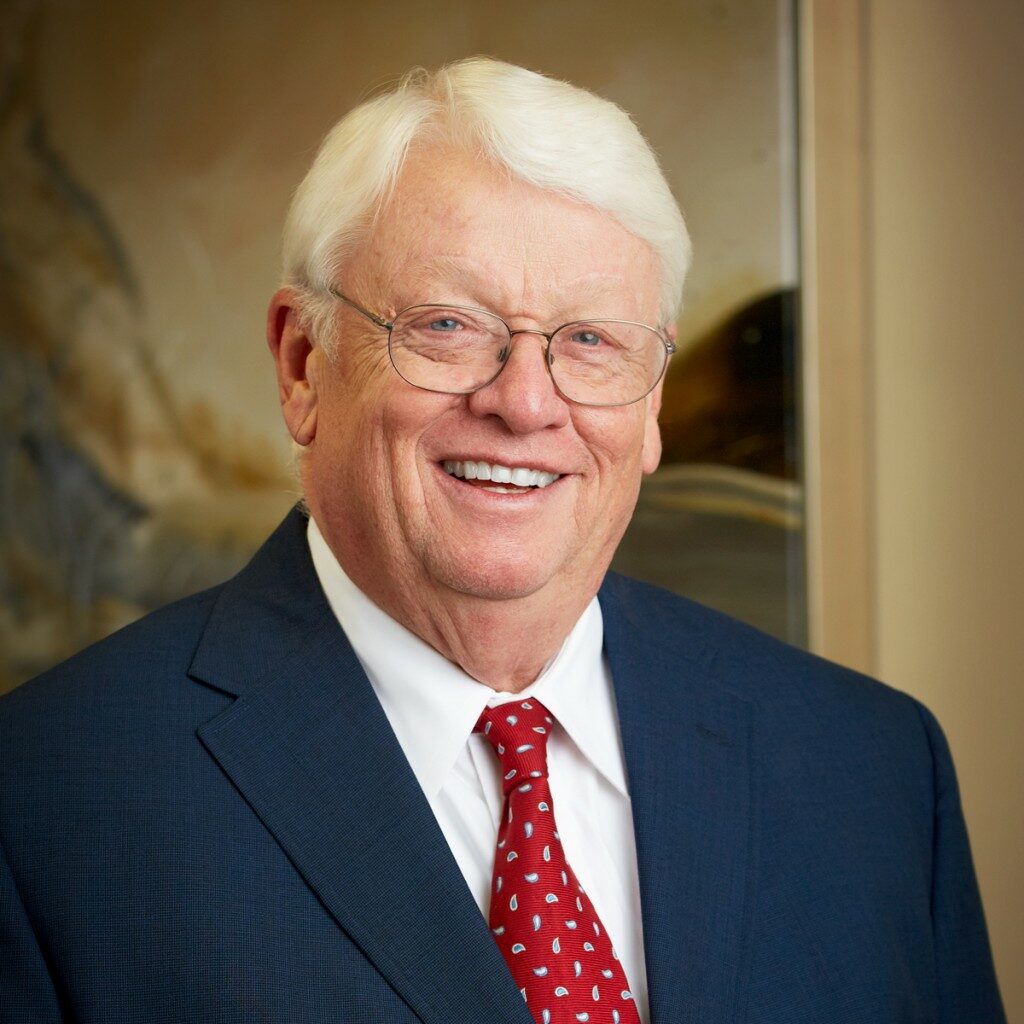 Judge T. John Ward
As a U.S. district judge in East Texas from 1999 to 2011, T. John Ward almost singlehandedly made Marshall the patent-litigation capital of America.
No one, he swears, was more surprised than he was.
"It was a classic example of the law of unintended consequences," Ward said in an interview at the Longview law offices of Ward, Smith & Hill, the firm run by his son Johnny. (Judge Ward, largely retired from trial work, is of counsel to the firm, serving, Johnny Ward said, "as a great resource just down the hall" who does "pretty much whatever he wants." That includes bringing his quail-hunting dog, a 6-year-old Llewellin setter named Libby, to work.)
"I get credit," Judge Ward said, "for having this great insight into how to build a patent docket" – or, as it's typically described, a rocket docket.
"The truth is, I had no such insight. I just wanted to manage my docket as efficiently as possible."
His modesty masks what others say was a transformation of patent-infringement litigation. No-nonsense rules he established for his court greatly streamlined infringement lawsuits, shaving months, sometimes years, off their resolution. As a result, patent litigators from around the world – for tech giants like Sony, Samsung, IBM and Intel – trekked (or were dragged) to Marshall (population: just south of 25,000).
"John changed the way patent law in America was practiced," said Royal Furgeson, a retired U.S. district judge and the founding dean of the University of North Texas Dallas College of Law.
"He put common-sense rules into effect, and he made them work. He built a framework that other judges have since emulated. His impact cannot be overstated."
Furgeson, Ward's friend since their college days at Texas Tech University in the early 1960s, is the person most responsible for "John Ward," as he'd previously been known, becoming "T. John." (His first name, never used, is Thomas.) When they were fraternity brothers at Tech, the chapter had a plethora of "Johns." To thin the herd, Ward became "T. John."
"John changed the way patent law in America was practiced. He put common-sense rules into effect, and he made them work."
— Royal Furgeson
Decades later, Furgeson mentioned this to William Wayne Justice, then the lion of the federal bench in the Eastern District of Texas. The next time Ward, at the time a practicing attorney who was back to being plain old "John," appeared before Justice, the judge decreed that Ward would be known in his court as "T. John."
Ward laughed. "When a federal judge tells you you're 'T. John,' you don't argue," he said.
President Bill Clinton appointed Ward to the bench in 1999, when the Eastern District of Texas had just a handful of patent-infringement suits. By 2015, more infringement cases were filed in Marshall alone than in federal district courts in Los Angeles, Chicago, San Francisco, New York, Boston and Delaware combined.
"The Founding Fathers may have created the intellectual-property clause in the U.S. Constitution, but T. John Ward made the process for enforcing patents real for individuals and businesses," Judge Patrick Higginbotham of the Fifth U.S. Circuit Court of Appeals told The Texas Lawbook in 2017.
"Oh, and by the way, he's a damn good trial lawyer, too."
In recognition of his lifetime of service to the legal profession and the public, the Texas Bar Foundation honored the 79-year-old Ward as one of five recipients of its 2022 Outstanding 50-Year Lawyer Award, presented June 10 in Houston. (The other recipients were Beryl P. Crowley of Austin, executive director of the Texas Center for Legal Ethics and Professionalism; David T. López of Houston a veteran trial lawyer, arbitrator and mediator; Jane H. Macon, a Bracewell partner and the first woman to serve as San Antonio's city attorney; and William O. Whitehurst of Austin, senior counsel with National Trial Law and a past president of the State Bar of Texas.)
(Place cursor over photo to scroll gallery)
Ward was hardly the first judge to impose rules forcing lawyers not to dawdle. Sidney A. Fitzwater, now a senior judge in the Northern District of Texas, adopted a practice decades ago of allotting each side in a trial a fixed amount of time, period, to present its case, a practice followed today by, among others, Chief Judge Lee H. Rosenthal of the Southern District of Texas. The late Lucius D. Bunton III, an ornery but venerable federal judge in West Texas, sometimes packed a water pistol when he was on the bench, and he wasn't above using it when a meandering lawyer's attention needed a squirt.
But by applying his "rocket docket" rules to patent-infringement cases, a branch of litigation that can be particularly complex and time-consuming, often involving platoons of lawyers on either side, Ward sped countless cases to swift resolution when they otherwise might have languished.
He established strict timetables and enforced them. No shenanigans. No sob stories. He mandated early disclosures, restricted discovery, imposed length limits for documents. Requests for continuances were discouraged. Summary-judgment motions were almost certainly doomed.
"Once he set a date, you knew that was when you were going to trial unless you were dead," said David J. Beck of Beck Redden in Houston, who's known Ward since they first tried a case together 35 years or so ago.
The judge's methods, he said, nudged countless patent disputes to settlement, avoiding protracted, costly trials.
"Lawyers love continuances," said Beck, a former State Bar of Texas president. "The surest, easiest way to get both sides to settle is to say, 'No, you're going to trial on this date, no matter what.'"
From left, David Beck of Beck Redden, Fifth Circuit Judge Robert Parker and Judge Ward.
Before he became a judge, Ward spent more than 30 years as a trial lawyer with a wide-ranging civil practice. But not until he observed the system daily from the inside – as the judge responsible for making sure things ran smoothly and the taxpayers' money was spent prudently – did he see how much time was wasted on a handful of patent-infringement cases then pending in the Eastern District.
To say the cases were moving at a snail's pace would have been an affront to snails. A snail, after all, does move. Patent suits had gone on for months with no discernible progress.
One early episode in particular stuck in Ward's craw. Days after he was sworn in, he and his clerk spent hours preparing for a pretrial hearing at which opposing counsel were to present arguments on the proper interpretation of 15 or 20 key terms in a patent. On the day of the hearing, the lawyers told Ward never mind. They'd agreed after all on all but a couple of the terms.
The court had squandered hours getting ready for a hearing that was unnecessary. By itself, that wasn't a big deal. How many other times, he wondered, did it happen? How many pointless conferences and hearings would clog up his calendar, all the while pushing trial settings farther over the horizon?
That was no way to run a docket, he decided. He wrote new rules on how cases would proceed in his courtroom, adapted from those used in the Northern District of California, a patent-litigation hub. Ward's rules were soon adopted for patent cases throughout the Eastern District.
He famously used a chess timer to hold lawyers to their allotted time for opening statements and closing arguments. He had little patience for expert witnesses who delivered canned monologues, whatever the question before them.
"I didn't know the first damn thing about patent litigation. I was just supposed to be local counsel for these other guys."
— T. John Ward
His courtroom demeanor was law-and-order. He was the law, and he demanded order. Ward shaved months off the time to resolve even the most complex patent disputes. A case on his rocket docket typically proceeded from initial scheduling to jury selection in 18 to 20 months.
"My goal was simply to efficiently manage the relatively small number of patent cases on my docket," he wrote in the Winter 2015 issue of The Advocate, a journal published by the State Bar of Texas's Litigation Section.
He had no idea, he wrote, that patent litigants from near and far would find the quick turnarounds so appealing that Marshall would become "a magnet for patent cases."…
*
Eleven years after Ward's retirement, Marshall remains a patent-litigation center. Rodney Gilstrap, chief judge of the Eastern District, has kept the rocket docket rocking, but since 2020 the title of America's patent-litigation capital has found a new home: Waco, in the Western District of Texas. In 2021, the district topped all other U.S. jurisdictions with 978 new patent suits filed, most of them in Waco. Delaware was second, with 731 filings, the Eastern District of Texas third, with 459.
Two reasons often cited for Waco's emergence are the 2018 appointment of veteran patent litigator Alan Albright as U.S. district judge there and a 2017 U.S. Supreme Court ruling, TC Heartland v. Kraft Foods Group Brands, that constricted unfettered venue-shopping. In Heartland, the justices ruled 8-0 that infringement lawsuits must be filed in the jurisdiction where a defendant company is incorporated, or one in which it maintains "a regular, established place of business." Before that ruling, plaintiffs could bring infringement claims just about anywhere in the country against a defendant company that operated nationwide. The Western District, a broad swath of the state that runs like a low-slung belt from El Paso to Waco, encompasses Austin and San Antonio, cities where defendants in patent suits are likely to have a physical presence.
Albright, formerly a partner in Bracewell's Austin office, whose practice focused on intellectual-property litigation, has made no secret of his desire to lure as many patent cases as possible to his court in Waco. To expedite those cases, he has instituted rules that draw heavily on Ward's initiatives years ago in Marshall.
*
Unlike Albright, Ward had no lengthy experience in patent litigation before joining the bench. His first involvement in a patent case didn't come until 1998, his last year in private practice.
He was hired to represent three business units of Hyundai in a patent-infringement suit filed in the Eastern District by Texas Instruments Inc. The suit was one of several pending between the two electronics giants over the same patents. The others were in Virginia, the United Kingdom, the Netherlands, Germany, France and Japan, but the East Texas case, before U.S. District Judge Thad Heartfield, was especially noteworthy since it would be the first to go to trial.
Ward, at the time a partner with Brown McCarroll & Oaks Hartline in Longview (now known simply as Brown McCarroll), joined a team of out-of-town and out-of-state heavyweights defending Hyundai.
"I didn't know the first damned thing about patent litigation. I was just supposed to be local counsel for these other guys," Ward said. "They brought me in because I knew the Eastern District, I knew Judge Heartfield, and I knew how to try a case."
At the last minute, he said, " I was told I'd been elevated to first chair at trial. I had two days to prep."
Hyundai lost the case. The jurors awarded Texas Instruments $25 million. Fortunately, Ward said, the two companies reached a worldwide settlement before a judgment was entered.
*
After majoring in chemistry at Texas Tech, Ward earned his law degree from Baylor University in 1967. At 24, he was hired as a prosecutor in Lubbock County.
After a year there, he pursued the career he'd always wanted, as a civil litigator. He moved to Longview and joined the firm later known as Sharp, Ward, Price & Searcy. Its guiding hand, Earl Sharp, the Gregg County judge from 1947 to 1962, became one of Ward's earliest mentors. They remained close friends until Sharp's death in 1999.
Ward did mostly plaintiffs' work, eventually building a lucrative practice in product liability, malpractice, and personal-injury litigation.
But in the firm's early years, he said, "we took anything that came in the door. We tried any case we could get our hands on – divorces, child custody, eminent domain, personal injury, criminal cases, you name it. We couldn't afford to be picky."
As a result, he said, he and his partners were always in court, something few lawyers can say today.
"I might have had 20 trials in a year. Not 20 appearances. Twenty trials," he said. "Sometimes you'd have three in the same week. You'd finish one and immediately go on to the next."
Like many of his generation, Ward laments the passing of those ways.
"I grew up in the golden age of trial lawyers. I truly believe that," he said. "I got to practice alongside Rex Houston, Scotty Baldwin, David Beck, Earl Sharp, Franklin Jones Jr., and so many others. These were masters of the courtroom. Even when one of them beat you, you learned from them. You came away a better lawyer.
"It's sad that most young lawyers today don't have the benefit of that experience, especially at the big firms. They can go years without setting eyes on a jury, without ever having to stand in front of a jury to make their case.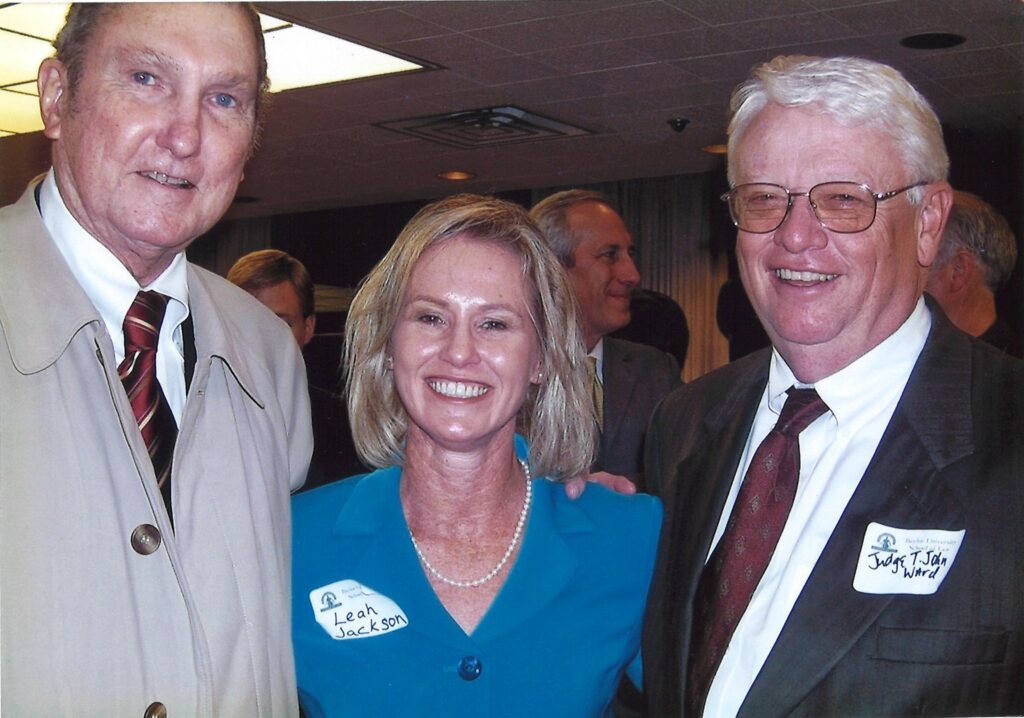 Judge Ward, at right, with longtime friend, attorney Franklin Jones Jr. and Leah Jackson Teague, former associate dean at Baylor University Law School.
"I understand that the practice of law has changed. It's much more a business now, and a trial can be a very expensive undertaking. I get that. But I still worry that something's been lost."
His cozy, comfortable office holds artifacts of a half-century lived in service to the law, as an institution of the law: framed photographs, many faded, of fellow judges, some deceased, whom he knew and befriended – Robert Parker, a Longview native who served on the Fifth Circuit U.S. Court of Appeals; Jacques Weiner, at 87 a senior judge on the Fifth Circuit; William Steger and Paul Neeley Brown, judges in the Eastern District. Another photo is of Ward and his wife of 57 years, Cissy, with Clinton, and near it a framed letter from the late Justice John Paul Stevens commending him for a 1986 argument (albeit an unsuccessful one) before the U.S. Supreme Court.

And on the wall directly facing his desk, a large, ornately framed oil painting of Libby, the bird dog.
At the end of our interview, I asked Ward what advice he'd give a young lawyer starting out today. What's the one thing 50-plus years in the law have taught him that's worth passing on?
He replied without hesitating: "The greatest asset you will ever have as a lawyer, and the only asset whose value you completely control, is your credibility. Never, ever, ever lie.
"Once you lose your credibility," he continued, "it's gone. For good. In 50 years, I've never known anyone who managed to get it back."