Jeff McNabb
Jeff McNabb was in the first grade when he represented his first client.
On the playground during recess, a group of boys started calling each other names. When the teacher broke it up, the kids told completely different stories. The teacher decided to make it an educational opportunity and conducted an impromptu trial. She appointed McNabb to be the lawyer for one side and a fellow student to represent the other in questioning witnesses.
"I remember being frustrated when all of my questions about who said what — 'What did Jimmy say to Tommy?' and 'What did Tommy say back?' — were objected to as hearsay and the teacher sustained the objections," McNabb said, remembering back. "I couldn't get any of my evidence in."
"None of us, the teacher included, knew — and I wouldn't learn until many years later — about the complexity of the rules of evidence, including hearsay, and that sometimes it is actually OK for someone to testify about what they heard someone else say," he said. "To be fair, I'm sure at least some of my questions did call for inadmissible hearsay. I guess that experience helped spark the early interest."
Less than two-decades later, McNabb graduated from Harvard Law School, clerked for Chief Judge Carolyn Dineen King of the U.S. Court of Appeals for the Fifth Circuit, practiced litigation for eight years at Baker Botts and is now senior counsel at Patterson-UTI Management Services, an oilfield service company based in Houston.
As head of litigation for Patterson, McNabb won two major court victories in 2022 that earned him a spot as a finalist for the 2023 Houston Corporate Counsel Award for Senior Counsel of the Year for a Midsized Legal Department.
Premium Subscribers: To read an exclusive Q&A with Jeff McNabb Click Here
In one case, former employees allegedly took the company's confidential information. The second case involved an insurance coverage dispute for several underlying worksite injuries.
"McNabb is incredibly smart but also quick to listen to others' ideas," said Kelsi Stayart White, an associate at Ahmad, Zavitsanos & Mensing who nominated McNabb for the award. "In advocating for Patterson's position, he is reasonable but also firm. He appreciates risk but is not scared of it. He is comfortable making difficult decisions but also deferring to the judgment of outside counsel, in whom he places trust and grants autonomy."
"He demonstrates a well-rounded approach to litigation and dispute resolution that makes him a valued client, an asset to his company and a pleasure to work with as outside counsel," White said.
McNabb is one of two finalists for the award. The Association of Corporate Counsel's Houston Chapter and The Texas Lawbook will honor the finalists and announce the winners at the 2023 Houston Corporate Counsel Awards ceremony on May 4.
"Jeff is a star and Patterson is lucky to have him on its in-house team," said Baker Botts partner John Anaipakos. "I have little doubt that he will be a general counsel someday — he has all the qualities of an outstanding in-house lawyer."
"Jeff has excellent judgment. That's something you know when you see it," Anaipakos said. "Over the years, I have seen Jeff exercise sound judgment time and again in strategy and settlement negotiations. Jeff also takes the long view as in-house lawyer, looking to identify how things can be improved, and risks mitigated going forward. For Jeff, it's about more than just the one case or docket of cases — it's about being a real counselor to the organization."
Retired BakerHostetler partner Doug D'Arche said McNabb is a "very strategic thinker."
"Jeff is very thoughtful about how he approaches all legal issues," D'Arche said. "What he does really well is to analyze a complex set of facts and legal issues and perform a balancing of the costs and benefits of each approach to arrive at what is always a well-reasoned, efficient and effective approach. Jeff listens really well. In-house counsel have a tendency to insist on outcomes that may not be realistic and end up wasting time and resources in the long run. Jeff never does this."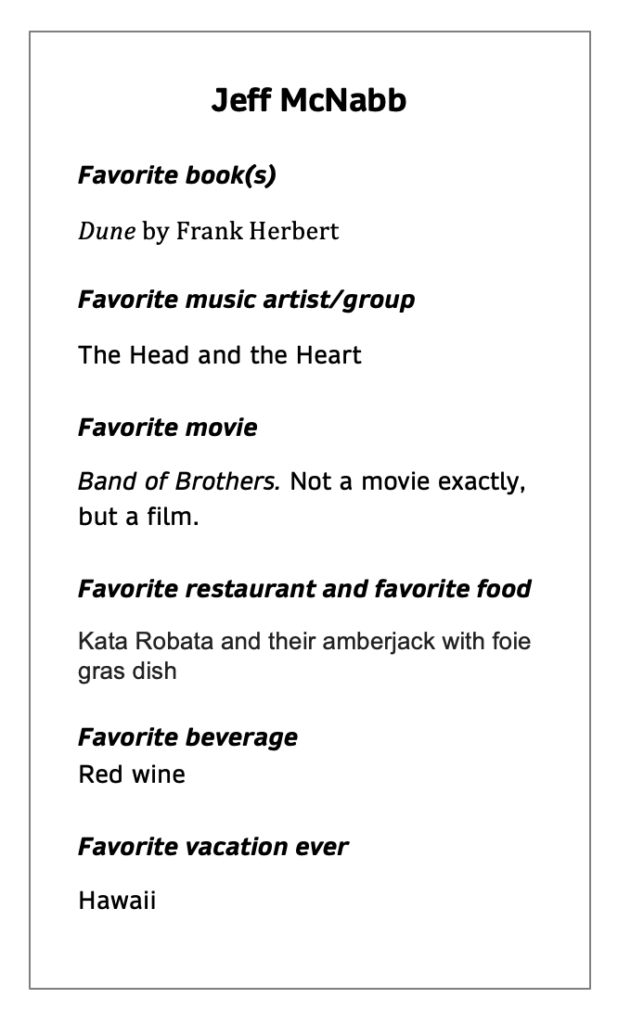 McNabb was born in Houston. His dad was an economist and business manager who worked for Conoco his entire 30-plus-year career. His mom was a high school English teacher. The McNabb family moved to Connecticut when he was two years old and then to Pennsylvania a few years after that.
The family lived on a horse farm in Kennett Square, which is between Philadelphia and Wilmington, Delaware. The McNabbs moved back to the Houston area when he was in the fourth grade, where he lived throughout junior high and high school.
McNabb's grandparents were all teachers. But his maternal grandfather left teaching and became a record producer who "knew Elvis and hung out with the Rat Pack in Vegas."
McNabb's interest in being a lawyer was rekindled in junior high when he became involved in speech and debate, particularly in cross-examination policy debate. He later attended Emory University on a full-tuition debate scholarship.
"My experience in policy debate helped prepare me well for law school and being a lawyer," he said. "It taught me that thorough research and preparation is crucial and that strategic thinking and anticipating opposing arguments is invaluable, but also that being able to think on your feet and pivot in an unanticipated direction if needed can be just as important."
During his second year of law school at Harvard, McNabb worked as a research assistant for Professor Arthur Miller, helping revise and supplement Wright & Miller's Federal Practice and Procedure treatise.
"He would hand-edit the sections I turned in so heavily in red ink that it was downright embarrassing in the beginning," he said. "By the end of the year, getting back a lightly edited section felt like receiving a private badge of honor."
McNabb was then offered a clerkship with Judge Carolyn King, then chief judge of the Court of Appeals for the Fifth Circuit.
"Judge King had a reputation for being rather hard on her clerks, and she acknowledged that right away," he said. "On our first day, she told us when we started that it would not be an easy year, but that when we were done we would effectively have a master's in law. We worked long hours, six days a week. I loved the work, which was very intensely focused on research and writing."
At Baker Botts, he was first chair in several jury trials. McNabb remembers his first trial, which caused a déjà vu moment from his first-grade experience.
"The first objection I made was to hearsay," he said. "It was sustained."
McNabb made the move in-house in 2013. A legal recruiter reached out to McNabb's wife about the position at Patterson-UTI.
"Although she was not looking to move in-house at the time, she knew that I was," he said. "It seemed like it would be a great fit for me, and it has been."
"I was drawn to the idea of playing a more strategic role in litigation, a little more removed from the frontline trenches," he said. "I described it at one point as like transitioning from quarterback to offensive coordinator. I was also attracted to being more fully integrated into a company and working closely with the business clients."
Patterson-UTI has expanded during McNabb's decade with the company and now has seven operating companies. It is best known for its drilling services.
"The last five business lines have been acquired since I started," he said. "We have also had considerable vertical growth during my time, including major acquisitions of other drilling and pressure pumping companies."
McNabb scored multiple major litigation victories during the past two years.
"I was drawn to the idea of playing a more strategic role in litigation, a little more removed from the frontline trenches."
Photo: Sharon Ferranti
Two former Patterson technicians with access to the company's rig and power control system source code quit their jobs in late 2020 to go work for a competitor. There was immediately suspicion that they had taken confidential information accessible on personal cloud accounts. There were also missing external drives.
Notified by a vice president at one of Patterson's business units, McNabb quickly mobilized internal IT and human resources and hired AZA to seek a temporary restraining order against the two former workers.
"This required significant coordination on McNabb's behalf, and he was instrumental in both helping the technical and business folks understand the legal issues and outside counsel understand the technical information and business concerns," said White, who was part of the AZA legal team. "McNabb was intimately involved in witness preparation and strategy for that hearing."
The judge granted the TRO just a week later.
As the case progressed, the two employees hired new lawyers who were significantly more aggressive by threatening to dissolve the TRO, demanding more than a dozen depositions that Patterson believed were unnecessary and threatening to subpoena some of Patterson's business partners.
"As an example of his reasonable-but-firm attitude, McNabb was not cowed by new counsel's tactics and was prepared to continue towards trial unless an agreement that was acceptable to Patterson could be reached," White said.
White said McNabb remained firm in the "importance of obtaining meaningful protections for Patterson's confidential information, specifically its source code."
"The dynamics of the case also included hostility between the former technicians and their manager, but neither Patterson nor McNabb let emotions weigh into their decision-making and kept their eye on the ball," she said.
Patterson and the former employees reached a settlement agreement in late 2021.
"McNabb also remained steady during the twists and turns of the litigation, particularly the introduction of new counsel and his highly aggressive approach, when many in-house counsel would have been thrown off," White said. "We credit McNabb's ability to withstand the rollercoaster of litigation to his years of significant work on complex commercial litigation at Baker Botts."
In November 2022, McNabb and Patterson won a multimillion-dollar victory in a separate case.
Patterson suffered a tragic, catastrophic accident at one of its drilling rigs in Oklahoma in 2018. Five wrongful death lawsuits, several personal injury lawsuits and multiple government investigations followed.
McNabb hired and managed attorneys from five different firms. After thousands and thousands of hours of legal work by McNabb and the lawyers involved, Patterson resolved all of the lawsuits.
One of the investigations was led by the Occupational Safety and Health Administration, which brought various regulatory violations against Patterson, most of which were unrelated to the actual accident. The company negotiated a settlement with OSHA on all but one of the alleged violations.
The sole remaining charge claimed the "accident constituted a violation of the general duty clause," which essentially provides that all employers provide a work environment free from recognized hazards that are causing or are likely to cause death or serious physical harm.
McNabb took the case to trial before an OSHA administrative law judge, who ruled in Patterson's favor in 2021.
"Perhaps more importantly, the court's lengthy opinion validated our institutional safety and well control program," McNabb said.
"We were very happy that the court of appeals agreed with us. It was a vindication of our belief that the insurance policy we bought afforded the coverage that the insurance company was trying to deny."
But a separate insurance-coverage dispute arose between Patterson and its carrier, Ohio Casualty, which declined to pay for Patterson's expense in defending the company.
"When Patterson's excess carrier denied covering defense costs that were covered in an underlying policy, McNabb refused to take 'no' as an answer," White said.
McNabb hired AZA to sue the excess carrier.
"AZA has an excellent reputation as a premier trial firm," McNabb said. "We have hired them to defend us in tort cases and to prosecute our claims as the plaintiff in several commercial cases. They are known for being aggressive — which they are, and it is quite effective — but they are very strategic in what they do and give practical advice and counsel."
The lawsuit was successful, as a Harris County district judge granted Patterson summary judgment on the issue of coverage against the excess carrier.
"When the excess carrier appealed, McNabb did not seek to settle for a discount out of fear that the excess carrier would obtain reversal," White said. "Instead, he had faith that AZA's team could hold on to the win on appeal. McNabb approached the appeal with the same thoughtfulness and measure he handles all litigation: He made valuable contributions but deferred to counsel on judgment calls that draw on their particular expertise and practical experience."
In November 2022, the Texas Fourteenth Court of Appeals in Houston ruled in Patterson's favor.
"We were very happy that the court of appeals agreed with us," McNabb said. "It was a vindication of our belief that the insurance policy we bought afforded the coverage that the insurance company was trying to deny."