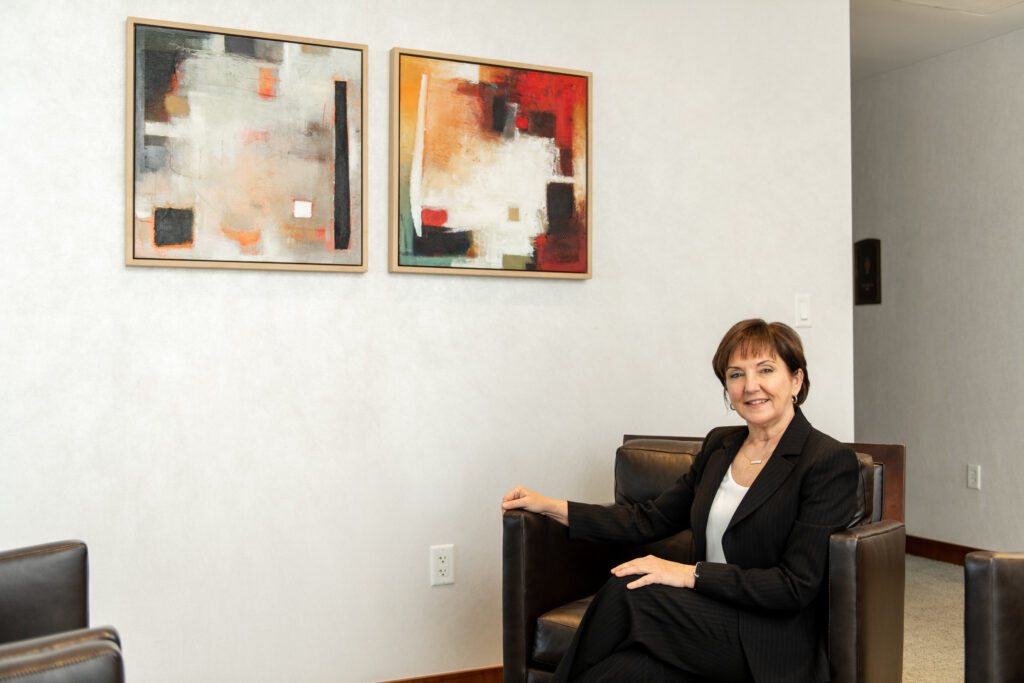 The $17 million breach of contract dispute between fracking sand provider Black Mountain Sand and oilfield services company Propetro Services was heading for trial in 2022 when lawyers for the two companies met Sept. 21, 2022.
In one conference room on the 25th floor of the Fort Worth offices of Kelly, Hart & Hallman, Greenberg Traurig shareholder Karl Dial was pelting Propetro's head of business development with questions in a heated deposition.
As Dial attempted to elicit admissions from the witness, the conference room suddenly opened and Black Mountain Sand General Counsel Kelli Roach interrupted.
"We have an agreement," announced Roach, who had been down the hall in a separate conference room negotiating with her counterparts. "The case is over."
Over the period of several months in 2022, Roach litigated a docket of complaints that generated more than $50 million in settlements for Black Mountain Sand.
"These settlements brought real dollars to the bottom line," she said.
At the same time, Roach led the defense to have the company dismissed from a tragic wrongful death lawsuit, renegotiated several commercial contracts at considerably more favorable terms and implemented Black Mountain Sand's first ESG program.
"Kelli is a one-person dynamo who, in the last year alone, has renegotiated major contracts with almost all major customers, a virtual Who's Who in the energy industry, coordinated a docket of multimillion-dollar cases to successful resolution, and led the company's legal efforts to evaluate and negotiate a possible business combination," Dial said.
The Association of Corporate Counsel's DFW Chapter and The Texas Lawbook have named Roach as a finalist for the 2022 DFW Corporate Counsel Award for General Counsel of the Year for a Solo Legal Department.
ACC DFW and The Lawbook will honor the finalists and announce the winners on Thursday, Jan. 26, at a ceremony at the George W. Bush Institute.
"When multimillion dollars or the company's reputation are at stake, Black Mountain Sand calls on Kelli, knowing she has the tenacity and skills to handle the most intricate matters," said Dial, who nominated Roach for the award. "In this male-dominated industry, she commands the respect of her peers and clients."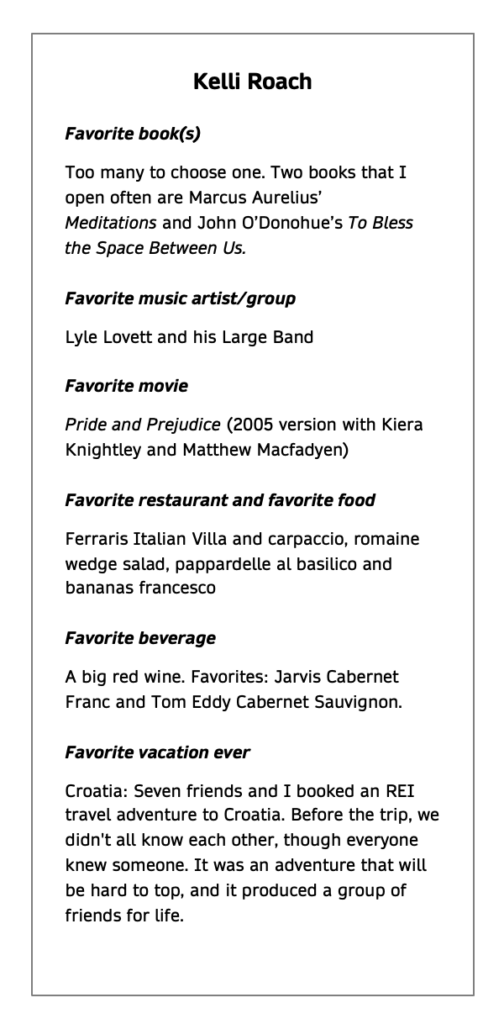 Roach has witnessed turbulent times but also tremendous successes during her 30 months as the chief legal officer at Black Mountain Sand, which produces high-purity sand crystals used for oil and gas fracking.
Michael Hurst, a partner at Lynn Pinker Hurst & Schwegmann, said Roach has brought experience, knowledge and wisdom to the job, as well as a commitment to diversity.
"While she is indeed brilliant, an admirable advocate and talented writer, what makes Kelli amongst the best of GC's is her ability to devise definitive strategies even in the most fast-paced, high-stakes situations," Hurst said. "Kelli has continued to be responsible for quarterly ESG reporting and embedding ESG into the company's culture."
"Kelli serves a s a mentor to women attorneys through the Dallas Bar Association, and she has implemented policies requiring diversity on her outside legal teams," he said.
Black Mountain Sand executives initially interviewed Kelli Roach to be its first ever general counsel in February 2020 when the company was flying high, operating five sand mines around the clock and employing more than 500 people.
By the time Roach took the job in July 2020, the company's financial situation had dramatically changed. The Covid-19 pandemic hit. Oil prices plummeted. The U.S. fell into a recession. Black Mountain Sand idled two of its mines and laid off half of its workers.
Just as Covid restrictions eased and the economy started to return, Winter Storm Uri paralyzed Texas for nearly a week in February 2021, sending temperatures to record lows and interrupting the state's energy industry.
The two years since, Roach has led multiple efforts to help Black Mountain Sand recover and thrive.
"All of my successes in 2022 stem absolutely from the trust I earned of my peers, our corporate and field personnel, outside legal teams and our board of managers, and are a result of an organization — from the CEO to the persons who do the work — that understands and embraces the legal function as a strategic business partner," she said.
"That trust has resulted in broader influence, substantive risk mitigation and the ability to maximize opportunities for the company," Roach said.
Black Mountain Sand CEO Jason Morin says Roach has proven to be a trusted partner of the management team.
"Kelli is very good at gathering facts before deciding on and recommending a course of action," Morin said. "She does not assume she has the whole story after a couple of inputs. "This makes her a great lawyer."
Morin said that Roach has helped "professionalize our organization by creating strong commercial contracts, identifying and managing our risks, and training our people to think at a higher level."
Plus, he said, "Kelli is a world traveler, avid outdoorswoman, and a heck of a soccer player."
"In addition to her first-rate legal advice and strategy, she provides amazingly insightful and valuable counsel on business matters large and small," Morin said. "We are so proud to have her as an indispensable part of our team."
Sheppard Mullin partner Gemma Descoteaux said Roach is a business lawyer, first and foremost.
"She is practical and has the experience that allows her to provide sound and reasoned advice," Descoteaux said. "She isn't a afraid of conflict and knows what it takes to win in court — this makes her an even better negotiator. She is passionate about the outdoors and loves to travel.
"Fly fishing in Montana with good friends is her happy place," she said.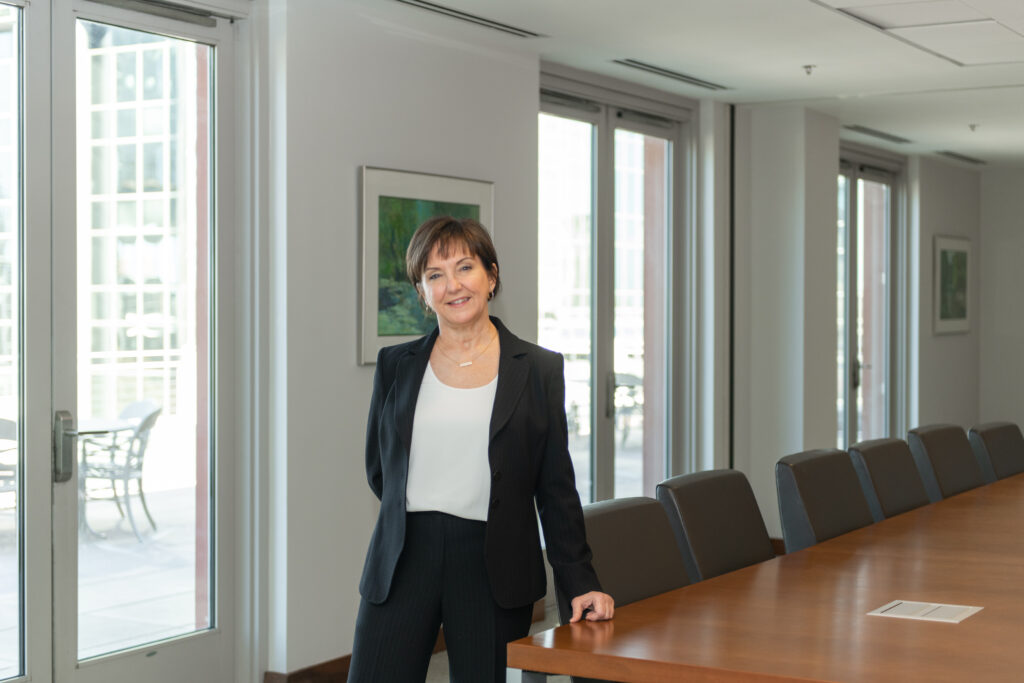 Roach was born in Biloxi, Mississippi, where her father served in the Air Force. When her father earned his law degree at the University of Alabama, the family moved to Plano in 1973 when it was still a small town. He worked for Dallas County District Attorney Henry Wade and became a white-collar prosecutor.
Roach's mother worked in the school district with special needs students.
"My childhood memories are full of long days riding my bike around town to and from friends' houses, putting pennies on the train tracks while walking to school in the mornings and looking for the flattened coins on the way home from school," she said.
Roach said she doesn't remember "wanting to be a lawyer," but she was always interested in what lawyers did.
"There was only one definition of a lawyer that I was aware of growing up, and that was someone in the courtroom, be it lawyer or judge," she said. "I would be well into my career before I understood the depth and breadth of the different roles a lawyer may have."
Roach said that philosophy, business and law were her main interests through high school, college and graduate school.
"I do recall a realization or understanding or perception as a teenager that having a law degree leveled the playing field. What playing field?" she said. "I think in life generally for sure because it seemed to offer options."
Roach said she also believed that earning a law degree would help her win arguments with her father.
"It seems that I was always saying to him, 'That is not what I meant.' And he would reply with, 'Well, that is what you said.' I learned early that words mattered," she said.
Words definitely mattered to her father, John Roach, who became a state district judge in Collin County. Her brother, John Roach Jr., is also a lawyer and is also now a Collin County district judge. His wife, Laura Roach, practices family law.
Roach earned a bachelor's degree in government and politics and a master's degree in international management at the University of Texas at Dallas.
After receiving her doctor of jurisprudence from Southern Methodist University in 1997, she spent four years in the litigation practice at Fulbright & Jaworski. From 2004 through 2011, she ran the Roach Law Group, which acted as an outside general counsel for several business clients.
In 2012, after doing legal work for the company as its outside GC, Antares Energy asked Roach to come in-house as its full-time general counsel and chief administrative officer.
"It was a very difficult decision, given the professional and personal relationships I had developed with my clients over the years, but I accepted the offer and have never looked back," she said.
A colleague at Antares had started an upstream oil and gas company called Monadnock Resources, an Addison-based exploration and production company backed by private equity. The friend asked her to join them as the company's new GC and corporate secretary.
"I had represented oil and gas clients funded by private equity and was aware of the entrepreneurial excitement involved from entry to exit as well as the challenges, but this offer provided the additional opportunity to participate in the funding raising," she said.
In 2020, Roach made her move to Black Mountain Sand, which was a portfolio company of NGP Energy Capital. Black Mountain Sand produces about 17 million tons of in-basin frac sand to E&P companies in the Permian Basin and Eagle Ford Shale.
Premium Subscriber Content: Click Here to read Mark's Curriden's Q&A with Kelli Roach, who dishes on being a solo GC, her best day on the job, how she hires outside counsel, mentoring and her hero in life.
Because she joined Black Mountain Sand during the Covid shutdown, she had to learn the business and build internal relationships in a remote environment.
Despite the pandemic-related limitations, the company needed Roach to develop a clear understanding of the business' goals and help the company navigate the business uncertainties created by the economic fall-out from Covid shutdown.
"I addressed this by identifying and prioritizing where my skillset and experience could have a positive impact then and in the post-pandemic environment, mitigating the risks associated with the changing environment and capturing opportunities," she said.
Roach visited the company's plants and mines, learned the lifecycle of Black Mountain Sand's products and met regularly with the commercial team and supply chain teams to discuss challenges, concerns and processes.
Over and over, officials at all levels heard one question from Roach.
"How can I help?"
Roach said that the challenges of 2022 started with operational issues with some of Black Mountain Sand's mines that "caused unplanned downtime and a strain on our commercial obligations."
Those early operational strains coupled with "another reset in the oil and gas industry resulting in the opportunities for higher frac sand prices" caused a significant increase in the number and complexity of commercial agreements, renegotiation of existing agreements, continued supply chain issues and additional litigation to enforce contractual obligations.
In March 2022, Black Mountain Sand was sued by the family of a tractor-trailer driver who died after his truck crashed with another tractor trailer exiting the Black Mountain Sand Park in Winkler County in West Texas.
Lawyers for the family sued Black Mountain Sand in El Paso claiming that the company had a "duty of ordinary care to make the ingress and egress to its facilities safe to the public" using the state highway.
Roach accepted service of the lawsuit, contacted the company's insurance provider and chose outside litigation counsel at Greenberg Traurig.
"I investigated the incident by reviewing reports and articles and speaking with our team at the facility in front of which the incident occurred," she said. "I spotted a handful of issues with the plaintiff's allegations of Black Mountain Sand's liability. The facts would not support the claims as a matter of law. I provided the basis or support for our strategy and litigation counsel provided the case law and legal path to effectuate it."
Greenberg Traurig filed the motion to dismiss in May 2022 and the judge agreed and granted the motion a couple months later.
"The accident was tragic," Roach said. "The lawsuit was particularly important to Black Mountain Sand because of the precedent it could set, in addition to the real-dollar costs of defending the litigation and the resources it would require."
Dial, in nominating Roach for DFW General Counsel of the Year, said she has already developed an impressive record in her short time at Black Mountain Sand.
"In 2022, as part of the fallout from the oil industry cratering in Spring 2020, Kelli led the effort to pursue numerous lawsuits against customers who did not pay what their contracts required, a rare approach in the oil industry to force compliance with contractual obligations instead of relying on future relationships to allow breaches without recourse," Dial said.
"Her fearless attitude and strategic approach allowed her to advocate passionately for the company, saving them money and securing their stellar reputation," he said.
Jeff Zlotky, the general counsel of NGP Energy, said Roach was the ideal GC to handle the transactional, commercial, regulatory and litigation issues for Black Mountain Sand.
"Kelli is a ferocious advocate," Zlotky said. "Her extensive experience allows her to solve problems and skillfully minimize risks, whether those risks arise at the corporate level or at the field level. Her keen insight into the company's business serves the company well as it executes on its business strategy."
"In the most difficult situations, Kelli is also able to maintain a calm demeanor and a sense of humor," he said. "In an industry like the oil and gas industry, one needs a sense of humor."