The first six months of 2020 were not good for corporate law firms that do mergers and acquisitions in Texas.
In fact, H1 2020 downright sucked.
Eleven of the top dozen corporate law firms did fewer transactions involving Texas-based businesses between Jan. 1 and June 30 than they did the year before, according to new data from the research firm Mergermarket provided exclusively to The Texas Lawbook.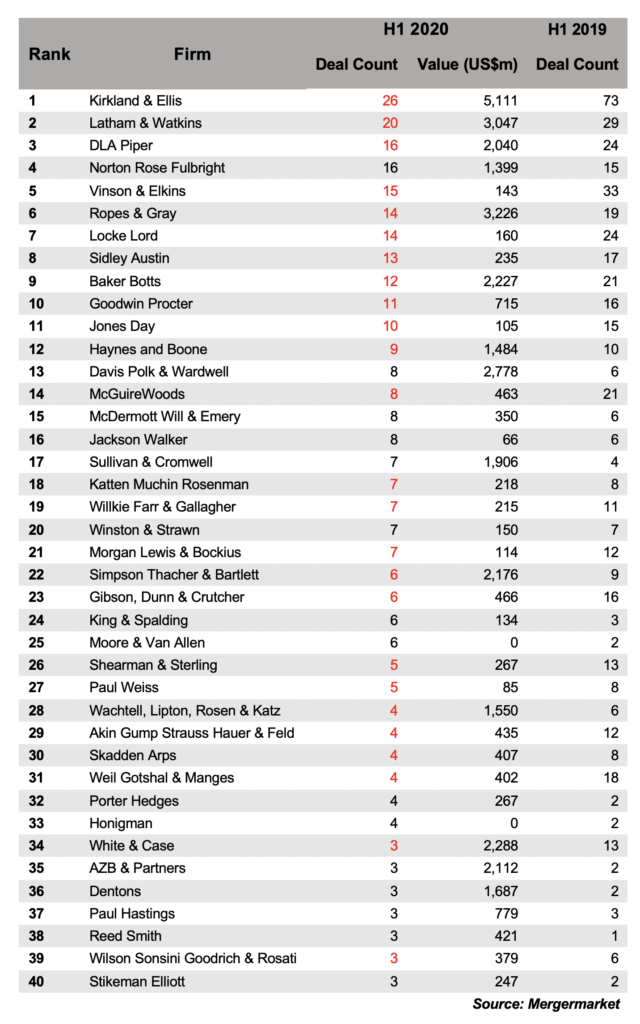 Eleven law firms worked on 10 or more deals during the past six months, while 20 firms reached double digits during the same period last year.
Twenty-five of the top 40 corporate M&A law firms did fewer transactions in H1 2020 than in H1 2019. Only 13 of the 40 saw an increase.
But the most astonishing statistic in the Mergermarket data for the first half of 2020 is this: Not a single law firm represented 30 or more Texas companies in M&A transactions during a six-month time period – breaking a 13-year run.
Kirkland & Ellis retained its top rank as the legal advisor doing the most deals in Texas during the first half of the year, even though the Chicago-founded law firm saw its deal count drop from 73 in the first six months in 2019 to only 26 transactions this year – a decline of 64%.
Kirkland also ranked No. 1 in deal value at $5.1 billion, which is down from $11 billion last year. It has been 14 years since a firm did not surpass a deal value of $7.5 billion during a six-month timeframe.
Latham & Watkins, a firm founded in Los Angeles, ranked second with 20 Texas deals during H1 2020 – down from 29 a year ago. Latham ranked third in Mergermarket's deal value ranking with $3 billion – down from $24.2 billion during the same period in 2019.
Kirkland and Latham are the only firms that did 20 or more transactions.
DLA Piper and Norton Rose Fulbright each worked on 16 transactions during the first six months of this year. Norton Rose Fulbright is the only law firm in the top dozen that increased its deal count during H1 2020 over a year earlier – from 15 to 16.
Rounding out the top five is Vinson & Elkins, which did 15 transactions for Texas corporations in the first half of the half of this year – down from 33 in H1 2019.
Locke Lord, Sidley and Baker Botts were in the top 10.
Only 20 law firms reported doing deals with a combined value of $1 billion or more. In each of the past nine Mergermarket reports on six-month M&A activity, it took $1 billion in combined deal value to even make the top 40 list.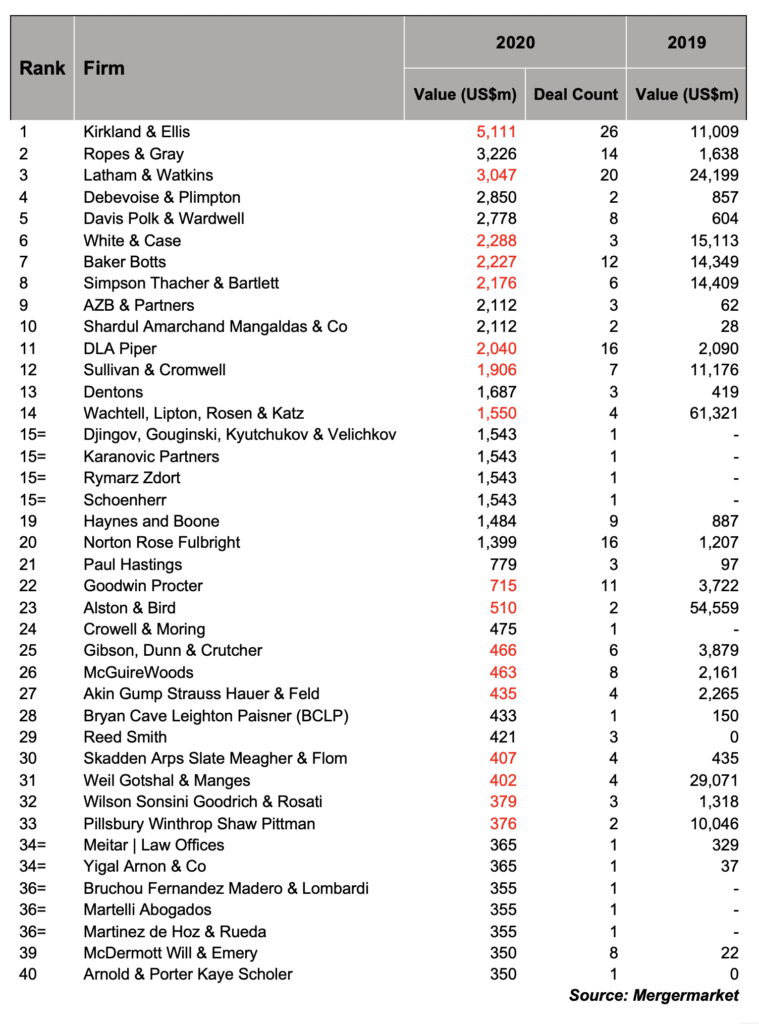 Seventeen of the top 40 legal advisors didn't even have a combined deal value of $500 million in H1.
Charlotte, North Carolina-based Moore & Van Allen witnessed the largest increase in deal count during the first half of 2020 – from two to six transactions. King & Spalding and Sullivan & Cromwell each did three more deals this year than during the same six months last year.
Jackson Walker, Reed Smith, McDermott and Porter Hedges increased their deal count by two during the first half of this year.