© 2017 The Texas Lawbook.
By Lara Hollingsworth
I remember the exact moment when I decided that I wanted to be a lawyer. I was 8 years old and my dad told me that if I went to law school he would buy me a car! Even at 8, I knew this was a good deal. Of course, looking back now, I know my dad made the offer in jest, and I know that I did not go to law school because I wanted a car. I went to law school because I wanted to be just like my dad.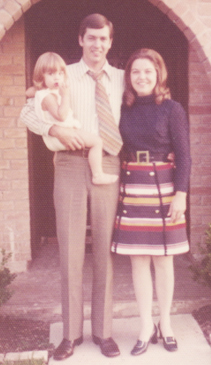 My dad Jim Hudgins became a lawyer in 1973, when I was only 2. He worked during the day to support us and attended night school at South Texas College of Law to become a lawyer. My dad was not known for his prowess as a student. My mom tells stories of having to lock him in a room to make sure he studied. But what he lacked in studiousness, he made up for with amazing instincts. My father has always had a keen understanding that the law is about doing what is right by people. And, he has never refused to help someone in need.
My dad did what I could never imagine doing, he began his career as a lawyer by starting his own firm. Along with his brother and his brother-in-law, my dad joined forces to create Hudgins, Hudgins & Warrick. They created a true family practice—my grandmother was the bookkeeper, and my cousins and I were file clerks, interns, law clerks, and eventually lawyers. My dad, uncle and cousins still practice together today. They even convinced my mom, one of the few non-lawyers in the family, to work at the firm.
My dad has always been more than a lawyer role model; he has embodied all that you could hope for in a father. In high school, I announced that I wanted to re-enact the oral arguments of Roe v. Wade for my history fair project, and that I wanted to portray Sarah Weddington. My dad was all in. He was my producer, my legal researcher, and my set locator (convincing now retired Judge Bill Yeoman to let us film in his courtroom). Most importantly, he was my champion. He gave me the strength to hold my head up high when kids at school did not take kindly to my advocacy on behalf of Jane Roe, and he taught me how to stand up for what I thought was right even though it might be unpopular and difficult.
When it was time for me to pick a law school, my dad supported me choosing my own path. My entire family of lawyers had attended at South Texas College of Law. I, however, decided to attend Baylor Law School. My dad was the first to tell me I had made the right choice. Then, when I first returned to Houston as a young lawyer and a new wife, he gave me a job. And, when it came time for me to choose between practicing with my father or practicing with my husband, he did not hesitate to make the decision easier. He reminded me that family always comes first and that family now included my husband.
As good a lawyer as my father is, he is an even better dad. He taught me lessons about how to be good lawyer – don't threaten to do something unless you are willing to follow through with it, always take your clients' calls or call them back the same day, calendar everything right away, and check your calendar every day. But more than anything he taught me how to balance being a lawyer and a parent. He taught me how to be a mom first and a lawyer second. He taught me that you do not have to sacrifice family to be a great lawyer for your clients. He didn't just tell me these things; he showed me by example. His time spent at home, on the playing fields, at awards assemblies, and at birthday parties was sacrosanct. Although I am sure that he missed some of my activities, I honestly don't remember any important event in my life at which he was absent. Even to this day, he takes my panicked phone calls about broken toilets and car problems, and he is always there to dry my tears when I need him most.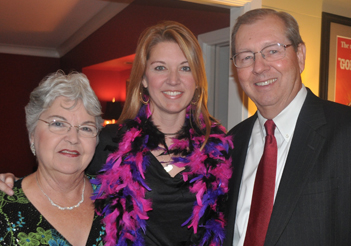 Much like I was, my three children are surrounded by a family of lawyers. My hope is that they see what I saw – the law is a wonderful profession. It is hard, but it can provide a real opportunity to make a difference in people's lives. I hope my children will remember their lawyer-parents the way I remember my dad. Perhaps my children won't recall that the cookies we brought to the class party were store-bought, or that mom and dad had to watch the spelling bee over FaceTime, or that their granddad coached first base for a few games because dad was out of state in trial. Instead, I hope they recall that mom and dad (and papa), who are hard-working lawyers, made family a priority and were there to cheer them on, pick them up when they fell, and let them go when it was time for them to fly on their own.
Lara Hollingsworth is Of Counsel with Rusty Hardin & Associates, LLP, in Houston.
© 2017 The Texas Lawbook. Content of The Texas Lawbook is controlled and protected by specific licensing agreements with our subscribers and under federal copyright laws. Any distribution of this content without the consent of The Texas Lawbook is prohibited.
If you see any inaccuracy in any article in The Texas Lawbook, please contact us. Our goal is content that is 100% true and accurate. Thank you.