Lawyers who were hoping for a wave of litigation to emerge from COVID-19 should perhaps plunk down with a pitcher of piña coladas before grabbing their surf boards.
Despite a flurry of coronavirus-related business litigation predicted when the pandemic hit the U.S. this spring, several legal experts in Texas say that the legal market is yet to be as slammed with COVID-19 lawsuits as predicted.
"We have not seen a flood of litigation, said Eric Hail, a partner in Hunton Andrews Kurth's Dallas office. "I don't think clients are running around looking for lawyers right now. I think we're waiting for a shoe to drop, and we're expecting it to … at this point, the floodgates certainly haven't burst by any stretch."
To be sure, some coronavirus-related work has been steady in Texas. Businesses have continued to sue their insurers for denying business interruption claims since the stay-at-home orders began circulating around the state in March. One of the most recent, high-profile examples came last week when the Houston Rockets sued its insurer for such claims.
According to Hunton Andrews Kurth's COVID-19 Complaint Tracker, nearly 20% of the 251 coronavirus-related lawsuits that have been filed as of July 23 were related to insurance business interruption insurance claims.
Corporate bankruptcies continue to be filed at a staggering rate because of the pandemic. These have already begun to generate litigation work as adversary proceedings and other lawsuits tied to reorganizations get filed by creditors and other parties. With layoffs running rampant at companies large and small, labor and employment litigation is also getting hot. HuntonAK's tracker currently shows 26 labor employment disputes, 55 civil rights and habeas cases, 34 contract disputes, 40 real estate disputes and 14 consumer complaints.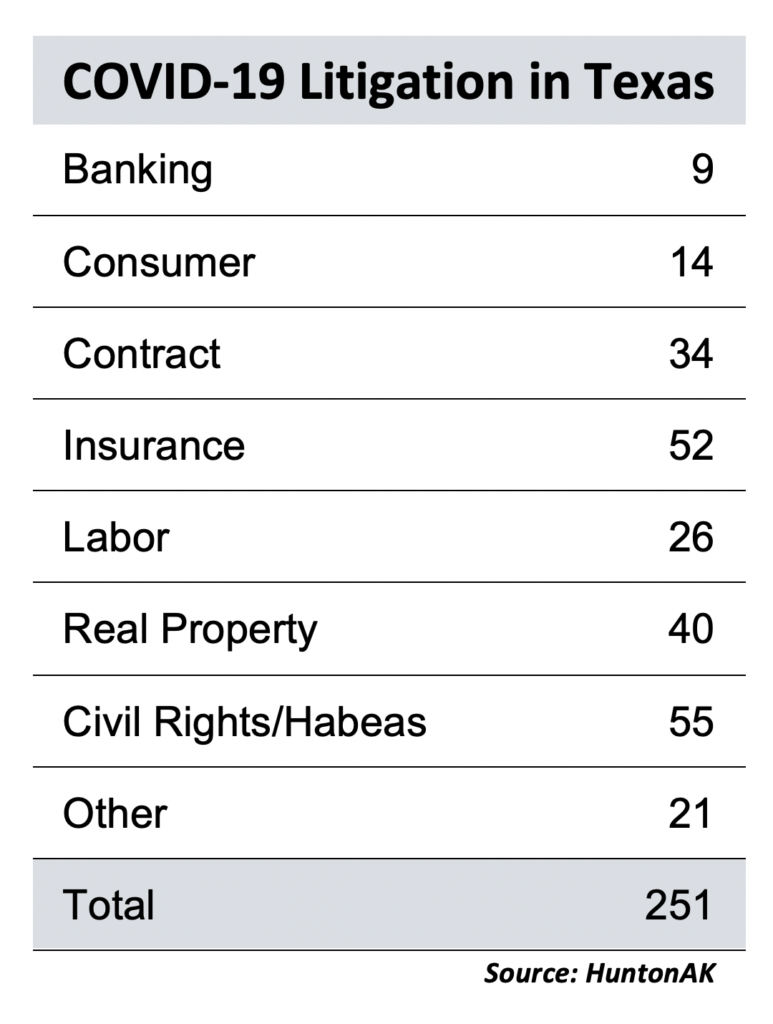 Still, other initially buzz-worthy areas of the law, such as business-to-business litigation tied to force majeure clauses in contracts, have not produced the immediate high volume of work that many predicted.
"I think some people come out and say things like that figuring that at some point, they'll be right," said Tom Melsheimer, managing partner of Winston & Strawn's Dallas office. "Like if I predict rain, someday it's going to rain. I think some of that was a little bit uninformed speculation in terms of what it would look like and what will happen."
The force majeure suits that have surfaced have not been large dollar-wise, other experts say. Many such suits that have surfaced on HuntonAK's tracker have been brought by individuals, such as still-betrothed couples suing their wedding venues.
"The force majeure suits have been smaller in nature, and I think part of that is because people still are waiting for the fog to clear with COVID itself," said Louie Layrisson, a partner in Baker Botts' Houston office who specializes in energy litigation. "There's still so much uncertainty about what the recovery might look like, how long it will take and whether people can just hold on and avoid disputes rather than having to escalate."
One of the obvious factors for the overall sub-par level of activity is circumstances are unprecedented. And with an unpaved road, many prefer to take time to process before acting.
"If anything there are a lot of corporate clients taking a wait and see approach for a couple of months to see how the courts reopen," said Collin Cox, a partner at Yetter Coleman.
There's also the fact that summer just tends to be a slower time for litigation in general. And summer 2020 happens to fall in a period when the pandemic has only been prevalent in the country for a few months — leaving little history to analyze which COVID-19 lawsuits have gained traction and which didn't.
"As lawyers get more creative and see what works and what doesn't work, some will get traction and others will morph," said Scott Incerto, a partner in Norton Rose Fulbright's Austin office and co-head of the firm's U.S. commercial litigation group. "[You] might have to turn and twist and fall, but eventually something will come out of it. We'll figure out over the course of the next few months which claims gain traction and which don't."
Summer 2020 also comes at a time when corporate budgets are thin as many companies cut costs to try to weather through the economic havoc the pandemic is reaping.
"There's no doubt that most in-house counsel are trying to conserve cash where they can," Hail said. "It's going to extend to every vendor and legal service provider that they've got. We've seen pockets of conservation, and that's driving an effort to not litigate. For some companies it's an existential situation, and the last thing they may do is go worry about paying lawyers to bring a claim that may not itself be material enough to focus on."
Experts say companies in the oil patch have also been slow to sue each other for coronavirus-related fallouts.
Layrisson pointed out that while many energy projects are currently being reevaluated due to the economic fallout, they are yet to be "formally cancelled or delayed or suspended in a way that requires the parties to sue each other.
"In other words, a number of projects are kicking the can down the road to see if they're still viable," he said. "I think parties hesitate to sue joint ventures or partners on projects or parties where there is a longer-term commercial relationship to keep in mind."
Experts say a bigger problem might be looming: Litigation — pandemic-related or not — is screeching to a halt in many areas due to the courthouses across the state remaining closed. This is still a phenomenon even as many other cases continue to make decent progress remotely.
Experts say cases filed in heavily-docketed areas like Harris County and Dallas County will especially have an impact on firms as they remain closed for in-person proceedings. Numerous jury trials have been postponed until next year — considered, at least for now, as a safer time to try cases as opposed to this fall, when the Texas Supreme Court's stay on jury trials is currently scheduled to get lifted. With those delays come financial pain for Texas law firms, experts say.
"It's going to affect everybody that has cases at the state courthouse, even if you mainly practice federal arbitration," Melsheimer said. "There are all kinds of exceptions, but fundamentally, that alone is going to be a challenge for law firms for the rest of the year.
"The truth is, when you cannot go to a court in Dallas County and put 12 or six citizens in the box to decide a case … there is less work happening," Melsheimer added.
While Melsheimer said there is still "plenty of work to do" remotely such as discovery and writing motions, "if you cannot get a case resolved by jury trial in the courthouse, it's going to have a material effect on business, whether you're a car wreck lawyer, antitrust lawyer or whether you're any kind of lawyer."
However, lawyers don't deny that an uptick in cases will eventually come. While it remains to be seen when, exactly that flood might occur and how heavy the flood will be, some believe it will happen as early as this fall.
"As fatigue sets in with businesses accommodating other businesses and businesses accommodating consumers, I think that a shoe is dropping," Hail said. "At some point, these parties have no choice but to exercise and protect their rights, and they will have to do it in court. As these deferments come to an end and people run out of cash that may have been stockpiled to get through the short term, that is just where it's going to end up."
That said, some lawyers say their clients are already litigating and have seen no slowdown in activity.
"To the contrary, our firm has been as busy as it's ever been," said Todd Mensing, a partner at Ahmad Zavitsanos, Anaipakos, Alavi & Mensing. "As you often see in economic downturns, we are experiencing an increase in activity because companies and individuals have an increased interest in fighting for what they're entitled to rather than letting things slide.
"I think you're going to see a continued trend of companies breaking commitments under the strain of our current environment, even though they're not excused under the contract and offering up excuses to mask the real reason," he said. "That's going to lead to lawsuits."