Even a global pandemic did not keep Kirkland & Ellis from racking up M&A deals in Texas during the past year.
For the fifth consecutive year, Kirkland lawyers were the legal advisors handling the most corporate transactions involving Texas based businesses in 2020, according to new data provided exclusively to The Texas Lawbook by the independent research firm Mergermarket.
Latham & Watkins and Vinson & Elkins, for the sixth year out of the past seven, occupied the second and third rankings for total deal count. Locke Lord and Norton Rose Fulbright rounded out the top five.
Only eight of the top 50 law firms representing Texas businesses as buyers or sellers are Texas-based. The eight include Baker Botts, Akin Gump, Haynes and Boone, Jackson Walker, Locke Lord, Bracewell, V&E and Porter Hedges.
In 2013, which was the first year of the partnership between Mergermarket and The Texas Lawbook, 26 of the top 50 law firms ranked by deal count were headquartered in Texas.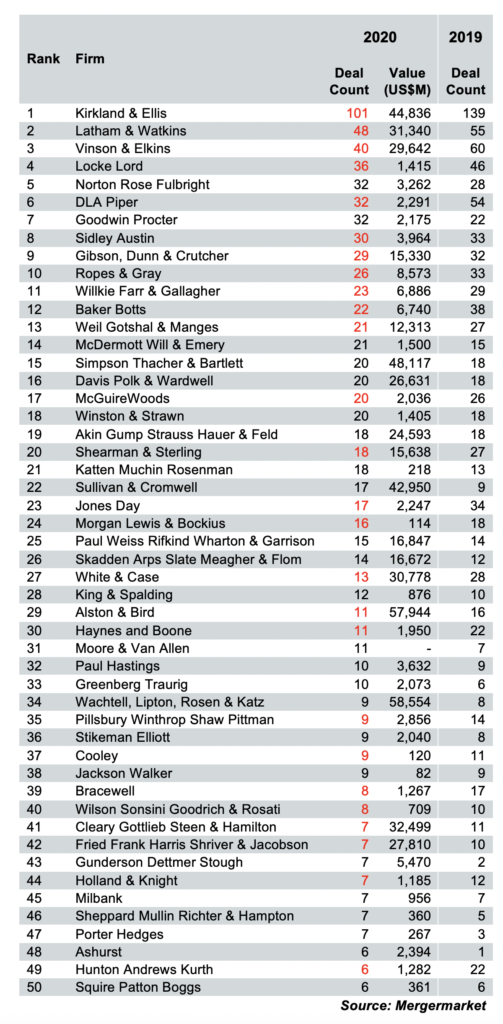 Twenty-seven of the top 50 law firms had a decline in the number of M&A deals they handled in 2020 from the year before.
As Texas Lawbook M&A writer Caroline Evans reported earlier this week, M&A involving Texas businesses declined 19% in 2020 from 2019.
Wachtell Lipton, which has no Texas office, tops the high-profile but less important ranking of Texas M&A by deal value. The Midtown Manhattan powerhouse was involved in only nine transactions in 2020, but those nine deals had a combined $58.5 billion price tag. The firm represented Speedway in its $21 billion sale to 7-Eleven and ConocoPhillips in its $13.3 billion acquisition of Concho Resources. It also advised BBVA in the banks $11.6 billion purchase of PNC Financial Services. Wachtell ranks 34th in deal count.
The Atlanta-founded law firm Alston & Bird ranked second in deal value by mostly representing financial institutions and third parties in large transactions. The firm worked on 11 deals with a combined value of $57.9 billion.
Simpson Thacher, Kirkland and Sullivan & Cromwell are also in the top five for deal value.
Only four of the top 50 law firms – V&E, Akin Gump, Baker Botts and Haynes and Boone – ranked by deal value are headquartered in Texas.
In fact, 23 of the top 50 firms in the deal value rankings don't have a Texas office at all.
A handful of law firms – Goodwin Proctor, McDermott, Katten Muchin, Sullivan & Cromwell, Sheppard Mullin and Porter Hedges – did 20% or more M&A transactions in 2020 than they did the year before.
Porter Hedges, which ranked 100th in 2019 with three deals, jumped to 47th in 2020 with seven transactions.
A London-based law firm named Ashurst, which has no offices in Texas, worked on six deals in Texas in 2020 – five more than in 2019. As a result, the firm jumped from the 207th ranking in 2019 to 48th in 2020.
Nineteen of the top 50 law firms increased their deal count in 2020. Four were involved in the same number of transactions as 2019.
Locke Lord, Baker Botts, V&E and Bracewell worked on fewer M&A deals in 2020. Akin Gump and Jackson Walker lawyers were involved in exactly the same number of transactions last year as in 2019.
Norton Rose Fulbright, which is the second largest law firm in Texas by headcount, increased its deal count from 28 in 2019 to 32 last year and jumped from 13th to No. 5 in the Mergermarket rankings.
The top four law firms ranked by deal count – Kirkland, Latham, V&E and Locke Lord – had significant declines in the number of Texas M&A they did in 2020.
Lawyers at V&E, widely viewed as one of the world's leading energy law firms, worked on 40 M&A deals involving Texas businesses last year – a 33% decline from 2019.
Locke Lord's deal count dropped 21% – from 46 transactions in 2019 to 36 in 2020. Latham worked on 12% fewer mergers and acquisitions in 2020.
Then there is Kirkland. The Chicago-founded firm worked on 101 deals involving Texas companies or private equity firms in 2020, which is a 27% decline from the record-smashing 139 transactions it handled in 2019.
Even so, the 101 deal count is the second highest in history, according to Mergermarket. It is also the third consecutive year that Kirkland has hit triple digit deal count. No other law firm has even worked on 90 transactions.
Editor's Note: The Texas Lawbook will publish the exclusive Corporate Deal Tracker law firms and lawyer M&A rankings next week. While Mergermarket identifies law firms that worked on transactions involving Texas-headquartered companies, the Corporate Deal Tracker documents all M&A handled by lawyers in Texas regardless of whether the deals had any connections to Texas at all.