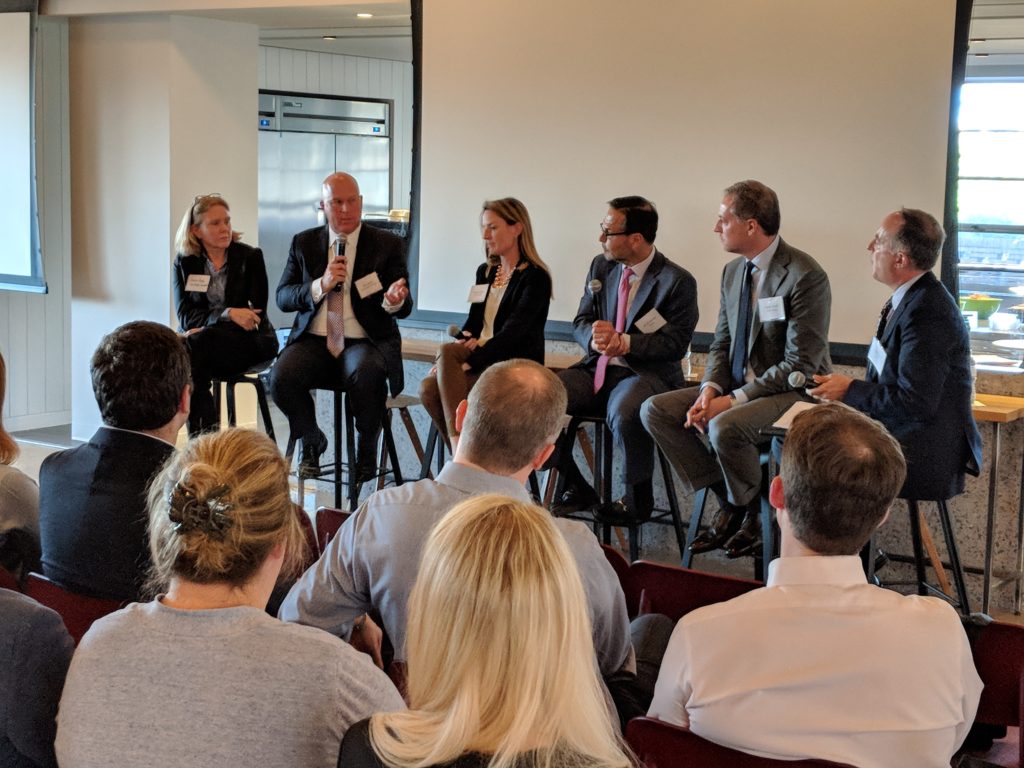 Everything is bigger in Texas, as the popular saying goes, but not in terms of dealmaking in the third quarter.
Two new data reports show a significant decline in mergers, acquisitions and joint ventures involving Texas companies and Texas lawyers during July, August and September of this year. Observers blame trade wars and economic concerns as the culprits.

M&A activity in the third quarter fell 31% in terms of deal count over the same three months in 2018, according to new Mergermarket data provided exclusively to The Texas Lawbook.
Total deal count with Texas-based companies as buyers or sellers during the third quarter fell to 204 transactions worth $37.7 billion – down from 255 deals valued at $130 billion in the second quarter and 295 worth $160.7 billion in the third quarter of last year.
Mergermarket reports that it was the 25th consecutive quarter with a deal count above 200, but it was the lowest volume of M&A in Texas since the second quarter of 2013.

For the first nine months of this year, the number of deals declined to 712, versus 874 for the same period last year. Total value slid 41.9% to $192.3 billion, compared with $331 billion at the same time last year, according to Mergermarket.

Separately, dealmaking involving Texas lawyers – no matter the location of the clients' headquarters – also was down in the third quarter, according to The Texas Lawbook's Corporate Deal Tracker.
There were 124 deals valued at $71 billion in the third quarter compared with 138 transactions worth $158.3 billion at the same time last year, according to the CDT.

Conditions in the first nine months improved on a deal count basis, however, with the number of transactions reaching 416 valued at more than $235.4 billion compared with 347 transactions worth $296.5 billion in the same period last year.
Weil, Gotshal & Manges partner Jim Griffin, who spoke at an M&A CLE event in Dallas on Wednesday hosted by The Lawbook, blamed the government shutdown for dampening enthusiasm for deals earlier in the year but said conditions appear to be picking up this quarter.

"There are a lot of industries that are active right now," he said. "It wasn't that way during the first several months of the year – partially because of the government shutdown."
While 2019 has been weak so far, there's still been more deal activity over the last six or seven years than ever before, according to Katten Muchin Rosenman partner Mark Solomon, who also spoke at the event.
"The thriving economy, low interest rates and strong capital markets have encouraged dealmaking," he said.
Solomon said public exits aren't being discussed very often right now but he's seeing a lot of private equity trades.
"There is still a ton of dry powder out there," he said. "We are still seeing a seller's market. It's very frothy – not unusual right now to see two or three bidders per deal."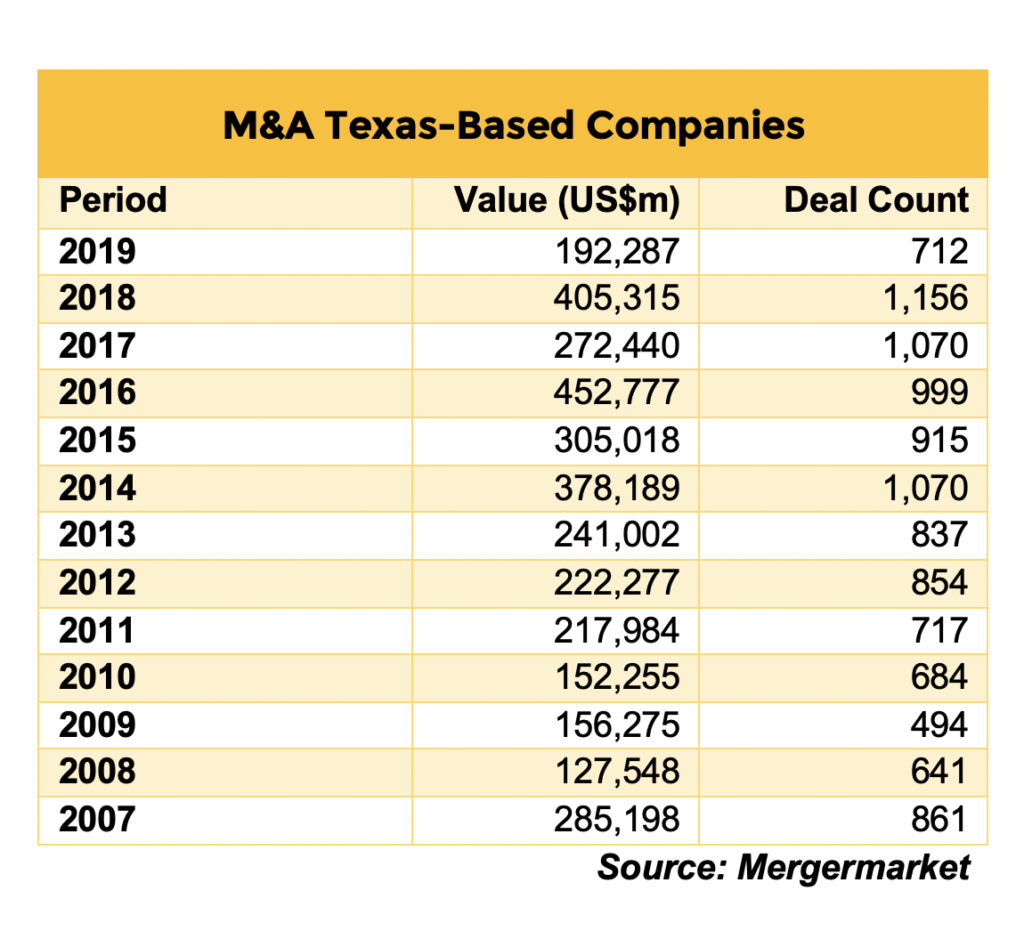 Not surprisingly, the energy, mining and utilities sector made up the biggest chunk of deal activity involving Texas companies so far this year, according to Mergermarket, with 134 transactions worth $122.6 billion, or 63.8% of the year's total deal value.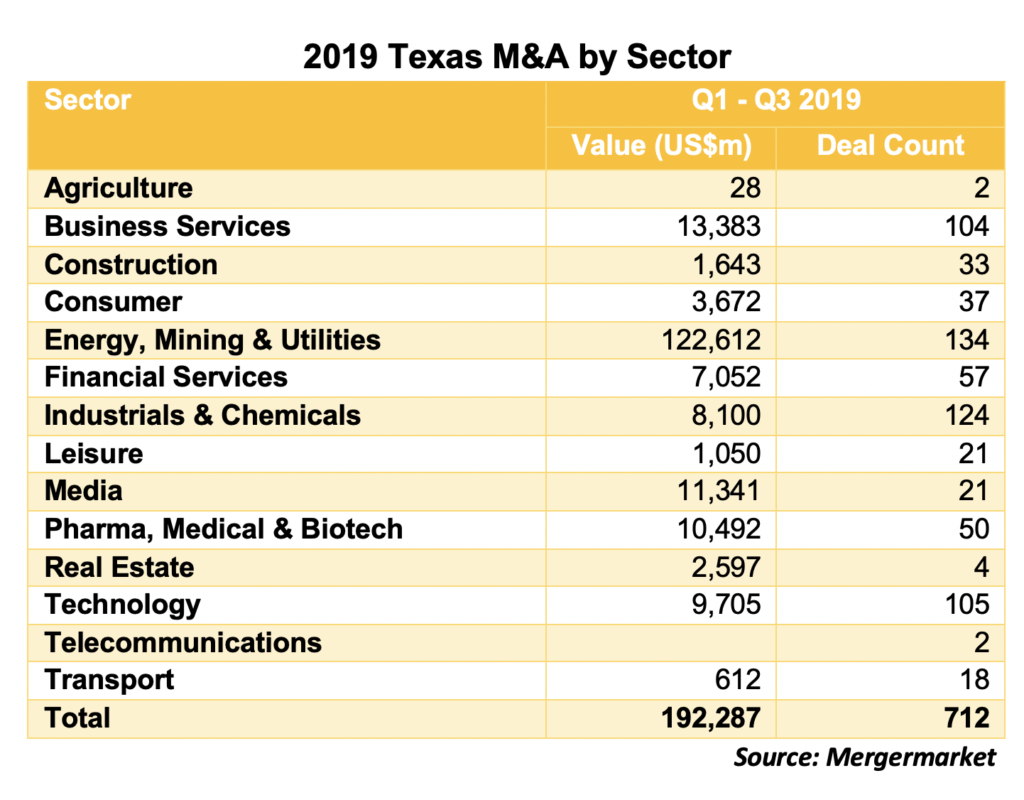 Anadarko Petroleum's $54 billion purchase of Occidental Petroleum – and its $8.8 billion sale of its African assets to Total – certainly helped boost the energy industry's numbers, along with Buckeye's $10.2 billion purchase by IFM Investors, both of which were announced in May.
The energy industry was followed in the ranking by business services with 104 deals worth $13.3 billion, or 7% of the market (highlighted by Waste Management's $4.8 billion purchase of Advanced Disposal Services); media with 21 transactions valued at $11.3 billion, or 5.9% of the market (helped by Sinclair Broadcast Group's $9.6 billion purchase of Fox Sports Net); and pharma, medical and biotech with 50 deals worth $10.5 billion, or 5.5% of the market (aided by 3M's $6.7 billion acquisition of Acelity).
The next biggest sectors were technology, which racked up 105 deals valued at $9.7 billion, or 5% of the market; industrials and chemicals, which hit 124 deals worth $8.1 billion, or 4.2% of the market; and financial services, which generated 57 transactions valued at $7 billion, or 3.7% of the market.
"Because of the challenge in the Sabre deal [for Farelogix], tech companies are a little hesitant [to do deals] right now," Weil's Griffin said.
Top Texas M&A Deals 2019 Q3
Source: Mergermarket (Scroll Right for More Columns)
Date Announced
Value (US$M)
Target
Target Sector
Target Legal Advisors
Buyer
Bidder Legal Advisors
Seller
Seller Legal Advisors
1
May 9, 2019
$54,388
Anadarko Petroleum Corporation
Energy, Mining & Utilities
Wachtell, Lipton, Rosen & Katz
Advising FA : Fried Frank Harris Shriver & Jacobson
Occidental Petroleum Corporation
Cravath, Swaine & Moore; Freshfields Bruckhaus Deringer
Advising FA : Weil Gotshal & Manges
2
May 10, 2019
$10,188
Buckeye Partners LP
Energy, Mining & Utilities
Cravath, Swaine & Moore; Vinson & Elkins
Advising FA : Cleary Gottlieb Steen & Hamilton
IFM Investors
Allen & Overy; Baker Botts; White & Case
Advising FA : Shearman & Sterling
3
May 3, 2019
$9,600
Fox Sports Net LLC
Media
Sinclair Broadcast Group Inc
Fried Frank Harris Shriver & Jacobson; Latham & Watkins; Pillsbury Winthrop Shaw Pittman; Thomas & Libowitz
Advising FA : Simpson Thacher & Bartlett; Weil Gotshal & Manges
The Walt Disney Company
Covington & Burling; Cravath, Swaine & Moore
4
May 5, 2019
$8,800
Anadarko Petroleum Corporation (Algerian assets in the Berkine basin) (24.5% stake); Anadarko Petroleum Corporation (Assets in Ghana in Jubilee field) (27% stake); Anadarko Petroleum Corporation (Assets in Ghana in TEN fields) (19% stake); and Anadarko Petroleum Corporation (Assets in Mozambique in Area 1) (26.5% stake)
Energy, Mining & Utilities
Total SA
Weil Gotshal & Manges
Anadarko Petroleum Corporation
Cravath, Swaine & Moore
5
May 2, 2019
$6,725
Acelity
Pharma, Medical & Biotech
3M Company
Cleary Gottlieb Steen & Hamilton
Advising FA : Alston & Bird
Apax Partners LLP; Canada Pension Plan Investment Board; and Public Sector Pension Investment Board
Jackson Walker; Simpson Thacher & Bartlett
6
April 15, 2019
$4,840
Advanced Disposal Services Inc
Business Services
Mayer Brown; Shearman & Sterling
Advising FA : Sullivan & Cromwell
Waste Management Inc
Simpson Thacher & Bartlett; Vedder Price
Canada Pension Plan Investment Board
Debevoise & Plimpton
7
September 26, 2019
$4,500
Exxon Mobil Corporation (Norwegian oil and gas assets)
Energy, Mining & Utilities
Var Energi AS
Thommessen
Exxon Mobil Corporation
8
April 14, 2019
$4,400
Epsilon Data Management LLC
Business Services
Publicis Groupe SA
Wachtell, Lipton, Rosen & Katz
Alliance Data Systems Corporation
Latham & Watkins
Advising FA : Sullivan & Cromwell
9
August 27, 2019
$4,000
BP plc (Alaska business)
Energy, Mining & Utilities
Hilcorp Energy Company
Kirkland & Ellis
BP plc
Baker Botts
10
September 16, 2019
$3,613
SemGroup Corporation
Energy, Mining & Utilities
Kirkland & Ellis; Osler, Hoskin & Harcourt
Energy Transfer LP
Latham & Watkins
Warburg Pincus LLC
Davis Polk & Wardwell
11
April 2, 2019
$3,600
Oryx Midstream Services LLC
Energy, Mining & Utilities
Shearman & Sterling; Vinson & Elkins
Advising FA: White & Case
Stonepeak Infrastructure Partners
Hunton Andrews Kurth; Latham & Watkins; Sidley Austin
Concho Resources Inc; Quantum Energy Partners; Post Oak Energy Capital LP; and WPX Energy Inc
12
April 1, 2019
$2,959
OOO Lenta (92.57% stake)
Consumer
Ogier
Severgroup OOO
Freshfields Bruckhaus Deringer
TPG Capital LP; and VTB Capital Private Equity
Cleary Gottlieb Steen & Hamilton
13
July 15, 2019
$2,930
Carrizo Oil & Gas Inc
Energy, Mining & Utilities
Baker Botts; O'Melveny & Myers
Advising FA: Gibson, Dunn & Crutcher
Callon Petroleum Company
Kirkland & Ellis
Advising FA: Davis Polk & Wardwell
14
April 18, 2019
$2,675
ConocoPhillips Company (UK oil and gas business)
Energy, Mining & Utilities
Chrysaor Holdings Limited
Clifford Chance
ConocoPhillips Company
CMS
15
August 12, 2019
$2,413
Advanced Computer Software Group Ltd (50% stake)
Technology
BC Partners Limited
Kirkland & Ellis
Vista Equity Partners Management LLC
Kirkland & Ellis
16
March 25, 2019
$2,319
TIER REIT Inc
Real Estate
Goodwin Procter
Advising FA : Cravath, Swaine & Moore
Cousins Properties Inc
Wachtell, Lipton, Rosen & Katz
17
March 18, 2019
$2,243
Third Coast Midstream (71.53% stake)
Energy, Mining & Utilities
Gibson, Dunn & Crutcher; Thompson & Knight
Advising FA : Bracewell
ArcLight Capital Partners LLC
Kirkland & Ellis
18
June 10, 2019
$2,098
Covey Park Energy LLC
Energy, Mining & Utilities
Vinson & Elkins
Comstock Resources Inc
Gibson, Dunn & Crutcher; Locke Lord; McGuireWoods
Advising FA: Cravath, Swaine & Moore
Denham Capital Management LP
19
August 7, 2019
$2,076
Huntsman Corporation (Chemical Intermediates and Surfactants Business)
Industrials & Chemicals
Indorama Ventures Public Company Limited
Herbert Smith Freehills; Lowenstein Sandler
Huntsman Corporation
Kirkland & Ellis
Advising FA : Weil Gotshal & Manges
20
June 17, 2019
$2,040
LegacyTexas Financial Group Inc
Financial Services
Shapiro Bieging Barber Otteson
Advising FA: Simpson Thacher & Bartlett
Prosperity Bancshares Inc
Bracewell
21
March 19, 2019
$1,976
HFF Inc
Financial Services
Dechert
Advising FA: Proskauer
Jones Lang LaSalle Incorporated
Sidley Austin
Advising FA : Cravath, Swaine & Moore
22
July 25, 2019
$1,800
USAA Investment Management Company
Financial Services
The Charles Schwab Corporation
Davis Polk & Wardwell
Advising FA: Alston & Bird
USAA
Simpson Thacher & Bartlett
23
August 21, 2019
$1,713
Kinder Morgan Canada Limited
Energy, Mining & Utilities
Blake, Cassels & Graydon; Goodmans
Advising FA: Osler, Hoskin & Harcourt
Pembina Pipeline Corporation
Latham & Watkins; Stikeman Elliott
Kinder Morgan Inc
Bracewell
24
February 19, 2019
$1,600
Targa Badlands LLC (45% stake)
Energy, Mining & Utilities
Blackstone Group LP
Akin Gump Strauss Hauer & Feld
Targa Resources Corp
Vinson & Elkins
25
August 21, 2019
$1,546
Kinder Morgan Inc (US portion of the Cochin Pipeline)
Energy, Mining & Utilities
Pembina Pipeline Corporation
Latham & Watkins; Stikeman Elliott
Kinder Morgan Inc
Bracewell
Advising FA: White & Case
26
February 11, 2019
$1,450
Precision Flow Systems
Industrials & Chemicals
Latham & Watkins
Ingersoll-Rand Plc
Khaitan & Co; Kirkland & Ellis
Accudyne Industries LLC
27
April 15, 2019
$1,430
Hulu LLC (9.5% stake)
Technology
Hulu LLC
AT&T Inc
Sullivan & Cromwell
28
July 30, 2019
$1,321
United Family Healthcare
Pharma, Medical & Biotech
Hughes Hubbard & Reed
New Frontier Corporation
Global Law Office; Kirkland & Ellis; Simpson Thacher & Bartlett; The International Law Firm of Winston & Strawn
TPG Capital LP; Canada Pension Plan Investment Board; and Shanghai Fosun Pharmaceutical (Group) Co Ltd
Cleary Gottlieb Steen & Hamilton; Fangda Partners; Paul Hastings
29
September 30, 2019
$1,280
Central Penn Line in Pennsylvania's Susquehanna and Lancaster counties (39.2% stake)
Energy, Mining & Utilities
NextEra Energy Partners LP
Locke Lord
Cabot Oil & Gas Corporation; WGL Midstream Inc; Vega Energy Partners Ltd; and River Road Interests LLC
30
July 2, 2019
$1,275
Columbia Midstream Group LLC
Energy, Mining & Utilities
UGI Energy Services LLC
Latham & Watkins
Advising FA: Alston & Bird
TransCanada Corporation
Bracewell
31
March 22, 2019
$1,209
IPSCO Tubulars Inc
Industrials & Chemicals
Latham & Watkins
Tenaris SA
Mitrani, Caballero & Ruiz Moreno Abogados; Sullivan & Cromwell
TMK OAO
Advising FA : DLA Piper
32
May 21, 2019
$1,050
Peloton Therapeutics Inc
Pharma, Medical & Biotech
Wilson Sonsini Goodrich & Rosati
Merck & Co Inc
Covington & Burling
Topspin Partners LP; OrbiMed Advisors LLC; The Column Group LLC; Nextech Invest Ltd; Remeditex Ventures LLC; Foresite Capital Management LLC; EcoR1 Capital LLC; Curative Ventures Management LLC; and Vida Ventures LLC
33
March 14, 2019
$1,030
Eureka Midstream Holdings LLC (60% stake); and Hornet Midstream Holdings LLC
Energy, Mining & Utilities
EQM Midstream Partners LP
Latham & Watkins
Morgan Stanley Infrastructure Inc
Vinson & Elkins
34
June 11, 2019
$1,000
Shell Oil Products (Martinez Refinery)
Energy, Mining & Utilities
PBF Energy Inc
Cleary Gottlieb Steen & Hamilton
Equilon Enterprises LLC
35
March 22, 2019
$1,000
Silver Eagle Distributors LP (Beer distribution business in Houston)
Business Services
Redwood Capital Investments LLC
Kirkland & Ellis
Silver Eagle Distributors LP
Locke Lord
36
January 7, 2019
$1.000
Discovery Midstream Partners II LLC (Undisclosed stake)
Energy, Mining & Utilities
Kirkland & Ellis
Stonepeak Infrastructure Partners
Hunton Andrews Kurth
37
September 3, 2019
925
Concho Resources Inc (New Mexico Shelf assets)
Energy, Mining & Utilities
Spur Energy Partners LLC
DLA Piper; Kirkland & Ellis
Concho Resources Inc
Gibson, Dunn & Crutcher
38
April 22, 2019
835
KEYW Holding Corp
Technology
Weil Gotshal & Manges
Advising FA : Sidley Austin
Jacobs Engineering Group Inc
Fried Frank Harris Shriver & Jacobson
39
June 24, 2019
804
NRC Group Holdings Corp
Industrials & Chemicals
US Ecology Inc
Dechert
Advising FA : White & Case
JF Lehman & Company
Jones Day
40
May 13, 2019
800
Colonial Pipeline Company (10.13% stake); and Explorer Pipeline Inc (25.97% stake)
Energy, Mining & Utilities
Shell Midstream Partners LP
Hunton Andrews Kurth
Advising FA : Bracewell
Royal Dutch Shell Plc
41
March 20, 2019
740
KFSM TV; WQAD TV; WNEP TV; WOI-DT Local 5; KCWI 23-HD; WZDX; WATN-TV Local 24; WLMT; WPMT FOX43; FOX 61 - WTIC; and WCCT-TV
Media
TEGNA Inc
Hughes Hubbard & Reed; Jenner & Block; Nixon Peabody
Nexstar Media Group Inc
Kirkland & Ellis; Wiley Rein
42
July 30, 2019
700
Diamondback Energy Inc (Net royalty acres in the Midland and Delaware Basins)
Energy, Mining & Utilities
Viper Energy Partners LP
Hunton Andrews Kurth
Diamondback Energy Inc
Akin Gump Strauss Hauer & Feld
43
June 17, 2019
657
C&J Energy Services Inc
Energy, Mining & Utilities
Kirkland & Ellis
Advising FA : Vinson & Elkins
Keane Group Inc
Schulte Roth & Zabel; Simpson Thacher & Bartlett
Advising FA: Baker Botts; Shearman & Sterling
44
February 8, 2019
640
Nexeo Solutions Plastics LLC
Business Services
One Rock Capital Partners LLC
Hogan Lovells International; Latham & Watkins
Nexeo Solutions Inc
Wachtell, Lipton, Rosen & Katz; Weil Gotshal & Manges
Advising FA: Latham & Watkins
45
August 13, 2019
617
Atlas Technical Consultants LLC
Construction
Kirkland & Ellis
Boxwood Merger Corp
Atrium; The International Law Firm of Winston & Strawn
Bernhard Capital Partners Management LP
46
March 20, 2019
580
WPIX-TV; WTKR TV; WTVR-Richmond Va; KASW-TV Inc ; WXMI-TV; KSTU-FOX 13; and WSFL-TV
Media
The EW Scripps Company
BakerHostetler
Tribune Media Company; and Nexstar Media Group Inc
Kirkland & Ellis; Wiley Rein
47
May 6, 2019
509
Amplify Energy Corp
Energy, Mining & Utilities
Kirkland & Ellis
Midstates Petroleum Company Inc
Latham & Watkins
48
May 22, 2019
505
Global Restoration Holdings (95% stake)
Business Services
Goodwin Procter
FirstService Corporation
Ferrante & Associates; Fogler, Rubinoff
Delos Capital LLC
49
August 6, 2019
500
Vertice Technologies LLC
Technology
K&L Gates
Vista Equity Partners Management LLC
Kirkland & Ellis
50
May 3, 2019
500
Kaseya Limited (Undisclosed stake)
Technology
TPG Capital LP; and Insight Venture Partners LLC
Ropes & Gray