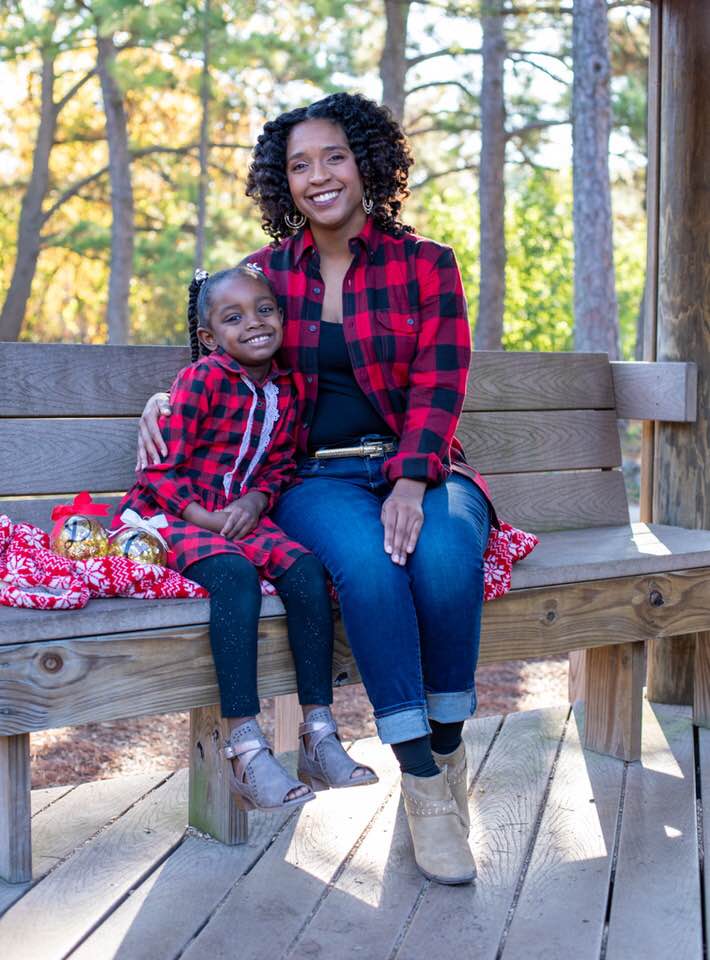 Daria Russell and her daughter, Camille Milstead
---
ACC Corporate Counsel Senior Counsel of the Year
Corporate executives and lawyers who know – really know – Daria Russell agree that she is one of the smartest and toughest business lawyers in Texas. The granddaughter of sharecroppers, she graduated at the top of her class in high school and college, touts a law degree from Harvard and worked at a large global law firm where she handled major transactions for some huge companies.
By 2017 and 2018, Russell had risen to the post of senior counsel in the corporate legal department at Mattress Firm and had led a $3.8 billion M&A deal and a dozen more transactions that transformed the Houston retailer – all while being a single mom.
Then came the first week of October 2018.
"I never cried at work – I always swore to myself that I would never cry at work," she said.
Mattress Firm was still digesting the 2016 acquisition of Sleepy's, which added 1,000 retail stores to the chain. The business had lost its primary suppliers, had too many overlapping retail stores at high occupancy rates and had significant negative EBITDA.
The bottom line: Mattress Firm was highly leveraged in a capital structure that wouldn't allow for new debt, and it had a parent company that was under investigation for accounting fraud and was no help. In fact, the parent company, South African-headquartered Steinhoff International Holdings, N.V., was the root of the problem.
With no options left, Mattress Firm executives – including Russell and general counsel Kindel Nuno – decided to file for bankruptcy protection under Chapter 11, which would allow the company to reorganize its debt.
But even the hope of restructuring the $3.1 billion business was fading fast. Critically important creditors and leaders at Steinhoff could not reach an agreement. Chapter 7 liquidation seemed inevitable.
"No doubt, it was the worst day of my career," Russell told The Texas Lawbook in an exclusive interview. "At one point, a few days before our anticipated Chapter 11 filing, it looked as if things had hit a wall and that we may be forced into making a defensive filing.
"Vendors were calling us for payment and I remember thinking, 'I didn't go to law school at Harvard to dodge bill collectors," she said. "If power was cut off to our stores, we could not sell mattresses. We are talking about people's jobs and lives. I try to never get emotional at work, but there were tears in my eyes that day."
Premium Subscribers: Go here for an exclusive Q&A with The Texas Lawbook, Daria Russell, who reveals what she looks for in hiring outside counsel, how she flyspecks a law firm's first bill, advice to law firms regarding diversity and inclusion and the challenges she and Mattress Firm face during the era of Covid-19. For information on premium subscriptions, including marketing and advertising benefits please contact Brooks Igo at brooks.igo@texaslawbook.net .
For nearly a year, Russell focused on the corporate financing and eventual restructuring. She and Nuno worked endless hours, including several days when she got almost no sleep at all and did not get to spend time with her daughter.
"So many things could have gone wrong – so many things looked as if they were definitely going to go wrong – but ultimately, we were able to execute our plan and save our business," Russell said. "I am extremely proud of what we accomplished."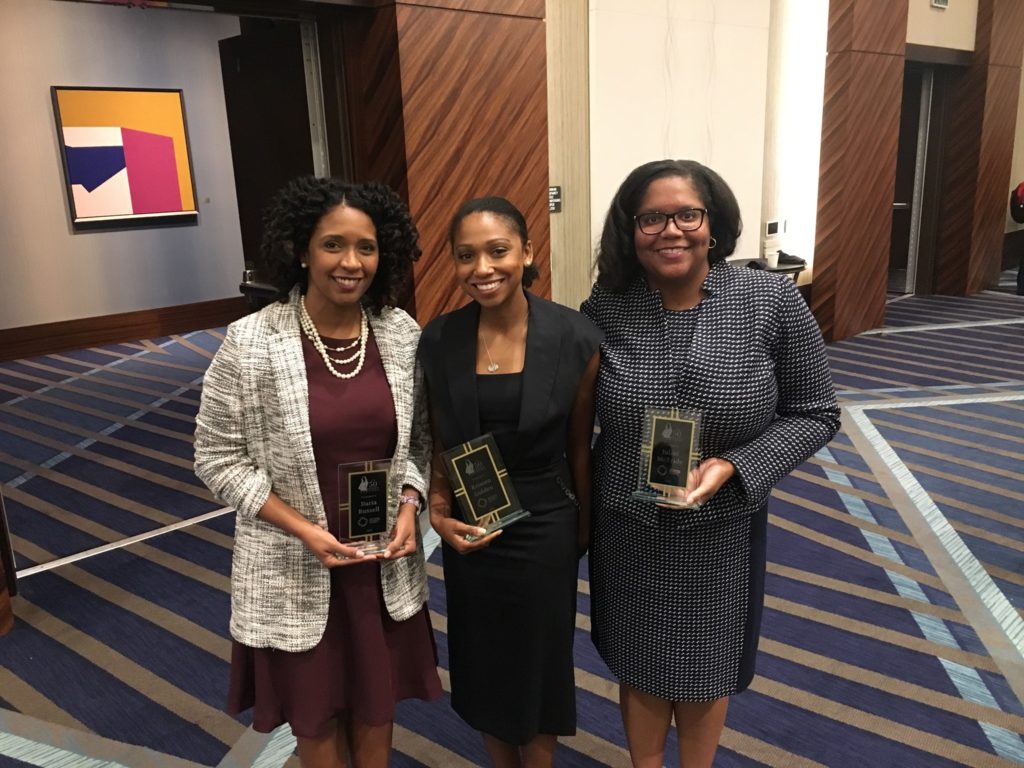 (From Left) Daria Russell, Kristen Williams (senior counsel, Shell) and Juliet McBride (partner, King & Spalding) named by the National Diversity Counsel to Top 50 Women Lawyers, Houston Region 2019
Mattress Firm was in and out of bankruptcy in 48 days. The restructuring allowed the company to close unprofitable stores, restructure debt and exit bankruptcy with more than $500 million in financing for future growth.
The Association of Corporate Counsel's Houston Chapter and The Texas Lawbook are honoring Russell with the 2020 Houston Corporate Counsel's Senior Counsel of the Year award for a Small Legal Department.
In fact, Russell is one of three Mattress Firm lawyers receiving Houston Corporate Counsel awards in 2020. General Counsel Nuno and Mindy Harper, senior counsel for litigation, are also being honored. The Texas Lawbook published in-depth profile of Nuno Thursday and will feature Harper in an article next week.
Shell Midstream Senior Counsel Robin Preussel Phillips, who nominated Russell and Nuno for the awards, said Russell has been a critical player in the evolution of Mattress Firm's legal department and the company itself since 2015.
"Over the past five years, Mattress Firm has gone from a public company acquiring a variety of its competitors in a complicated landscape, to a privately-held subsidiary of an international conglomerate, to filing Chapter 11 bankruptcy, to reemerging as a leaner, more efficient competitor in the market," Phillips wrote in her nomination. "Daria has led or played an integral role in each of these steps of the Mattress Firm journey."
Nuno said Russell, who handles M&A, corporate governance, advising risk management and EHS teams, conducting internal investigations and responding to government and other regulatory inquiries, was instrumental in the success of the bankruptcy and corporate restructuring. Others agree.
"Daria is really smart and does not hesitate to go outside her comfort zone," said Sidley Austin lawyer Michael Fishel, who worked with Russell during the Mattress Firm restructuring. "Daria takes a holistic approach to problem-solving and never cuts corners."
While Russell primarily focuses on corporate matters, she remains conscientious of how other concerns, such as pending litigation matters, could impact a potential corporate solution.
"Her holistic approach to problem-solving helped us avoid several issues during our bankruptcy prep that could have cropped up during the bankruptcy case," Fishel said.
Carlos Rainer, a partner in the Houston office of Norton Rose Fulbright, said Russell "is built for uneven, bumpy roads."
"Daria is the quintessential pragmatist, always reflecting a calm demeanor and quiet resolve through all storms," Rainer said. "Simply put, she does not sweat the small stuff, and she does not shrink when confronted with the big stuff.
"Her time at Mattress Firm has been filled with trials and turmoil with her resolution and personal successes rewarded by even more trials and turmoil, but Daria has kept a steady hand and remained flatfooted and focused on identifying and assessing the company's risks and making critical legal and strategic decisions to help Mattress Firm weather its many storms," he said.
'Law School Was Never My Plan'
Russell was born in Somerville, New Jersey, but grew up in Houston's suburbs.
"I had a great childhood – my parents had difficult situations while growing up, for different reasons, and as a result, I think they made the conscious decision that my brother and I would always have better," she said.
Russell's mother, grandmother and great-grandmothers did not have college degrees. Her father grew up in a trailer on a farm where his parents were sharecroppers.
Russell's father worked in the natural gas and energy industry for over 45 years and retired from Sequent Energy this past June. Her mother worked for the U.S. Postal Service for more than 30 years and retired last August as a station manager.
After graduating with a bachelor's degree in Spanish and economics from Southwestern University in 2002, Russell planned to go to work at the thriving Houston energy corporation Dynegy, where she had interned throughout college.
But during her senior year, Enron collapsed and her job prospects with it. Dynegy attempted to acquire Enron but found itself facing scrutiny involving accounting issues.
"The Houston job market was in shambles," she said. "My parents are old school, so I knew I couldn't live at their house – grown, college educated – and not have a job, so I decided to continue my education and apply to law school."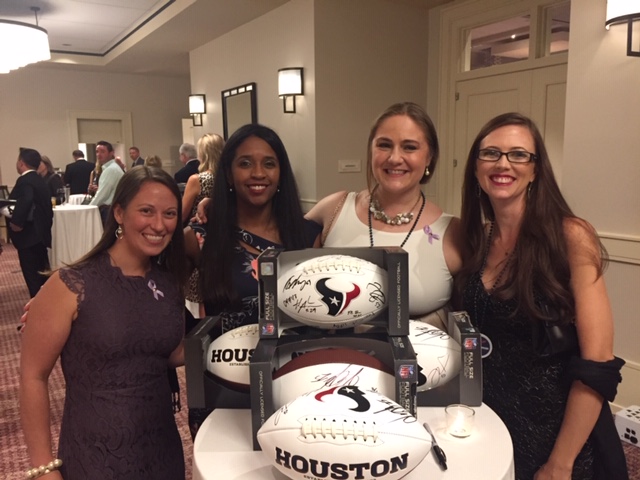 (From Left) Kindel Nuno, Daria Russell, Robin and Noteel Koss at Kareen Jackson Foundation 'Dinner for a Difference'
Russell makes it clear that "law school was never my plan." She took the LSAT in London, where she spent her last semester of college. She did at first apply to Harvard Law School because she thought she would not be accepted.
"I only applied to Harvard after being pushed to do so, repeatedly, by my mother," she said. "She had saved a letter from the school inviting me to apply. So on a whim, I completed the application and found out that I was accepted."
Russell graduated from Harvard in 2006 and started work at Fulbright & Jaworski – now Norton Rose Fulbright – that fall in its corporate securities and transactions practice.
"My father suffered from some health issues when I was in law school, and I did not want to be hours away from my parents," she said. "I respected the attorneys at Fulbright. The firm culture was welcoming and unpretentious. It is a very matter-of-fact environment, which is in line with my personality."
"Fulbright's corporate practice was a blessing [because] I was not assigned to capital markets or M&A as is the practice at some firms," she said. "As a consequence, I was able to gain broad experience. I've worked on matters for privately held startups and for large, publicly traded companies. That broad experience has served me well in-house, I think."
Toyota Managing Counsel Derek Lipscombe, who happens to be Russell's uncle, said that while his niece may have been born in New Jersey, she "got to Texas as quick as she could as a toddler."
"Daria has never forgotten where she came from and who worked long and hard to get her there," Lipscombe said. "Daria is an outstanding attorney, a wonderful mother to her young daughter Camille, an awesome daughter and wonderful niece."
Making the Move In-House
Russell admits that her desire from the start was to join a corporation's legal department.
So in 2011, she paid off her $130,000 in student loans and went to work in-house for Cooper Industries, where she spent 17 months as corporate counsel. In 2013, a friend from Norton Rose Fulbright told her about a position as the assistant general counsel at Chicago-based Sears Hometown Outlet Stores.
"At first, I declined, but a few months later he called again and I decided to apply," Russell said. "Ultimately, I took a leap of faith and accepted the position. I reasoned that I would gain meaningful experience … at a publicly traded company. I knew that I would have a significant amount of responsibility, autonomy and the ability to work on a wide variety of matters. Living in Chicago was a bonus."
At the start of 2015, Russell was a new mother and missing her family when Kindel Nuno, who she had worked with at Norton Rose Fulbright, called about new position in the Mattress Firm legal department.
"I had a 9-month old baby and needed to be closer to my family and a broader support system," she said. "There is nothing worse than being a new mom, working full time, in a new city without backup and being asked in a meeting that is running over, 'What happens if you are late picking up your daughter?' My response: 'I don't know. I don't ever intend to find out.'
"I handled Mattress Firm's M&A pipeline at Fulbright while Kindel was seconded in Japan, so, I was familiar with Mattress Firm's business and leadership prior to joining the company," she said. "So it was a no brainer, I would be able to raise my daughter near my family/support system, continue working in a small department, maintain a quality practice, and work with a friend that I know, respect and trust."
During Russell's six years at Mattress Firm, she has handled "too many deals to count."
The two major projects that stand out are the company's sale to Steinhoff for $3.8 billion in 2016 and the bankruptcy and restructuring in 2018.
"My best day was the day we announced the Steinhoff deal," she said. "I had been running the internal side of the deal on my own at that time, had not seen much of my family and was just relieved that the merger agreement was signed and announced."
'So Many Things could have Gone Wrong'
Regarding the Chapter 11 restructuring, Russell and Nuno were part of a core group of senior executives – initially a five-person team – that managed the process internally.
"When our former parent company, Steinhoff, announced its former CEO's resignation and related accounting issues, things understandably became difficult for us," she said.
Russell and Nuno managed the process internally, including:
negotiated a financial advisor engagement letter;
reviewed and revised pleadings;
handled the liquidation of inventory and timely emptying of hundreds of stores;
arranged debtor-in-possession and exit financing;
shepherded diligence;
renegotiated the lease of the corporate office in Hicksville, New York; and
worked shoulder-to-shoulder with bankruptcy counsel at Sidley to prepare the company's prepackaged filing.
"For nearly a year, the bankruptcy, as well as dealing with our liquidity issues, consumed my day-to-day practice," she said. "I'm not sure anything really surprised me, which I guess is a testimony to the attorneys at Sidley. We had a plan and were able to execute on it."
Fishel, the Sidley lawyer, said Russell "appreciated the magnitude of the restructuring and made herself available at all hours of the day.
"Despite the incredibly long hours leading up to the filing, she was always responsive, pleasant and receptive to any and all requests," Fishel said. "Daria has a firm grasp on all of the outstanding corporate issues at the company and is able to simplify complex issues into basic concepts."
Fishel said there was an instance during the restructuring where he needed to know what role each of the 42 Mattress Firm debtor entities played in the corporate structure.
"Over the next 20 minutes – and without referencing any notes – Daria went through each entity and explained its respective role and purpose in a way that I could then easily explain to someone else," he said. "It was masterful."
Fishel said he and Russell also bonded over raising young daughters.
"Despite the hectic nature of our respective professions, she always made sure to ask how my kids were doing. It was very refreshing," he said. "Her patience and kindness certainly made working with her a very pleasant experience despite the stressful circumstances surrounding a restructuring."
Russell said the "sheer amount of effort, expertise, attention to detail and teamwork that was required to exit nearly 650 stores and obtain plan confirmation in less than 50 days" was extraordinary.
"So many things could have gone wrong – so many things looked as if they were definitely going to go wrong. But ultimately, we were able to execute our plan and save our business," she said. "I am extremely proud of what we accomplished."
Norton Rose Fulbright's Carlos Rainer said Russell is "solution-oriented and driven by efficiencies that target the best solutions" that provide the most positive impact on the business.
"The world is filled with lawyers who are technically proficient, but Daria has more to offer than her substantive legal skills, which are impressive and well known to those who both know and have worked with her," Rainer said. "Daria commands the respect and high admiration of her peers and colleagues because she has the unique ability to distinguish between and effectively balance legal and business objectives and identify creative solutions to forge a path forward when the two appear to irreconcilably conflict."
Russell said that the corporate restructuring provided the Mattress Firm legal team "with the muscle memory to deal with adverse economic conditions," including the current COVID-19 pandemic.
"We have been able to make adjustments very quickly," she said. "That being said, responding to a foe that is ill-defined is a challenge. It seems like every day there is something new about the virus and how it is spread."
Russell said that, looking back, she has had some pivotal moments in her life and career that made her into the woman and lawyer she is today, including attending Harvard Law School and working at Norton Rose Fulbright.
"Harvard was an incredibly intimidating experience at first," she said. "I know folks are ridiculed for looking back on their 'college glory days,' but this experience taught me that I can do anything – that I am incredibly smart and capable."
Being a corporate associate at then Fulbright & Jaworski, she said, allowed her to "forge lifelong friendships with the attorneys that I worked with and met there." One of those, she quickly points out, is her boss, Kindel Nuno.
And finally, the decision to move back to Houston and raise her daughter as a single parent was one of the best choices she has made, she said.
"Daria has long been a fixture in my life and career – since our early days at Fulbright together," Nuno said. "We were each other's 'gut check,' and I still trust her second opinion regularly today.
"Daria is a brilliant, detail-oriented and down-to-earth attorney who serves as my right hand – and sometimes my left," Nuno said. "Daria is well-respected throughout the organization and has grown to meet every challenge I've thrown at her."