Sarah Decker joined computer security giant McAfee in 2018 as head of litigation. Not much has happened in the four years since except:
McAfee did an $8.6 billion IPO in the fall of 2020 amid the Covid pandemic, which meant doing all the legal work necessary for listing on the NASDAQ;
In the midst of this, McAfee promoted Decker to chief compliance officer and deputy general counsel;
It launched a deep fake lab to prevent election disinformation;
It sold its enterprise business, which provided cybersecurity to digital assets of governments and large organizations, to Symphony Technology Group for $4 billion in July 2021;
It conducted a $450 million securities offering in late 2021;
It closed a $14 billion take-private transaction in 2022 with the private equity firm Advent International; and
It promoted Decker to chief legal officer, along with appointing a new CEO and COO.
"Sarah's effective leadership has helped the company navigate all of these major organizational changes while also helping to facilitate the company's transition to remote work during the Covid-19 pandemic," said Yvette Ostolaza, chair of Sidley Austin's management committee and a partner in the firm's Dallas office.
"She has successfully addressed numerous challenges posed by the global changes underway in cybersecurity, regulation and trade," Ostolaza said.
Citing numerous successes last year, the Association of Corporate Counsel's DFW Chapter and The Texas Lawbook have named Decker as the 2022 DFW General Counsel of the Year for a Large Legal Department (21 attorneys or more).
Decker accepted the award at the 2022 DFW Corporate Counsel Awards ceremony on Jan. 26 at the George W. Bush Institute.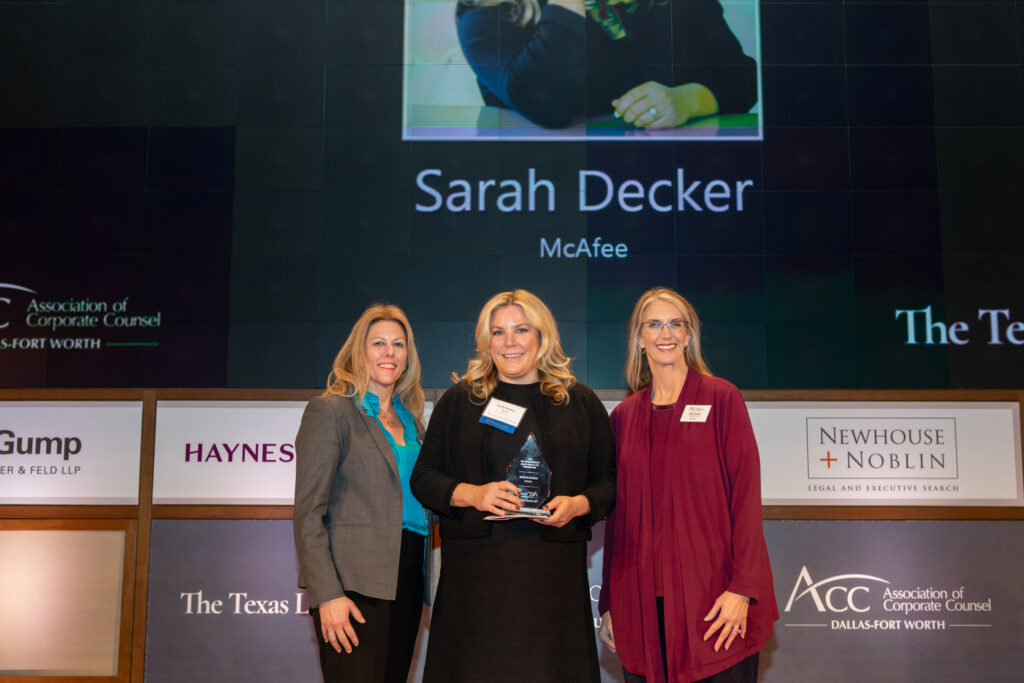 Ostolaza, who nominated Decker, said the McAfee CLO actively champions fellow women and diverse lawyers within the company and oversees a team that is currently more than 78 percent diverse.
"Sarah also stands out for her ability to keep ahead of the challenges presented by one of the most tumultuous business sectors," Ostolaza said. "Global cybersecurity faces new risks, regulations and opportunities on a daily basis, and Sarah has an unusual talent for adapting to new scenarios and operating successfully in a rapidly changing environment."
Decker, she said, also played a key role in launching McAfee's ESG reporting process.
"There have been so many 'wins' over the years at McAfee with my colleagues, whether resolving a successful inquiry or dispute, achieving major compliance milestones, passing diligence tests with flying colors, supporting the closings of multiple transformational transactions," Decker said in an interview with The Texas Lawbook. "But the day I was offered the CLO position at McAfee was a day I'll never forget."
Decker said that her "best days" at McAfee involve providing assistance to colleagues or teammates to have their "best day."
"I realize it sounds cliché, but it doesn't make it any less true — I sincerely enjoy helping others find opportunity and successes, and those moments are some of my happiest and when I really feel like I'm earning my role," she said.
Premium Subscriber Content: Click Here to read Mark's Curriden's Q&A with Sarah Decker, where she dishes on what she seeks in hiring outside counsel, $2,000 hourly rates, the role of GCs in promoting diversity at law firms and advice to young lawyers seeking to get work from McAfee.
McAfee CEO Greg Johnson said that Decker provides the her fellow executive leaders with advice that comes from a "fair but critical eye" and she is never short on solutions.
"Because Sarah truly understands our business model and what success looks like for our company, our employees and our customers and partners, she's able to bring an open and balanced approach to problem-solving, and her perspective helps drive overall business impact," he said.
Johnson said that Decker has learned to "strike the perfect balance between a passion for her team and a passion for protecting our customers" and has created a "legal model aligned to our mission and innovative mindset, as well as our customer-centric culture."
Decker's legal work and leadership during the divestiture of the enterprise business and McAfee's "strategic positioning as a consumer-focused company" was a critical success, Johnson said.
"Sarah's thoroughness and talent for navigating all possible outcomes to design an advantageous legal strategy and then negotiate this to fruition is simply remarkable," he said. "We are fortunate beyond words to have Sarah protecting McAfee and our reputation."
Decker grew up on a farm operated part time by her parents in a small town in Illinois. Her mother was nurse. Her father owned and operated a small car dealership.
"By action as much as word, my parents instilled in me the core values of hard work, overcoming adversity and a passion for helping others," she said. "They both worked less than glamourous jobs and less than desirable hours to provide me with the opportunities they did not have."
Decker also notes that her grandmother played an important role in her life.
"Without question, her love, support and absolute insistence that I obtain the best education possible laid the foundation of the person I am today," she said.
Decker went to Arizona State University, where she earned a degree in journalism and French language in 2002.
"I was drawn to the idea of a career that included fighting for those in need, helping to create opportunities for others and simply doing my part to make this world a bit better more days that not," she said. "In my mind, I was already wielding the flaming sword of justice."
As the first person in her immediate family to attend college, Decker considered investigative journalism or becoming a foreign correspondent. But why Arizona State?
"They have an excellent journalism school and the 300 days of sunshine — not necessarily in that order," she said.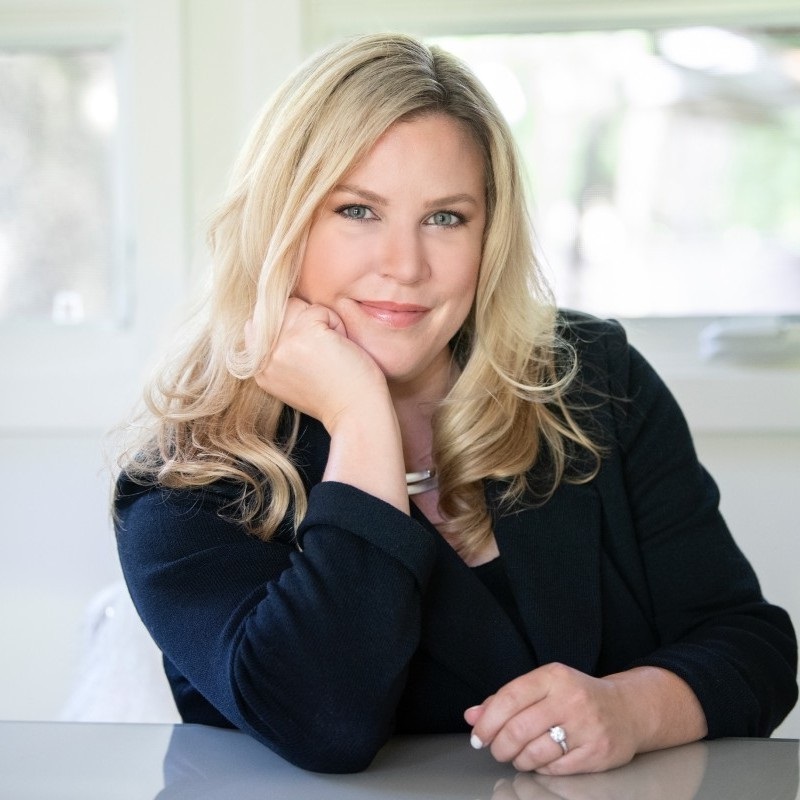 After a lot of soul searching, Decker decided earning a law degree would "better arm me to live out my causes."
In 2006, she received her law degree from Southern Methodist University.
After interning for Northern District of Texas Chief Judge Barbara Lynn, Decker joined the Dallas office of Weil, Gotshal & Manges, a Wall Street firm that had been one of the early national law firm invaders into Texas.
As an associate, Decker worked with Ostolaza who did securities litigation, internal corporate investigations and complex commercial litigation.
During her seven years at Weil, Decker worked on high-profile matters across the country.
"I'll never forget working on the Lehman bankruptcy matter," she said. "I argued my first hearing in that case and ended up arguing cases in the Southern District of New York on an almost weekly basis for more than a year."
"The work was so voluminous that all you had to do was raise your hand, and it afford me some incredible career opportunities," she said. "I was fortunate to immerse in a matter of that magnitude during a historical season that reshaped much of our financial industry. I have drawn from my experiences in supporting the Lehman bankruptcy countless times throughout my in-house career."
In June 2013, the Texas offices of Weil Gotshal were going through some turmoil. Firm leaders based in New York appeared to lose their interest in expanding in Dallas and Houston, as lawyers in the Houston office were asked to leave the firm.
That summer, Weil partners Ostolaza and Angela Zambrano led a group of eight partners — dubbed by The Texas Lawbook as the "Weil Seven Plus One" because there were seven women equity partners and one male partner — to join Sidley Austin.
As that transition was happening, Decker felt the desire to go in-house and accepted a position as senior counsel at STMicroelectronics, a Fortune 500 technology company.
"While timing played a role, I also just felt a comfortable and confident connection with the team at STMicro and was enthused over a new challenge on the inside of a public company," she said. "So, I took the leap."
Decker said she was happy at STMicro but also "felt an inner stirring that change was just around the corner."
McAfee asked Decker to become the director of litigation in 2018.
"I really resonated with the McAfee cause — cyber-crime fighting, protecting families, businesses and governments from bad actors," she said. "To me, that's a way of making a difference."
McAfee had recently spun out of Intel, and the challenge of working at a private equity-backed cybersecurity company with aspirations of returning to the public markets was appealing to Decker.
And Decker thrived. In 2019, she was named the head of McAfee's global litigation and over all investigations and corporate compliance matters. In 2020, the privacy and labor and employment legal functions were added to her portfolio.
In 2021, McAfee promoted Decker to deputy general counsel and chief compliance officer.
"I am passionate about what I do and have aspired to a strong work ethic," she said. "I strive to apply balanced, measured thinking, to listen and understand, and above all to solve problems and even create opportunities during intense and high-stakes situations."
To be sure, McAfee — with its IPO, then the sale of the enterprise security software business and finally the take-private transaction — provided Decker with no shortage of opportunities to take on new challenges.
"The pacing of an IPO process is inevitably highly aggressive and intense, as others who have experienced the same can attest," she said. "During the IPO, my teams experienced the joy of underwriters' diligence, and I had the personal privilege of fielding hundreds of diligence questions spanning all of my practice areas during numerous calls with teams of underwriters' counsel."
"My own teams also designed and implemented proactive measures to winnow our litigation docket and other known and unknown contingencies as we approached the listing event," she said. "We navigated unique employment and equity arrangements as we restructured our management equity plan and employment arrangements."
A year later, in 2021, Decker and her team played a critical role in McAfee's highly complex divestiture of its enterprise business to San Jose-based Symphony Technology Group for $4 billion in cash.
"As many lawyers would attest, carving out a business from a consolidated organization is a far more complex process than selling the equity of a parent company atop the entire organization," she said. "This transaction lived up to that reputation, with separation activities spanning over 40 countries and 18 months. In hindsight, the underwriters' diligence exercises during the IPO process served as a warmup for what was an extremely intense multiparty diligence exercise.
"Yet again I had the privilege of serving as the voice to address countless diligence questions spanning the bulk of the McAfee legal landscape during live sessions with dozens of inquiring minds," she said.
Decker said a challenging aspect of the enterprise divestiture "involved human and relational trials in living through the separation of each team within the organization as we endeavored to deliver a Day One-ready business at closing."
Decker saw a handful of colleagues who she had personally hired and worked with for years depart with the assets to STG.
Only three months after the divestiture closed and only a year after the cybersecurity software creator went public with its IPO, McAfee executives announced the go-private $14 billion transaction with the private equity firm Advent International.
"The transaction offered no shortage of support needs including a deluge of due diligence, definitive agreement and disclosure schedule support, completely restructuring the capitalization chart, navigating numerous domestic and foreign regulatory filings, and crafting extensive internal and external communications," Decker said.
The new ownership promoted Decker to the chief legal officer role last summer. McAfee has 67 subsidiaries in the U.S., Asia and Europe. Decker leads a global legal team of more than two dozen and is responsible for litigation, compliance, intellectual property, commercial transactions, M&A, corporate affairs, government affairs and public policy, labor and employment, privacy, and global trade and export.
"I am truly excited about this new season at McAfee and the critical role we play in helping millions of people confidently and freely live their digital lives," she said.